My parents didn't believe in the rating system. Or maybe they did. I guess putting her hand over my eyes in Pulp Fiction was my mom's attempt at censorship. And I think I got fair warning in Fatal Attraction. But not to worry. I understood things at an early age: Sex is dirty, drugs are fine, guns are illegal, killing rabbits is bad. And affairs? Dicey.
I'm lucky, really, to have seen all I have in the theater. I like to think of myself as a movie buff. Having seen the classics, extensively studied film history in both the United States and in Italy, spent more hours surfing IMDb than I care to admit, and told Leonardo DiCaprio I love him in person, I think I've earned the title.
What's as vivid for me as the films themselves are the movie theater concessions. The grease soaked paper bags popping over with corn. Extra butter please! No, really, at least two more pumps. Cardboard boxes the size of my checkbook filled with candy- Snow Caps most notably. A fountain soda reminiscent of a keg. Sprite to be tapped in under an hour of run time. All that was munchable in the darkness of the theater. I can still feel that excitement as I spied my mom opening her sack of a pocketbook to uncover our snuck-in stash of Reese's Pieces and Kit Kats. Notice the plural.
'Going to the show,' as my mom calls it, meant two hours of hand to snack to mouth. And it was glorious. The projection on screen as engaging as licking my fingers. As if I'd just exfoliated with a salt scrub and lotioned with butter. One hell of a spa treatment.
I found giving up that dimly lit dining to be tough. Severing the connection between mindlessly eating four pounds of popcorn, a stick of butter, a candy bar, and a Coke, took some getting used to. Because though it had been oodles of fun, it was mindless. It's one thing to sit down, fork in one hand, knife in the other, and get down with food. But to nibble your way through 120 minutes of entertainment and not really remember whether you just ate one Snickers or two- that's a different story. And a sadder one at that.
The thing is, I loved movies enough to let them be the activity. To let Leo be the star of the show. It involved being present. Mindful in what I was doing. And honestly, after a few months of just watching the big screen, I felt an ease I didn't know would come.
It's not that movies can no longer involve popcorn, soda, and candy, it's just that they can no longer look like my personal foray into the competitive eating circuit. Though if it paid well…
Since losing 135 lbs, I've retained some snackability. You might still find me with sticky chocolate fingers ten rows from the front, except nowadays I'm aware of what I'm ingesting, and I enjoy each and every morsel more than I ever did before.
These nachos pay tribute to the clear plastic containers of salted tortilla chips I used to crunch my way through in the theater. Only those ones featured a cup of cheese whiz, which I unabashedly love. This is my stab at making a healthy plateful of crisp chips mounded with cheese, spicy black beans, tomatoes, avocado, and sour cream. Four hundred calories of pure, cheesy bliss. The textures? Crunchy, squishy, creamy, and gooey. The flavors? Limey, spicy, salty, and sweet. Now if you'll excuse me, I'm just about to press play on my VCR (because you know I stayed loyal to VHS). I'm hoping the nachos offset my king-sized Butterfinger.
To make these loaded, g0od-for-your-heart and soul nachos, I began with a large whole grain tortilla. This is a multigrain Flat Out wrap, it's got a longer ingredient list than I'd like, a decent amount of fiber, and 100 calories.
Preheat your oven to broil.
Cut the tortilla into small triangles, the size of standard tortilla chips.
Lay the triangles on a wire rack set on top of a roasting pan, or simply place them on the roasting pan by themselves. Coat them generously with cooking spray and sprinkle them with a hefty pinch of salt. Broil for 4-5 minutes on one side, flip them and broil for another 1-2 minutes or until crisp and light golden brown.
Add 1 tsp olive oil to a small skillet set over medium heat.
Add 1/4 cup finely diced onion. Saute for 3 minutes, or until the onion begins to soften.
Add 1 minced clove of garlic and stir for 20 seconds.
Add 1/4 cup black beans.
Add 1/2 cup chopped tomatoes. I used halved sugarplum tomatoes, which are deliciously sweet.
Next, squeeze half of a lime over the pan. Sprinkle in 1 tsp cumin and 1 tsp chili powder.
Stir to combine and let the mixture cook for 1 minute, just to heat through.
Place the crisp tortilla chips in a pile on a foil lined roasting pan coated with nonstick cooking spray.
Pile the black bean and tomato mixture onto the center
Now, sprinkle the whole pile with 1/3 cup shredded Mexican blend cheese (a combination of cheddar and pepperjack). Set under the broiler for about 2 minutes, until the cheese is bubbly and melted.
Carefully slide the nachos onto a plate, or simply eat them from the foil. Top with 1/4 of an avocado, diced, and a dollop of sour cream or plain greek yogurt.
Recipe by: Andie Mitchell
Savor spring flavor with fresh seafood
(Family Features) Fresh, flavorful ingredients take springtime meals to another level, and it's hard to top seafood as a seasonal favorite. Skip the wait at restaurants and instead create your own savory seafood dishes by taking advantage of easy-to-make recipes.
While takeout may be an easy option, the satisfaction of enjoying a delicious, home-cooked meal like Shrimp Pad Thai with Jasmine Rice can make you feel like you're enjoying a restaurant-quality dinner. Next time you're craving Asian cuisine, swap out traditional rice noodles for this version with Jasmine rice as an aromatic, quick-cooking solution for your own spin on a classic.
Take the guesswork out of cooking rice with an option like Success Boil-In-Bag Rice, which offers a heat safe, BPA-free and FDA-approved solution for fluffy, flavorful rice that cooks up perfectly. The high-quality grains are quick, easy, mess-free and ready in 10 minutes, so you can enjoy hassle-free dishes such as Successful Crab and Rice Cakes.
These crispy crab cakes come together easily and are served with a zesty, homemade aioli that tastes just like you're on the coast. If you're new to making crab cakes, it's simpler than it may seem – just cook rice beforehand so it can cool then mix in beaten eggs, seafood and seasonings. Refrigerating and resting the mixture helps it hold together before frying to a mouthwatering golden brown for a delicious appetizer, snack or side dish.
Visit SuccessRice.com to find more springtime meal ideas.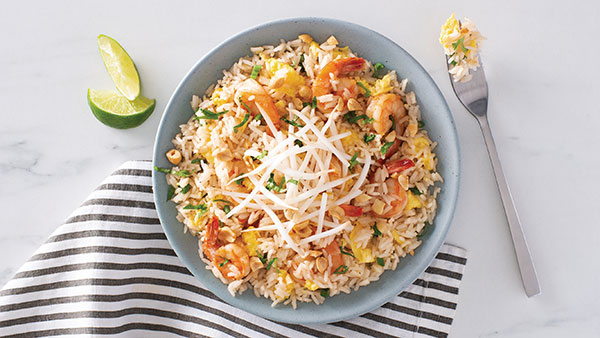 Prep time: 15 minutes
Cook time: 10 minutes
Servings: 4
1 bag Success Jasmine Rice
3 tablespoons light brown sugar
2 tablespoons fish sauce
2 tablespoons lime juice
2 tablespoons soy sauce
1 tablespoon chili garlic sauce
2 tablespoons canola oil, divided
1 egg, lightly beaten
1 pound medium shrimp, peeled and deveined
1 tablespoon minced garlic
3 green onions, thinly sliced
1 cup bean sprouts
1/4 cup fresh cilantro leaves, chopped
2 tablespoons dry roasted peanuts, chopped
4 lime wedges
Prepare rice according to package directions. Set aside.
In small bowl, combine brown sugar, fish sauce, lime juice, soy sauce and chili garlic sauce. Set aside.
In large wok or skillet over high heat, heat 1/2 tablespoon oil. Quickly scramble egg. Remove from pan and reserve.
Add remaining oil to wok over high heat. Add shrimp and garlic; stir-fry 5 minutes, or until shrimp are cooked. Add reserved sauce and rice; stir-fry 2 minutes. Add green onions and reserved egg; toss to combine.
Divide pad Thai between four bowls. Top each with bean sprouts, cilantro and peanuts. Serve with lime wedges.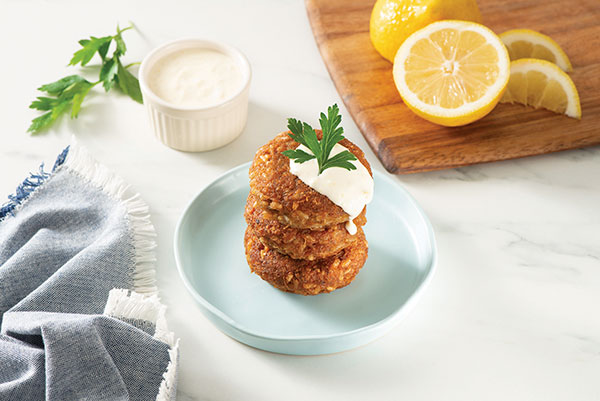 Prep time: 20 minutes
Cook time: 20 minutes
Servings: 4
Crab Cakes:
1 bag Success Brown Rice
2 eggs
1 pound lump crabmeat
2 tablespoons seafood seasoning
2 tablespoons olive oil
Aioli:
1/3 cup mayonnaise
1 teaspoon minced garlic
1 lemon, zest and juice only
lemon wedges (optional)
To make crab cakes: Prepare rice according to package directions. Allow to cool.
In medium bowl, beat eggs lightly. Stir in rice, crabmeat and seafood seasoning; mix well. Refrigerate 5 minutes. Shape mixture into eight patties.
In large, nonstick skillet over medium heat, heat oil. Working in batches, carefully place patties in skillet. Cook 5 minutes on each side, or until golden brown. Transfer to paper towel-lined plate.
To make aioli: Stir together mayonnaise, garlic, lemon zest and lemon juice.
Serve aioli with crab cakes and garnish with lemon wedges, if desired.


SOURCE:
Success Rice
Break out brunch favorites for spring celebrations
(Family Features) Deck your kitchen, dining room or patio with bright decor and fun, festive springtime frills – brunch season is here. Whether your weekend morning meal is shared with that special someone or friends, family and neighbors, warm, sunny days can bring out the best of brunch.
Impress your loved one with these Mini Banana Rice Pancakes for two, a healthy and satisfying meal made with Minute Brown Rice & Quinoa Cups. This recipe allows for more moments together at the table because the whole-grain combination is ready in just 1 minute and prep time is minimal.
Pairing the crunchiness of red quinoa with the chewy texture of brown rice, these cups earned a spot on the "Men's Health" Best Foods for Men Awards in 2022. Plus, packed in single-serve portions, you can eat the grains right out of the BPA-free cup for a simple lunch or snack that provides a good source of fiber with 55 grams of whole grains in each serving.
If you need a dish that feeds a crowd, put this Hearty Bacon and Egg Breakfast on the menu. Ready in 35 minutes, it can satisfy brunch cravings for a group of up to 12 as a main course that easily pairs with other morning favorites.
As an ideal complement to the eggs, bacon and cheese, Minute Rice & Quinoa can make this family-style recipe a breeze. In just 10 minutes, the tasty blend of brown rice, red rice, wild rice and quinoa cooks up light and fluffy for a slightly chewy, nutty flavor. It's also a dependable replacement for oatmeal in other breakfast dishes so you can complete your mission to make meals quick and enjoyable. Not to mention, the bag is BPA-free and recyclable via store drop-off in most communities, while the carton is recyclable curbside.
Find more brunch inspiration for spring celebrations at MinuteRice.com.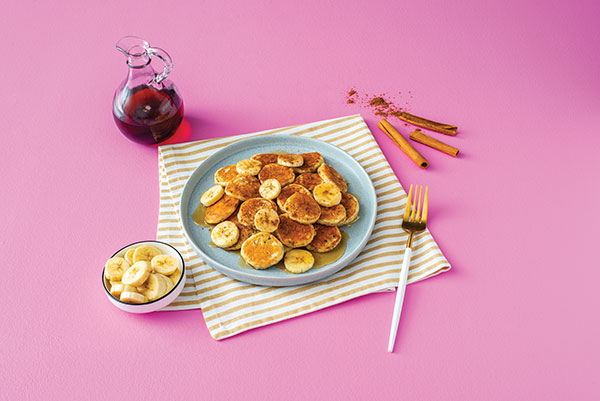 Prep time: 15 minutes
Cook time: 20 minutes
Servings: 2
1 cup Minute Brown Rice & Quinoa
1 1/4 cups all-purpose flour
1 teaspoon baking powder
1/2 teaspoon baking soda
1/4 teaspoon salt
1 cup milk
2 teaspoons freshly squeezed lemon juice
2 bananas, divided
1 egg, beaten
1/4 cup pure maple syrup, divided
4 teaspoons butter, melted
2 tablespoons vegetable oil, divided
1/8 teaspoon ground cinnamon
Heat rice and quinoa according to package directions.
In large bowl, whisk flour, baking powder, baking soda and salt.
In medium bowl, whisk milk and lemon juice. Let stand 5 minutes.
Mash 1/2 banana. Transfer to milk mixture. Add egg and 1 teaspoon maple syrup; stir to combine. Stir in melted butter.
Pour milk mixture over flour mixture. Whisk just until combined; do not overmix. Fold in rice and quinoa. Let batter rest 10-15 minutes.
Preheat large nonstick skillet over medium heat; brush with 1 teaspoon oil. Once skillet is hot, reduce heat to medium-low. In batches, adding oil as necessary, scoop 1 tablespoon batter per pancake into skillet and cook 3-4 minutes, or until bubbles start to form. Flip and cook 1-2 minutes until golden on bottom.
Slice remaining half and full bananas. Serve pancakes with remaining maple syrup, banana slices and cinnamon.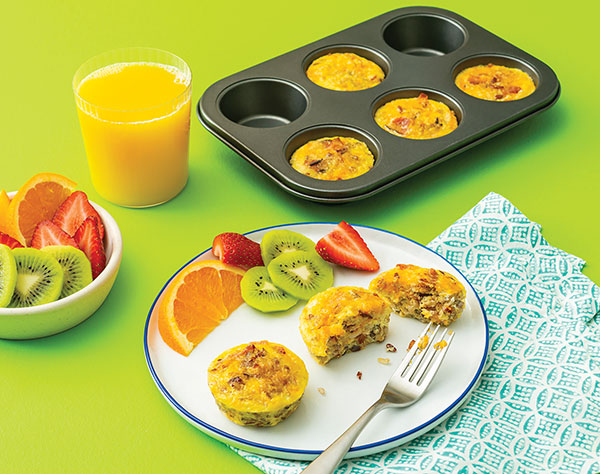 Prep time: 5 minutes
Cook time: 30 minutes
Servings: 12
Nonstick cooking spray
1 1/2 bags Minute Rice & Quinoa
9 eggs, lightly beaten
5 bacon slices, cooked and crumbled
3/4 cup shredded cheddar cheese
1/2 teaspoon salt
black pepper, to taste
Preheat oven to 325 F. Coat 12-cup muffin pan with nonstick cooking spray.
Prepare rice and quinoa according to package directions.
In medium bowl, combine rice and quinoa, eggs, bacon, cheese, salt and pepper, to taste.
Divide batter between prepared cups and bake 18-20 minutes, or until eggs are just set.


SOURCE:
Minute Rice
Create a surprise brunch for mom
(Culinary.net) Mother's Day is a time to celebrate and treat your mom to a delicious breakfast or brunch. Whether it's a meal in bed or a beautiful spread on the dining room table, make the day special with simple recipes that are sure to impress.
Try this Brunch Fruit Tart with a tasty granola crust and colorful fruit topping to start Mother's Day in style. It's a sweet option to begin her day on the right note.
With a crunchy crust and smooth center, this tart is balanced, easy to make and a beautiful addition to the menu. It's also easy to customize as the fruit topping options are nearly unlimited. Pick your mom's favorites and decorate the top however you please. Or, let the little ones get creative and put their own spin on an essential Mother's Day meal.
For more brunch recipes, visit Culinary.net.
Watch video to see how to make this recipe!
https://www.youtube.com/embed/edqYczXjtqg?modestbranding=1&rel=0&showinfo=0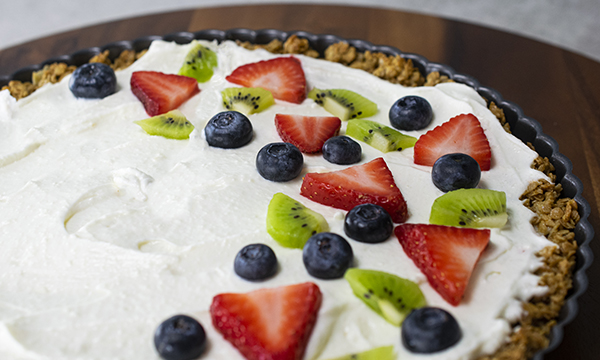 Brunch Fruit Tart
Recipe adapted from homemadeinterest.com
Crust:
4 cups granola mixture
1/2 cup butter, softened
4 1/2 tablespoons honey
nonstick cooking spray
Filling:
2 1/4 cups vanilla Greek yogurt
8 ounces cream cheese, softened
1/2 cup granulated sugar
1 teaspoon vanilla extract
1 package gelatin
Toppings:
strawberries, sliced
blueberries
kiwis, sliced
To make crust: Preheat oven to 350 F.
In large bowl, combine granola, butter and honey. Grease 11-inch tart pan with nonstick cooking spray. Line bottom of tart pan with parchment paper.
Press granola mixture into tart pan. Place tart pan on baking sheet and bake 10 minutes. Cool completely.
To make filling: Using mixer, combine yogurt, cream cheese, sugar, vanilla extract and gelatin until whipped completely.
Pour yogurt mixture into tart crust. Refrigerate at least 1 hour.
Top with strawberries, blueberries and kiwis.

SOURCE:
Culinary.net