Garlic Herb Cheese Bombs – amazing cheese bomb biscuits loaded with Mozzarella cheese and topped with garlic herb butter. Easy recipe that takes 20 mins.
These garlic herb cheese bombs are the bomb. Period. It took me 10 minutes to prep, 10 minutes to bake, and in 20 minutes, these cheesy bombs were out of the oven and ready to be served. How sweet is that?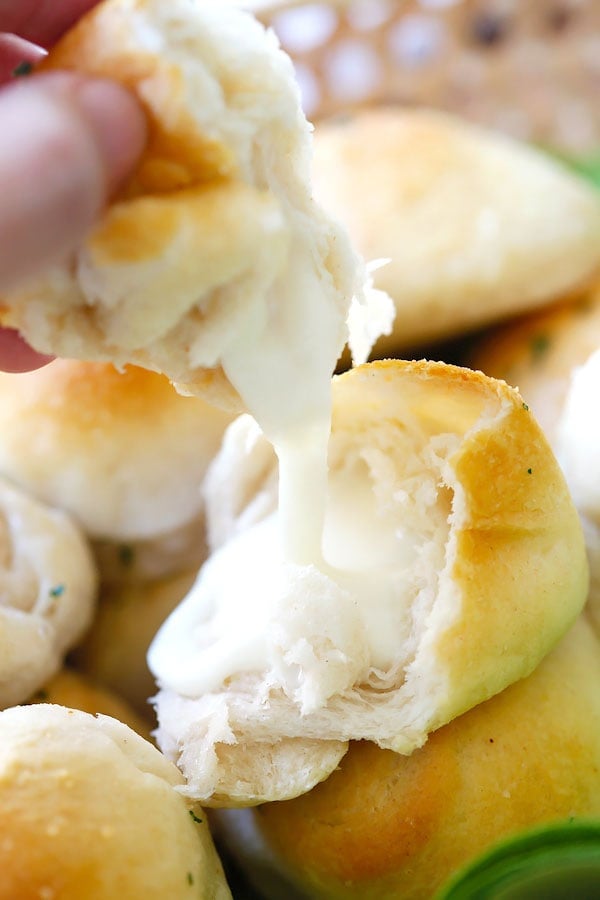 Garlic Herb Cheese Bombs Recipe
Makes 20 | Prep Time: 10 Minutes | Cook Time: 10 Minutes
Recipe Source: Love Bakes Good Cakes
Ingredients:
2 cans (7.5 oz. each) refrigerated biscuits
4 oz. Mozzarella cheese, cut into 20 cubes
4 tablespoons butter, melted
1/2 teaspoon garlic powder
Some fresh parsley leaves, finely chopped
A tiny pinch of salt
Method:
Preheat oven to 400°F.
Open the biscuit cans and separate the biscuits. Line a cookie sheet with parchment paper. Wrap the cheese bombs by placing one cube of the cheese in the center of each biscuit. Carefully wrap the biscuit dough around the cheese, pinch the biscuit to close and seal tight. Place the seam part down and arrange the biscuits so they are at least 1-inch apart. Bake for 10 minutes or until the surfface turn golden brown.
While the biscuits are baked in the oven, mix the butter, garlic powder, salt, and parsley leaves together. Set aside.
Remove the biscuits from the oven and brush with the butter mixture immediately. Serve warm.