Simple steps to wake up well
(Family Features) If you have a hard time falling asleep and waking up and find yourself feeling lethargic during the day, rest assured you're not alone. Regardless of how hard you may work to try and maintain a healthy lifestyle, you may be in need of a way to reset your body clock for optimal health and to look and feel your best – especially in the morning.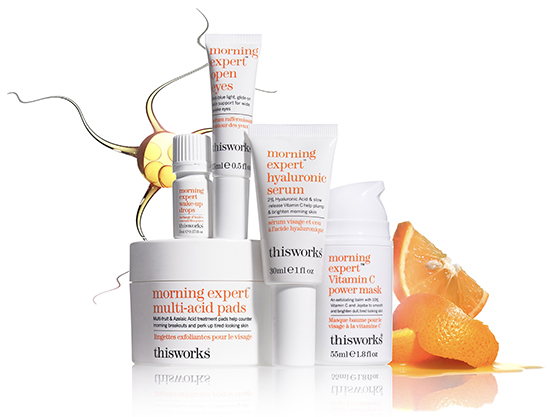 As a life balance coach and wellness expert, Lauren Zoeller constantly urges her clients to prioritize sleep because, according to the Centers for Disease Control and Prevention, one out of three of adults in the United States isn't getting the recommended seven hours of sleep.
Lack of sleep means lower mental and physical performance and can lead to health issues ranging from diabetes to heart disease. Sleep loss also takes its toll on skin. While asleep, important repair, renewal and detoxification processes take place, which are vital for healthy skin. Dark circles, dehydration, skin redness and sallowness may appear when the skin isn't able to naturally repair during proper sleep cycles.
According to Zoeller, "sleep" and "wake up" patterns can be reset with a combination of aromatherapy and some simple lifestyle choices.
"I use a combination of natural, clinically proven skincare solutions from This Works, which work in harmony with your body clock and promote healthy sleep habits," Zoeller said. "At night, a few pumps of the Deep Sleep Pillow Spray – which is powered by 100 percent essential oils of lavender, chamomile and vetivert – is proven to help you relax and fall asleep faster.
"For the morning, you can try This Works' Morning Expert collection, which features natural ingredients to rehydrate, protect, smooth and brighten tired morning skin. I love the Wake Up Drops, which are made with peppermint, rosemary and lavandin oil to energize and boost alertness and mental focus."
Zoeller also recommends these simple lifestyle choices for sleeping and waking up to optimize wellness:
Try to go to bed and wake up at the same time (on weekdays andweekends) to keep your circadian rhythms in order, and attempt to keep your bedroom temperature cooler: 60-67 degrees is optimal.
At least an hour before bed and an hour after waking, stay off digital devices. The blue light emitted by smartphones and tablets affects melatonin production, which regulates sleep and wake up patterns.
Avoid using a loud alarm that jolts you awake, increasing your blood pressure and stress levels. Choose an alarm sound that will gradually take you from deep sleep to wakefulness. Keep a tall glass of water on your bedside table and drink it right when you wake up to combat overnight water loss.
Add some morning exercise such as a walk, spin class or yoga and a brief meditation session to help burn off cortisol – the stress hormone – which is most active in the morning. Movement and meditation can help reduce feelings of anxiety going into your day, which helps support productivity.
Find more tips for refreshing your body and mind to wake up feeling well at ThisWorks.com.
Photo caption (woman): Life balance coach and wellness expert Lauren Zoeller
SOURCE:
This Works
March 17, 1945 – May 15, 2022
RINGGOLD – Alton "Fred" Allen, 77, longtime resident of Ringgold, passed away on May 15, 2022 in Bowie.
The family received friends from 7 – 8 p.m. on May 17 at the White Family Funeral Home in Bowie. A graveside service will take place at 11 a.m. on May 18 at Cowboy's Last Ride Cemetery in Bowie with Richard Allen officiating.
Fred was born March 17, 1945 in Decatur to Alton "Frank" and Zula Prestwood Allen. He was a lifelong worker in the oil field and in his free time enjoyed fishing, hunting and spending time with his grandchildren.
He is preceded in death by his parents and brothers, Dick Allen and Gene Allen.
Fred is survived by his children, Lynn Allen, Ringgold and Zula Carol Dietrich and husband Steve, Petrolia; grandchildren, Blake Allen, Brady Allen, Barrett Allen, Jason Gray, Jennifer Gray, Terry Dietrich and Timothy Dietrich; great-grandchildren Cody and Kendra Harralson and Lincoln Gray; sister Zelta Baker, Bloomfield, NM and numerous nieces and nephews.
Arrangements entrusted to the White Family Funeral Home of Bowie.
Paid publication
Council facing lengthy agenda of new business
Bowie City Councilors face a lengthy agenda of new business on Oct. 25 spanning outside audit proposals, amendments to the personnel policy and six planning and zoning commission requests.
The panel will meet at 6 p.m. in council chambers.
A pair of audit proposals will be reviewed from Edgin, Parkman, Fleming and Fleming, and Mathis, West & Huffines Group.
The personnel policy amendments center on paid quarantine leave and officer mental health leave.
A resolution for repayment of opioid-related expenditures and payment to abate opioid-related harms will be reviewed, along with the 2021 tax roll.
The council also will discuss the Richwood Lake Estates Park at Amon Carter Lake. This topic is a proposition on the Nov. 2 ballot.
An executive session will have the council discuss economic development negotiations on a project. Janis Crawley, executive director of the Bowie Economic Development Corporation, also will give the council an update on the recent Economic Development Administration grant that will provide $1,460,000 to the BEDC for infrastructure work at the Bowie Business Park.
City Manager Bert Cunningham will make his monthly report discussing the asset management program, the audit, search for a new finance director, a program with Honeywell that evaluates facilities on where the city can save money and an update from the Association of Rural Communities.
Public comments and the consent agenda wrap up Monday night's council agenda.
Department of Public Safety officers are investigating a pair of multi-fatality accidents in Montague County Thursday night. One occurred at US 82 and FM 1806 and a half hour later one occurred near Star Travel Center outside Bowie. No details were available Friday but watch for updates.