10 tips to recognize ripe fruits
(Culinary.net) Keeping fresh fruit around the house provides a healthier alternative when your sweet tooth comes calling. Understanding how and when to buy at the peak of ripeness (or just before, in some cases) can help you avoid food waste while keeping your doctor happy.
Consider these simple tips for recognizing ripe fruits:
Strawberries: Check the area at the top of the berry near the stem and leaves. A ripe strawberry is fully red; green or white near the top means the fruit is underripe.
Watermelon: The "field spot," or the area where the melon sat on the ground, should be yellow, and a tap on the rind should produce a hollow sound.
Cherries: Flesh should appear dark with a crimson color and feel firm.
Blueberries: Similar to cherries, color should deepen to dark blue. A reddish or pink color may be visible in unripe berries.
Blackberries: Look for a smooth texture without any red appearance. Because blackberries don't ripen after being picked, they tend to spoil quickly.
Cantaloupe: You should detect a sweet smell, and the melon should feel heavy upon lifting.
Peaches: A sweet, fragrant odor should be apparent. Skin should feel tender but not soft.
Pineapple: Smell is again an important factor for pineapple – a sweet scent shows it's ready, but a vinegary one likely means it's overripe.
Raspberries: Generally follow the same rules as blackberries. Best eaten within a couple days of purchase, a bright red color represents ripe berries.
Bananas: A ripe banana features a peel lightly spotted without significant bruising. Your best bet may be to purchase bananas still slightly green and allow them to ripen at home.
Find more food tips, tricks, recipes and videos at Culinary.net.
Photo courtesy of Getty Images
SOURCE:
Culinary.net
Give quick and easy meals a fun spin
(Family Features) Work, school, extracurricular activities, social events and more can make the winter months feel frantic and it can often seem like you're running out of time. This seasonal time crunch makes it even more difficult to answer the age-old, mealtime question kids are always asking: "What are we having?"
To help solve that daily meal dilemma and discover family-pleasing recipes that take 35 minutes or less, the RAGÚ Meal Wheel lets the entire family take an active role in choosing what's on the menu. Simply ask one of your kids to click the "spin" button to find delicious, quick-and-easy recipes like Chicken and Broccoli Alfredo with Fettuccine and Mini Turkey Sloppy Joes.
Both easy-to-make recipes take 35 minutes or less and feature RAGÚ sauces, which come in a variety of taste-tempting classic flavors and styles, perfect for any mealtime occasion. Created 85 years ago by an Italian mother using a family recipe she brought to the United States from Naples, Italy, the sauces are made from quality ingredients like vine-ripened tomatoes, hearty vegetables, Italian cheeses, herbs and spices, allowing home cooks to "Cook Like a Mother" and quickly create affordable, crowd-pleasing meals for their busy families.
To find more quick and mouthwatering recipes to feed your family during the chilly winter months, visit RAGU.com/meal-wheel.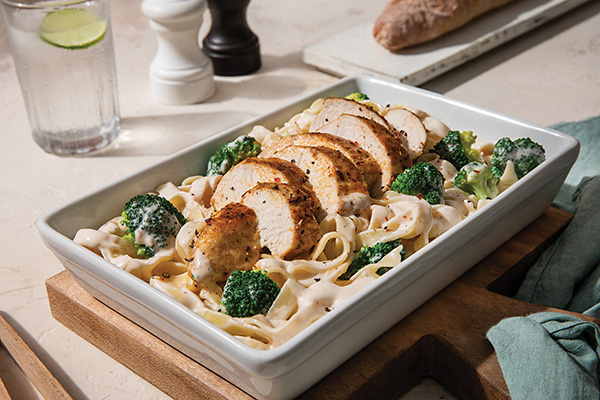 Chicken and Broccoli Alfredo with Fettuccine
Prep time: 20 minutes
Cook time: 15 minutes
Servings: 4
1 tablespoon butter
1 1/2 pounds boneless, skinless chicken breasts, cut into strips
1 jar RAGÚ Classic Alfredo Sauce
1 package (12 ounces) frozen broccoli florets, thawed
1 package (12 ounces) fettuccine pasta
grated Parmesan cheese, for topping (optional)
In large nonstick skillet over medium-high heat, melt butter. Cook chicken, in batches if necessary, stirring occasionally, until chicken is thoroughly cooked. Remove chicken and set aside.
In same skillet, add sauce and broccoli; stir. Bring to boil over medium-high heat. Reduce heat to low and simmer, covered, stirring occasionally, until broccoli is heated through, about 5 minutes. Stir in chicken and cook, stirring occasionally, until cooked through, about 2 minutes.
In separate pan, cook fettuccine according to package instructions.
Serve chicken, broccoli and sauce over hot fettuccine and sprinkle grated Parmesan cheese on top, if desired.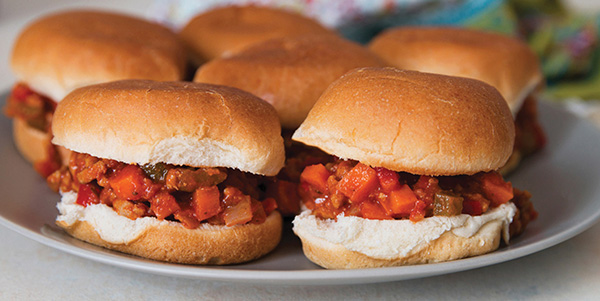 Mini Turkey Sloppy Joes
Recipe courtesy of "Honey and Birch" on behalf of RAGÚ
Prep time: 10 minutes
Cook time: 20 minutes
Servings: 4
1 teaspoon extra-virgin olive oil
1 cup diced onion
3 cloves garlic, minced
1 pound ground turkey
1 cup finely diced carrots
1 medium green pepper, diced
1 medium red pepper, diced
1 jar RAGÚ Simply Chunky Marinara Sauce
1 tablespoon Worcestershire sauce
1 teaspoon ground mustard
1/2 teaspoon kosher salt
1/2 teaspoon black pepper
4 mini buns
In large skillet over medium heat, heat extra-virgin olive oil. When hot, add onion and garlic; sauté until onion is translucent.
Add ground turkey. Break up meat and stir frequently until browned. Add carrots, green pepper and red pepper. Cook 5 minutes until vegetables begin to soften.
Add marinara sauce, Worcestershire sauce, ground mustard, salt and pepper. Stir and bring to boil. Reduce heat to simmer and partially cover pan. Cook 10 minutes.
Serve on mini buns.


SOURCE:
RAGÚ
Satisfy guests with a savory snack, wine pairing
(Family Features) Pairing an easy, delicious appetizer with the perfect wine doesn't have to be as difficult as it sounds. When you're ready to elevate your home entertaining, turn to a simplistic recipe featuring fresh, bold flavors.
Developed by sommelier and founder of "The Lush Life," Sarah Tracey, this Whipped Goat Cheese Salsa Dip is part of her "Dips and Sips" partnership with Fresh Cravings, makers of authentic-tasting chilled salsas offering a vibrant alternative to soft, dull blends of jarred salsa, flavor-filled hummus, plant-based vegan dips and veggie-packed creamy dips.
"When I entertain at home, I'm always looking for ways to impress my friends with fresh, creative bites I can pair with wine," Tracey said. "My favorite hack is finding great products with high-quality ingredients then creating simple, elevated ways to serve them. The less time I spend in the kitchen, the more time I get to spend with my guests."
Ready in just 15 minutes and paired with a rosé, this savory recipe provides an ideal way to satisfy guests without spending too much time in the kitchen. Plus, with goat cheese at the heart of the dip, it's a delicious way to capitalize on trendy butter boards with an approachable main ingredient.
Visit FreshCravings.com to discover more entertaining-worthy recipes and pairing ideas.
Watch video to see how to make this recipe!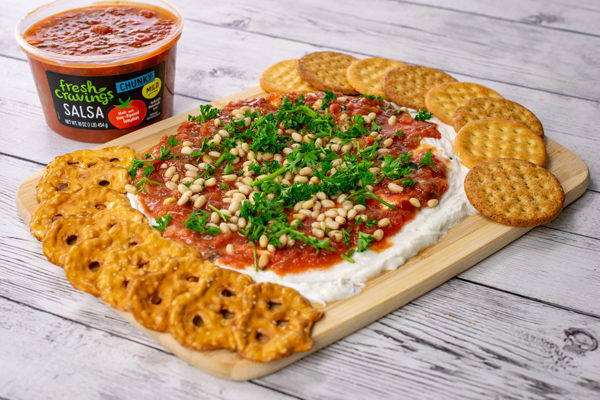 Whipped Goat Cheese Salsa Dip

Recipe courtesy of Sarah Tracey

Total time: 15 minutes

Servings: 6
1 goat cheese log (8 ounces), softened at room temperature
1 pinch sea salt
1/2 cup heavy cream
Fresh Cravings Chunky Salsa, Mild
1/2 cup toasted pine nuts (optional)
1 bunch fresh parsley, chopped (optional)
crackers, chips or vegetables
19 Crimes Snoop Dogg Rosé
In food processor or blender, blend goat cheese with sea salt and 2 tablespoons heavy cream. If mixture is too firm, add cream little by little while pulsing blender until light, fluffy consistency is reached.
Spread whipped goat cheese into shallow serving dish or onto board.
Top with salsa.
Garnish with toasted pine nuts and fresh parsley, if desired.
Serve with crackers, chips or veggies. Pair with rosé.


SOURCE:
Fresh Cravings
Prioritize heart health with a balanced eating plan
(Family Features) No matter your motivations, it's never too late or too early to start focusing on your heart health, and taking steps now can make a big difference. Small changes, like following a healthier eating plan, can help you start down a path toward improved heart health.
One step you can take is following the DASH eating plan, which is a flexible and balanced way of eating that stands for Dietary Approaches to Stop Hypertension and was developed by the National Heart, Lung, and Blood Institute. Requiring no special foods, DASH provides daily and weekly nutritional goals to help lower two major risk factors for heart disease: high blood pressure and high LDL (bad) cholesterol.
Being more physically active, managing stress, getting quality sleep and not smoking combined with DASH can put you on a path toward a healthy heart for life.
Encouraging others to join you on your heart-health journey can also be rewarding. Research shows social support and personal networks make it more likely you'll stick to healthy habits like eating healthy.
Sharing heart-healthy recipes with family and friends is an added bonus, and these DASH-friendly meals can help you take the guesswork out of putting nutritious dinners on the table. Greek-Style Flank Steaks with Tangy Yogurt Sauce offer the bold flavors of the Mediterranean while Teriyaki-Glazed Salmon with Stir-Fried Vegetables is as easy to make as it is colorful. For a complementary combination of pork and sweet fruit flavor, these Baked Pork Chops with Apple Cranberry Sauce are perfect to serve alongside brown rice or steamed broccoli.
Learn more about heart health and find DASH-friendly recipes at nhlbi.nih.gov/DASH.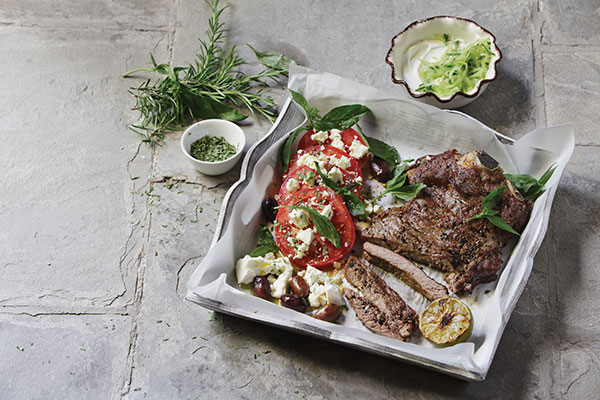 Greek-Style Flank Steak with Tangy Yogurt Sauce
Recipe courtesy of the National Heart, Lung, and Blood Institute
Prep time: 25 minutes
Cook time: 25 minutes
Servings: 4
Marinade:
1/4 cup lemon juice
1 tablespoon olive oil
2 teaspoons fresh oregano, rinsed, dried and chopped
1 tablespoon garlic, minced (2-3 cloves)
1 beef flank steak (12 ounces)
Yogurt Sauce:
1 cup cucumber, peeled, seeded and chopped
1 cup nonfat plain yogurt
2 tablespoons lemon juice
1 tablespoon fresh dill, rinsed, dried and chopped
1 tablespoon garlic, minced (2-3 cloves)
1/2 teaspoon salt
To make marinade: In large bowl, combine lemon juice, olive oil, oregano and garlic.
Lay steak in flat container with sides and pour marinade over steak. Marinate at least 20 minutes, or up to 24 hours, turning several times.
To make yogurt sauce: Combine cucumber, yogurt, lemon juice, dill, garlic and salt. Set yogurt sauce aside at least 15 minutes to blend flavors. Sauce can be prepared up to 1 hour in advance and refrigerated.
Preheat broiler to high with rack 3 inches from heat source.
Broil steak about 10 minutes on each side to minimum internal temperature of 145 F. Let cool 5 minutes before carving.
Slice thinly across grain into 12 slices.
Serve three slices with 1/2 cup yogurt sauce.
Tip: Serve in sandwich with pita bread, lettuce and tomato.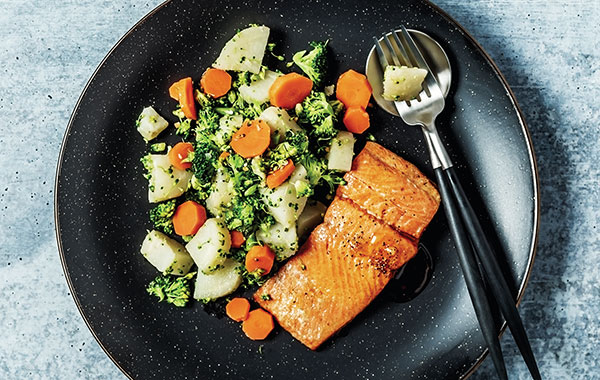 Teriyaki-Glazed Salmon with Stir-Fried Vegetables
Recipe courtesy of the National Heart, Lung, and Blood Institute
Prep time: 20 minutes
Cook time: 15 minutes
Servings: 4
Salmon:
2 tablespoons light teriyaki sauce
1/4 cup mirin or sweet rice wine
2 tablespoons rice vinegar
2 tablespoons scallions, rinsed and minced
1 1/2 tablespoons ginger, minced
12 ounces salmon fillets, cut into four portions (3 ounces each)
Vegetables:
1 bag (12 ounces) frozen vegetables stir-fry
1/2 tablespoon peanut oil or vegetable oil
1/2 tablespoon garlic, minced (about 1 clove)
1 tablespoon ginger, minced
1 tablespoon scallions, rinsed and minced
1 tablespoon light soy sauce
Preheat oven to 350 F.
To prepare salmon: Mix teriyaki sauce, mirin, rice vinegar, scallions and ginger well. Pour over salmon and marinate 10-15 minutes.
Remove salmon from marinade.
Place salmon on baking sheet. Bake 10-15 minutes, or until fish flakes easily with fork in thickest part and reaches minimum internal temperature of 145 F.
To prepare vegetables: Thaw frozen vegetables in microwave or place bag in bowl of hot water about 10 minutes. In large wok or saute pan, heat oil. Add garlic, ginger and scallions; cook gently, but do not brown, 30-60 seconds.
Add vegetables and continue stir-frying 2-3 minutes, or until heated through. Add soy sauce.
Serve one piece of salmon with 1 cup vegetables.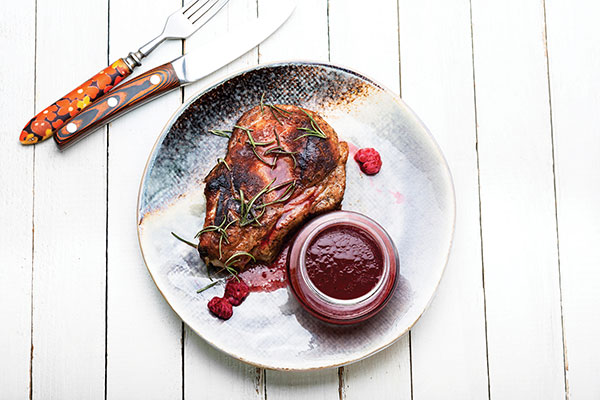 Baked Pork Chops with Apple Cranberry Sauce
Recipe courtesy of the National Heart, Lung, and Blood Institute
Prep time: 10 minutes
Cook time: 30 minutes
Servings: 4
Pork Chops:
4 boneless pork chops (about 3 ounces each)
1/4 teaspoon ground black pepper
1 medium orange, rinsed and zested
1/2 tablespoon olive oil
Sauce:
1/4 cup low-sodium chicken broth
1 medium apple, peeled and grated (about 1 cup)
1/2 cinnamon stick
1 bay leaf
1/2 cup dried cranberries
1/2 cup 100% orange juice
Preheat oven to 350 F.
To prepare pork chops: Season pork chops with pepper and orange zest.
In large saute pan, heat olive oil over medium heat. Add pork chops and cook until browned on one side, about 2 minutes. Turn and brown 2 minutes. Remove pork chops from pan, place on nonstick baking sheet and bake 10 minutes to minimum internal temperature of 160 F.
To make sauce: Add chicken broth to saute pan and stir to loosen brown bits from pork chops. Set aside.
In small saucepan over medium heat, cook grated apples, cinnamon stick and bay leaf until apples begin to soften.
Add cranberries, orange juice and reserved broth. Bring to boil then lower heat to gentle simmer. Simmer 10 minutes, or until cranberries are plump and apples are tender. Remove cinnamon stick.
Peel orange and cut into eight sections.
Serve one pork chop with 1/4 cup sauce and two orange segments.
Photos courtesy of Getty Images