5 tips for a more efficient work day
(Family Features) Being more productive at work means working smarter, not harder (or longer) and getting the most out of the hours you spend in the office. Sometimes, however, people find their workdays spiral out of control even when they start each morning with a set plan and to-do list.
Carol Lavin Bernick, former chairman of beauty conglomerate Alberto Culver, published "Gather As You Go: Lessons Learned Along the Way,"a book sharing insights she's learned through her many roles as a corporate leader, working mother, philanthropist and founder of the nonprofit organization Enchanted Backpack. Bernick offers these tips and tricks to help maximize the minutes of your workday for optimal productivity and efficiency.
Identify Important Versus Critical
Days fly by and your to-do list can feel like it is getting longer. It is common to do what is immediately important or necessary, not what is critical. Whether it be setting up your will, scheduling doctor's appointments or making sure your kids are up-to-date on their shots and vaccines, building time into your life to ensure critical items are done is imperative. Schedule a couple of times each year – the same times every year – to focus on completing critical tasks.
Be Resourceful
If you are unsure how to do something at work, reach out to your colleagues for help. Make friends with another person on your team at a similar level who has been around a while. Take ideas from anywhere you can get them. Even the best CEOs ask for help. Consultants are often hired by leaders to provide their specialized expertise, unique skills and objective viewpoints to businesses.
"The smartest people I know ask for help," Bernick said.
Divide and Conquer
There are times life can be simply overwhelming and it seems impossible to get everything done. When this happens, take the problem and break it down to its elements then assess what you need to do and what can be completed by others. Create a system for tracking the project, such as using a word processor document or another tool to mark when each item is complete. This is an easy way to see what tasks you still need to get done, help others grow as they help you and find motivation in seeing what you have already accomplished.
Give Your Boss Everything Needed
Work more efficiently by giving your boss everything needed when asked to prepare information. Ensure you have a clear understanding of the end-goal. Repeat back what is needed and why to ensure you are both on the same page. A simple template works in many cases.
For example, if you're asked to research new office furniture, you'll need to provide more than just costs. Be prepared to answer questions such as: When would it be completed or delivered? Is a deposit needed, and if so, how much? What is the cancellation date? What other options are offered (colors, sizes, styles, etc.)? Is there a warranty or guarantee? Are there photos or samples available to share? Will it meet the needs of the office? Are there any negatives? Comprehensive work can make the most of everyone's time and increase the likelihood of impressing your boss.
Find more tips and inspiration to increase workplace productivity at gatherasyougo.com.

Photo courtesy of Getty Images
SOURCE:
Gather As You Go
Move all summer long; 5 activities to keep children active
(Family Features) Everybody, no matter their age, can benefit from daily physical activity. According to the Centers for Disease Control and Prevention (CDC), young children should be physically active throughout the day for growth and development. Despite the common misconception that children are in perpetual motion, the CDC reminds caregivers to encourage children to be active when they play.
"Physical activity is important because it is critical in assisting with gross motor development and helps support development in other areas," said Khy Sline from KinderCare Learning Center's education team. "Children thrive when we give them the tools to use their bodies and muscles in new ways and make mind-body connections."
Consider these five activities to encourage children to get moving.
Blow bubbles. Appealing to children from infancy on up, seeing bubbles floating around can encourage babies to reach out and try to grab them, building arm strength and coordination. Toddlers and older children can run around the patio or lawn chasing bubbles and watching them pop.
Build a tunnel. Whether indoors or out, made from furniture covered with sheets or cardboard boxes, tunnels encourage children to move over, under, around and through, which helps them explore new ways of moving while also building coordination and balance.
Play hide and seek. As they dash around trying to find the perfect hiding spot, children build spatial awareness, their understanding of where their bodies are in relation to other people and objects.
Play red light, green light. This classic game helps children build coordination – connecting the verbal instruction with the physical movement – while also teaching them impulse control, an essential executive function skill. Be sure to get creative with instructions and add variations like tip-toeing, crawling, hopping and more.
Walk the line. Draw a line on the ground using chalk outdoors or painter's tape indoors and encourage your children to walk along the line. This activity helps children improve balance and coordination. Get creative and add in a challenge by drawing a wavy or zig-zag line. Once your children get the hang of following the line, ask them to think of other ways to travel along that space, such as hopping on one foot or skipping.
For more ideas to encourage physical activity among children, visit kindercare.com.

SOURCE:
KinderCare
Way to upgrade your remote workspace
(Family Features) With remote and hybrid work schedules here to stay for many Americans, it's important to have a space dedicated to comfort and productivity. The initial transition to remote work may have involved setting up an impromptu workstation at the dining room table but creating a long-term, functional home office can be one of the first steps to increasing efficiency, focus and productivity.
Whether your work area is a spacious room, small den or desk in a quiet spot in the house, these ideas can help you create a space where you enjoy working.
Select the Perfect Location
While some remote workers have a spare bedroom or den they can dedicate as a home office, others may need to create a multiuse area in which office space occupies another room, such as the dining room, family room or basement. If you have several options for your workspace, consider how lighting and sound may impact your ability to focus.
For example, positioning your desk near a window can help increase your mood and reduce boredom. Similarly, if possible, choose a location where noise from other family members moving around or traffic outside will be less of a distraction. Earplugs or background noise can help drown out sounds if you're restricted to a specific location in your home.
Keep Color in Mind
Colors can influence productivity and mood, so it's important to consider them when designing or updating your workspace. Avoid white, which can lead to boredom, and instead choose a color scheme that can make a positive impact. Warm colors like red or orange can increase energy; blues are relaxing and can help keep blood pressure down; and green can help reduce stress.
An on-trend option like the Granny Chic Home Office from Wellborn Cabinet, Inc., can be set up in nearly any area of the home to create a stylish workspace. Featuring Premier Series cabinets with Napa doors in an olive finish and satin nickel hardware, this desk and hutch also includes base and crown moulding to help set it apart as a space devoted to productivity. Plus, accessories like a wastebasket pullout, drawer inserts and dividers, and tiered organizers can make organization easy.
Choose a Desk and Chair
Start by measuring your space to see how large of a desk you can accommodate then decide between a traditional desk or trendy adjustable-height version, which can allow you to sit and stand throughout the workday and has been shown to provide health benefits in addition to increasing work performance. An ergonomic chair with a padded seat and armrests is also a must-have to provide lumbar support and increase comfort while seated.
Find Storage Solutions
Storage is one of the most critical aspects when designing your home office. To avoid clutter and keep documents and other items organized, consider options such as built-in cabinets and shelving, base cabinets with desk file drawers, utility cabinets and wall bookcases. You can even customize your cabinets and choose from a wide selection of styles including traditional, transitional, casual, formal, contemporary or eclectic with options from Wellborn Cabinet.
Add Plants and Decor
Office plants provide numerous benefits, including improving air quality and increasing productivity. In fact, a study published in the "Journal of Environmental Horticulture" found productivity increased 12% when workers performed a task on a computer in a room with plants compared to those who performed the task in the same room without plants. Low-maintenance species such as orchids and succulents also produce a pleasant aroma and earthy atmosphere to decrease stress.
In addition, consider your space's decorations if you will be conducting video calls. If your home office doesn't have much natural light, place a light source behind the camera. While the background for your calls should be relatively neutral, a mural or art on the walls or shelves can complement your professionalism and add a creative touch to your space.
Find more home office inspiration at Wellborn.com.


SOURCE:
Wellborn Cabinet, Inc.
Resilient flooring trends for spring remodeling season
(Family Features) If the idea of a spring remodel brings equal parts intrigue and dread, starting with your flooring can make the process more appealing. For example, sustainable, resilient flooring comes in a variety of options to both your budget and personal style.
Resilient flooring is a durable type of flooring that includes rubber, linoleum, cork, luxury vinyl tile or sheet vinyl, among others. Increasingly popular in homes across the country, resilient flooring options from Beautifully Responsible partners are designed with indoor air quality and other important performance factors in mind, but they're also built to stand up to the rigors of everyday life.
Consider these five home flooring trends for 2023 to help you create a tailored space at home and take the next step by visiting the Design Inspiration section of beautifullyresponsible.com to explore real-world design examples.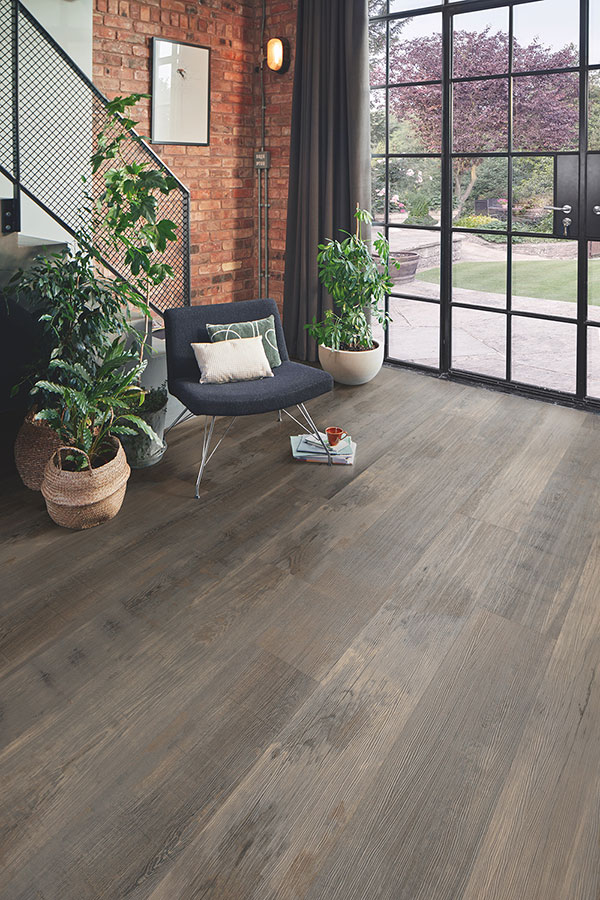 1. Classic Hardwood with a Resilient Twist
Ideal for kitchens, dining rooms, hallways and home offices, hardwood designs create a timeless foundation for your home with the ability to evolve with your tastes. When you go the resilient flooring route, you'll find design options for everything from dramatic walnut to stately mahogany. Plus, options like luxury vinyl tile and plank are modular, making installation a little easier for DIYers.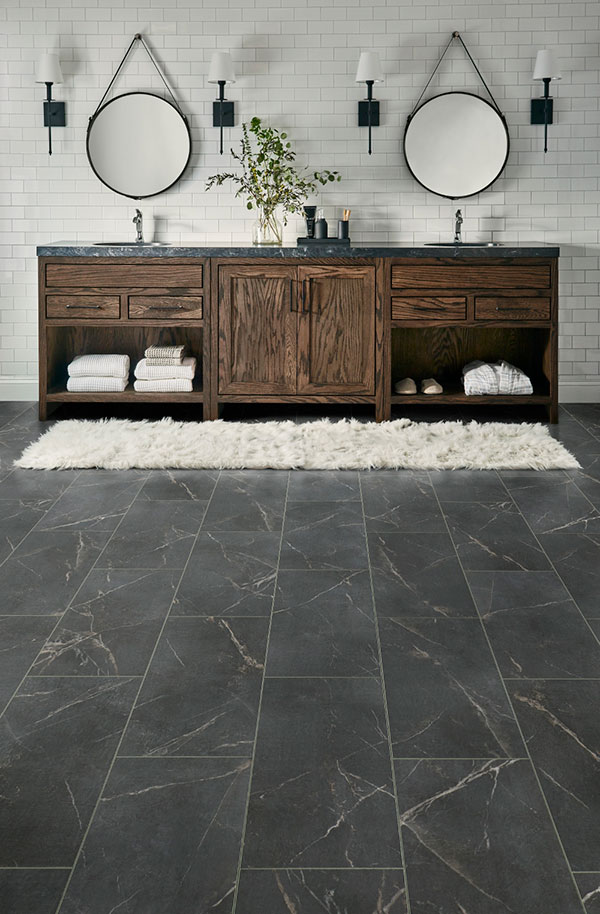 2. Modern, Stone-Look Flooring
When it comes to resilient home flooring, stone style designs don't just look sturdy, they're durable, too. For example, slate-inspired tiles can add effortless class and character to high-traffic rooms that are cleaned often, such as dining rooms and mudrooms.
Stone-look resilient flooring also gives your floors a stronger ability to adapt to rooms like kitchens and bathrooms, which often see fluctuations in temperature and moisture. Rigid-core flooring, for example, is one of the fastest growing categories of resilient flooring due to its comfort, durability and ability to resist water.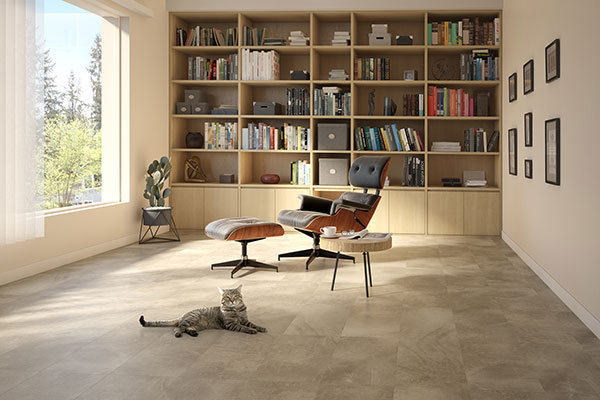 3. Large Format Tiles
Functional rooms like the kitchen are often the heart of the home where people meet to share the adventures of their days. They also often see a lot of dirt, moisture and accidental spills. However, resilient home flooring installations are resistant to scratches and stains, ideal for homes with small children and pets. Plus, they are easy to clean without the need for harsh chemicals and there's no grout to maintain. Many resilient flooring options are also available in water-resistant or waterproof varieties.
An option such as large-format tile, including the sheet vinyl category of resilient flooring, can also create the illusion of space in basements, laundry rooms, mudrooms and other areas, making them appear more expansive.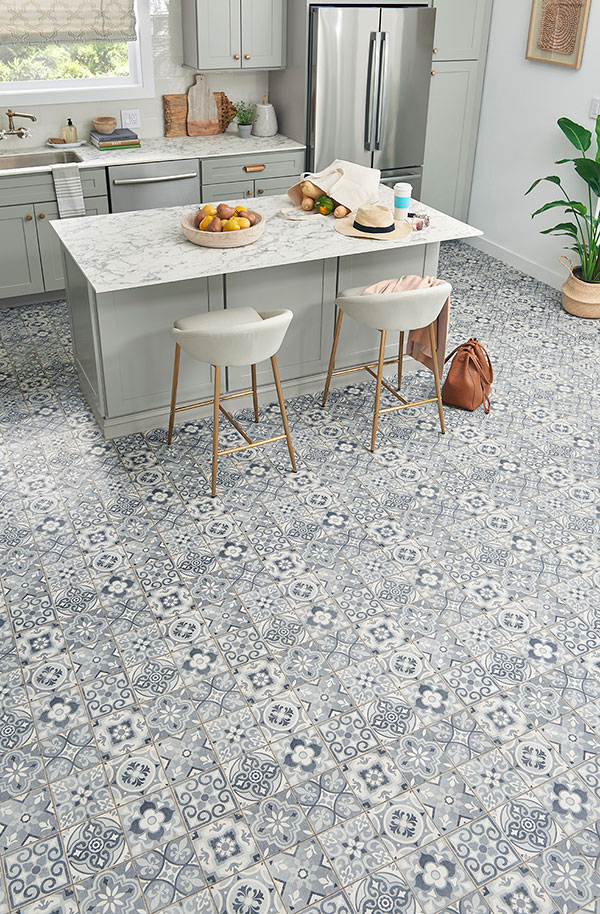 4. Statement Designs
Just like a statement piece ties together the perfect outfit, a statement floor can make an impressive focal point in the kitchen, bathroom, basement, laundry room or mudroom. With statement designs from Beautifully Responsible partners, the possibilities are nearly endless with a variety of styles such as Bohemian, Farmhouse, Mid-Century Modern, Minimalist Zen, Scandinavian and more that can appeal to homeowners with different tastes and preferences. Resilient flooring types like luxury vinyl tile and sheet vinyl are also available with textured surfaces to make an additional statement.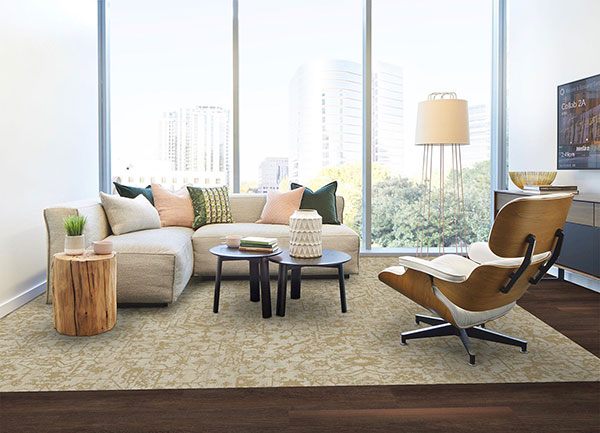 5. Cozy Spaces
If you've found a perfect statement rug, resilient flooring can create an ideal foundation underneath in family rooms, bedrooms, hallways or basements. Many resilient floors are built to provide comfort underfoot, absorb sound and make spaces accessible for all levels of mobility. Also look for third-party labels such as FloorScore to identify solutions for protecting the air quality in your home.


SOURCE:
Beautifully Responsible