What to know about emergency air ambulance transportation
(Family Features) For many types of medical emergencies, time is a critical factor. The faster a patient receives critical care, the greater the chances for a positive outcome, including a full recovery. However, for people living in remote areas and those who enjoy spending leisure time off the beaten path, time and help aren't always readily available.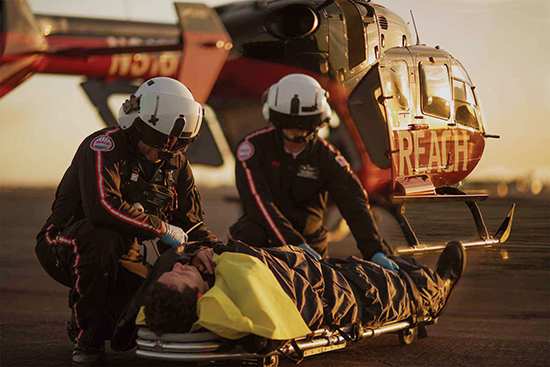 Emergency air medical services can play a vital role in transporting patients who have experienced a medical episode such as a stroke, heart attack, burn- or trauma-related accident including motor vehicle accidents or workplace injuries. In these severe circumstances, patients can benefit from emergency air medical services' significantly reduced transport times, specialized medical training and advanced equipment.
With the increased closure of rural hospitals, these transports can help patients receive the care they need. Understanding how emergency air medical services work can provide an advantage if a crisis requiring specialized transportation is experienced.
The Decision to Use an Emergency Air Ambulance
Emergency air ambulances are resources typically reserved for times when a patient is facing a life-, limb- or eyesight-threatening emergency and it is in the person's best interest to receive expedited medical care. A qualified situation typically involves the risk of serious or permanent damage to a patient's (or unborn child's) health or bodily function.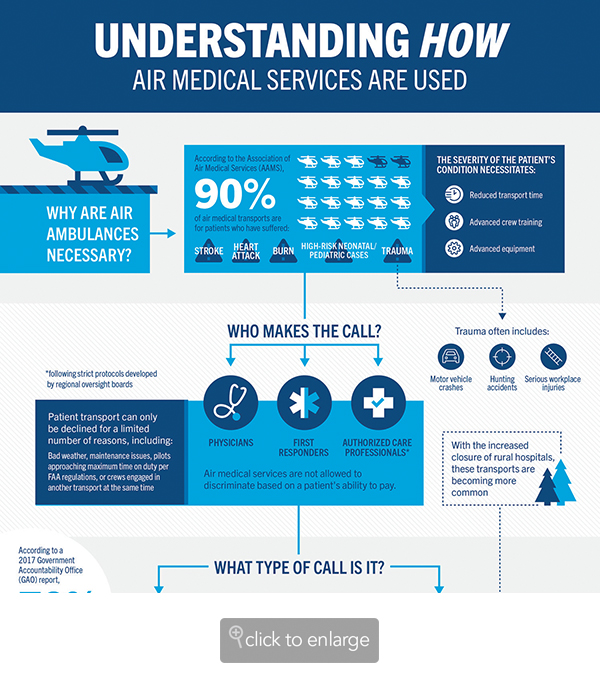 If the medical situation meets any of these criteria and the 911 dispatcher determines the patient would benefit from emergency ground or air medical transport, he or she may proactively dispatch an air ambulance along with a ground ambulance. Similarly, when assessing a patient who is critically ill or injured, a first responder or other authorized care professional on the scene will determine the closest and fastest options for getting to advanced medical care. If the condition is particularly serious, air transportation may be the most viable option.
In other situations, physicians or authorized health care professionals operating under strict protocols may make the decision to request an emergency air transport. An example would be when a patient urgently needs a higher level of care and is transported from a community hospital to a larger, better equipped facility such as a trauma center. In fact, these types of interfacility transfers of some of the sickest or most gravely ill patients make up the majority of emergency air ambulance transports.
Payment Options and Insurance Denials
Emergency air medical service payments can vary a great deal. In severe situations, patients cannot be denied access to air transport based on ability to pay. In fact, under the Emergency Medical Treatment and Labor Act, air ambulances are required to deploy (barring severe weather, maintenance issues or actively transporting another patient) and agree to take flights without any knowledge of the patient's ability to pay. Any type of insurance that may cover emergency air medical transport services, including health, auto, medical and liability, may be a source of payment. Additionally, for those covered through Medicare Part B, a co-pay and deductible may be all a patient is responsible for paying.
However, insurance companies deny payment for roughly 60% of these emergency transports, claiming they are medically unnecessary. Some air medical service providers, like Global Medical Response, employ a staff of highly trained Patient Advocates that work with patients to appeal these denials on their behalf. They work tirelessly to make sure insurance companies fulfill their responsibility to pay so patients are not left with unexpected bills because of surprise insurance denials, even if it takes months or years to resolve a denied claim. Ultimately, 90% of those denials are overturned after numerous appeals.
In the event insurance still will not pay the claim in full or the patient doesn't have insurance of any kind, the air medical service provider will work with the patient to find a solution that meets his or her unique financial needs to resolve any remaining balance.
Emergency Air Ambulance Memberships
A membership with an emergency air ambulance provider or group of providers, like AirMedCare Network, guarantees no out-of-pocket costs if transported by the provider covered under a membership program. Memberships typically require a minimal monthly or annual fee. In some instances, corporations purchase memberships to cover employees who work in remote areas or drive through large swaths of rural America.
Other benefits are often unique to the individual providers and can include memberships that are valid across a provider's full network, allowing for coverage while traveling. In addition, household memberships are available to cover people under one roof as well as undergraduate students. Becoming a member is also a way to support the health care needs of local communities since it helps providers operate in rural areas where having a quick response time to critical medical situations can save lives.
Find more information about emergency air and ground transportation services and membership programs at globalmedicalresponse.com.

SOURCE:
Global Medical Response
Way to upgrade your remote workspace
(Family Features) With remote and hybrid work schedules here to stay for many Americans, it's important to have a space dedicated to comfort and productivity. The initial transition to remote work may have involved setting up an impromptu workstation at the dining room table but creating a long-term, functional home office can be one of the first steps to increasing efficiency, focus and productivity.
Whether your work area is a spacious room, small den or desk in a quiet spot in the house, these ideas can help you create a space where you enjoy working.
Select the Perfect Location
While some remote workers have a spare bedroom or den they can dedicate as a home office, others may need to create a multiuse area in which office space occupies another room, such as the dining room, family room or basement. If you have several options for your workspace, consider how lighting and sound may impact your ability to focus.
For example, positioning your desk near a window can help increase your mood and reduce boredom. Similarly, if possible, choose a location where noise from other family members moving around or traffic outside will be less of a distraction. Earplugs or background noise can help drown out sounds if you're restricted to a specific location in your home.
Keep Color in Mind
Colors can influence productivity and mood, so it's important to consider them when designing or updating your workspace. Avoid white, which can lead to boredom, and instead choose a color scheme that can make a positive impact. Warm colors like red or orange can increase energy; blues are relaxing and can help keep blood pressure down; and green can help reduce stress.
An on-trend option like the Granny Chic Home Office from Wellborn Cabinet, Inc., can be set up in nearly any area of the home to create a stylish workspace. Featuring Premier Series cabinets with Napa doors in an olive finish and satin nickel hardware, this desk and hutch also includes base and crown moulding to help set it apart as a space devoted to productivity. Plus, accessories like a wastebasket pullout, drawer inserts and dividers, and tiered organizers can make organization easy.
Choose a Desk and Chair
Start by measuring your space to see how large of a desk you can accommodate then decide between a traditional desk or trendy adjustable-height version, which can allow you to sit and stand throughout the workday and has been shown to provide health benefits in addition to increasing work performance. An ergonomic chair with a padded seat and armrests is also a must-have to provide lumbar support and increase comfort while seated.
Find Storage Solutions
Storage is one of the most critical aspects when designing your home office. To avoid clutter and keep documents and other items organized, consider options such as built-in cabinets and shelving, base cabinets with desk file drawers, utility cabinets and wall bookcases. You can even customize your cabinets and choose from a wide selection of styles including traditional, transitional, casual, formal, contemporary or eclectic with options from Wellborn Cabinet.
Add Plants and Decor
Office plants provide numerous benefits, including improving air quality and increasing productivity. In fact, a study published in the "Journal of Environmental Horticulture" found productivity increased 12% when workers performed a task on a computer in a room with plants compared to those who performed the task in the same room without plants. Low-maintenance species such as orchids and succulents also produce a pleasant aroma and earthy atmosphere to decrease stress.
In addition, consider your space's decorations if you will be conducting video calls. If your home office doesn't have much natural light, place a light source behind the camera. While the background for your calls should be relatively neutral, a mural or art on the walls or shelves can complement your professionalism and add a creative touch to your space.
Find more home office inspiration at Wellborn.com.


SOURCE:
Wellborn Cabinet, Inc.
Resilient flooring trends for spring remodeling season
(Family Features) If the idea of a spring remodel brings equal parts intrigue and dread, starting with your flooring can make the process more appealing. For example, sustainable, resilient flooring comes in a variety of options to both your budget and personal style.
Resilient flooring is a durable type of flooring that includes rubber, linoleum, cork, luxury vinyl tile or sheet vinyl, among others. Increasingly popular in homes across the country, resilient flooring options from Beautifully Responsible partners are designed with indoor air quality and other important performance factors in mind, but they're also built to stand up to the rigors of everyday life.
Consider these five home flooring trends for 2023 to help you create a tailored space at home and take the next step by visiting the Design Inspiration section of beautifullyresponsible.com to explore real-world design examples.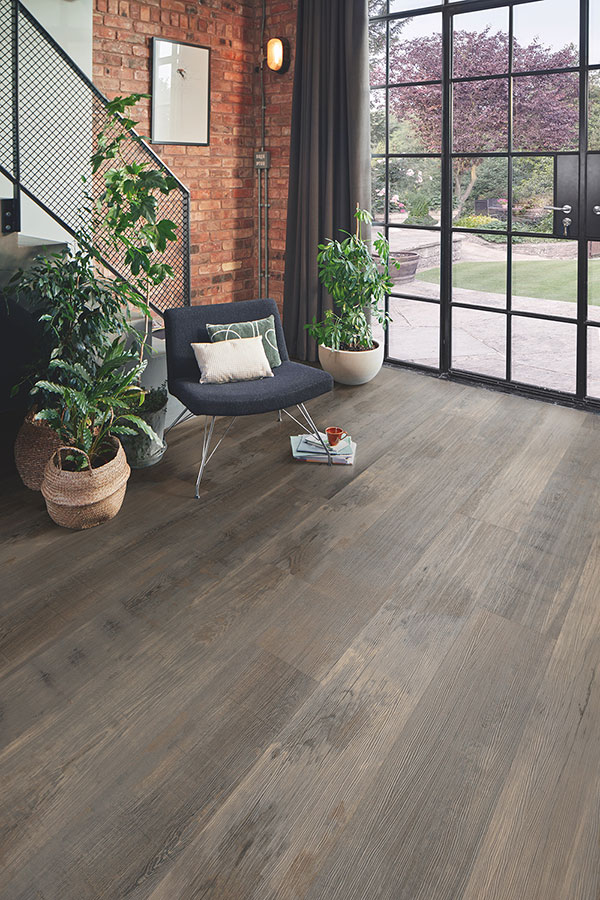 1. Classic Hardwood with a Resilient Twist
Ideal for kitchens, dining rooms, hallways and home offices, hardwood designs create a timeless foundation for your home with the ability to evolve with your tastes. When you go the resilient flooring route, you'll find design options for everything from dramatic walnut to stately mahogany. Plus, options like luxury vinyl tile and plank are modular, making installation a little easier for DIYers.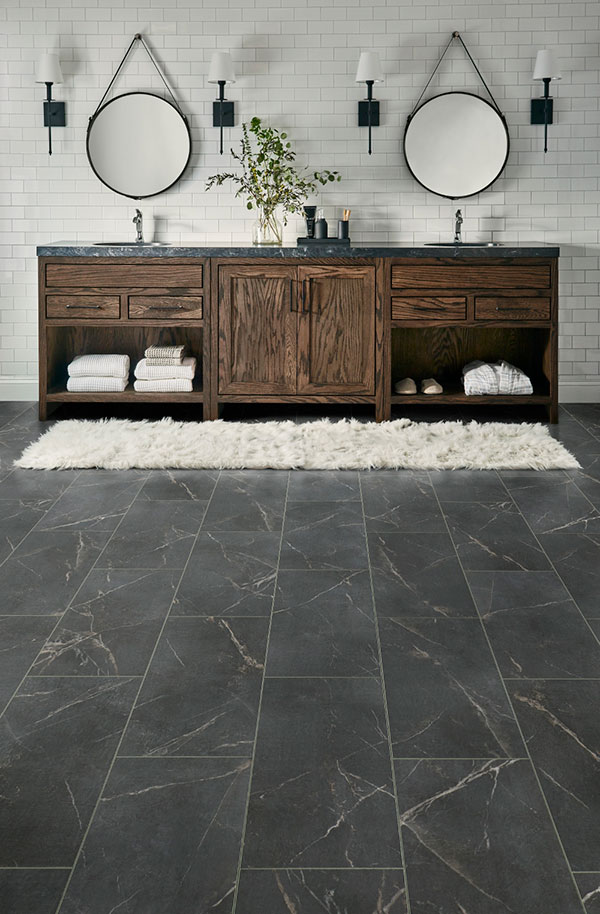 2. Modern, Stone-Look Flooring
When it comes to resilient home flooring, stone style designs don't just look sturdy, they're durable, too. For example, slate-inspired tiles can add effortless class and character to high-traffic rooms that are cleaned often, such as dining rooms and mudrooms.
Stone-look resilient flooring also gives your floors a stronger ability to adapt to rooms like kitchens and bathrooms, which often see fluctuations in temperature and moisture. Rigid-core flooring, for example, is one of the fastest growing categories of resilient flooring due to its comfort, durability and ability to resist water.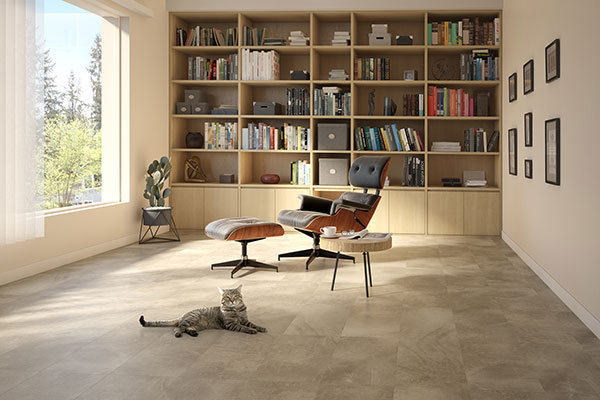 3. Large Format Tiles
Functional rooms like the kitchen are often the heart of the home where people meet to share the adventures of their days. They also often see a lot of dirt, moisture and accidental spills. However, resilient home flooring installations are resistant to scratches and stains, ideal for homes with small children and pets. Plus, they are easy to clean without the need for harsh chemicals and there's no grout to maintain. Many resilient flooring options are also available in water-resistant or waterproof varieties.
An option such as large-format tile, including the sheet vinyl category of resilient flooring, can also create the illusion of space in basements, laundry rooms, mudrooms and other areas, making them appear more expansive.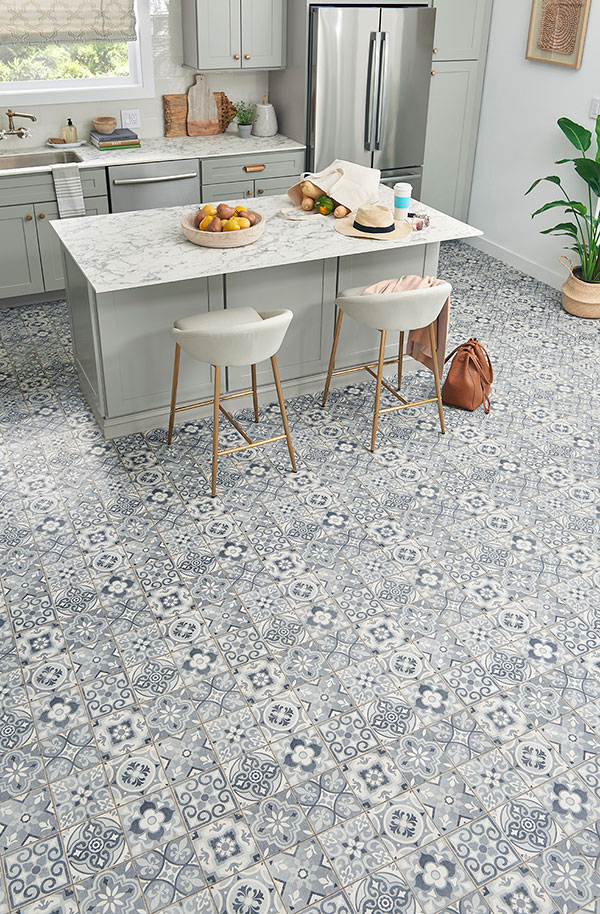 4. Statement Designs
Just like a statement piece ties together the perfect outfit, a statement floor can make an impressive focal point in the kitchen, bathroom, basement, laundry room or mudroom. With statement designs from Beautifully Responsible partners, the possibilities are nearly endless with a variety of styles such as Bohemian, Farmhouse, Mid-Century Modern, Minimalist Zen, Scandinavian and more that can appeal to homeowners with different tastes and preferences. Resilient flooring types like luxury vinyl tile and sheet vinyl are also available with textured surfaces to make an additional statement.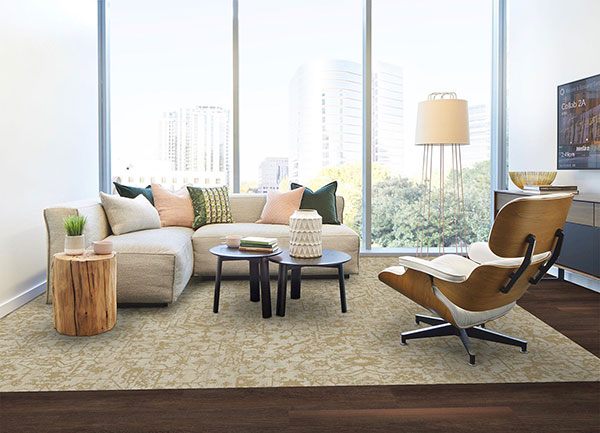 5. Cozy Spaces
If you've found a perfect statement rug, resilient flooring can create an ideal foundation underneath in family rooms, bedrooms, hallways or basements. Many resilient floors are built to provide comfort underfoot, absorb sound and make spaces accessible for all levels of mobility. Also look for third-party labels such as FloorScore to identify solutions for protecting the air quality in your home.


SOURCE:
Beautifully Responsible
Tips for creating a summer of unplugged fun
(Family Features) Between school, work and entertainment, there are times when screens can seem like a pervasive part of modern life. For all the positive aspects of technology, there can also be a desire for children to have stretches of unplugged learning and participate in educational activities that do not require a screen.
Why Unplugged Learning Matters
"Unplugged learning is important to balance the screen time children may experience with other forms of learning; to promote physical activities, social interaction and creativity; and develop the essential skills that bolster them throughout their exploration and growth as individuals," said Rurik Nackerud from KinderCare's education team.
Summer can be an ideal time to focus on unplugged learning as it often brings a break from the traditional academic year and activities.
"We want summer to be a time when children can put down technology and connect with one another face-to-face, build important creativity skills and learn how to be social with one another without the buffer of screens," said Khy Sline from KinderCare's education team. "They can play, run, be immature and laugh with their friends, giggle at the silly things and find joys in those in-person interactions with one another."
Tips for Creating Unplugged Fun as a Family
Get Outdoors. Make time as a family to get outside and explore, even if it's simply a walk around the block after dinner. Help children notice the little things like a bug on the sidewalk or the way the sun filters through tree leaves to make patterns on the ground. Ask them about the things they see and give your children the space to ask questions and work together to find the answers. This helps teach children collaborative learning skills: asking questions, sharing ideas and working together to reach an answer.

Read Together. This could mean going to the library to check out new books or exploring your family's bookshelves for old favorites. Snuggle up together for family story time. If children are old enough to read on their own, invite them to read to you or their younger siblings. Talk about the story or even act out favorite parts to help your children actively participate in story time, which may help them better understand the story's concepts.

Encourage Creative Thinking. Help children expand their ability to think creatively by working together to make a craft or project. For example, the next time a delivery box arrives at your home, encourage your children to turn it into something new using craft supplies on hand. A blanket could turn a box into a table for a pretend restaurant while some tape or glue could transform it into a rocket ship or train. When everyone's done creating and playing, the box can be broken down for recycling. This activity can help children literally think outside of the box and apply their own unique ideas and creativity to create something new.
For more tips to encourage unplugged learning this summer, visit kindercare.com.


SOURCE:
KinderCare