How to welcome a new puppy to the family
Introducing a new puppy to your household can bring many rewards. However, getting the hang of things can take some time, especially for first-time pet owners.
In fact, it takes the average pet owner almost four months to get into the flow with a new four-legged family member, according to a survey by Royal Canin. Eight in 10 respondents said the first year of pet ownership is the most important, but that doesn't mean it's easy. The survey found 64% believe the first year is also the most difficult and deciding how to train a new pet was cited as the most important decision pet parents have to make.
"Bringing a puppy home is a hugely rewarding experience for pet owners, but it's also a time of huge challenges and steep learning curves," said Dr. Jill Cline, pet nutritionist and site director of Royal Canin's Pet Health and Nutrition Center. "In addition to helping your puppy adjust to its new home, you can support your puppy's health now and always with a nutritionally complete diet tailored to its specific needs."
Make welcoming a new puppy a rewarding experience for the whole family with these tips.
Arriving Home
Your puppy may be feeling stressed by new sights, sounds, smells and the separation from its mother. Manage the noise and activity to avoid adding to this stress.
As soon as you get home, take your puppy to your yard or outside area so it can go to the bathroom. Use positive verbal reinforcement when the job is done.
Once indoors, block off a safe area and let your puppy sniff and explore on its own time. Getting acquainted with a new place takes time and lots of exploring. Some puppies can be overwhelmed by too much human contact, so allow your puppy to come to you.
Getting Settled
Puppies like to know what to expect. Plan your routine for feeding, potty trips, exercise and grooming so you can get started on day one. If you know what routine your puppy had before adoption, it's best to continue for consistency until your puppy is settled.
Any sudden dietary changes can cause stress or digestive problems, so for the first week or two, give your puppy the same food as its previous owner, following the feeding recommendations on the package. Nutrition tailored to specific developmental needs can help fragile, young puppies grow into strong, healthy dogs. It's important to select a high-quality food based on age and expected adult size.
Your puppy's eating spot should be away from where you and any other pets eat. Allow your puppy to eat in peace to prevent it from feeling nervous or protective.
Puppies tire easily and need as much as 18-20 hours of sleep per day for healthy development. A crate near where you sleep lets your puppy see and smell you but keeps it from wandering off. Put something that carries your scent in your puppy's bed along with a blanket to snuggle into.
Remember to schedule regular veterinarian visits and gradually introduce your puppy to new experiences like sounds, car travel, walks and other animals. It's also important to begin behavior training right away to develop good habits from the start.
If you're interested in getting a new puppy, before making a decision on which breed best suits your family and lifestyle, you can see all 196 registered breeds during the 2021 AKC National Championship. Find more advice for welcoming a new puppy into your home at RoyalCanin.com/puppies.
Photo courtesy of Getty Images
SOURCE:
Royal Canin
Enhance your home's style with stone
(Family Features) One essential step in planning a home renovation is choosing the right materials. Natural and textured walls continue to be trendy choices, and many building pros and homeowners are gravitating toward stone siding to add comfort, character and beauty.
Panelized stone siding offers the look and feel of natural stone and manufactured stone veneer, but in a panelized format that can be installed with screws. With a wide range of exterior and interior applications, panelized stone siding can complement almost any home style. On the exterior, in particular, stone siding can boost curb appeal and provide a multi-textured facade with a solid return on investment.
Although stone veneer, or manufactured stone, is commonly used on home exteriors, indoor applications are gaining popularity as homeowners are increasingly interested in bringing natural elements inside.
Given its design flexibility, ease of installation and affordability, the experts at Westlake Royal Building Products recommend manufactured stone siding as an ideal option for interior and exterior applications like these:
Siding
If you love the look of natural stone but want a more affordable option, panelized stone siding offers an authentic look and simple application with a cutting and installation process similar to traditional siding panels. Some homeowners choose to mix stone with other exterior materials to create a one-of-a-kind appearance. For example, adding manufactured stone siding alongside existing brick or vinyl siding can infuse visual texture, dimension and impact. Complementing colors can provide a more balanced, traditional look while contrasting colors present as modern and bold.
Entryways
Wrapping columns with panelized stone can make your home's entrance a focal point, adding curb appeal and creating a welcoming effect.
Accent Walls
Panelized stone siding can also be used to elongate the appearance of a wall while bringing texture and contrast into the home. Warmer tones can make the space more inviting and cozier while cooler hues can bring a modern, industrial feel.
Fireplaces
Manufactured stone siding makes it easy to give a fireplace a facelift or make it a focal point, changing the look and feel of a room. Available in a variety of colors, textures and shapes, it can elevate your living room's style and create a more inviting area.
An affordable option like Versetta Stone panelized stone siding from Westlake Royal Building Products provides the beauty of hand-laid stone with virtually undetectable joints and seams for world-class design featuring timeless colors and textures, natural shapes and hand-crafted details. It's a practical choice for experienced DIYers since there's no need for mortar. What's more, the tongue-and-groove interlocking system can be installed in any weather.
Learn how panelized stone siding can bring your vision to life at VersettaStone.com.
Chores to tackle to get your home ready for spring
(Family Features) After months spent largely indoors while harsh elements battered your home's exterior, many homeowners are throwing open the windows and embracing spring's arrival.
Every home requires ongoing maintenance to ensure it's living up to its aesthetic and functional best. This checklist can help you create a comfortable home setting for enjoying the warmer months.
Check gutters. During the colder months, debris can accumulate in the gutters, which can be problematic when spring rains arrive. Clogged gutters prevent water from flowing efficiently away from the roof and house. When they're backed up, they can cause water damage in a short amount of time. Faulty guttering can also cause slow leaks that lead to damage you may not discover until major repair work is needed. Properly functioning gutters are clear of debris, flow freely and are securely attached to the home.
Inspect the roof. Your roof takes a real beating in all kinds of weather conditions. Making it a common practice to carefully inspect the roof with the change of seasons can help you identify potential problems while they're still in early stages, before a big storm hits and major damage occurs. Some roof issues can be addressed with simple repairs you can do yourself while others may require a professional. A roofing expert can help you determine whether any trouble areas can be patched or if a more complete restoration is in order.
Replace the dryer vent. Upgrading your dryer vent is an opportunity to conserve energy and prevent flammable lint build-up in your dryers. One option for updating the exhaust system is a paintable version of InoVate's Prime DryerWallVent. Engineered for both vent replacement and new construction, the vent includes features such as a gravity-assist damper, integrated magnets and a drip edge to provide extra protection from the elements as well as pests. A large, clean opening and lightweight angled damper promote exceptional airflow efficiency.
Service air conditioning units. Your heating and cooling system works hard to keep your indoor climate comfortable when extreme temperatures make the outdoors unbearable. That's why it's important to have your systems serviced by a professional, and spring is a smart time to do so before they're hard at work throughout the warmer months. Service can correct problems and ensure everything is operating efficiently, which can lead to money savings as well.
Repair window screens. Throughout the winter, your home's window screens can accumulate a layer of dirt and grime that isn't just unsightly; it blows indoors when you open the windows to welcome a fresh breeze. What's more, if your screens have rips and tears, pesky bugs and other critters can make their way into your home more easily. Cleaning and repairing your screens can make your home more secure and help protect your indoor air quality.
Find more information to help get your home ready for spring at DryerWallVent.com.
Photo courtesy of Unsplash


SOURCE:
InOvate
(Family Features) More animals are staying in shelters now than before the pandemic, according to a report from Shelter Animals Count, and just over half (53%) of dogs in shelters are adopted. However, the report also found that fostering dogs is a proven way to help pets find new homes.
For those looking to support rescue dogs in need, the PEDIGREE® brand and its FOSTERVERSE™ program offer tips for a positive fostering experience and show how you can help end pet homelessness. To learn more and get involved, visit Pedigree.com/Fosterverse.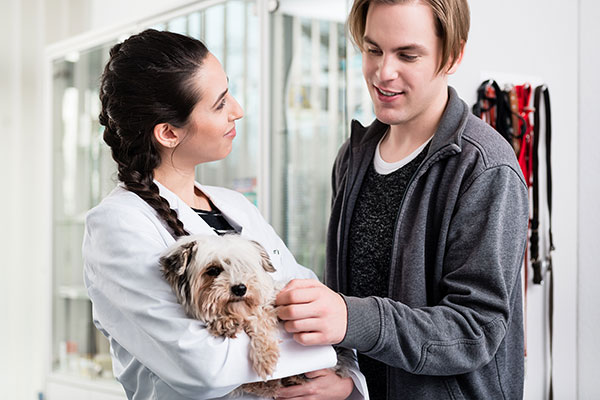 Photo courtesy of Adobe Stock
Learn the Dog's Background
Every dog has a unique personality and set of needs, which is why it's important to learn as much as you can before fostering a dog. Try to gather detailed information from the rescue organization or animal shelter before bringing the dog home, including age, breed, health conditions, dietary needs, energy level and even likes and dislikes. Learning about your foster dog's background ahead of time can help you prepare and ensure a smooth transition to your home.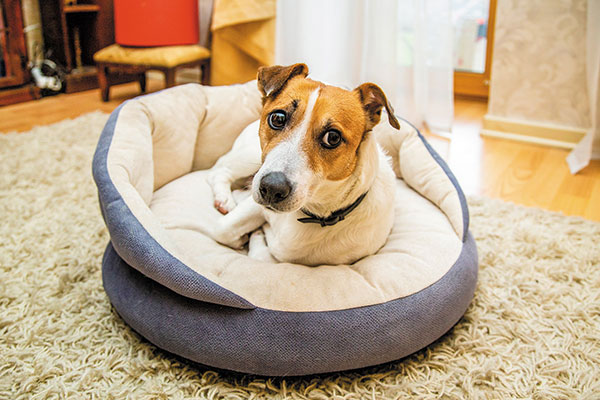 Photo courtesy of Adobe Stock
Prepare Your Household
Spend time making your home as dog-friendly and safe as possible by keeping electronics, cleaning supplies, sharp objects and other potentially dangerous items out of the way. This may mean taking a look at items in your home from the dog's eye level to see what might be within reach. If you will be introducing a foster dog to other pets in your household, try to provide ample space to allow for slow introductions. Also consider looking for ways to designate spaces and belongings (like beds) between your pets so they can have comfortable places to retreat and rest.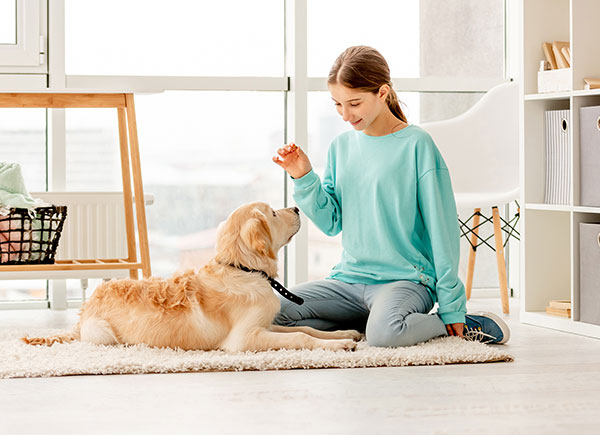 Photo courtesy of Adobe Stock
Train for Eventual Adoption
Once your foster dog has adjusted to the new environment, consider gradually implementing routines. These routines may include activities like obedience training, physical exercise, house training and crate training. Teaching your foster pup good habits in preparation for adoption can increase the likelihood of finding a forever home.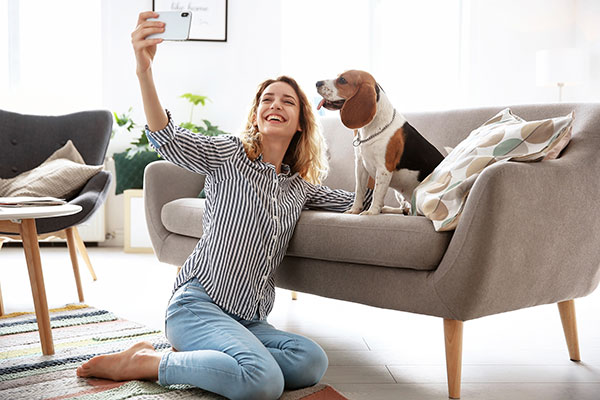 Photo courtesy of Adobe Stock
Market Your Foster Dog
Spread the word in your community in person and on social media that you are fostering and helping find a forever home for your four-legged friend. A survey from AdoptAPet.com revealed the simple act of sharing information on social media about adoptable pets at local shelters can save a pet's life, with 8 out of 10 (84%) organizations reporting that sharing pet content online increases the likelihood of pets being adopted. Help get the word out and show your community members why they should consider adopting your foster pup.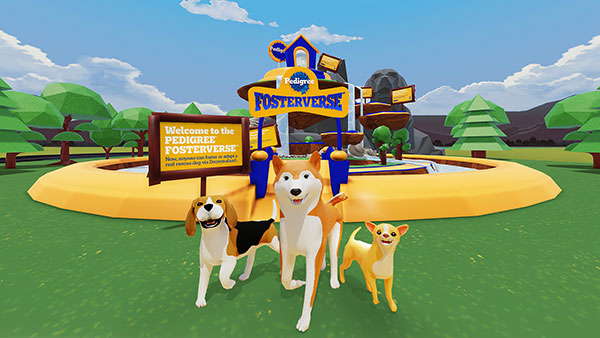 Try Virtual Fostering
While many people might want to foster a pup, there are many factors that may not allow them to foster pets in real life. That's why the PEDIGREE brand is bringing fostering opportunities to the Metaverse for anyone who owns a digital property in Decentraland, offering a new platform for dog adoption. Users may interact with dogs they meet in the FOSTERVERSE program and learn about their backgrounds and adoption status, as well as ways to support dogs in need across the country. Dog lovers can choose to adopt a dog they meet virtually through AdoptAPet.com or donate to PEDIGREE Foundation to help similar adoptable pets in need across the country.


SOURCE:
Pedigree