Turn to tempeh for plant-based superfood
(Family Features) As a key part of a nutritious eating plan, protein intake can be a healthy step to take in the new year. One increasingly popular way to add protein to your at-home menu is with protein-packed, plant-based foods like tempeh.
Tempeh's roots date back thousands of years and originate in Indonesia. It's an all-natural protein source made with simple, whole-food ingredients – most often fermented soybeans, water and rice – and is high in protein, packed with fiber and low in fat, sodium and calories. Tempeh is also loaded with vitamins and minerals like calcium, manganese, phosphorus and iron, and has all nine essential amino acids. Because it's fermented, the nutrients in tempeh are easy for the body to digest.
The health benefits of tempeh, including 18 grams of protein per serving, are one reason to give it a try, but another is it's easy and versatile to cook. It has a firm texture, nutty taste and can be baked, fried, steamed or grilled. Tempeh also easily absorbs marinades, spices and sauces. To prepare tempeh, cut it into cubes, strips or crumble it then toss into a stir-fry, layer it onto a BLT sandwich or simply warm a skillet and sear it until golden brown.
The possibilities for tempeh are nearly endless, and it's also increasingly easy to find. For example, Lightlife, founded in 1979 as "Tempeh Works," was among the first commercial producers of tempeh in the United States. Today, it offers its Original Tempeh at more than 18,500 retail stores nationwide.
Find protein-packed meal ideas, like Sesame Ginger Tempeh Power Bowls with Quinoa and Sweet Potatoes, at lightlife.com.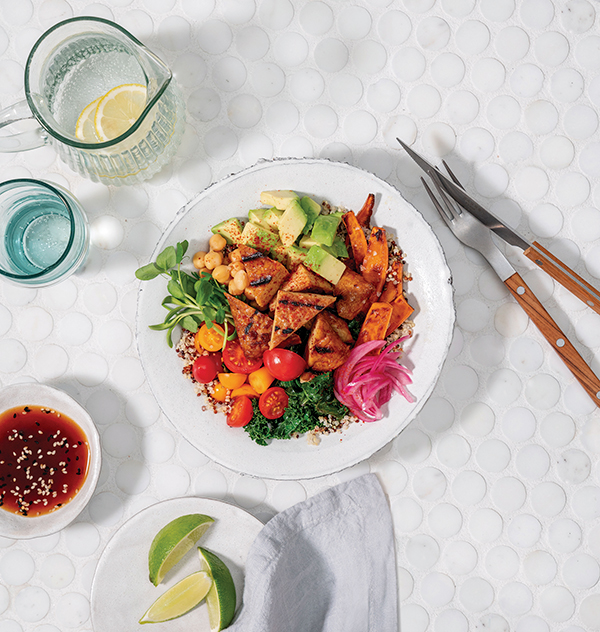 Sesame Ginger Tempeh Power Bowls with Quinoa and Sweet Potatoes
Pickled Pink Onions:
1/4 cup white wine vinegar
2 teaspoons white sugar
1/4 teaspoon salt
1/2 small red onion, peeled and thinly sliced

Sesame Ginger Vinaigrette:
2 tablespoons vegetable oil
2 teaspoons sesame oil
2 teaspoons grated fresh ginger
2 teaspoons rice wine vinegar
2 teaspoons soy sauce
2 teaspoons toasted sesame seeds

Sweet Potatoes:
1 tablespoon olive oil
1 large sweet potato, peeled and cut into 1/2-inch slices
Tempeh:
1 package (8 ounces) Lightlife Original Tempeh
1 teaspoon vegetable oil
2 tablespoons soy sauce
2 cups baby spinach or kale
2 cups cooked tri-color quinoa, at room temperature
1/2 ripe avocado, cubed
1/2 cup canned chickpeas, rinsed and drained
6 red grape cherry tomatoes, halved
6 yellow grape cherry tomatoes, halved
1/2 cup pea shoots
To make pickled pink onions: In small pot, bring white wine vinegar, sugar and salt to boil. Add onions and toss to coat 15 seconds. Turn off heat and let sit 20 minutes, stirring occasionally, until onions are soft and bright pink. Set aside.
To make sesame ginger vinaigrette: In small bowl, stir vegetable and sesame oils with ginger, rice wine vinegar, soy sauce and sesame seeds. Pour into two small ramekins. Set aside.
To make sweet potatoes: In large nonstick skillet over medium heat, heat olive oil. Add sweet potato slices and cook, turning occasionally, 15-17 minutes, adjusting heat as necessary until tender when pierced with knife. Remove to cutting board and cut each slice into quarters. Wipe out skillet.
To make tempeh: Cut tempeh crosswise into eight triangles. In nonstick skillet over medium-low heat, heat vegetable oil. Cook tempeh with soy sauce until golden brown and warm, 2-3 minutes per side. Remove tempeh from pan and add baby spinach or kale; stir 1-2 minutes just until wilted.
To assemble bowls: On bottoms of two shallow bowls or plates, spread cooked quinoa. Top with piles of warm sweet potatoes, pickled pink onions, sauteed spinach or kale, avocado, chickpeas, grape tomatoes and pea shoots. Top with tempeh and serve with sesame ginger vinaigrette.


SOURCE:
Lightlife
Make the most of snacking for healthy kids
(Family Features) Kids, no matter their age, love snacks, and often come home from school hungry and looking for something to eat. However, it can be a struggle to find snacks that kids enjoy and parents approve.
The snack experts at Kemps along with registered dietitian and nutrition expert Frances Largeman-Roth know the importance of finding fun and tasty ways to give hungry, growing kids the nutrient-rich foods they need. These tips can help you make the most of snack time (or any time) to keep kids healthy.
Look for Real Fruit Ingredients
While quick and easy, many packaged snacks use sugar instead of real fruit. Make sure to read labels carefully to understand what is in kids' snacks. Look for real fruit, not just fruit juice, and key vitamins and nutrients like calcium while skipping out on artificial flavors, preservatives, colors and high-fructose corn syrup.
Stock Up on Kid-Friendly Options
One way to help make the most of snack time is choosing an option like Kemps Smooth Cottage Cheese. This first-of-its-kind whole milk cottage cheese is blended with real fruit to create a creamytaste and texture without curds that kids are sure to love. A quick and easy solution, it also allows kids to be independent with what they eat to make snack time more rewarding – just grab a spoon with no unnecessary cutting or preparation needed.
Start the Day Off Right
It's not always easy to squeeze a nutritious breakfast into busy mornings, but it's an important way to start each day. Multiple studies show kids who eat a nutritious breakfast perform better academically and focus better throughout the day. Plus, starting the day off right helps kick unhealthy cravings while keeping kids full and energized. Once snack time rolls around, they'll be ready for something healthy and delicious instead of reaching for something sugary.
Pack In the Protein
To make sure your kids are staying full between meals and getting the nutrients they need, stock up on snacks that are high in protein. According to Largeman-Roth, dairy is a great way to accomplish this while also giving kids a tasty snack. Snacks like Kemps Smooth Cottage Cheese pack a protein punch with almost twice as much protein per ounce as most yogurts made for kids, plus it contains probiotics, another key ingredient to support gut health.
Model Healthy Habits
Kids learn by example in countless ways, and the way you take care of your own health and well-being is no exception. When kids see grownups they admire making smart choices about nutrition, they're more likely to adopt those behaviors themselves. Join in the fun at snack time and create meaningful family moments by preparing or enjoying a nutritious snack together.
Make Snack Time Fun
There's few things kids love more than fun flavors or seeing characters they cherish on their favorite foods. To make snack time extra exciting, get snacks featuring characters they love or with favorite flavors, like strawberry or mixed berry, which are popular among kids.
To learn more and find fun recipes, visit kemps.com.
Photo courtesy of Getty Images


SOURCE:
Kemps
Spring checklist for pets
6 ways to keep your pets happy and healthy
(Family Features) Warmer weather means it's time to spring clean, get grooming and prepare your pets' diets to support them through the season.
Keep your furry friends happy and healthy this spring with these six tips from the experts at Zesty Paws, an award-winning pet supplement brand:
Give Skin and Coats a Little TLC: Many pets form winter coats during the colder months to help them stay warm and comfortable then shed the coats in the spring to prepare for warmer temperatures. Some pets may need extra help maintaining their shiny, healthy coats, especially if mats have formed in their fur or if they are breeds that develop a thick undercoat. Professional grooming, at-home brushing and regular bathing can all be helpful ways to speed up the process to remove some of the extra fur and decrease the prevalence of dander, dust and pollen that can attach to fur and skin through the season.

Add Seasonal Allergy Support with Supplements: Just like humans, furry friends can develop and experience seasonal allergies, too. Giving your pets' immune systems some extra support can help ease some common allergy symptoms. Supplements like Zesty Paws Aller-Immune Bites for Cats and Aller-Immune Bites for Dogs are chewables that provide seasonal allergy support by aiding normal immune functions, skin health and gut flora, and may also help maintain normal histamine levels.
Ease Back into Exercise: The change in weather means more time for outdoor adventures with your pets, but don't forget to cool down and warm up as you and your pets ease back into the season. Planning for short, leashed walks and timed play sessions can help your pets gradually prepare their hips and joints for fun, warm weather activities.
Watch Out for Pet Pests: Once temperatures start to rise, the tiny, creepy critters start crawling. Fleas, ticks and other pests can cause serious health concerns for pets. This spring, make sure your pest control programs are primed and ready for added protection. Talk to your veterinarian about the best routine and products for your pets.
Freshen Up Bedding and Bowls: It's important to keep a clean environment by scrubbing, sweeping and vacuuming regularly to decrease allergens in the home. When you're tackling this year's spring cleaning, remember to put your pets' bedding and bowls on the list, too. Updating or disinfecting your pets' blankets, litter boxes, toys and other supplies is a good way to keep them feeling safe and comfortable in the home.
Schedule an Annual Vet Visit: Spring is a good time to schedule your pets' annual vet visits. Make sure they're up to date on all vaccinations, get their dental health checkups and re-evaluate nutrition plans.
Find more advice for keeping your pet healthy and happy at zestypaws.com.

SOURCE:
Zesty Paws
Take control: How managing blood pressure can help save lives
(Family Features) Effectively managing your blood pressure can help reduce your chances of life-threatening medical events, even death.
Gain confidence and learn how to take control of your blood pressure with these tips and resources from the American Heart Association.
The Silent Killer
High blood pressure is often referred to as the "silent killer" because it typically has few, if any, noticeable symptoms but can lead to heart attack, stroke, heart failure and even death. Many people with high blood pressure don't even know they have it. Some overlooked symptoms can include dizziness, facial flushing and blood spots in the eyes.
Understand Your Readings
(Family Features) Effectively managing your blood pressure can help reduce your chances of life-threatening medical events, even death.
Gain confidence and learn how to take control of your blood pressure with these tips and resources from the American Heart Association.
The Silent Killer
High blood pressure is often referred to as the "silent killer" because it typically has few, if any, noticeable symptoms but can lead to heart attack, stroke, heart failure and even death. Many people with high blood pressure don't even know they have it. Some overlooked symptoms can include dizziness, facial flushing and blood spots in the eyes.
Understand Your Readings
The only way to know if you have high blood pressure is to regularly take an accurate blood pressure measurement. Understanding your results is key to controlling high blood pressure. Blood pressure numbers of less than 120/80 mm Hg are usually considered within the normal range, yet it is important to talk to a doctor about your healthy range. Even if you fall within a healthy range, it can be beneficial to stick with heart-healthy habits like following a balanced diet and getting regular exercise. Consider these numbers and ranges to know if it's necessary to take action:
Elevated blood pressure is when readings consistently range from 120-129 mm Hg systolic (the upper number) and less than 80 mm Hg diastolic (the lower number). People with elevated blood pressure are likely to develop high blood pressure unless steps are taken to control the condition.
Hypertension stage 1 is when blood pressure consistently ranges from 130-139 mm Hg systolic or 80-89 mm Hg diastolic. At this stage, doctors are likely to prescribe lifestyle changes and may consider adding blood pressure medication based on your risk of atherosclerotic cardiovascular disease, such as heart attack or stroke.
Hypertension stage 2 is when blood pressure consistently ranges at 140/90 mm Hg or higher. At this stage, doctors are likely to prescribe a combination of blood pressure medications and lifestyle changes.
A hypertensive crisis requires medical attention. If your blood pressure readings suddenly exceed 180/120 mm Hg, wait 5 minutes then test again. If your readings are still unusually high, contact your doctor immediately. Seek emergency help if your blood pressure is higher than 180/120 mm Hg and you are experiencing signs of possible organ damage such as chest pain, shortness of breath, back pain, numbness or weakness, change in vision or difficulty speaking.
Know Your Risk
While many risk factors for high blood pressure may be related to your age, gender and family history, there are also risk factors you can change to help prevent and manage high blood pressure. People at added risk may be those who engage in lower levels of physical activity, eat a diet high in sodium (particularly from packaged, processed foods), may be overweight or obese, drink excessive amounts of alcohol and may have multiple chronic conditions.
Talk About It
Whether you're making changes in your own life to combat high blood pressure or helping someone else, positive feelings and confidence are longer-term motivators to making health changes. If you're talking with friends, loved ones or your doctor, be prepared to ask open-ended questions. Be curious and kind to yourself and others you may be helping.
Lowering Your Pressure
You can reduce your risk of heart disease, stroke, heart failure and even death with lifestyle changes and medication.
Watching your weight, especially if you are overweight or obese, can bring health gains; losing as little as 5-10 pounds may help lower your blood pressure. Managing your stress by relaxing for short periods during your workday, at night and on weekends is another productive practice.
If you have diabetes, it's important to work with a doctor to manage the disease and reduce your blood glucose levels.
If you think you could have sleep apnea, getting screened for and treating the condition can also reduce your risk for developing high blood pressure.
When you have high blood pressure, medication may be an important part of your treatment. Follow the recommendations carefully, even if it means taking medication every day for the rest of your life.
When you're discussing high blood pressure concerns with your health care provider, also be sure to talk to your doctor about over-the-counter pain relievers that may raise your blood pressure. Talking with your doctor can help you identify over-the-counter pain medications that won't raise your blood pressure to ensure you're not creating a blood pressure problem while treating other concerns.
Getting Ready for Your Appointment
Think about what challenges you face in controlling your blood pressure that you need to share with your doctor to create a plan that works for you. Start by considering the answers to these questions to discuss with your health care provider:
How often do you check your blood pressure?
Do you keep a log of your blood pressure measurements?
Are you taking medications as prescribed?
What are some things you can do to have less salt in your diet?
What are some reasons it can be hard to manage your blood pressure?
What are some things you'd like to discuss during your appointment?
Learn more about monitoring and managing high blood pressure at heart.org/bptools.
Photo courtesy of Getty Images (man talking with nurse)


SOURCE:
American Heart Association