Red velvet for your Valentine
(Culinary.net) On the sweetest day of the year, a day full of flowers, love and sweets, Valentine's Day is the ultimate opportunity to try a different dessert meant for two.
It's hard to resist a perfectly blended, rose-red, luscious Red Velvet Mug Cake.
It's the perfect size, with just a handful of instructions, and it's easily cooked before your eyes in the microwave. That's right, the microwave.
This mug cake is a simple way to make something delicious and keep the portions small. Whether you have a small party, just you and your loved one or just simply want something easy and small, this quick treat is designed just for you.
Start by mixing all the dry ingredients into a large mug, including flour, sugar, cocoa powder, baking powder and salt.
Then add milk, melted butter, vanilla and red food coloring. Use a spoon and stir the ingredients together until blended.
Mix powdered sugar and cream cheese then drop the mixture into the cake batter and mix once more. Microwave the mug for up to 3 minutes until your cake is baked.
Valentine's Day means sharing with someone how much you care, and it's difficult to find a better way than to share something sweet.
This dessert has Valentine's Day written all over it, however, it can be enjoyed anytime throughout the year and is perfect for a late-night snack if you're craving something sugary-sweet.
Find more recipes and dessert ideas for every celebration at Culinary.net.
Watch video to see how to make this recipe!
https://youtube.com/watch?v=4WE4FBaSskc%3Fmodestbranding%3D1%26rel%3D0%26showinfo%3D0
Red Velvet Mug Cake
Servings: 1
6 tablespoons flour
2 tablespoons sugar
1 teaspoon cocoa powder
1/4 teaspoon baking powder
1/8 teaspoon salt
1/3 cup milk
2 tablespoons butter, melted
2 teaspoons vanilla extract
30 drops red food coloring
3 tablespoons powdered sugar
1 tablespoon cream cheese, softened
In 12-ounce mug, whisk flour, sugar, cocoa powder, baking powder and salt. Add milk, butter, vanilla and food coloring; mix until blended.
In small bowl, mix powdered sugar and cream cheese until smooth.
Drop cream cheese mixture into cake batter. Press into batter until covered.
Microwave up to 3 minutes until cake is done.
SOURCE:
Culinary.net
Create a St. Patrick's Day sandwich
(Culinary.net) In honor of the day when everyone is Irish, welcome family and friends to a traditional St. Patrick's Day lunch with this Reuben Sandwich recipe.
Find more seasonal recipes at Culinary.net.
Watch video to see how to make this recipe!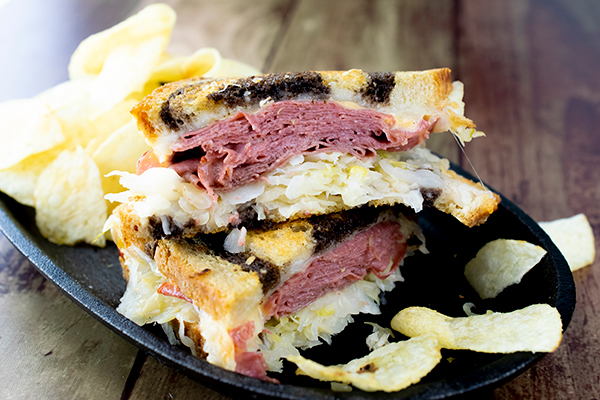 Reuben Sandwich
Servings: 2
2 tablespoons butter, softened
4 slices rye and pumpernickel swirl bread
4 slices swiss cheese
6 ounces corned beef
2 tablespoons, plus 2 teaspoons, Thousand Island Dressing, divided
4 tablespoons sauerkraut
Heat nonstick skillet over medium heat.
Spread 1 tablespoon butter on one side of two bread slices. Place buttered side down in heated skillet. Add two slices cheese to each bread slice. Spread 2 tablespoons dressing over cheese slices. Add 3 ounces corned beef to each bread slice.
Spread 2 teaspoons dressing over corned beef. Spread 2 tablespoons sauerkraut over corned beef.
Spread remaining butter on one side of remaining bread slices. Place buttered side up on top of sauerkraut.
Cook 4-7 minutes each side, flipping once, until golden brown and cheese is melted.


SOURCE:
Culinary.net
Bake bread to celebrate St. Patrick's Day
(Culinary.net) From hearty stews to minty pies, St. Patrick's Day celebrations are all about enjoying the flavors of the holiday. Whether you're cooking up a full meal or simply serving appetizers, this Irish Potato Bread makes for a simple, tasty snack to feed your crowd.
Find more celebratory recipes at Culinary.net.
Watch video to see how to make recipe!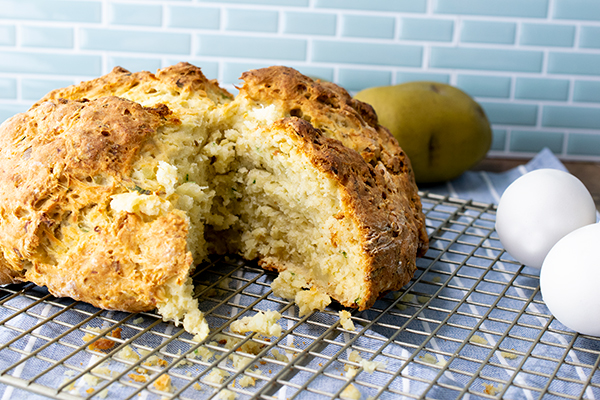 Irish Potato Bread
2 medium or large russet potatoes
1 egg
1 egg white
1/3 cup canola oil
3/4 cup milk
2 tablespoons green onion, minced
1/2 teaspoon caraway seeds
3 1/4 cups all-purpose flour, plus additional for dusting and kneading
1 1/2 tablespoons baking powder
1 teaspoon salt
Heat oven to 375° F.
Peel potatoes. Slice one potato and boil in saucepan 15 minutes, or until tender. Remove potato from saucepan into large bowl. Mash potato then set aside.
Grate second potato onto cloth. Wring potato in cloth to remove excess water. Add grated potato to mashed potato in large bowl. Add egg, egg white, oil, milk, onion, caraway seeds, 3 1/4 cups flour, baking powder and salt. Stir with wooden spoon until mixture is soft and sticky.
Turn dough onto floured surface. Adding flour as needed, knead dough to form 8-inch round shape with slight dome. Place dough onto baking sheet lined with parchment paper. Cut large "X" on top of dough about 1/2 inch deep.
Bake 55 minutes until golden brown. Cool on wire rack 1 hour before serving.


SOURCE:
Culinary.net
Inspire creativity with fun snack hacks

(Family Features) School days offer nearly endless opportunities for learning and exploration in the classroom, but education doesn't have to end with the final bell. Parents can ensure their students feel energetic, creative and confident by inspiring snack choices that are as smart as they are fun to make together.
Whether you're whipping up a snack to send to school or your little learners need an energy boost before starting afternoon homework, creative snacking can help encourage inspiration. As a trusted ally with better-for-you and convenient whole-fruit lunchbox snacks kids can enjoy, Sun-Maid offers these easy tips and ways to embrace the fun side of snack time.
Keep It Simple: Look for recipes with five ingredients or less so your children can show their artful nature without becoming overwhelmed. Plus, this often leads to a more budget-friendly at-home treat.
Shop Together: Gathering ingredients and equipment is an important part of any recipe, and bringing your future chefs along helps them feel like it's their creation from start to finish. Additionally, some important life lessons can be learned along the way, like how to navigate the store and compare costs.
Provide Kid-Friendly Instructions: There are many ways kids can lend a hand in making their own snacks, like mixing ingredients, washing produce or arranging a plate or platter. However, some steps are best left to the adults – make sure to do any cutting, slicing or dicing before letting children take the reins, for example, then just enjoy the creative fun.
With childhood favorites like crackers, marshmallows and vanilla yogurt covered raisins, Gimme S'mores Trail Mix offers a perfect way to get young minds thinking in the kitchen. A little guidance is all it takes to teach them each step of the recipe to make a crafty, delicious treat. Plus, with only a few simple ingredients that just need to be mixed together, it's a low-stress, low-mess way to cook up creativity.
For a healthier version of a snack time superstar, Apple Nachos combine sweet apples like Honeycrisp, peanut butter and versatile, whole-fruit Sun-Maid Raisins. Naturally made with nothing but grapes and California sunshine, these sweet raisins have been trusted as a better-for-you snack for kids and grown-up kids alike since 1912.
With zero grams of added sugars, they give parents the confidence they need to choose snacks that provide both great taste and nutrition for a happy and healthy family. As a household staple, they can be enjoyed as part of tasty recipes or as a standalone treat kids crave and parents approve.
Find more sweet ideas to inspire confidence and creativity at sunmaid.com.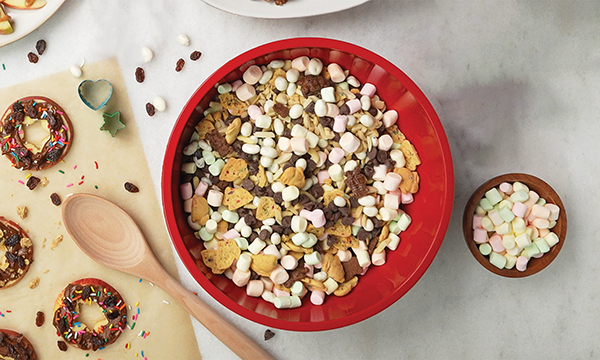 Gimme S'mores Trail Mix
Prep time: 5 minutes
Servings: 6
1/2 cup Sun-Maid Vanilla Yogurt Covered Raisins
3 cups graham crackers, assorted flavors
1 1/2 cups colored mini marshmallows
2 cups slivered almonds
1 cup chocolate chips
In large bowl, mix raisins, graham crackers, marshmallows, almonds and chocolate chips.
Serve immediately, or store in airtight container up to 1 week.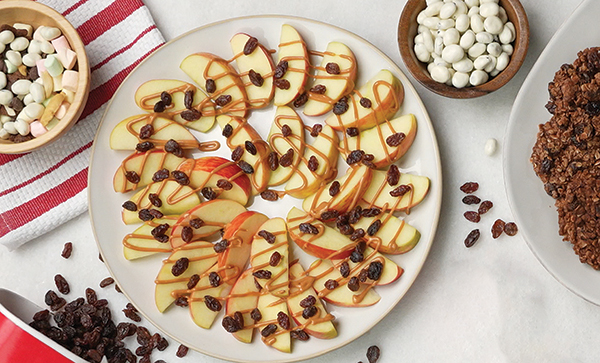 Apple Nachos
Prep time: 10 minutes
Cook time: 1 minute
Servings: 4
5 sweet apples, such as Honeycrisp
lemon juice (optional)
2 tablespoons peanut butter
1/2 cup Sun-Maid California Sun-Dried Raisins
Wash and slice apples.
Arrange one layer of sliced apples on serving plate. To keep apples from browning quickly, squeeze lemon juice on top, if desired.
In microwave, melt peanut butter about 30 seconds until smooth.
Drizzle 1 tablespoon peanut butter over first layer of apples. Sprinkle with 1/4 cup raisins.
Repeat with remaining apples, peanut butter and raisins.


SOURCE:
Sun-Maid Raisins