What to expect in travel in 2022
(Family Features) After a couple abnormal years, many families are eager and ready to travel together again, and there are indications some pandemic-influenced travel behaviors will persist in 2022.
For example, remote work and virtual school allowed families to travel and combine work and vacation time into "flexcation" getaways, a trend that will continue, according to the 2022 Vrbo Trend Report.
In addition to the 44% of families that said they're more likely to work remotely from a place that's not their home, extended stays are also on the rise. The vacation home site and app has seen a 68% increase in demand for 3-4-week stays over the past year.
Consider these 2022 trends spotted by the travel experts at Vrbo:
Up-and-Coming Destinations
Spots in Ohio, New York and Alaska saw double vacation rental demand over the past year. Within driving distance of major Midwest metros like Chicago, Indianapolis and Louisville, Cincinnati was the year's top emerging destination.
Other up-and-comers include Niagara Falls, a popular choice for those who wanted to experience life at the border. Yorktown, Virginia, the location of the last Revolutionary War battle, allows history buffs to witness a battle reenactment. Adventurous travelers trekked to Matanuska-Susitna, Alaska, to enjoy the wilderness of Denali National Park and Preserve, breathtaking glaciers and surrounding mountains.
Chalet All Day
You may have heard of Cabincore and Cottagecore, but chalets are a trending aesthetic that inspires family travel. Chalets saw a nearly 85% increase in demand year over year. Located on lakefronts or nestled in the woods, these charming and idyllic properties are desirable lodging options for many families.
Kids Call the Shots
After being cooped up at home, it may be no surprise parents are letting their kids have a bigger say in vacation planning. Compared to pre-pandemic times, half of the families surveyed said they're more likely to let their kids decide where they vacation and 43% of parents are more likely to let their kids skip school for vacation.
Traveling with the Pack
Many families adopted pandemic pets because they had more time at home to spend with their furry friends. Now more people are bringing Fido and Fluffy along on vacation; 68% of pet parents have traveled, plan to travel or would like to travel with their pets. What's more, there has been a 40% increase in demand year-over-year for pet-friendly vacation homes.
Early Bird Bookers
If 2021 was any indication, families will continue booking their vacations further in advance. Booking activity occurred an average of 2-3 months earlier than usual for several major travel seasons. Families booked summer travel in February, holiday trips in July and snowbirds got a head start on booking warm weather stays for 2022. In fact, 60% of survey respondents said they plan to book their vacations earlier than they did in pre-pandemic times with nearly half making plans 3-5 months in advance.
Find more ideas for planning your next vacation, along with the full report, at Vrbo.com.
Photo courtesy of Getty Images

SOURCE:
Vrbo
Resilient flooring trends for spring remodeling season
(Family Features) If the idea of a spring remodel brings equal parts intrigue and dread, starting with your flooring can make the process more appealing. For example, sustainable, resilient flooring comes in a variety of options to both your budget and personal style.
Resilient flooring is a durable type of flooring that includes rubber, linoleum, cork, luxury vinyl tile or sheet vinyl, among others. Increasingly popular in homes across the country, resilient flooring options from Beautifully Responsible partners are designed with indoor air quality and other important performance factors in mind, but they're also built to stand up to the rigors of everyday life.
Consider these five home flooring trends for 2023 to help you create a tailored space at home and take the next step by visiting the Design Inspiration section of beautifullyresponsible.com to explore real-world design examples.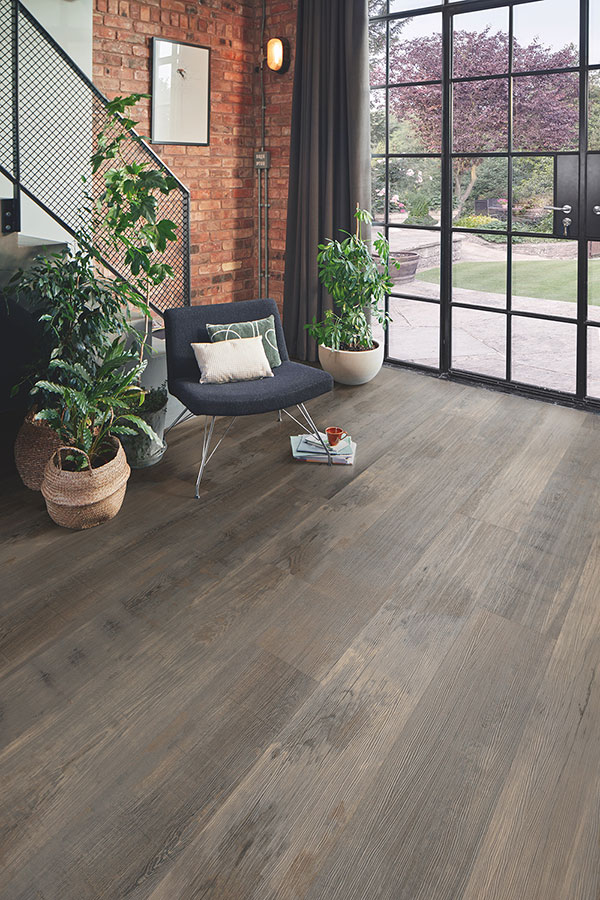 1. Classic Hardwood with a Resilient Twist
Ideal for kitchens, dining rooms, hallways and home offices, hardwood designs create a timeless foundation for your home with the ability to evolve with your tastes. When you go the resilient flooring route, you'll find design options for everything from dramatic walnut to stately mahogany. Plus, options like luxury vinyl tile and plank are modular, making installation a little easier for DIYers.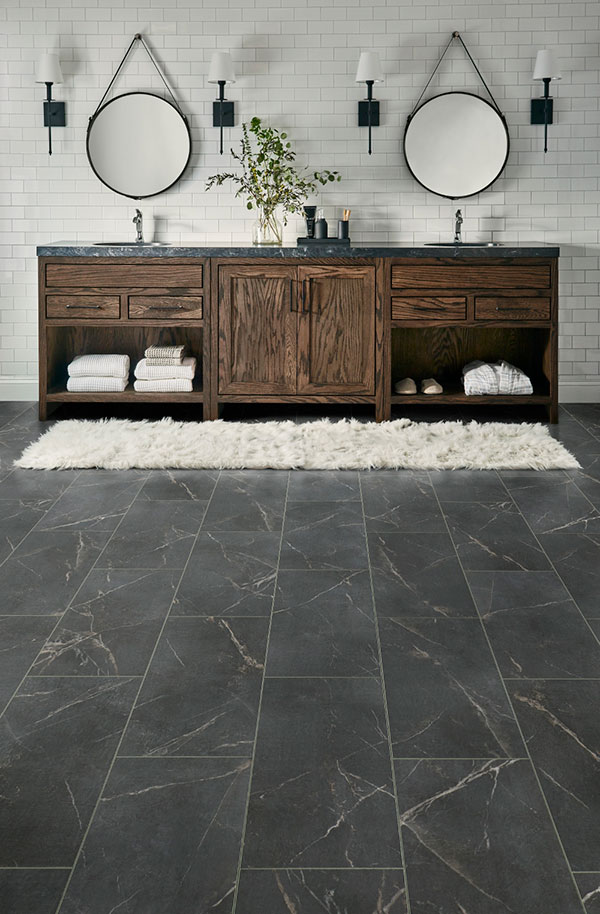 2. Modern, Stone-Look Flooring
When it comes to resilient home flooring, stone style designs don't just look sturdy, they're durable, too. For example, slate-inspired tiles can add effortless class and character to high-traffic rooms that are cleaned often, such as dining rooms and mudrooms.
Stone-look resilient flooring also gives your floors a stronger ability to adapt to rooms like kitchens and bathrooms, which often see fluctuations in temperature and moisture. Rigid-core flooring, for example, is one of the fastest growing categories of resilient flooring due to its comfort, durability and ability to resist water.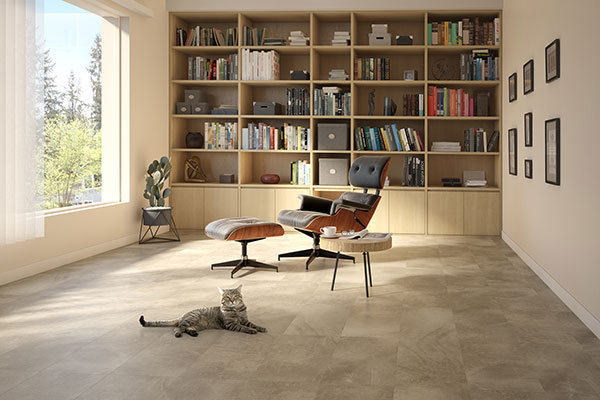 3. Large Format Tiles
Functional rooms like the kitchen are often the heart of the home where people meet to share the adventures of their days. They also often see a lot of dirt, moisture and accidental spills. However, resilient home flooring installations are resistant to scratches and stains, ideal for homes with small children and pets. Plus, they are easy to clean without the need for harsh chemicals and there's no grout to maintain. Many resilient flooring options are also available in water-resistant or waterproof varieties.
An option such as large-format tile, including the sheet vinyl category of resilient flooring, can also create the illusion of space in basements, laundry rooms, mudrooms and other areas, making them appear more expansive.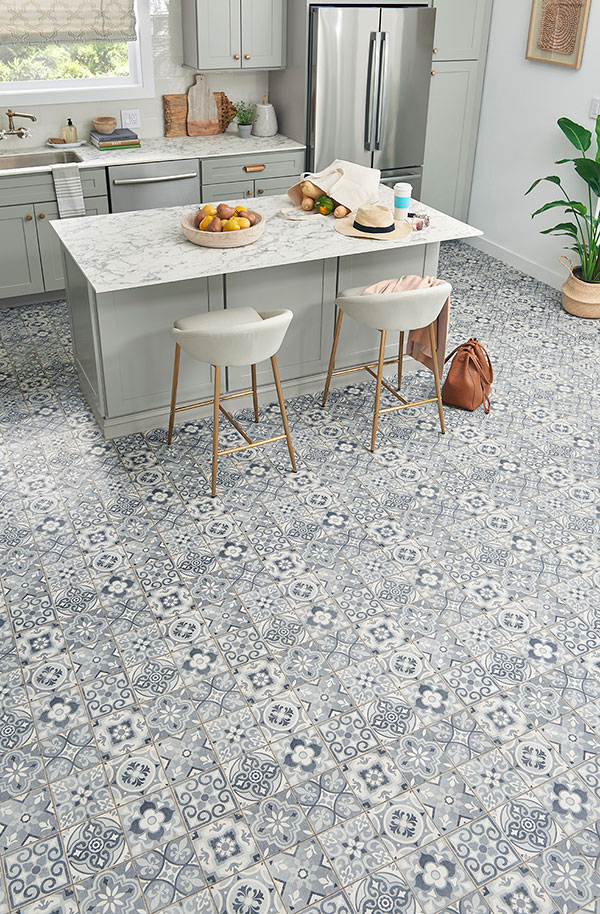 4. Statement Designs
Just like a statement piece ties together the perfect outfit, a statement floor can make an impressive focal point in the kitchen, bathroom, basement, laundry room or mudroom. With statement designs from Beautifully Responsible partners, the possibilities are nearly endless with a variety of styles such as Bohemian, Farmhouse, Mid-Century Modern, Minimalist Zen, Scandinavian and more that can appeal to homeowners with different tastes and preferences. Resilient flooring types like luxury vinyl tile and sheet vinyl are also available with textured surfaces to make an additional statement.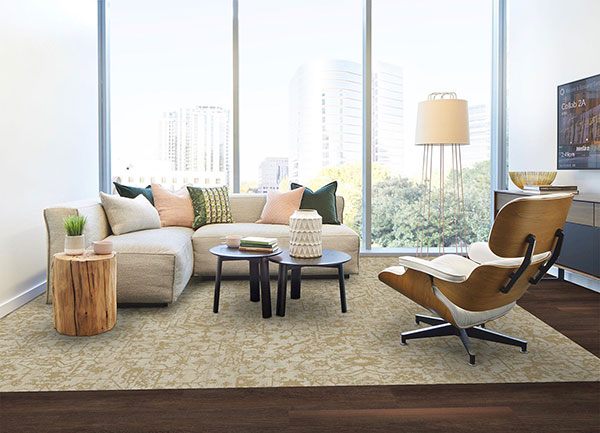 5. Cozy Spaces
If you've found a perfect statement rug, resilient flooring can create an ideal foundation underneath in family rooms, bedrooms, hallways or basements. Many resilient floors are built to provide comfort underfoot, absorb sound and make spaces accessible for all levels of mobility. Also look for third-party labels such as FloorScore to identify solutions for protecting the air quality in your home.


SOURCE:
Beautifully Responsible
Tips for creating a summer of unplugged fun
(Family Features) Between school, work and entertainment, there are times when screens can seem like a pervasive part of modern life. For all the positive aspects of technology, there can also be a desire for children to have stretches of unplugged learning and participate in educational activities that do not require a screen.
Why Unplugged Learning Matters
"Unplugged learning is important to balance the screen time children may experience with other forms of learning; to promote physical activities, social interaction and creativity; and develop the essential skills that bolster them throughout their exploration and growth as individuals," said Rurik Nackerud from KinderCare's education team.
Summer can be an ideal time to focus on unplugged learning as it often brings a break from the traditional academic year and activities.
"We want summer to be a time when children can put down technology and connect with one another face-to-face, build important creativity skills and learn how to be social with one another without the buffer of screens," said Khy Sline from KinderCare's education team. "They can play, run, be immature and laugh with their friends, giggle at the silly things and find joys in those in-person interactions with one another."
Tips for Creating Unplugged Fun as a Family
Get Outdoors. Make time as a family to get outside and explore, even if it's simply a walk around the block after dinner. Help children notice the little things like a bug on the sidewalk or the way the sun filters through tree leaves to make patterns on the ground. Ask them about the things they see and give your children the space to ask questions and work together to find the answers. This helps teach children collaborative learning skills: asking questions, sharing ideas and working together to reach an answer.

Read Together. This could mean going to the library to check out new books or exploring your family's bookshelves for old favorites. Snuggle up together for family story time. If children are old enough to read on their own, invite them to read to you or their younger siblings. Talk about the story or even act out favorite parts to help your children actively participate in story time, which may help them better understand the story's concepts.

Encourage Creative Thinking. Help children expand their ability to think creatively by working together to make a craft or project. For example, the next time a delivery box arrives at your home, encourage your children to turn it into something new using craft supplies on hand. A blanket could turn a box into a table for a pretend restaurant while some tape or glue could transform it into a rocket ship or train. When everyone's done creating and playing, the box can be broken down for recycling. This activity can help children literally think outside of the box and apply their own unique ideas and creativity to create something new.
For more tips to encourage unplugged learning this summer, visit kindercare.com.


SOURCE:
KinderCare
Simple ways to keep allergy season at bay
(Family Features) With warmer outdoor temperatures, many homeowners suffer through longer allergy seasons. In fact, allergy days have increased by 20 days, according to a study conducted by the National Academy of Sciences.
Being aware of air quality indexes and limiting time outdoors can lessen exposure to airborne pollutants, but indoor air quality is also a concern. In a report from the U.S. Environmental Protection Agency, levels of indoor pollutants can be 2-5 times higher than outdoor air.
People spend nearly two-thirds of their lives at home, according to Carrier, which developed its Healthy Homes Program to help homeowners create indoor environments that optimize health and wellness. Consider these ways you can combat pollutants where it matters most: your home's indoor air quality.
Reduce Indoor Pollutants
Your home has multiple sources of indoor air pollutants. While avoiding these pollutants altogether is often the best solution, it's not always possible. However, there are a few ways you can reduce exposure in your home: ban indoor smoking; turn on exhaust fans when cooking; minimize or remove "soft" pollutant gathering surfaces such as decorative pillows, stuffed animals and decorative throws; and regularly clean all heating and air conditioner filters as required or according to manufacturer specifications.
Add Air Purifiers to Your HVAC Unit
While air purifiers don't treat allergies, they can help filter out allergens that can cause allergy symptoms. Homeowners might consider purifiers that are highly effective at capturing particulate. For example, the Carrier Infinity air purifier is a whole-home heating and cooling system. It not only captures 95% of particles in micron size range 1.0-3.0, but also inactivates 99% of select airborne germs and viruses that flow through the HVAC system and become trapped in the MERV 15 filter. The purifier has also demonstrated effectiveness against the murine coronavirus – similar to the human novel coronavirus (SARS-CoV-2) that causes COVID-19 – based on third-party testing, as well as the type of viruses that cause the common cold, streptococcus pyogenes and influenza.
Control Humidity
Many people know high humidity can cause discomfort in hot temperatures, but there are other potentially negative impacts. According to the Centers for Disease Control and Prevention, dust mites thrive in 70-80% humidity and temperatures between 75-85 F. Additionally, high humidity can provide an environment conducive to mold growth, which is why maintaining relative indoor humidity between 40-60% is recommended to keep dust mites and mold at bay. To help control humidity, run the air conditioner when it's hot and humid and consider using whole-home humidifiers and dehumidifiers that allow for specific settings for moisture control.
Consider Room Air Purifiers for Individual Spaces
Room air purifiers are portable and highly efficient solutions for smaller spaces such as nurseries, bedrooms, home gyms and added rooms. One example is the Carrier Smart Room Air Purifier with a built-in indoor air quality monitor that includes three levels of filtration, including an activated carbon filter to capture odors. The attached, color-coded air quality monitor measures and displays pollutant levels so homeowners can be informed and aware of the quality of their indoor air, giving them the ability to maintain next-level comfort while breathing cleaner air.
Creating your ideal home environment is more than just controlling the temperature. Your home's air should be filtered and pollutants limited to minimize allergy triggers and promote good indoor air quality.
To learn more and get an estimate on a solution that's right for you, visit carrier.com/residential.

SOURCE:
Carrier