Deliciously healthy dishes from sweet to savory
(Family Features) Supplementing meals and snacks with powerful, versatile ingredients can take healthy eating from bland and boring to delicious and adventurous.
Take your breakfasts, appetizers, dinners and desserts to new heights while maintaining nutrition goals with naturally nutritious and surprisingly versatile California Prunes. Rich and smooth with an ability to enhance both sweet and savory flavors, they can expand your menu with nearly endless powerful pairing options.
One serving of 4-5 prunes packs a powerful punch of vitamins, minerals, antioxidants and fiber. Together, these nutrients form a web of vital functions that support overall health.
Whole, diced or pureed, the versatility of prunes allows you to enhance the flavor of recipes from morning to night in dishes like Citrus Breakfast Toast, which brings together vitamin B6 and copper from prunes and vitamin C from citrus to support a healthy immune system.
Try Caramelized Onion, Mozzarella, Prune and Thyme Flatbreads for a tasty family meal, and while you wait for dinner to cook, you can serve up Prune, Mozzarella and Basil Skewers. These easy appetizers provide several key nutrients. Mozzarella is a good source of calcium and prunes provide vitamin K and copper, all of which support overall bone health.
Make dessert a bit better for you but equally delectable with a vegan option like gluten-free, plant-based Prune and Almond Truffles. The soluble fiber in prunes helps lower serum cholesterol and blunt the effects of excessive sodium in the diet. Nuts like almonds provide good fats that help lower the risk for heart disease.
Find more recipe ideas at CaliforniaPrunes.org.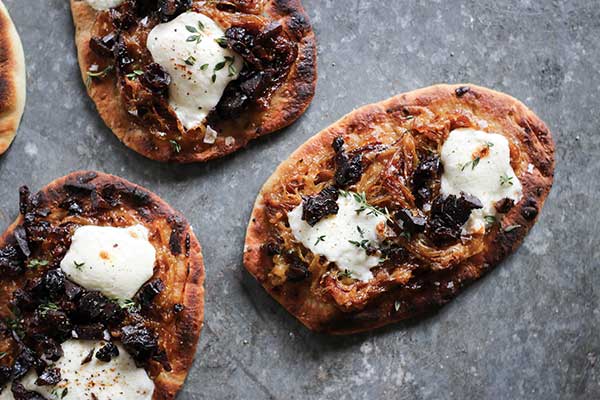 Caramelized Onion, Mozzarella, Prune and Thyme Flatbreads
Prep time: 15 minutes
Cook time: 1 hour, 30 minutes
Yield: 4 flatbreads
Caramelized Onions:
2 tablespoons olive oil
1/2 cup butter
6 large yellow sweet onions, sliced into thin half circles
3 sprigs fresh thyme
coarse kosher salt, to taste
Flatbreads:
4 personal flatbreads
1 cup caramelized onions
4 ounces fresh mozzarella
10 California Prunes, diced small
1 tablespoon fresh thyme leaves
sea salt, to taste
coarsely ground black pepper, to taste
To make caramelized onions: Preheat oven to 400 F.
In large stockpot over medium-low heat, warm oil and melt butter. Add onions and cover; cook 20-25 minutes, stirring occasionally. Add thyme sprigs and season with salt, to taste; turn pan lid slightly ajar. Place pot in oven 1 hour, stirring occasionally.
To make flatbreads: Preheat oven to broil. On sheet pan, toast flatbreads under broiler 4 minutes, or until toasted, flipping halfway through.
Spread 1/4 cup of caramelized onions over each toasted flatbread. Refrigerate leftover onions.
Tear mozzarella and place over onions. Divide prunes among flatbreads and place flatbreads under broiler 4-6 minutes until cheese has melted and is beginning to brown.
Sprinkle flatbreads with fresh thyme and season with salt and pepper, to taste.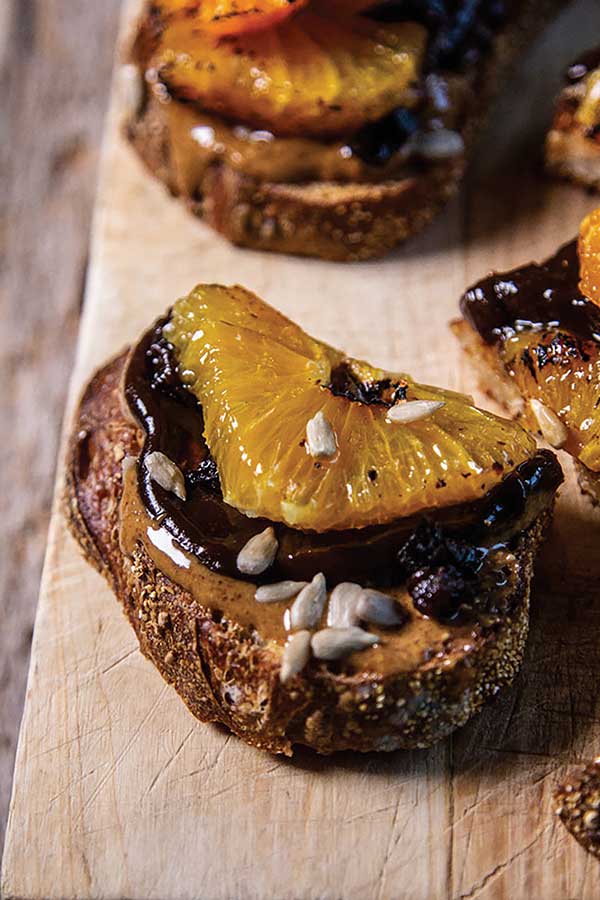 Citrus Breakfast Toast
Prep time: 13 minutes
Cook time: 2 minutes
Servings: 2
Prune Puree:
16 ounces pitted California Prunes
1/2 cup hot water
1 large citrus fruit, peels and piths removed with knife, sliced into rounds
1 1/2 tablespoons raw sugar
4 tablespoons sunflower butter
2 slices whole-grain sourdough bread, toasted to desired darkness
2 tablespoons prune puree
1 tablespoon sunflower seeds
2 California Prunes, finely diced
To make prune puree: In blender, pulse prunes and water to combine then blend until smooth, pourable consistency forms, scraping sides, if necessary.
Store in airtight container up to 4 weeks.
To make bruleed citrus wheels: Place citrus wheels on baking sheet and divide sugar evenly among each piece.
Using circular motion, pass flame of culinary torch repeatedly over sugar until it boils and turns lightly charred and amber.
To build toast: Spread 2 tablespoons sunflower butter on each piece of toast. Top each with 1 tablespoon prune puree spread evenly across sunflower butter. Sprinkle each evenly with sunflower seeds and diced prunes. Top each with half broiled citrus and serve.
Alteration: Use broiler set on high instead of culinary torch to caramelize sugar.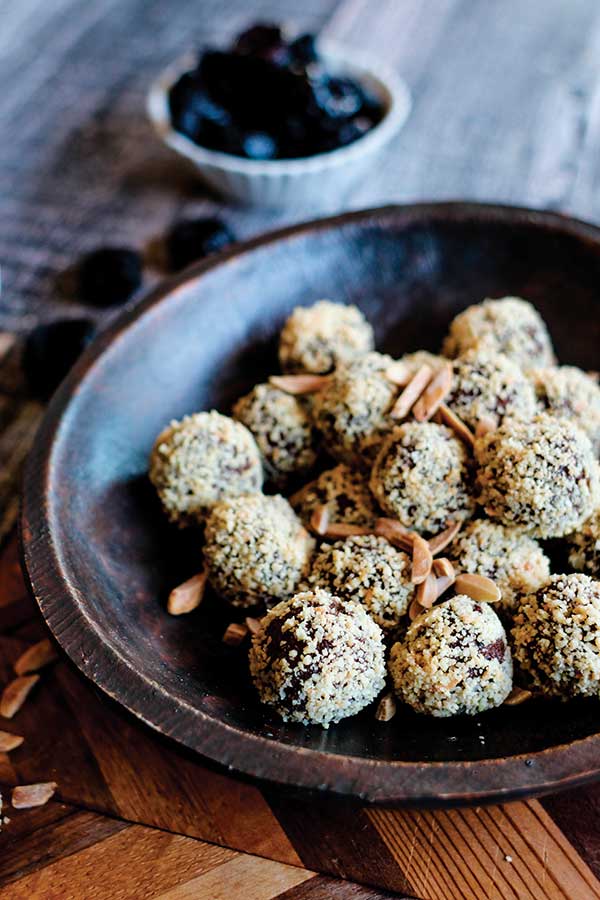 Prune and Almond Truffles
Recipe courtesy of Meg of "This Mess is Ours"
Prep time: 45 minutes
Servings: 24
Water
1 cup California Prunes
1 1/2 cups toasted slivered almonds, divided
1/4 teaspoon coarse kosher salt, plus additional, to taste, divided
1 tablespoon cocoa powder
1 1/2 tablespoons vanilla paste or extract
1/4 teaspoon almond extract
Boil water and pour over prunes. Soak 30 minutes; drain.
In food processor fitted with "S" blade, pulse 1/2 cup toasted almonds with salt, to taste, until fine crumbs form. Transfer to shallow bowl and set aside.
Add remaining almonds to food processor with 1/4 teaspoon salt and cocoa powder. Pulse 30 seconds to combine. Add prunes, vanilla paste and almond extract; process until combined. Mixture should be creamy with slight texture from almond crumbs. Transfer prune mixture to bowl and refrigerate 1 hour.
Once chilled, use small cookie scoop to portion out individual truffles on parchment-lined baking sheet. Gently roll each truffle in reserved toasted almond crumbs. Store on parchment-lined plate in refrigerator up to 2 weeks. Serve chilled.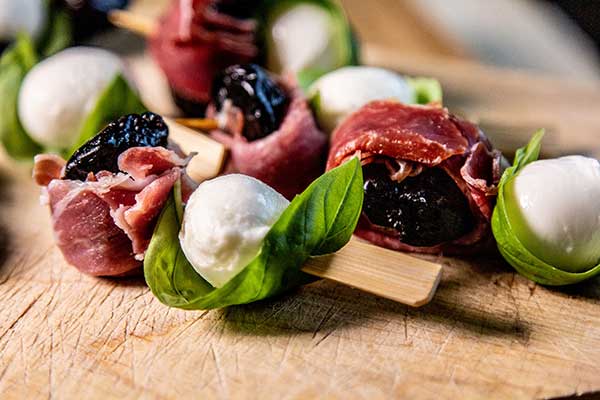 Prune, Mozzarella and Basil Skewers
Prep time: 5 minutes
Servings: 5
5 pieces prosciutto, halved lengthwise (optional)
10 California Prunes
10 basil leaves
10 cherry-size mozzarella balls
If using prosciutto, fold each half in half lengthwise so width of prune is wider than width of prosciutto. Starting at one end of prosciutto, wrap one prune; repeat with remaining prosciutto. Set aside.
Wrap one basil leaf around each mozzarella ball then thread onto skewer. Thread one prune or prosciutto-wrapped prune onto each skewer.


SOURCE:
California Prunes
Bake bread to celebrate St. Patrick's Day
(Culinary.net) From hearty stews to minty pies, St. Patrick's Day celebrations are all about enjoying the flavors of the holiday. Whether you're cooking up a full meal or simply serving appetizers, this Irish Potato Bread makes for a simple, tasty snack to feed your crowd.
Find more celebratory recipes at Culinary.net.
Watch video to see how to make recipe!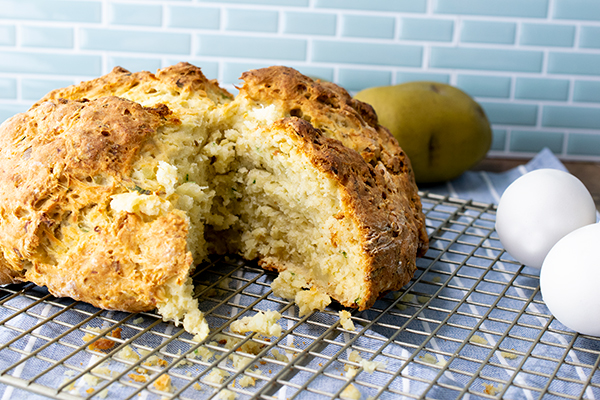 Irish Potato Bread
2 medium or large russet potatoes
1 egg
1 egg white
1/3 cup canola oil
3/4 cup milk
2 tablespoons green onion, minced
1/2 teaspoon caraway seeds
3 1/4 cups all-purpose flour, plus additional for dusting and kneading
1 1/2 tablespoons baking powder
1 teaspoon salt
Heat oven to 375° F.
Peel potatoes. Slice one potato and boil in saucepan 15 minutes, or until tender. Remove potato from saucepan into large bowl. Mash potato then set aside.
Grate second potato onto cloth. Wring potato in cloth to remove excess water. Add grated potato to mashed potato in large bowl. Add egg, egg white, oil, milk, onion, caraway seeds, 3 1/4 cups flour, baking powder and salt. Stir with wooden spoon until mixture is soft and sticky.
Turn dough onto floured surface. Adding flour as needed, knead dough to form 8-inch round shape with slight dome. Place dough onto baking sheet lined with parchment paper. Cut large "X" on top of dough about 1/2 inch deep.
Bake 55 minutes until golden brown. Cool on wire rack 1 hour before serving.


SOURCE:
Culinary.net
Inspire creativity with fun snack hacks

(Family Features) School days offer nearly endless opportunities for learning and exploration in the classroom, but education doesn't have to end with the final bell. Parents can ensure their students feel energetic, creative and confident by inspiring snack choices that are as smart as they are fun to make together.
Whether you're whipping up a snack to send to school or your little learners need an energy boost before starting afternoon homework, creative snacking can help encourage inspiration. As a trusted ally with better-for-you and convenient whole-fruit lunchbox snacks kids can enjoy, Sun-Maid offers these easy tips and ways to embrace the fun side of snack time.
Keep It Simple: Look for recipes with five ingredients or less so your children can show their artful nature without becoming overwhelmed. Plus, this often leads to a more budget-friendly at-home treat.
Shop Together: Gathering ingredients and equipment is an important part of any recipe, and bringing your future chefs along helps them feel like it's their creation from start to finish. Additionally, some important life lessons can be learned along the way, like how to navigate the store and compare costs.
Provide Kid-Friendly Instructions: There are many ways kids can lend a hand in making their own snacks, like mixing ingredients, washing produce or arranging a plate or platter. However, some steps are best left to the adults – make sure to do any cutting, slicing or dicing before letting children take the reins, for example, then just enjoy the creative fun.
With childhood favorites like crackers, marshmallows and vanilla yogurt covered raisins, Gimme S'mores Trail Mix offers a perfect way to get young minds thinking in the kitchen. A little guidance is all it takes to teach them each step of the recipe to make a crafty, delicious treat. Plus, with only a few simple ingredients that just need to be mixed together, it's a low-stress, low-mess way to cook up creativity.
For a healthier version of a snack time superstar, Apple Nachos combine sweet apples like Honeycrisp, peanut butter and versatile, whole-fruit Sun-Maid Raisins. Naturally made with nothing but grapes and California sunshine, these sweet raisins have been trusted as a better-for-you snack for kids and grown-up kids alike since 1912.
With zero grams of added sugars, they give parents the confidence they need to choose snacks that provide both great taste and nutrition for a happy and healthy family. As a household staple, they can be enjoyed as part of tasty recipes or as a standalone treat kids crave and parents approve.
Find more sweet ideas to inspire confidence and creativity at sunmaid.com.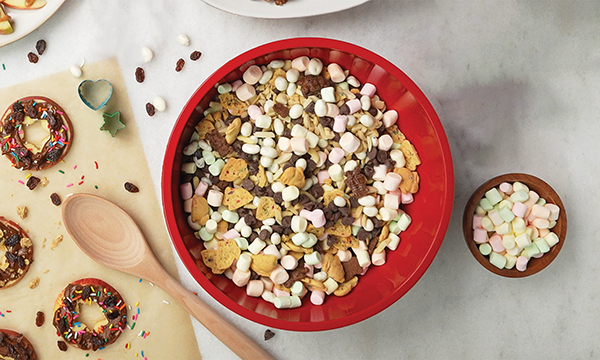 Gimme S'mores Trail Mix
Prep time: 5 minutes
Servings: 6
1/2 cup Sun-Maid Vanilla Yogurt Covered Raisins
3 cups graham crackers, assorted flavors
1 1/2 cups colored mini marshmallows
2 cups slivered almonds
1 cup chocolate chips
In large bowl, mix raisins, graham crackers, marshmallows, almonds and chocolate chips.
Serve immediately, or store in airtight container up to 1 week.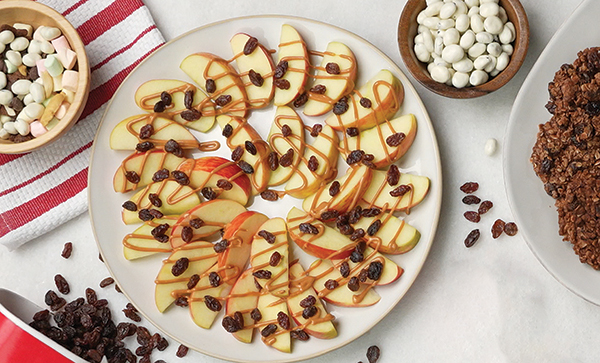 Apple Nachos
Prep time: 10 minutes
Cook time: 1 minute
Servings: 4
5 sweet apples, such as Honeycrisp
lemon juice (optional)
2 tablespoons peanut butter
1/2 cup Sun-Maid California Sun-Dried Raisins
Wash and slice apples.
Arrange one layer of sliced apples on serving plate. To keep apples from browning quickly, squeeze lemon juice on top, if desired.
In microwave, melt peanut butter about 30 seconds until smooth.
Drizzle 1 tablespoon peanut butter over first layer of apples. Sprinkle with 1/4 cup raisins.
Repeat with remaining apples, peanut butter and raisins.


SOURCE:
Sun-Maid Raisins
Produce shopping on a budget
5 strategies to save on fresh fruits and veggies

(Family Features) Cooking meals that bring your loved ones joy is often objective No. 1 but creating those flavorful favorites on an appropriate budget is an important aspect of well-rounded, family-friendly recipes. A few simple steps, like developing good grocery shopping habits, can put smiles on hungry faces without leaving a dent in your finances.
Consider these tips from the experts at Healthy Family Project along with its produce partners, which are on their 2023 Mission for Nutrition to improve access to fresh produce that's essential in alleviating many public health and personal wellness challenges. This year's partners are striving to be part of the improvement efforts by donating funds to increase the accessibility to fruits and vegetables in schools through the Foundation for Fresh Produce.
Make a List (and Stick to It)
When buying fresh produce, remember some items have a shorter shelf life. Limiting purchases to items on your list can help lower grocery spending while alleviating food waste.
Buy Local
Transportation cost is one of the biggest factors in the price of produce, meaning buying local, when possible, can help reduce your total at checkout.
Stock Up on Seasonal Produce
Although you can generally find any produce item at any time of year, this isn't always an affordable practice. Knowing when your favorite fruits and veggies are in-season can save you money and allow you to use the freshest ingredients in family breakfasts like Protein-Packed Sausage Breakfast Muffins and Savory English Muffins.
Know Your Produce Department
The front or feature table of the produce department often offers the best deals. Don't forget to look at the end caps on each produce aisle, which sometimes display seasonal items.
Befriend the Produce Manager
Throughout each week, a "hot buy" may come into the store that didn't make it into the weekly ad. This happens with items at the end of their seasons, in particular, or if a crop is doing well. Chat with the produce manager at your local store and he or she may inform you of special prices.
Find more grocery savings strategies and family-friendly recipes at HealthyFamilyProject.com.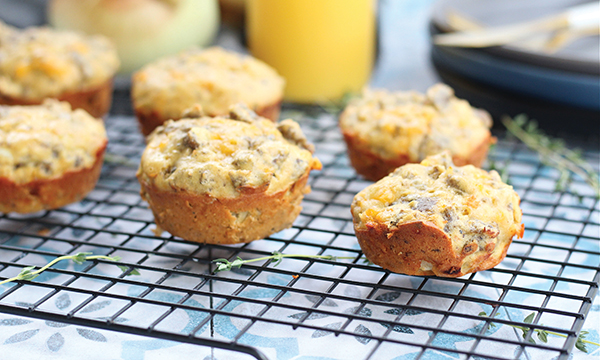 Protein Packed Sausage Breakfast Muffins
Recipe courtesy of Healthy Family Project
Nonstick cooking spray
1 sweet onion, diced
1 pound turkey sausage
4 eggs
1/2 cup shredded cheddar cheese
1 cup protein pancake mix
Preheat oven to 350 F. Spray 12-cup muffin pan with nonstick cooking spray. Set aside.
In skillet over medium heat, cook sweet onion until translucent. Add turkey sausage and cook until no longer pink. Remove from heat.
In large mixing bowl, lightly beat eggs. Add shredded cheese, pancake mix and cooked sausage; mix well.
Fill prepared muffin cups about 3/4 full with mixture. Bake 18-20 minutes, or until golden brown on top.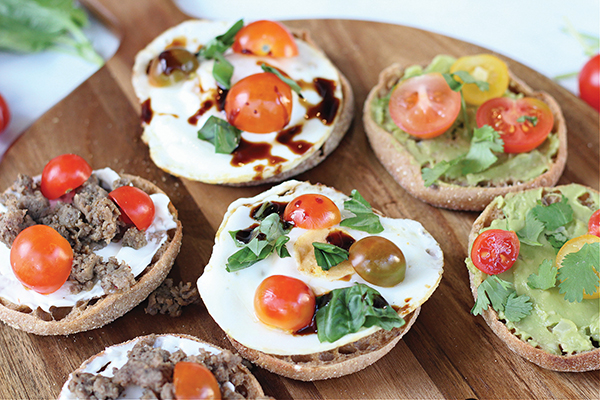 Savory English Muffins
Recipe courtesy of Healthy Family Project
English muffins
guacamole
cherry tomatoes
1 tablespoon cilantro, finely chopped
1 tablespoon light cream cheese
1 tablespoon crumbled turkey sausage, sauteed
1 egg
1 tablespoon basil, finely chopped
1 tablespoon balsamic glaze
Toast English muffins and top with desired combinations of toppings, such as: guacamole, tomatoes and cilantro; cream cheese, tomatoes and turkey sausage; or egg, tomatoes, basil and balsamic glaze.

SOURCE:
Healthy Family Project