Step into spring with a sweet, fresh meal
Family Features) As the weather turns the corner and temperatures rise, opportunities for dining outdoors and soaking up the sunshine abound. Patio meals often mean fresh flavors, making spring a perfect time for heading outside with your favorite seasonal dishes.

The freshness of Texas 1015 Sweet Onions is an ideal starting point for recipes that heighten the enjoyment of al fresco dining. As the first spring sweet onion of the season, they're harvested and packed fresh, meaning they're never stored. Plus, with no burning sensation when you cut them, you can skip the tears for more enjoyable meal prep.
It's a versatile veggie that can be grilled, roasted, eaten fresh or caramelized for delightful recipes like this Flatbread with Caramelized Onions, Bacon and Arugula. Start by heating butter and olive oil then allow the onions to rest in the mixture; once they're sweating, turn the heat down and cover the pan. Stirring every 10 minutes, cook for about 40 minutes until the onions reach a deep golden brown. In the final 10 minutes, stir in balsamic vinegar for savory flavor.
Layer the sweet, caramelized concoction along with cheese and bacon on a flatbread. Bake (or grill, if the weather allows) for 15 minutes before topping with fresh arugula for a lighter dish that reminds you springtime has arrived.
Find more recipes to celebrate spring at tx1015.com.
Storage Tips for Sweet Onions
Short-term storage for sweet onions is simple: If using them within a week, just leave them out on the counter. However, if you're stocked up and thinking beyond a handful of days, consider these tips for keeping them fresh long-term.
Wrap and separate. If you plan to store in the refrigerator, wrap each bulb individually in a paper towel. Place the bulbs in the crisper with the vents closed.

Break out the pantyhose. Because sweet onions can be preserved if stored in a cool, dry place with air circulation, you can put one onion in each leg of clean pantyhose then tie a knot above the onion. Keep adding onions until each leg is full. Each time you need one, simply cut the sections based on the number of onions you need.

Keep away from spuds. Although they pair perfectly in dozens of recipes, for storage purposes, onions and potatoes don't play nice. Storing together can cause onions to go bad quicker.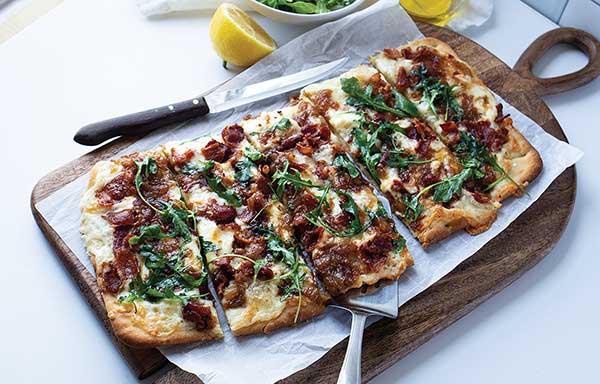 Flatbread with Caramelized Onions, Bacon and Arugula
Recipe courtesy of South Texas Onions
Servings: 2-3
1 tablespoon butter
1/2 tablespoon olive oil
1 large sweet onion, sliced
1/2 teaspoon balsamic vinegar
1 naan flatbread (rectangular shape)
1 cup cheddar cheese, shredded
1 cup fontina cheese, shredded
4 slices bacon
arugula
olive oil (optional)
lemon juice (optional)
To make caramelized onions: In pan over medium-high heat, heat butter and olive oil. Add onions and let sit about 5 minutes. Once onions start sweating, turn heat to low and cover pan. Cook onions to deep golden brown, stirring every 10-15 minutes. With 10 minutes left, stir in balsamic vinegar.
To make flatbread: Preheat oven to 425 F.
On flatbread, layer cheese, bacon and caramelized onions. Bake 13-15 minutes, or until cheese is bubbly and edges are golden brown.
Toss arugula with olive oil and lemon juice, if desired, before placing on flatbread.


SOURCE:
South Texas Onions
Quick, easy dishes from around the globe
(Family Features) One of the best parts of traveling is trying the local cuisine, and that's particularly true on an international scale. No matter where you go around the globe, however, there is one ingredient you'll likely find is an integral part of many cultures and cuisines: rice.
Grown on almost every continent, this staple ingredient is a large part of meals around the world, which means there are nearly endless varieties and recipes to try. However, you don't need to go on vacation to try authentic-tasting international food; easy-to-make versions of popular dishes from around the globe can be made right at home in mere minutes.
Mediterranean
Known for vibrant vegetables, savory sauces and incredible tastes, the Mediterranean is also home to a few classic rice dishes such as rich and creamy risotto from Italy. Other vibrant options include Spanish specialties like arroz con pollo (chicken and rice) and paella, which is made with an assortment of ingredients like seafood, spices and savory broth.
Asia
If you've ever been to an Asian restaurant, you'll notice a large portion of the menu likely includes recipes made with rice. While it might be difficult to pinpoint where certain recipes originate, fried rice is a Chinese specialty. Over time, this delicious dish has made its way to many different countries and been reinvented with local ingredients. For example, this Kale and Kimchi "Fried" Rice is based on Korean cuisine and can be made in less than 5 minutes using Minute Jasmine Rice & Red Quinoa Cups, which combine the buttery taste and aromatic scent of authentic Jasmine rice with crunchy, 100% whole-grain red quinoa in a convenient, pre-portioned cup.
Middle East
Much like other cuisines around the world, Middle Eastern cooking uses rice almost every day. A Turkish and Arab mixed dish, shawarma is now a global street food. Traditional Persian rice uses a variety of spices like turmeric, ginger and cardamom with dried fruits and nuts.
Latin America
Latin American recipes vary from country to country and region to region, but rice is essential on the side or as part of the main dish across the board. A quick and easy morning meal, this Mexican Breakfast Scramble is ready in 4 minutes. Aiding the short prep time, Minute Jalapeno Rice Cups are ready in just 1 minute and can help spice up dishes with a tasty blend of onion, green peppers and jalapenos.
North America
With bold flavors, few things say southern comfort quite like Louisiana cooking. Bring the taste of New Orleans to your kitchen with rice-based dishes like gumbo or jambalaya, or by pairing rice with another popular Cajun pastime – a classic shrimp boil.
Find more quick and easy international recipe ideas at MinuteRice.com.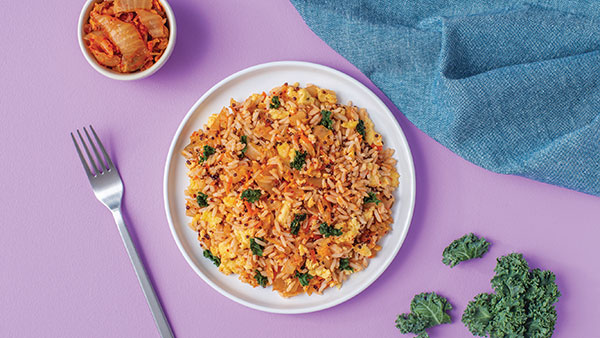 Prep time: 2 minutes
Cook time: 3 minutes
Servings: 1
1 Minute Jasmine Rice and Red Quinoa Cup
1 cup kale, chopped
1/4 cup kimchi, chopped
1 teaspoon soy sauce
1 egg, lightly beaten
Heat rice according to package directions.
In medium microwave-safe bowl, combine kale, kimchi and soy sauce. Cover and microwave 1 minute.
Add rice and egg; mix well to combine. Cover and microwave 30 seconds. Stir and serve.
Serving Suggestions: Drizzle with sesame oil. Add cooked shrimp.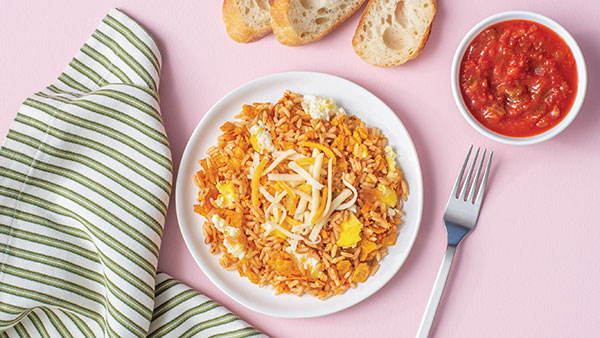 Prep time: 2 minutes
Cook time: 2 minutes
Servings: 1
1 Minute Jalapeno Rice Cup
1 egg, lightly beaten
2 tablespoons salsa
2 tablespoons queso fresco
Heat rice according to package directions.
In small microwave-safe dish, combine egg, salsa and rice.
Microwave 1 minute. Stir in cheese; microwave 30 seconds.
Serving Suggestion: For meal to go, wrap scramble in warm tortilla.


SOURCE:
Minute Rice
Savor spring flavor with fresh seafood
(Family Features) Fresh, flavorful ingredients take springtime meals to another level, and it's hard to top seafood as a seasonal favorite. Skip the wait at restaurants and instead create your own savory seafood dishes by taking advantage of easy-to-make recipes.
While takeout may be an easy option, the satisfaction of enjoying a delicious, home-cooked meal like Shrimp Pad Thai with Jasmine Rice can make you feel like you're enjoying a restaurant-quality dinner. Next time you're craving Asian cuisine, swap out traditional rice noodles for this version with Jasmine rice as an aromatic, quick-cooking solution for your own spin on a classic.
Take the guesswork out of cooking rice with an option like Success Boil-In-Bag Rice, which offers a heat safe, BPA-free and FDA-approved solution for fluffy, flavorful rice that cooks up perfectly. The high-quality grains are quick, easy, mess-free and ready in 10 minutes, so you can enjoy hassle-free dishes such as Successful Crab and Rice Cakes.
These crispy crab cakes come together easily and are served with a zesty, homemade aioli that tastes just like you're on the coast. If you're new to making crab cakes, it's simpler than it may seem – just cook rice beforehand so it can cool then mix in beaten eggs, seafood and seasonings. Refrigerating and resting the mixture helps it hold together before frying to a mouthwatering golden brown for a delicious appetizer, snack or side dish.
Visit SuccessRice.com to find more springtime meal ideas.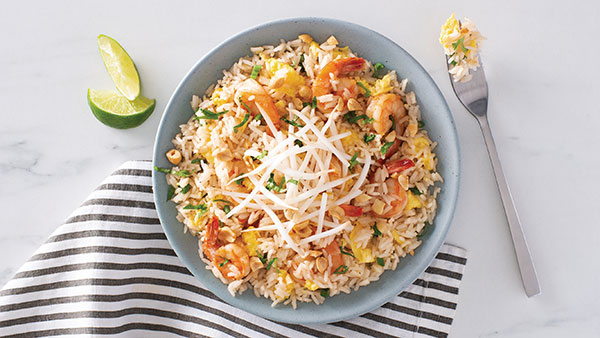 Prep time: 15 minutes
Cook time: 10 minutes
Servings: 4
1 bag Success Jasmine Rice
3 tablespoons light brown sugar
2 tablespoons fish sauce
2 tablespoons lime juice
2 tablespoons soy sauce
1 tablespoon chili garlic sauce
2 tablespoons canola oil, divided
1 egg, lightly beaten
1 pound medium shrimp, peeled and deveined
1 tablespoon minced garlic
3 green onions, thinly sliced
1 cup bean sprouts
1/4 cup fresh cilantro leaves, chopped
2 tablespoons dry roasted peanuts, chopped
4 lime wedges
Prepare rice according to package directions. Set aside.
In small bowl, combine brown sugar, fish sauce, lime juice, soy sauce and chili garlic sauce. Set aside.
In large wok or skillet over high heat, heat 1/2 tablespoon oil. Quickly scramble egg. Remove from pan and reserve.
Add remaining oil to wok over high heat. Add shrimp and garlic; stir-fry 5 minutes, or until shrimp are cooked. Add reserved sauce and rice; stir-fry 2 minutes. Add green onions and reserved egg; toss to combine.
Divide pad Thai between four bowls. Top each with bean sprouts, cilantro and peanuts. Serve with lime wedges.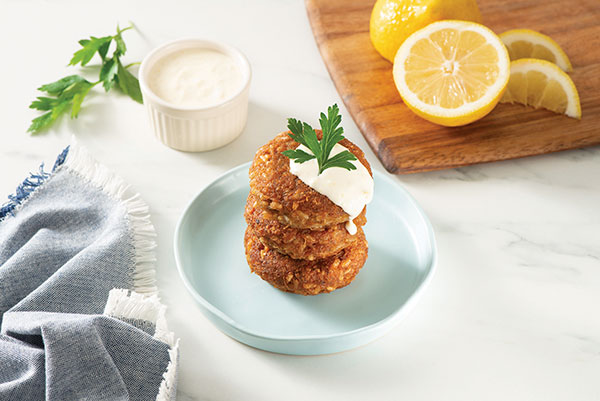 Prep time: 20 minutes
Cook time: 20 minutes
Servings: 4
Crab Cakes:
1 bag Success Brown Rice
2 eggs
1 pound lump crabmeat
2 tablespoons seafood seasoning
2 tablespoons olive oil
Aioli:
1/3 cup mayonnaise
1 teaspoon minced garlic
1 lemon, zest and juice only
lemon wedges (optional)
To make crab cakes: Prepare rice according to package directions. Allow to cool.
In medium bowl, beat eggs lightly. Stir in rice, crabmeat and seafood seasoning; mix well. Refrigerate 5 minutes. Shape mixture into eight patties.
In large, nonstick skillet over medium heat, heat oil. Working in batches, carefully place patties in skillet. Cook 5 minutes on each side, or until golden brown. Transfer to paper towel-lined plate.
To make aioli: Stir together mayonnaise, garlic, lemon zest and lemon juice.
Serve aioli with crab cakes and garnish with lemon wedges, if desired.


SOURCE:
Success Rice
Break out brunch favorites for spring celebrations
(Family Features) Deck your kitchen, dining room or patio with bright decor and fun, festive springtime frills – brunch season is here. Whether your weekend morning meal is shared with that special someone or friends, family and neighbors, warm, sunny days can bring out the best of brunch.
Impress your loved one with these Mini Banana Rice Pancakes for two, a healthy and satisfying meal made with Minute Brown Rice & Quinoa Cups. This recipe allows for more moments together at the table because the whole-grain combination is ready in just 1 minute and prep time is minimal.
Pairing the crunchiness of red quinoa with the chewy texture of brown rice, these cups earned a spot on the "Men's Health" Best Foods for Men Awards in 2022. Plus, packed in single-serve portions, you can eat the grains right out of the BPA-free cup for a simple lunch or snack that provides a good source of fiber with 55 grams of whole grains in each serving.
If you need a dish that feeds a crowd, put this Hearty Bacon and Egg Breakfast on the menu. Ready in 35 minutes, it can satisfy brunch cravings for a group of up to 12 as a main course that easily pairs with other morning favorites.
As an ideal complement to the eggs, bacon and cheese, Minute Rice & Quinoa can make this family-style recipe a breeze. In just 10 minutes, the tasty blend of brown rice, red rice, wild rice and quinoa cooks up light and fluffy for a slightly chewy, nutty flavor. It's also a dependable replacement for oatmeal in other breakfast dishes so you can complete your mission to make meals quick and enjoyable. Not to mention, the bag is BPA-free and recyclable via store drop-off in most communities, while the carton is recyclable curbside.
Find more brunch inspiration for spring celebrations at MinuteRice.com.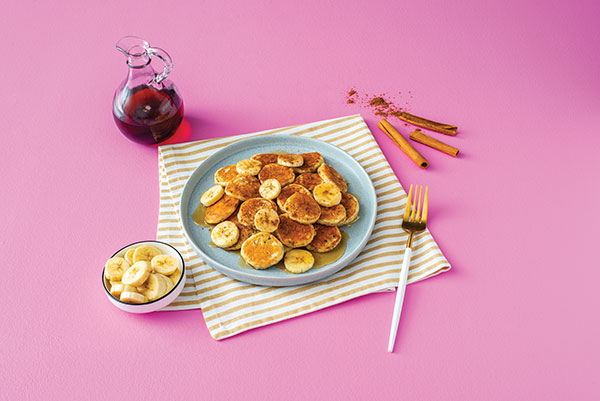 Prep time: 15 minutes
Cook time: 20 minutes
Servings: 2
1 cup Minute Brown Rice & Quinoa
1 1/4 cups all-purpose flour
1 teaspoon baking powder
1/2 teaspoon baking soda
1/4 teaspoon salt
1 cup milk
2 teaspoons freshly squeezed lemon juice
2 bananas, divided
1 egg, beaten
1/4 cup pure maple syrup, divided
4 teaspoons butter, melted
2 tablespoons vegetable oil, divided
1/8 teaspoon ground cinnamon
Heat rice and quinoa according to package directions.
In large bowl, whisk flour, baking powder, baking soda and salt.
In medium bowl, whisk milk and lemon juice. Let stand 5 minutes.
Mash 1/2 banana. Transfer to milk mixture. Add egg and 1 teaspoon maple syrup; stir to combine. Stir in melted butter.
Pour milk mixture over flour mixture. Whisk just until combined; do not overmix. Fold in rice and quinoa. Let batter rest 10-15 minutes.
Preheat large nonstick skillet over medium heat; brush with 1 teaspoon oil. Once skillet is hot, reduce heat to medium-low. In batches, adding oil as necessary, scoop 1 tablespoon batter per pancake into skillet and cook 3-4 minutes, or until bubbles start to form. Flip and cook 1-2 minutes until golden on bottom.
Slice remaining half and full bananas. Serve pancakes with remaining maple syrup, banana slices and cinnamon.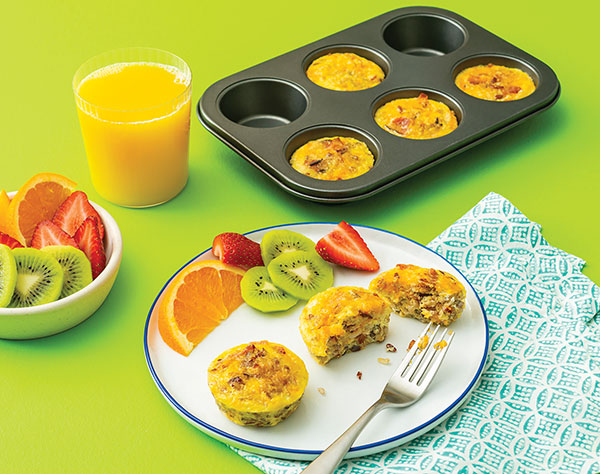 Prep time: 5 minutes
Cook time: 30 minutes
Servings: 12
Nonstick cooking spray
1 1/2 bags Minute Rice & Quinoa
9 eggs, lightly beaten
5 bacon slices, cooked and crumbled
3/4 cup shredded cheddar cheese
1/2 teaspoon salt
black pepper, to taste
Preheat oven to 325 F. Coat 12-cup muffin pan with nonstick cooking spray.
Prepare rice and quinoa according to package directions.
In medium bowl, combine rice and quinoa, eggs, bacon, cheese, salt and pepper, to taste.
Divide batter between prepared cups and bake 18-20 minutes, or until eggs are just set.


SOURCE:
Minute Rice