5 ways to save on last-minute summer travel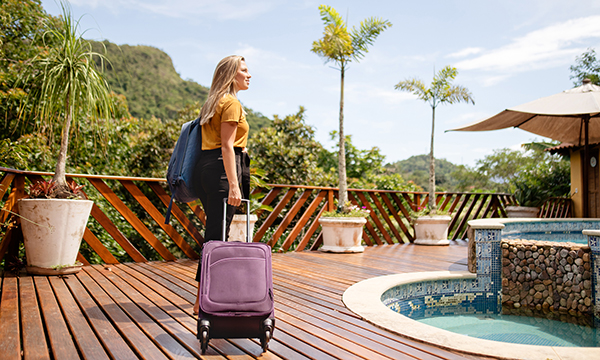 (Family Features) Summer travel is underway and finding time for a vacation can be difficult if you haven't already booked your trip. Plus, between airfare, hotel stays and fuel prices, costs can add up quickly.
Whether you're looking for a family-friendly adventure, romantic escape or relaxing getaway with friends, these tips can help you take a trip on a budget, even if time is at a premium and you had to wait until the last minute to sneak in your summer excursion.
Be flexible with dates: If you have flexibility in your travel dates, certain days of the week can yield savings. Choosing to fly midweek rather than on the weekend could mean paying less for airfare. Avoiding holidays can also help keep costs affordable. Use a fare calendar for flights and create price alerts to ensure you're getting a good deal.
Use rewards to save on accommodations: Signing up for a travel rewards credit card can help you save on your vacation. For example, the Hotels.com Rewards Visa Credit Card (rates and fees) from Wells Fargo includes a limited time offer allowing you to earn three reward nights worth a total of $375 ($125 per night, excluding taxes and fees) based on qualifying purchases. Cardholders also receive silver membership benefits at select properties, which can mean free breakfast, Wi-Fi and airport transfers. Plus, there are no annual fees or foreign currency conversion fees (see terms).
Look for free amenities: When searching for your next stay, look for hotels that offer complimentary amenities such as on-site parking, breakfast and Wi-Fi. These popular amenities can help add convenience to your trip while also reducing expenses.
Take advantage of mobile app deals: Using travel apps to begin the trip planning process – especially for last-minute excursions – can save you time and money. Some companies offer free rewards and deals that can only be accessed through their mobile apps. For instance, Hotels.com Rewards members can save 10% or more at properties around the world by using the app or website and earn stamps for every night they stay.
Book 2- and 3-star stays: Searching for hotels by star class and guest rating can help you find the perfect place to rest while on the road. By booking a lower star hotel for the night, you can also save money.
Find more tips and resources for planning your next trip at Hotels.com.
Photo courtesy of Getty Images


SOURCE:
Hotels.com
Why you next car will probably be electric
(BPT) – Love them, hate them, or don't really care, electric vehicles are beginning to take over transportation conversations and roadways, and soon, boats and planes. Already, there were 16.5 million electric cars on the road worldwide in 2021, three times more than in 2018, according to S&P Global. Though still in the early adopter phase, here are four reasons your next vehicle is likely to be electric.
Auto manufacturers are phasing out the production of internal combustion engine (ICE) models. General Motors announced in 2021 that the company will only sell vehicles that have zero tailpipe emissions by 2035, across all global markets. Similarly, leading companies like Ford committed to zero emissions globally by 2040 and no later than 2035 in key markets. Some states are making the same commitment. Through Michigan's Healthy Climate plan, for example, the state is working to achieve economy-wide carbon neutrality by 2050, including through electrifying vehicles and increasing public transit.
States are accelerating the push for EVs through legislation. The Air Resources Board is offering a Clean Vehicle Rebate Program, making new and used electric cars more affordable for consumers, as some states seek to ban the sale of ICE model vehicles. On the federal level, as part of a broad new Inflation Reduction Act — designed to address climate change, healthcare, and taxes — a new tax credit of up to $4,000 on used electric cars and revised tax credits of up to $7,500 on certain new EVs are available for prospective buyers to take advantage of. These legislative changes highlight the need for tangible progress in increasing the accessibility of EVs.
States are building out supporting infrastructure for EVs. All over the United States, you will find EV chargers popping up at local supermarkets, malls and sporting events. Michigan is taking it a step further by bringing chargers to state parks and working with public universities on pilot programs and research programs to improve battery design. The Lake Michigan EV Circuit Tour, for example, is a network of EV chargers that, once completed, will span over 1,100 miles of drivable shoreline around Lake Michigan throughout Michigan, Indiana, Illinois and Wisconsin.
"We are going to see a huge uptick in EV adoption, especially as manufacturers continue to diversify the EV models on the market, lower prices for increased accessibility, and partner with states to ensure infrastructure is catching up with the high-tech innovation happening across the country," says Trevor Pawl, Chief Mobility Officer for the State of Michigan. "It's only a matter of time before your neighbors are driving one too."
Beyond incentives and legislation, we're still human and want to keep up with our neighbors and peers. EVs have been around for almost 30 years, with the first mass-produced, purpose-built modern electric car from one of the industry's key players released in 1996 from General Motors. Soon, EVs will make up a majority of new cars available. And, with the many financial incentives and user benefits associated with making the shift to EVs, it may not take long for you to begin reimagining how an EV could fit into your life, too.
While your next car choice will hinge on a range of factors — lifestyle, brand preference, car features, safety ratings, availability and price — you may be surprised how many boxes an EV can tick. Even without gas, there's a lot of sustainable power under their hoods.
Help for older adults on a budget may be a few clicks away
Help for older adults on a budget may be a few clicks away
(BPT) – Food and gas prices continue to rise, on top of record-high housing costs in many cities across the U.S. If you're an older adult who is already living on a tight budget, today's inflation can be particularly difficult. Fortunately, there are programs available that can help you save money on health care, prescriptions, food, utilities and more.
One of the easiest ways to find out if you're eligible for benefits is to visit the National Council on Aging's BenefitsCheckUp.org. The free and confidential tool connects older adults, people with disabilities and caregivers to benefit programs. The site is easy to use, even for people with minimal digital experience.
"It only takes a few minutes to learn about all the programs available and how to apply," said Ramsey Alwin, president and CEO of NCOA. "For example, there are Medicare programs that can boost your budget by helping with prescription drug costs, as well as premiums, deductibles and coinsurance."
There are thousands of programs on BenefitsCheckUp, including:
The Supplemental Nutrition Assistance Program (SNAP), which can help you pay for healthy food
The Medicare Part D Low Income Subsidy and Medicare Savings Programs, which can help people with Medicare afford their out-of-pocket health care expenses
The Housing Choice Vouchers and Public Housing Programs, which can help with housing costs
Supplemental Security Income, which provides cash for basic needs
The Affordable Connectivity Program, which provides discounted internet services
The Low-Income Home Energy Assistance Program, which can help you pay for home heating and cooling
Millions of older adults are eligible for, but not enrolled in these programs. In fact, NCOA estimates that $30 billion in benefits go unused each year simply because older adults don't know about these programs — or how to apply.
BenefitsCheckUp.org will give you a personalized list of benefits you may be eligible for and the steps you need to apply, including links to the correct government agencies and applications. Just a few minutes could save you money every month.
Helping teens develop financial literacy
(Family Features) Developing financial knowledge and effective money management habits are important stepping stones for teenagers to become financially stable adults who aspire to build assets and achieve personal goals.
For example, most teens (88%) would like to own a home someday, according to a survey conducted by Wakefield Research on behalf of Junior Achievement USA and Fannie Mae. The survey of 1,000 teens ages 13-17 in the United States found most (85%) believe "owning a home" is part of "the good life," compared to nearly as many adults (87%). However, fewer than half (45%) could correctly identify the definition of a home mortgage and 76% said they lacked clear understanding of credit scores.
"There's been this theme that younger Americans aren't interested in homeownership, but the results of this survey contradict that assumption," said Jack E. Kosakowski, president and CEO of Junior Achievement USA. "Teens appear interested in owning a home someday but seem to realize they need more information on how to do it."
To help teens gain a better understanding of financial decisions they'll face in adulthood, consider these common terms.
Credit Score
While nearly all teens (96%) believe credit scores play an important role in the ability to purchase a home, approximately 3 in 4 (76%) said they understood credit scores only "somewhat," "a little" or "not at all." A credit score is a number from 300-850 based on a number of factors, including credit history, open accounts, total debt, repayment history and more. Lenders use credit scores to evaluate a person's ability to repay loans.
A person's credit score may also determine the size of a down payment needed when purchasing a smartphone or home, or the deposit needed for renting property or obtaining utilities and may impact interest rates and credit limits on credit cards. Generally, scores below 620 may require paying a higher rate, a shorter repayment term or a co-signer. Scores of 700 or higher are considered more favorable to creditors and may result in lower interest rates while scores higher than 800 typically provide the most benefits to consumers.
Mortgage
While a slight majority of white teens (52%) correctly identified the definition of a mortgage, only around a quarter (26%) of Black teens and fewer than half (41%) of Hispanic or Latino teens could do so. A mortgage is a type of loan used to purchase or maintain a home, land or other types of real estate. The borrower makes a down payment for a portion of the purchase price then borrows the rest from a lender. The borrower then repays the lender over a number of years – typically 15-30 – via a series of regular payments that are divided into principal (the money originally borrowed) and interest with the property serving as security.
Nearly all teens surveyed (97%) thought it would be helpful if schools offered lessons that explained homeownership, including mortgages. In response, Fannie Mae is supporting the development and deployment of Junior Achievement learning experiences for thousands of students annually in various age groups by integrating relevant content from its HomeView homeownership course materials and resources, which are designed with first-time homebuyers in mind.
"Young people today are the homebuyers of tomorrow," said Jeffery Hayward, executive vice president and chief administrative officer, Fannie Mae. "By providing them access to quality, foundational education now, Fannie Mae and Junior Achievement are helping these future homeowners prepare for the mortgage and homebuying process when they're ready to take that step."
Visit ja.org for more tips and information to help teens improve their financial knowledge and reach their goals.
Photo courtesy of Getty Images

SOURCE:
Junior Achievement