A straightforward weekend breakfast
(Culinary.net) There are no alarms set and you are cuddled up in bed after a good night's sleep. It's late morning and there is nowhere to go, no rushing around to do. No school bus, no work to be done, just relaxing at home with loved ones. However, breakfast is calling your name.
Your stomach rumbles as your stumble toward the kitchen. You need something quick and effortless. The kids will be up soon and you know food will be on their minds.
When you're in a pinch, there is nearly nothing better to make than something sweet and filling for a weekend family breakfast.
Try these simple and delicious Caramel Sticky Rolls for an easy breakfast for all. The rolls are fluffy, a little crunchy and drizzled with caramel topping.
Start by sprinkling some flour on the countertop. Roll out one sheet of puff pastry. Drizzle and spread caramel sauce on the puff pastry.
Sprinkle 1/2 cup of chopped walnuts on top then roll up the puff pastry and cut it into about nine pieces to place inside a muffin tin.
Bake for 22 minutes and cool. If you like your rolls super sweet, drizzle with some extra caramel sauce.
The result is a pan full of warm, gooey and delightful rolls that are perfect for a large family or to save leftovers to enjoy throughout the week.
Next time you slept in a little too late or your family wants something more than the daily norm for breakfast, try this scrumptious and tasty recipe.
Your family will love it and don't be surprised if you get a request or two for this breakfast again.
Find more quick weekend recipes at Culinary.net. https://www.youtube.com/embed/thOinICTix4?modestbranding=1&rel=0&showinfo=0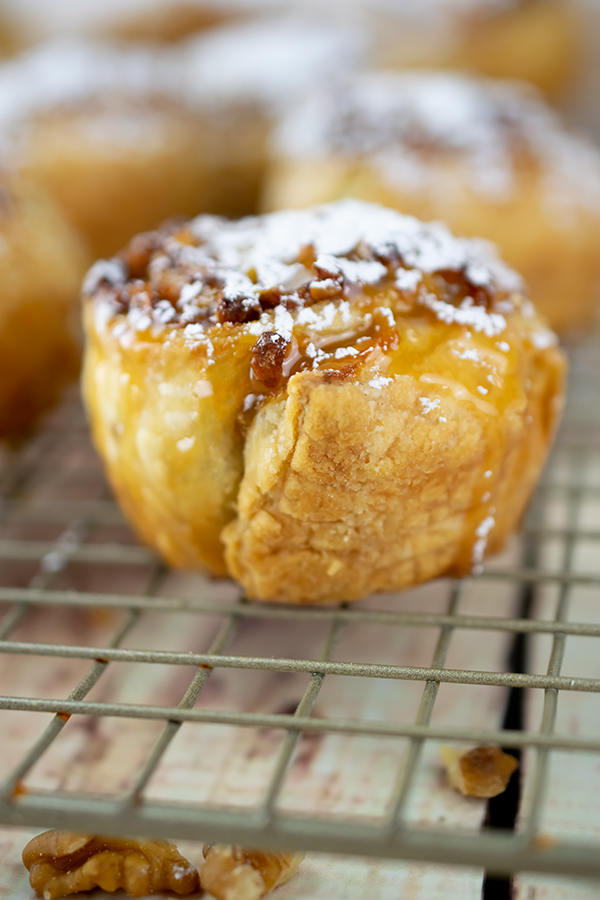 Caramel Sticky Rolls
Servings: 9
Nonstick cooking spray
flour, for rolling pastry
1 frozen puff pastry, thawed
caramel sauce, divided
1/2 cup walnuts, chopped
powdered sugar
Heat oven to 400 F.
Spray muffin tin with nonstick cooking spray.
Sprinkle flour on work surface. Flatten pastry sheet and roll into rectangle.
Drizzle caramel sauce over pastry and spread within 1/2 inch of edges.
Sprinkle chopped walnuts over caramel sauce.
Starting on short end, evenly roll pastry with filling to other end.
Cut pastry into nine pieces. Place pastries cut side up into muffin cups.
Bake 22 minutes, or until golden brown. Immediately remove from pan to wire rack. Let cool 10 minutes. Drizzle with additional caramel sauce and dust with powdered sugar.


SOURCE:
Culinary.net
Thanksgiving traditions, memory-making meals
Waking up to watch the Macy's Thanksgiving Day Parade is a tradition that brings smiles and happiness for many families, and this year, an iconic brand will join the festivities. Since 1921, Wonder Bread has captured the "wonder" its founder Elmer Cline experienced when first watching a hot air balloon race. It's often credited with the popularization of sliced bread in the United States and now, for the first time, its legacy will be on display Nov. 24 parading through the streets of New York City.
To celebrate the special occasion and the joy that Thanksgiving brings, you can enjoy Turkey Cranberry Dinner Rolls as a delicious homemade meal that's as easy to make as it is to share. If you're searching for a tasty side that'll leave your loved ones stuffed, look no further than this Thanksgiving Stuffing, a classic accompaniment to holiday meals and a favorite of home chefs across the country.
To learn more about the Macy's Thanksgiving Day Parade and find family-favorite recipes fit for Thanksgiving feasts, visit wonderbread.com/macys-parade.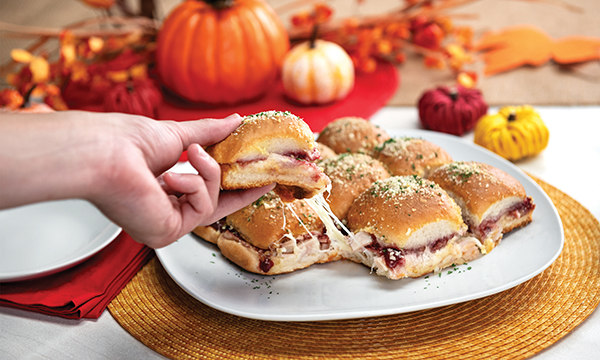 Turkey Cranberry Dinner Rolls
Nonstick cooking spray
1 package of Wonder Dinner Rolls
2 cups diced turkey, cooked
1 cup cranberry sauce or relish
6 slices Swiss cheese
6 tablespoons butter
1 tablespoon yellow mustard
1 tablespoon Worcestershire sauce
1/2 tablespoon dried minced onion
salt, to taste
pepper, to taste
1 tablespoon parsley
1 cup Parmesan cheese
Preheat oven to 325 F. Cover 9-by-13-inch baking pan with foil and spray with nonstick cooking spray.
Remove rolls from package in one piece, cutting entire slab in half lengthwise to create one half of "tops" and one half of "bottoms."
Place bottom half in foil-covered pan and layer with turkey, cranberry sauce and Swiss cheese. Add top half of rolls.
In microwave, melt butter and whisk in mustard, Worcestershire sauce, onion and salt and pepper, to taste. Pour evenly over rolls.
Cover with foil and let sit 5-10 minutes then bake, covered, 20 minutes. Uncover and bake 5 minutes.
Sprinkle with parsley and Parmesan cheese. Slice into individual rolls.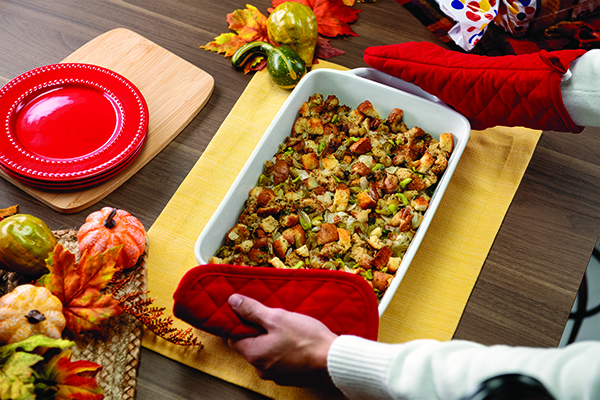 Thanksgiving Stuffing
1/2 cup unsalted butter, divided
3 cups chopped onion
2 1/2 cups chopped celery
1 clove garlic, finely chopped
1 1/2 tablespoons chopped fresh sage
1 1/2 tablespoons chopped fresh thyme
2 teaspoons celery seeds
1 pinch grated nutmeg
1 pinch ground cloves
1 teaspoon kosher salt
1 loaf Wonder Classic White Bread, cubed
1/2 teaspoon freshly ground black pepper
1 1/2 cups low-salt chicken broth
Heat oven to 325 F.
In large skillet over medium heat, melt 1/4 cup butter. Add onion, celery, garlic, sage, thyme, celery seeds, nutmeg, cloves and salt.
Cover and cook until onions are soft, 5-7 minutes. Remove from heat.
In large bowl, toss sauteed vegetables with bread cubes and season with pepper. Melt remaining butter and pour over stuffing along with broth then toss to coat.
Bake, covered, until heated through, about 35 minutes. Uncover and bake additional 15 minutes.


SOURCE:
Wonder Bread
Serve up smiles with favorite holiday sides

(Family Features) Turkey and ham may sit centerstage, but classic holiday sides can make the season truly special. You can bring smiles to your loved ones' faces by dishing out those favorite recipes everyone asks for year after year.
Made with a delicious combination of rice, cheddar cheese, cream of mushroom soup and broccoli florets, this quick and easy version of Broccoli and Cheese Rice Casserole is an ideal one-pot dish to keep the holidays simple. With three easy steps and everyday ingredients, it comes together with minimal effort for traditional casserole taste.
When it comes to feeding a crowd, it's often best to let your oven do the work. This Brussels Sprouts and Ham Rice Gratin recipe allows you to serve up a filling favorite with little effort using pantry staples. Plus, it's a kid-friendly way to encourage veggies at this year's holiday meal with gooey cheese providing tempting taste bud motivation.
These seasonal classics and more are made quick and easy with an option like Success Boil-in-Bag Rice, a pre-measured, mess-free way to make fluffy, high-quality rice. It's cooked by simply dropping a bag of rice in a pot of water or broth then boiling it for 10 minutes. BPA-free and FDA-approved, the bags are safe to use and made to withstand high temperatures.
An added bonus: If you're aiming to achieve a particular flavor, just season the rice by cooking in water infused with herbs, spices, broth, coconut milk or other liquids like juice for sweeter recipes.
Visit SuccessRice.com to find more holiday recipe inspiration.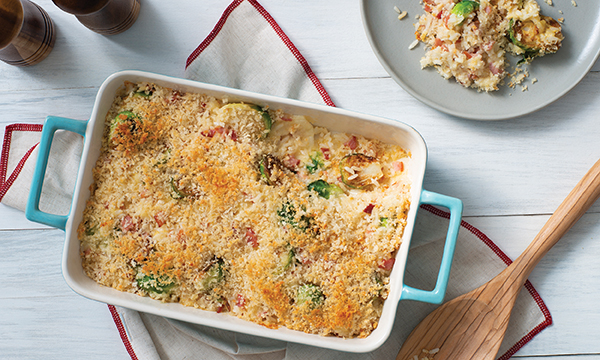 Prep time: 20 minutes
Cook time: 25 minutes
Servings: 4
1 bag Success White Rice
1/2 pound Brussels sprouts, trimmed and halved
1/3 cup diced ham
1 clove garlic, minced
1 tablespoon olive oil
3/4 teaspoon salt, divided
3/4 teaspoon black pepper, divided
1 cup heavy cream
2 tablespoons finely chopped fresh chives
2 tablespoons Dijon mustard
1 cup shredded sharp cheddar cheese
1/2 cup grated Parmesan cheese, divided
1/3 cup breadcrumbs
2 tablespoons butter, melted
Preheat oven to 450 F. Prepare rice according to package directions.
In large bowl, toss Brussels sprouts, ham, garlic, olive oil, 1/4 teaspoon salt and 1/4 teaspoon pepper. Place on parchment paper-lined baking tray and roast 12-15 minutes, or until caramelized. Decrease oven temperature to 425 F.
In large bowl, toss rice, Brussels sprouts mixture, cream, chives, Dijon mustard, remaining salt and remaining pepper. Stir in cheddar and 1/3 cup Parmesan cheese. Transfer mixture to greased, 2-quart baking dish.
In small bowl, stir breadcrumbs, remaining Parmesan and melted butter. Sprinkle over rice mixture.
Bake 12-15 minutes, or until golden brown and bubbling.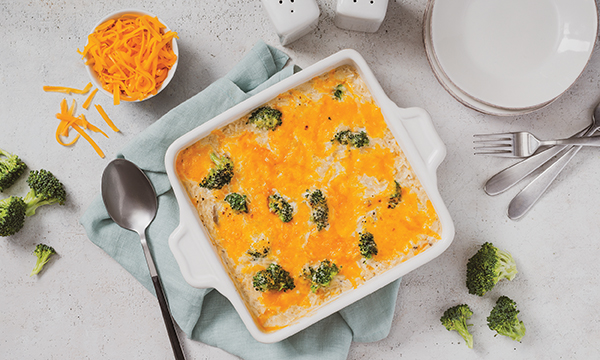 Prep time: 5 minutes
Cook time: 30 minutes
Servings: 4-6
1 bag Success White Rice or Brown Rice
nonstick cooking spray
1 can (10 3/4 ounces) condensed cream of mushroom soup
2 cups frozen broccoli florets, thawed and drained
1 1/2 cups shredded cheddar cheese, divided
1/2 cup evaporated milk
3 tablespoons butter, melted
1 tablespoon grated onion
1/2 teaspoon salt
1/2 teaspoon black pepper
Prepare rice according to package directions. Preheat oven to 350 F.
Coat 2-quart casserole dish with nonstick cooking spray. In medium bowl, combine soup, broccoli, 1 cup cheddar cheese, evaporated milk, butter, onion, salt and pepper. Fold in rice.
Pour mixture into prepared dish and top with remaining cheddar cheese. Bake 20 minutes.

SOURCE:
Success Rice
Master the art of Italian comfort cuisine
(Family Features) Cool, crisp days call for comfort foods, like the classic flavors of traditional Italian cooking. Whether you're Italian by heritage or simply by heart, learning the art of Italian cuisine may be easier than you may think.
Perfect your pasta game. Limp, mushy, overcooked pasta can ruin an otherwise delicious Italian dish. Aim for al dente pasta, which is soft but still firm. It's important to note variables like the type of pasta, size of your pot and amount of water can all affect cooking time. Treat the package instructions as a guide and start taste testing 1-2 minutes before you expect it to be done.
Be choosy about your ingredients. Many of the best Italian dishes are incredibly simple, so it's important to select quality ingredients that allow the flavors to really stand out. Made in Italy, Bertolli d'Italia sauces are available in premium red and white varieties to elevate the at-home culinary experience and bring the authentic and delicious flavors of Italy to your table. Every jar reflects more than 150 years of authentic Italian culinary tradition using high-quality ingredients like tomatoes vine-ripened under the Italian sun, finely aged Italian cheeses, fresh cream and Mediterranean olive oil.
Give seasonings time to simmer. Great things come to those who wait. That's why the best Italian chefs sample their sauces along the way, adding and adjusting until the taste is just right. Then, they allow the ingredients to simmer together to create a perfectly balanced harmony of flavors.
Experiment with proteins and veggies. For many Italian recipes, you can create an entirely new dish by adding or swapping the protein and adding fresh produce. Try introducing juicy strips of grilled chicken and fresh, steamed broccoli to an alfredo pasta like this Cavatelli with Cacio e Pepe Sauce. Or, if you're a seafood lover, reimagine this Fresh Tomato Bruschetta Chicken by swapping in a mild white fish like halibut, cod or snapper.
Get cozy in your kitchen this fall with more comforting recipes at Bertolli.com.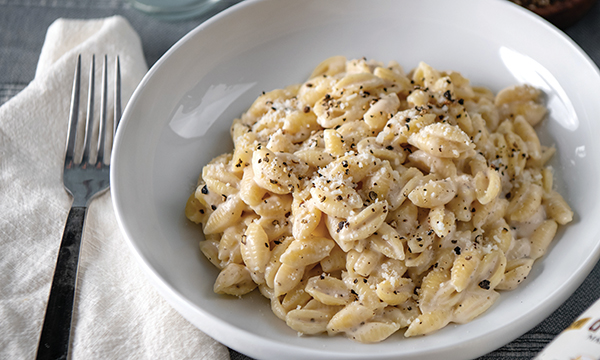 Cavatelli with Cacio e Pepe Sauce
Prep time: 5 minutes
Cook time: 10 minutes
Servings: 4
Salt, to taste
1 box dry Cavatelli pasta
1 jar (16.9 ounces) Bertolli d'Italia Cacio e Pepe Sauce
1 cup finely grated Pecorino Romano cheese, or to taste
freshly ground black pepper, to taste
Bring large pot of cold water to boil. Salt water heavily.
Cook dry pasta according to package instructions until al dente. Strain pasta, reserving pasta water.
In large saucepan over low heat, warm pasta sauce 3-5 minutes. Add 1-2 tablespoons pasta water.
Transfer cooked pasta to saucepan.
Stir and toss pasta approximately 30 seconds over medium heat to integrate it with sauce. Add pasta water as needed for creamier texture.
Plate pasta and top with finely grated Pecorino Romano and freshly ground black pepper, to taste.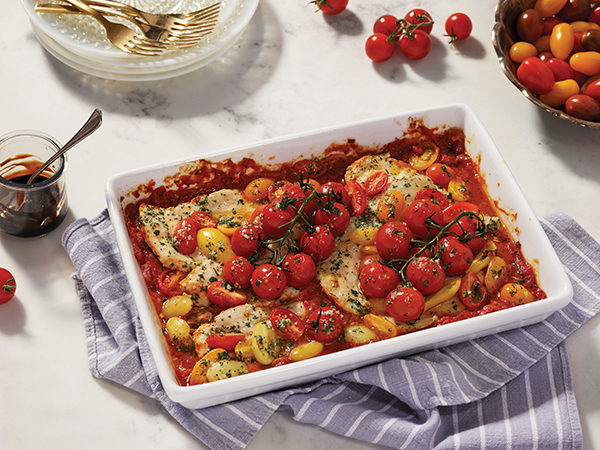 Fresh Tomato Bruschetta Chicken
Prep time: 15 minutes
Cook time: 28 minutes
Servings: 6
1/3 cup extra-virgin olive oil
3 tablespoons finely chopped fresh basil, plus additional, for garnish
3 cloves garlic, minced
2 teaspoons kosher salt
1/2 teaspoon ground black pepper
1/2 teaspoon dried oregano
6 thinly sliced boneless, skinless chicken breast cutlets (about 1 1/2 pounds)
1 large onion, thinly sliced
1 jar (24.7 ounces) Bertolli d'Italia Marinara Sauce
2 cups multi-colored grape tomatoes, halved
2 stems cherry tomatoes on the vine
1/2 cup shredded Parmesan cheese
2 tablespoons balsamic glaze
Preheat oven to 400 F.
In small bowl, whisk olive oil, basil, garlic, salt, pepper and oregano until combined. Combine 2 tablespoons oil mixture and chicken in resealable plastic bag. Let stand 5-10 minutes at room temperature to marinate.
In medium skillet, heat 2 tablespoons oil mixture over medium heat. Add onions; cook 3-4 minutes, or until crisp-tender. Stir in marinara sauce. Pour mixture into lightly greased 13-by-9-inch baking dish. Arrange chicken breasts in dish, overlapping if necessary. Top with grape tomatoes and cherry tomato stems. Spoon remaining oil mixture over tomatoes.
Bake, covered, 25 minutes, or until chicken is done (165 F) and tomatoes start to burst. Sprinkle with Parmesan, drizzle with balsamic glaze and garnish with fresh basil leaves before serving.


SOURCE:
Bertolli