Living with psoriatic arthritis? How to manage your symptoms
(BPT) – Sponsored by Janssen
Imagine finding simple tasks, such as getting out of bed, dressing yourself or turning a faucet on and off, difficult to do because they're too painful.1 That's what a typical day can feel like for people living with active psoriatic arthritis (PsA). About 1.5 million Americans are living with PsA, and although patients may experience symptoms differently, the condition can often interfere with basic daily activities.1,2
Active PsA is a chronic condition that occurs when your body's immune system attacks healthy cells and tissue, which causes inflammation in the joints as well as overproduction of skin cells. 3 Common symptoms of active PsA include joint stiffness, pain and swelling.4 Some patients with active PsA can also experience fatigue, which is an underestimated and underreported concern that can interfere with daily life. 4-6
PsA symptoms can vary and differ in severity from patient to patient, so it's critical for healthcare providers and patients to have an open dialogue to build a personalized management plan together. 4 A PsA management plan may incorporate lifestyle changes as well as medication potentially to help address the disease symptoms.
"The symptoms of active psoriatic arthritis may be hard to describe or feel invisible at times, but that doesn't make them any less real," said Soumya D. Chakravarty, MD, PhD, Senior Director, Strategic Lead, Rheumatology Therapeutic Area at Janssen. "PsA can have debilitating effects on the lives of patients. It's important for patients to speak about symptoms with their rheumatologist because there are strategies they can implement to help see improvement."
Here are some top tips for managing symptoms of PsA:
Consider a Healthy Diet
While there isn't a specific diet for PsA, research shows that certain foods can help reduce inflammation in the body, which contributes to the disease.7 Consider incorporating more anti-inflammatory foods, such as fruits, vegetables, beans, whole grains and healthy fats like fish and avocado, while reducing foods like fatty red meats, dairy, refined sugars and processed foods. 7,8
Think About Finding a Workout That Feels Good
Exercise while living with active PsA can feel daunting, but physical activity has many benefits, including helping to maintain a healthy weight, taking extra pressure off painful joints, keeping joints flexible and increasing endorphins, which can provide an energy boost. 8,9 Make sure to speak with your healthcare provider or a physical therapist about a workout routine that is right for you. As a general guide, try to target 30 minutes of movement each day if you're able and consider lower impact workouts. 8
Lean On a Support System
For people living with PsA, the disease can have an impact beyond just physical symptoms. 10 Connecting with other patients who understand what you're experiencing, whether in a support group or an online community, can help if you're feeling overwhelmed, misunderstood or isolated. 10
Start a Dialogue With Your Healthcare Provider About Treatment Options
In addition to physical tests to assess the severity of your PsA, rheumatologists are also building treatment plans based on outcomes that are more personally significant to patients.6 "It's important to speak openly with your rheumatologist because there are treatments that may help improve PsA symptoms," said Dr. Chakravarty.
Be sure to describe your symptoms — such as joint pain, stiffness and swelling — with specific details about how they impact your daily activities. Also, let your rheumatologist know if you are experiencing fatigue from your active PsA. This information will help them develop an individualized treatment plan that is right for you, which may include a biologic therapy, such as TREMFYA® (guselkumab) — a prescription medicine used to treat adults with active PsA. Talk to your doctor to see if TREMFYA® is appropriate for you. TREMFYA® is the first FDA-approved medication of its kind to selectively block interleukin 23 (IL-23), one of the key proteins thought to be responsible for symptoms of PsA. TREMFYA® can help reduce the joint pain, stiffness, and swelling that make everyday tasks harder to do. In two medical studies, more than half of patients treated with TREMFYA® had at least a 20% improvement in joint pain, stiffness, and swelling at 24 weeks. Furthermore, at 24 weeks, people taking TREMFYA® showed an overall improvement in their ability to perform daily activities such as getting dressed, eating and walking. Some patients also reported improvement in fatigue as measured by the Functional Assessment of Chronic Illness Therapy – Fatigue (FACIT-F), a questionnaire to measure self-reported tiredness, weakness, and difficulty conducting usual activities due to fatigue.
TREMFYA® is not for everyone; only your doctor can decide if it's right for you. Do not use if you are allergic to TREMFYA®. TREMFYA® is a prescription medicine that may cause serious side effects, including serious allergic reactions and infections. It affects your immune system and may increase your risk of infections and lower your ability to fight them. Patients should be instructed to seek medical advice if signs and symptoms of clinically important chronic or acute infection occur. Patients should also be evaluated for tuberculosis before being treated with TREMFYA®. Please read the Important Safety Information and the Medication Guide for TREMFYA® available at www.tremfya.com to learn more about these and other risks for TREMFYA®. Discuss any questions you have with your doctor.
Coping with PsA can be overwhelming at times, but as difficult as it may be, don't get discouraged. There's no one-size-fits-all approach to PsA management and it's important to remember you have options. There are various steps you can take with your rheumatologist to help alleviate symptoms and better manage the disease.
You are encouraged to report negative side effects of prescription drugs to the FDA. Visit www.fda.gov/medwatch, or call 1-800-FDA-1088.
Scaling back: 5 ways to manage your weight
(Family Features) For many people who wish to work toward a healthier weight, one of the greatest obstacles is figuring out where to begin.
These tips from SlimFast consultant and registered dietitian Maryann Walsh show it doesn't take a drastic lifestyle overhaul to make an impact.
Eat Mindfully
Many people who struggle with their weight benefit from being more conscious about what they're eating and why. For example, consider your eating habits, such as eating even when you're not hungry whether that's because it's mealtime and you think you should eat, you're satisfying a craving or using a tasty snack to cope with stress.
Recognizing why you're eating is an important step toward correcting destructive eating patterns, but so is paying attention to the other details of the eating experience, including what you eat and how it makes you feel. Ultimately, this may allow you to choose healthier foods that nourish your body for the long-term, rather than the brief satisfaction that comes with less nutritious choices.
Consider Intermittent Fasting
One weight-loss method many people find success using is intermittent fasting, which involves abstaining from all food and beverages for a specified time period each day or week. While going too long without food can sometimes lead to excess hunger then overeating later, in shorter, controlled fasting timeframes one can often more easily achieve a caloric deficit, which is required for weight loss.
Prepare for your fasting phase by choosing foods that support satiety. Options like SlimFast's Intermittent Fasting line of meal bars and protein shakes can help avoid a sense of deprivation with tasty flavors like the Vanilla Cupcake Snack Shake Mix and Vanilla Almond Crunch Complete Meal Bar. The shake mixes deliver 15 grams of slow-digesting protein, compared to whey protein, to help curb hunger, along with more than 20 vitamins and minerals. The meal bars clock in with 15 grams of protein and 10 grams of fiber.
Manage Stress
When you're stressed, your body produces cortisol, which also raises insulin and can drive hunger and trigger cravings for comfort foods. In fact, that's the very reason people tend to overeat when they're under pressure. Light exercise and meditative practices can help you manage your mental strain. You might also consider talk therapy with a friend or professional or spend time unwinding with a book or music.
Get Proper Sleep
Poor sleep habits affect your weight in numerous ways. One is that when you're feeling tired, your hunger and satiety hormones, ghrelin and leptin, can be affected, leading to an increase in caloric intake and subsequent weight gain. Additionally, when you're tired, you're more likely to take shortcuts like skipping workouts or opting for unhealthy convenience foods. All are reasons to make better rest a bigger priority.
Track Eating and Exercise
When you're not paying attention to what you eat and how you move, you may not even realize how your habits are affecting your health. Logging what you eat, especially if you use a tool like an app that helps you see the nutrition breakdown, may give you a clearer idea of the quality and quantity of your intake. Similarly, when you're specifically writing down the time you're committing to physical activity, you'll find it easier to identify patterns and pinpoint where you can make adjustments to increase your exercise.
Visit SlimFast.com to find more resources on weight management and intermittent fasting.
3 Tips for Intermittent Fasting
If you're new to the idea of intermittent fasting, these tips can help you find greater success so you can see results.
Pace yourself. Make a gradual transition so your body gets used to going without food for shorter periods of time before you work up to extended fasting periods.
Stay hydrated. Avoid confusing thirst for hunger by upping your fluid intake. Staying hydrated and energized while you fast helps keep fatigue and brain fog at bay. Options like fruit-flavored SlimFast Intermittent Fasting Energizing Hydration Supplement Drink Mix won't break your fast and can help you add variety as a flavorful alternative to water. They can provide the energy and focus you need between meals and are perfect for those who feel groggy or run-down while fasting.
Set goals. Know what you want to achieve and why, so your "why" can keep motivating you to follow your intermittent fasting plan even when you're tempted to quit.
Photo courtesy of Getty Images (woman and man exercising)


SOURCE:
SlimFast
6 ways to build lasting healthy habits
(Family Features) Starting on a path toward healthy habits is often easier than maintaining them long term. This year, you can avoid a major pitfall of healthy resolutions and build healthy habits that stick by working small, positive steps into your daily life.
In fact, healthy habits are the first suggested treatment strategy for people whose blood pressure and cholesterol levels are creeping higher than normal, according to an American Heart Association scientific statement.
"The current guidelines for managing high blood pressure and cholesterol recognize that otherwise healthy individuals with mildly or moderately elevated levels of these cardiovascular risk factors should actively attempt to reduce these risks, and increasing physical activity is a great place to start," said Bethany Barone Gibbs, Ph.D., chair of the statement writing group and chair of the department of epidemiology and biostatistics at West Virginia University School of Public Health.
These six ideas from the American Heart Association's Healthy for Good Habit Coach can help.
Bust Common Habit-Building Myths
You may be surprised to learn the truth about creating and sticking to healthy habits. One myth is getting healthy means doing things you don't like. Research shows positive emotions make habits stick, so set your intentions on something you enjoy. Another misconception is big results require big changes, which may lead to overly ambitious habits. However, the simpler the routine is, the more likely it is to become habit.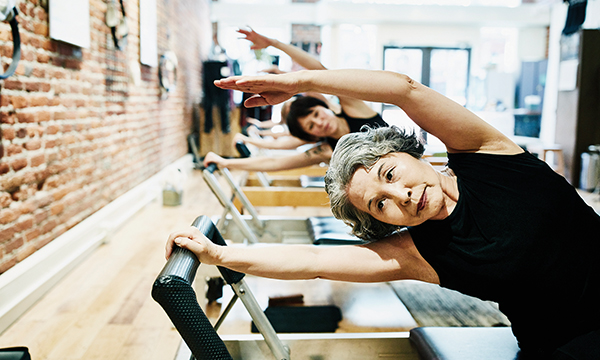 Work with Your "Brain Loops"
Your brain creates "loops" for habits made up of three things: a cue, a routine and a reward. Each time the loop is repeated, it becomes more routine and may become automatic. Knowing this, you can design cues for developing new, healthy habits, such as setting walking shoes by the bed to start a walking habit. The routine is putting on the shoes and walking around the block, and the reward is the pleasant sensations and brighter mood from a morning stroll.
Create Cues That Work for You
Most successful health habits begin with a cue. The cue can be external in your environment or internal in terms of your mindset. The more consistent the cue, the more likely it is to trigger the habit. Hacking your brain's reminder system can help you remember your cue. Some examples of visual cues are placing a sticky note where you'll see it often, keeping a water bottle on your desk or refrigerating fresh veggies at eye level.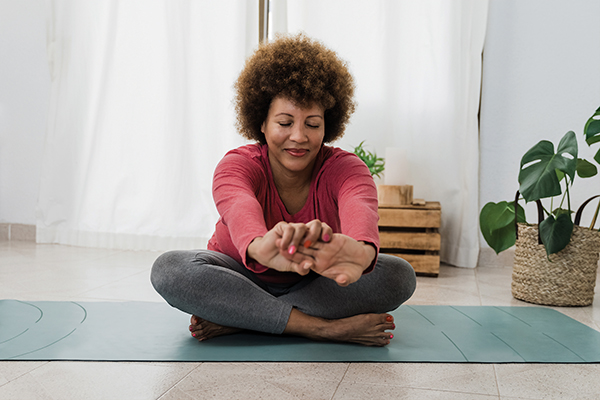 Build a Routine That Supports Your Goals
Positive and consistent habits are important to achieve your personal goals. Small habits done consistently can add up to big results. To create a new healthy habit, think through the steps that could lead to your desired outcome. Ask yourself whether you want to do it, if it's easy and if it's high impact. It's important to choose habits that make a difference and move you closer to your goals.
For example, if one of your goals is improving your heart health, a meaningful habit might be to move more. Increasing physical activity can help lower blood pressure and cholesterol along with many other health benefits, Gibbs said.
"Every little bit of activity is better than none," she said. "Even small initial increases of 5-10 minutes a day can yield health benefits."
Use Rewards to Make Habits Stick
Start by choosing a habit you enjoy that's rewarding by itself. If you're more of a dancer than runner, increase your physical activity with an upbeat dance class. You might also look for a more enjoyable version of a new habit, such as getting more fruits and veggies by sipping on a delicious smoothie.
Understand Resets are Part of the Process
New habits are experiments. If they don't stick, you haven't failed. Instead, you've learned what doesn't work, which is useful. Get curious and ask yourself which part of the habit didn't work for you. Maybe the cue was ineffective. Maybe the steps of the routine were too ambitious and you need to split them into smaller, easier steps. If you realize you don't enjoy the habit, stop doing it and try something else.
Find more inspiration and ideas to jumpstart healthy habits this year at heart.org/habits.
Photos courtesy of Getty Images


SOURCE:
American Heart Association
3 health care trends for 2023
(Family Features) With many people preparing for health and wellness resolutions in the new year, understanding the state of access to care and other patients' booking choices may give a sense of optimism for 2023.
To examine the outlook for 2023, Zocdoc, a free platform where people can find and book in-person or virtual health care appointments across more than 200 specialties and 12,000 insurance plans, analyzed appointment booking trends and conducted a provider survey. The results are reflected in the report, "Healthcare Hope For the Holidays: 2022," which provided three key insights.
Happier Providers, Happier Patients
Provider and health care staff burnout can have a negative effect on patient experience, and 52% of providers surveyed indicated they agreed or strongly agreed practices will face increased financial challenges in 2023. However, savvy providers and support staff are taking steps to run more efficient practices, including using technology. This saves providers time and stress, giving them more time to focus on patient care.
In 2022, positivity pervaded providers' perspectives on technology:
64% of providers indicated they agreed or strongly agreed their scheduling software helped their practice run more efficiently.
57% agreed or strongly agreed their telehealth solution was easy and intuitive to use.
36% agreed or strongly agreed insurance verification and eligibility software helped their practice run more efficiently.
This perspective paints a positive picture for patient-provider relationships in 2023:
71% of providers agreed or strongly agreed scheduling software will help run a more efficient practice.
69% agreed or strongly agreed technology will help practices run more efficiently.
59% agreed or strongly agreed their telehealth solution will become more intuitive and easier to use.
Technology Can Speed Up Access to Care
Amidst the unprecedented landscape of labor and supply costs rising, and physician and staff burnout a reality, innovation is driving positive change for patients. With a growing number of people embracing technology as a driver of access to an improved health care experience, and patients and providers aligned on telehealth as a supplement to in-person care, there are reasons for optimism.
Expediting patients' access to care by surfacing the 20-30% of appointments that become available last minute due to cancellations and rescheduled appointments allows Zocdoc to enable faster speed-to-appointment for patients, compared to the averages reported in the Merritt Hawkins 2022 Survey of Physician Appointment Wait Times.
Cardiology: Typically 1-3 days with 39% seeing a cardiologist within 48 hours, compared to 26.6 days national average appointment wait time
Dermatology: Typically 1-3 days with nearly 30% seeing a dermatologist within 48 hours, compared to 34.5 days national average appointment wait time
OB-GYN: Typically 1-3 days with nearly 26% seeing an OB-GYN within 48 hours, compared to 31.4 days national average appointment wait time
Orthopedic surgery: Typically 1-3 days with nearly 38% seeing an orthopedic surgeon within 48 hours, compared to 16.9 days national average appointment wait time
Family medicine (PCP): Typically 1-3 days with 42% seeing a PCP within 48 hours, compared to 20.6 days national average appointment wait time
Looking Back to Look Forward
Unique, actionable insights into consumers' health care behavior can be derived from 2022 data, providing a glimpse into what's to come. Examining the industry's journey affords the opportunity to predict what may continue to resonate in 2023.
For example, patients got back to regular care appointments after delaying or canceling appointments following the COVID-19 pandemic's onset.
Additionally, telehealth usage declined in all specialties except mental health, moving virtual care toward being a specialty- and case-specific care modality. Consider these appointment trends from January-November:
18% of appointments across all specialties were conducted via telehealth.
Excluding mental health, just 9% of booked appointments were conducted via telehealth.
88% of mental health appointments were conducted via telehealth.
To find more information or book an appointment, visit Zocdoc.com.
Photo courtesy of Adobe Stock


SOURCE:
Zocdoc