Create holiday fun with a joyful pop
(Family Features) With countless ways to enjoy the holiday season from decorating and hosting parties to wintertime activities, it's a perfect time to bring family and friends together for some festive fun. One simple ingredient can be your go-to for just about any tradition: popcorn, which is an inexpensive, versatile, whole grain that makes holiday occasions better.
Consider these simple seasonal ways you can let popcorn fuel your holiday adventures.
Decorate
Strings of popcorn and cranberries add a nostalgic touch to the family tree while making popcorn trees adds whimsy to the table. Before stringing popcorn, let it sit out for a day or two as freshly popped popcorn may be too fragile to thread without breaking. Push a threaded needle through the center of each kernel then pull the kernel to the end of the knotted thread, adding an occasional cranberry, if desired. Festive trees can be made using popcorn mixed with melted marshmallows then shaped and finished with sprinkles.
Give It as a Gift
If it's your turn to host this year's holiday party, popcorn makes for a perfect party favor. Pop up a delicious treat like these Cranberry Popcorn Balls, place them in pretty jars or neatly wrap them then finish each with a bow. For an added touch, include the recipe instructions and popcorn kernels in a separate container so your guests can make it at home.
Enjoy It as a Snack
Freshly popped popcorn is a simple and delicious snack to share after a day of shopping, caroling, sledding or decorating. You can take the holiday season up a notch with creative recipes like Gingersnap Popcorn Snack Mix, White Chocolate Peppermint Popcorn Bark and Easy, Elegant Holiday Popcorn. These treats are perfect for popping up in the morning so the snacks are ready once guests arrive.
Visit Popcorn.org to find more sweet, salty and savory holiday recipe ideas.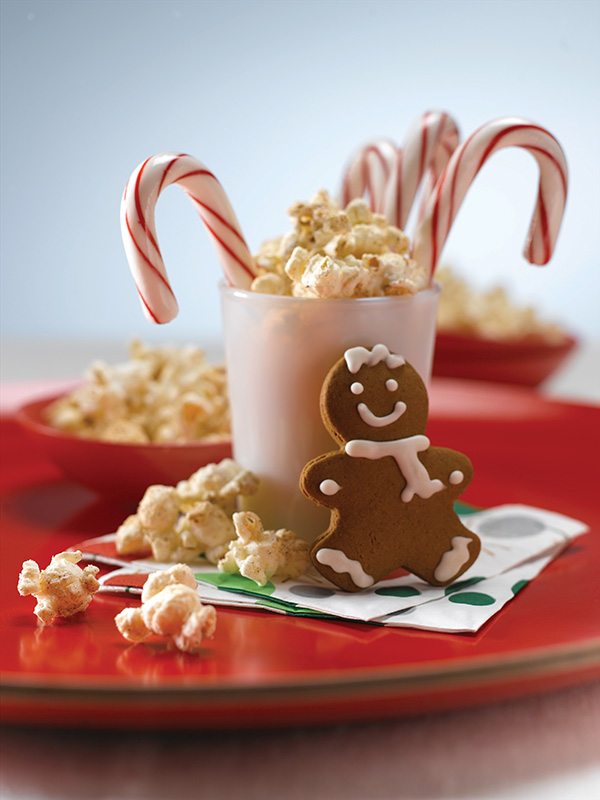 Gingersnap Popcorn Snack Mix
Yield: 2 quarts
2 quarts popped popcorn
butter-flavored nonstick cooking spray
1/3 cup granulated sugar substitute
2 teaspoons ground ginger
1/2 teaspoon freshly ground nutmeg
1/4 teaspoon cinnamon
1/4 teaspoon ground cloves
1/8 teaspoon freshly ground black or white pepper
Preheat oven to 325 F.
Spread popcorn on baking sheet and spray lightly with nonstick cooking spray.
In small bowl, combine sugar substitute, ginger, nutmeg, cinnamon, cloves and freshly ground pepper; sprinkle evenly over popcorn.
Spray again with nonstick cooking spray and toss to coat evenly.
Bake 7 minutes and serve warm.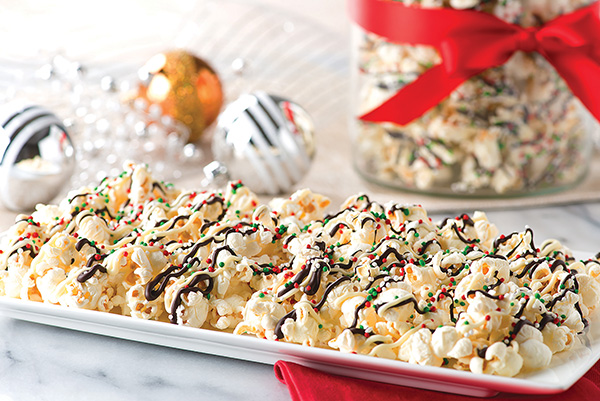 Easy, Elegant Holiday Popcorn
Yield: 8 cups
8 cups popped popcorn
1/2 cup milk chocolate chips
1/2 cup white chocolate chips
candy sprinkles
On serving platter, spread popcorn in thin layer.
Over double boiler or in microwave, melt milk chocolate chips. Drizzle over popcorn.
Over double boiler or in microwave, melt white chocolate chips. Drizzle over popcorn.
Sprinkle candy sprinkles over warm, chocolate-coated popcorn. Allow drizzles to set until firm.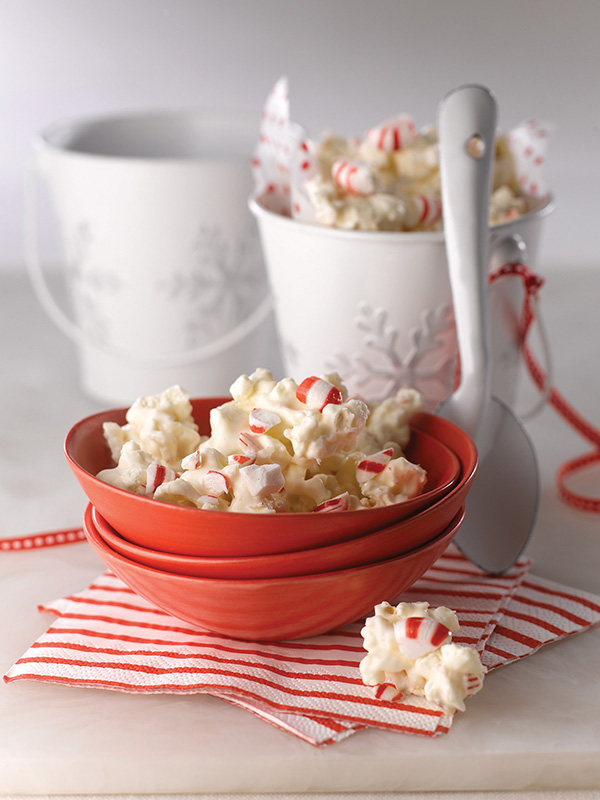 White Chocolate Peppermint Popcorn Bark
Yield: 1 pound
5 cups popped popcorn
12 ounces white chocolate baking chips, chopped white chocolate or white candy coating
1 cup crushed hard candy peppermints
Cover baking pan with foil or wax paper; set aside.
Place popcorn in large bowl; set aside.
In double boiler over barely simmering water, melt chocolate, stirring until smooth, or melt according to package directions.
Stir in crushed peppermints after chocolate is melted. Pour chocolate mixture over popcorn mixture and stir to coat. Spread onto prepared pan; cool completely.
When chocolate is cooled and set, break into chunks for serving.
Store in airtight container at room temperature.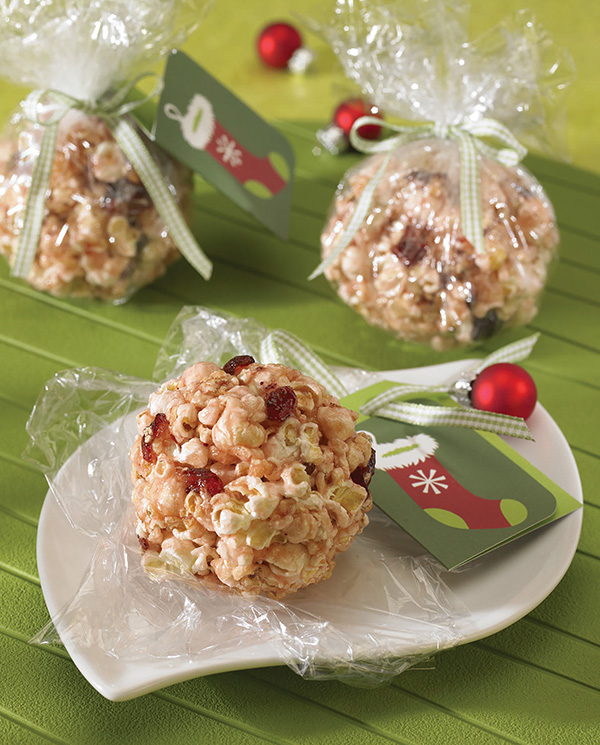 Cranberry Popcorn Balls
Yield: 18 balls
2 cups sugar
1 cup whole berry cranberry sauce, slightly mashed
1 tablespoon grated orange peel
1/2 cup cranberry juice
1/2 cup light corn syrup
1 teaspoon vinegar
1/2 teaspoon salt
5 quarts unsalted popped popcorn
In heavy saucepan, combine sugar, cranberry sauce, orange peel, cranberry juice, corn syrup, vinegar and salt. Bring to boil; lower heat and cook to 250 F on candy thermometer.
Mixture will bubble in pan; watch to keep from boiling over.
Pour slowly onto hot popcorn and mix until well-coated.
Let stand 5 minutes, or until mixture can easily be formed into balls.
Butter hands and form into 3-inch balls.


SOURCE:
Popcorn Board
(Family Features) Regardless of your motivation, opting for meatless meals regularly provides plenty of benefits that extend from the health of you and your loved ones to your wallet and the environment.
Whether you're a vegetarian, vegan, considering making some lifestyle changes or just want to give an on-trend meal prep strategy a try, going meatless can help reduce your intake of red and processed meats, decrease greenhouse gas emissions that cause climate change and save money on substitute ingredients like grains, vegetables, fruits and legumes that are often cheaper than meat.
For example, starting with a versatile pantry staple like Success Brown Rice can make mealtimes quick and easy. Ready in just 10 minutes without measuring or the mess, the fluffy, nutty, non-GMO rice is free of MSG and preservatives, lending itself perfectly to satisfying and hearty meals like these Baked Vegetarian Taquitos. Or for a twist on a classic dish, Tri-Color Quinoa can be layered with traditional flavors in this Mushroom Spinach "Lasagna." Packed with protein and all nine essential amino acids, the quinoa is a good source of fiber.
To find more meatless meal inspiration, visit SuccessRice.com.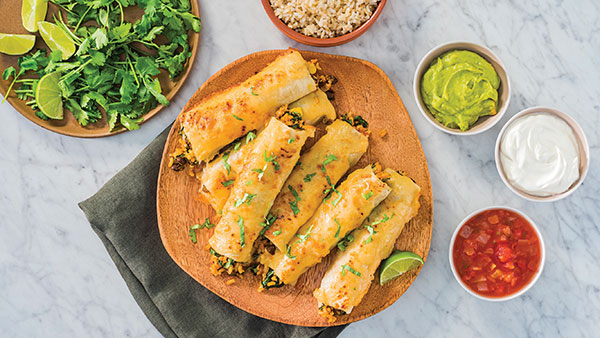 Prep time: 15 minutes
Cook time: 20 minutes
Servings: 4
1 bag Success Brown Rice
1 cup shredded collard greens, packed
1/4 cup frozen corn
1 cup canned black beans, drained and rinsed
2/3 cup canned pumpkin puree
1 1/2 tablespoons taco seasoning
8 flour tortillas (6 inches each)
1 cup Monterey Jack cheese, shredded
2 tablespoons olive oil
sour cream, for dipping
salsa, for dipping
guacamole, for dipping
fresh cilantro, for garnish
Prepare rice according to package directions; add collard greens and corn to water during last 5 minutes.
Preheat oven to 450 F. Drain rice and vegetables; transfer to saucepan. Stir in black beans, pumpkin puree and taco seasoning.
Spoon 1/3 cup rice mixture into center of one tortilla; sprinkle with 2 tablespoons Monterey Jack cheese. Roll up tightly. Place seam side down on parchment paper-lined baking sheet. Repeat with remaining tortillas, filling and cheese. Brush taquitos with olive oil; sprinkle with remaining cheese.
Bake 10-15 minutes, or until tortillas are crisp and cheese is melted.
Serve taquitos with sour cream, salsa and guacamole for dipping. Garnish with fresh cilantro.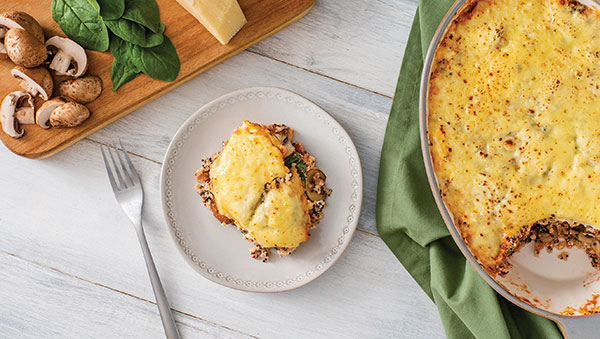 Prep time: 10 minutes
Cook time: 30 minutes
Servings: 6
2 bags Success Tri-Color Quinoa
1 tablespoon olive oil
2 garlic cloves, chopped
1/2 cup onion, chopped
1 cup mushrooms, sliced
4 cups baby spinach leaves
3 cups tomato sauce
2 cups ricotta cheese
1 egg, lightly beaten
1/2 cup grated Parmesan cheese, divided
1 tablespoon Italian seasoning
1 1/2 cups shredded mozzarella cheese, divided
Prepare quinoa according to package directions.
Preheat oven to 375 F.
In large skillet, heat oil over medium heat. Add garlic and onions; saute 1 minute. Add mushrooms and cook 5 minutes, stirring occasionally. Add spinach and stir until wilted, about 2 minutes. Stir in tomato sauce and keep warm.
In medium bowl, combine ricotta, egg, 1/4 cup Parmesan cheese and Italian seasoning.
Place 1 cup sauce in bottom of 2-quart baking dish. Spread half of quinoa evenly over sauce. Top with half of ricotta mixture. Top with 1 cup sauce. Sprinkle with 1 cup mozzarella. Repeat layers, finishing with remaining mozzarella and Parmesan cheese.
Bake uncovered 30 minutes. Serve warm.


SOURCE:
Success Rice
Enjoy better-for-you foods focused on flavor
(Family Features) From salads and snacks to breakfast, lunch and dinner, rounding out a full menu of healthy meals shouldn't be a chore. In fact, you can still enjoy your favorite flavors and tickle your taste buds with nutritious recipes that capitalize on powerful ingredients you actually want to eat.
A fruit-forward breakfast is a nutritious way to start your morning, and a fresh twist on pasta salad can make lunches or your evening side an enjoyable way to stay on track. Bowls filled with grains, veggies and a favorite protein are all the rage, and this seafood-fueled version is no exception when you're craving a combination of your personal favorites.
Take your better-for-you eating plan from bland and boring to delightfully delicious by visiting Culinary.net for more recipe inspiration.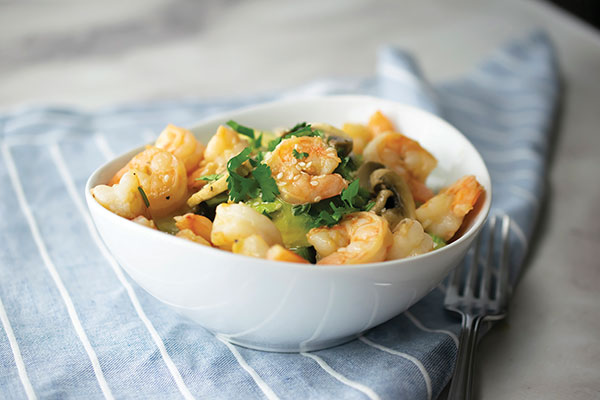 Eat Smart with Seafood
No matter if you're searching for a healthy family dinner, a quick lunch at home or an easy idea to meal prep for the week ahead, these Orange Shrimp Quinoa Bowls are perfect for seafood lovers who also enjoy a hint of spice. Fresh, healthy and full of deliciously prepared shrimp, these bowls are also loaded with mushrooms, peppers and cucumbers.
The homemade sauce is light with a sweet yet spicy vibe. Resting over a cup of steamy quinoa for a filling base of healthy grains, it's a quick and easy recipe you can customize with favorite toppings like sesame seeds and cilantro.
Find more wholesome, health-forward recipes at Culinary.net.
Orange Shrimp Quinoa Bowls
Servings: 2
1 cup quinoa
1 cup orange juice
1 tablespoon hot sauce
1 tablespoon honey
1 tablespoon soy sauce
4 tablespoons vegetable oil
1 tablespoon lime juice
1 tablespoon white miso
1 1/2 pounds shrimp, peeled, deveined and tails removed
1/4 cup butter
1/4 teaspoon salt
1/8 teaspoon pepper
1 cup mushrooms, sliced
1 red bell pepper, diced
1 cucumber, sliced into half moons
5 green onions, sliced
1 avocado, sliced
1 teaspoon sesame seeds
2 tablespoons cilantro, chopped
Cook quinoa according to package instructions. Set aside.
In medium bowl, whisk orange juice, hot sauce, honey, soy sauce, vegetable oil, lime juice and miso until combined. Pour 1/4 of liquid into separate bowl. Set aside.
Add shrimp to remaining mixture and marinate 15 minutes.
Heat large skillet over medium heat with butter. Add shrimp, salt and pepper. Cook 2 minutes on each side until pink. Add mushrooms and cook until tender.
In two serving bowls, divide quinoa, bell pepper, cucumber, onions, avocado and shrimp. Sprinkle sesame seeds and cilantro over both bowls.
Drizzle with reserved dressing.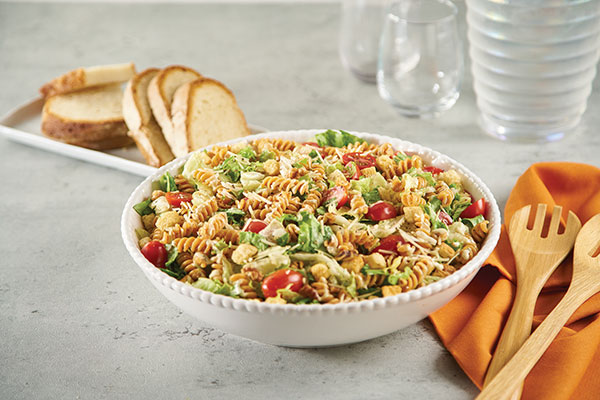 Start the New Year with a Savory Salad
Starting the new year with fresh intentions, whether you're trying to reset for 2023 or simply add more greens to your meals, begins with delicious, nutritious and easy recipes.
With more than 100 varieties of fresh, healthy and convenient ready-to-eat salads, Fresh Express provides plenty of inspiration, information and incentives to help you achieve your goals. For example, this Pesto Pasta Salad features red lentil rotini and Twisted Pesto Caesar Chopped Salad Kits loaded with a fresh blend of crisp iceberg and green leaf lettuces, crunchy garlic brioche croutons, Parmesan cheese and creamy pesto dressing. Add fresh grape tomatoes and toasted walnuts for a simple side or easy lunch that can be made ahead of time.
Discover more fresh recipe ideas at FreshExpress.com.
Pesto Pasta Salad
Prep time: 15 minutes
Cook time: 10 minutes
Servings: 6
1 quart cooked red lentil rotini
2 packages (9 1/2 ounces each) Fresh Express Twisted Pesto Caesar Chopped Salad Kits
1/2 teaspoon salt 1/4 teaspoon black pepper
1 cup grape tomatoes, halved
1/2 cup walnuts, toasted
Prepare red lentil rotini according to package directions; cool 15 minutes.
In bowl, mix rotini and one dressing packet from salad kits. Sprinkle with salt and pepper; mix well. Refrigerate, covered, 30 minutes, or until rotini is cold.
In large bowl, mix lettuce from both salad kits with remaining salad dressing package. Add rotini and tomatoes; toss to combine. Sprinkle with garlic brioche croutons and shredded Parmesan cheese from salad kits and walnuts.
Substitution: Traditional rotini can be used for red lentil rotini.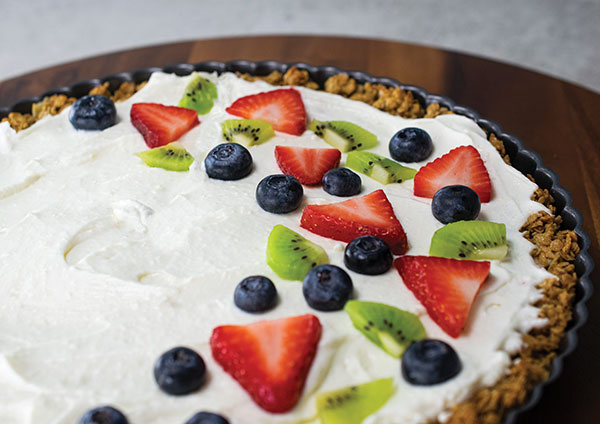 A Fruity Twist on Breakfast
Whether it's a weekend celebration or a simple morning bite on the go, it's often said breakfast is the most important meal. Starting off your day with some fruity nutrition is a sweet way to add vitamin C to your diet without skimping on flavor.
With a tasty granola crust and yogurt filling, this Brunch Fruit Tart is an easy way to impress guests or fuel your morning at the office. Balanced and easy to make, the crunchy crust and smooth center make it an enjoyable addition to at-home menus. This version calls for strawberries, blueberries and kiwi, but you can get creative with your own favorite fruits for a different flavor each time you make it.
Visit Culinary.net to find more nutritious breakfast ideas.
Brunch Fruit Tart
Recipe adapted from homemadeinterest.com
Crust:
4 cups granola mixture
1/2 cup butter, softened
4 1/2 tablespoons honey
nonstick cooking spray
Filling:
2 1/4 cups vanilla Greek yogurt
8 ounces cream cheese, softened
1/2 cup granulated sugar
1 teaspoon vanilla extract
1 package gelatin
Toppings:
strawberries, sliced
blueberries
kiwis, sliced
To make crust: Preheat oven to 350 F.
In large bowl, combine granola, butter and honey. Grease 11-inch tart pan with nonstick cooking spray. Line bottom of tart pan with parchment paper.
Press granola mixture into tart pan. Place tart pan on baking sheet and bake 10 minutes. Cool completely.
To make filling: Using mixer, combine yogurt, cream cheese, sugar, vanilla extract and gelatin until whipped completely.
Pour yogurt mixture into tart crust. Refrigerate at least 1 hour.
Top with strawberries, blueberries and kiwis.


SOURCE:
Fresh Express
Give quick and easy meals a fun spin
(Family Features) Work, school, extracurricular activities, social events and more can make the winter months feel frantic and it can often seem like you're running out of time. This seasonal time crunch makes it even more difficult to answer the age-old, mealtime question kids are always asking: "What are we having?"
To help solve that daily meal dilemma and discover family-pleasing recipes that take 35 minutes or less, the RAGÚ Meal Wheel lets the entire family take an active role in choosing what's on the menu. Simply ask one of your kids to click the "spin" button to find delicious, quick-and-easy recipes like Chicken and Broccoli Alfredo with Fettuccine and Mini Turkey Sloppy Joes.
Both easy-to-make recipes take 35 minutes or less and feature RAGÚ sauces, which come in a variety of taste-tempting classic flavors and styles, perfect for any mealtime occasion. Created 85 years ago by an Italian mother using a family recipe she brought to the United States from Naples, Italy, the sauces are made from quality ingredients like vine-ripened tomatoes, hearty vegetables, Italian cheeses, herbs and spices, allowing home cooks to "Cook Like a Mother" and quickly create affordable, crowd-pleasing meals for their busy families.
To find more quick and mouthwatering recipes to feed your family during the chilly winter months, visit RAGU.com/meal-wheel.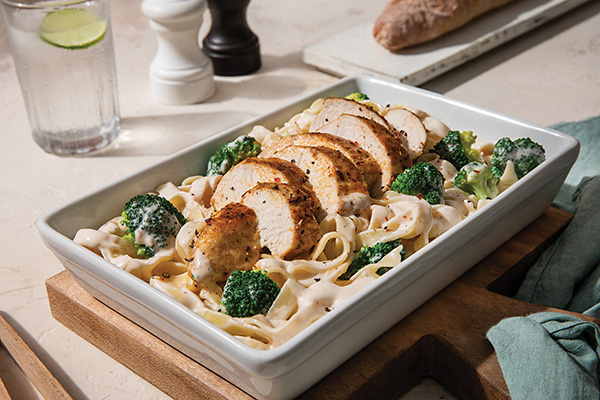 Chicken and Broccoli Alfredo with Fettuccine
Prep time: 20 minutes
Cook time: 15 minutes
Servings: 4
1 tablespoon butter
1 1/2 pounds boneless, skinless chicken breasts, cut into strips
1 jar RAGÚ Classic Alfredo Sauce
1 package (12 ounces) frozen broccoli florets, thawed
1 package (12 ounces) fettuccine pasta
grated Parmesan cheese, for topping (optional)
In large nonstick skillet over medium-high heat, melt butter. Cook chicken, in batches if necessary, stirring occasionally, until chicken is thoroughly cooked. Remove chicken and set aside.
In same skillet, add sauce and broccoli; stir. Bring to boil over medium-high heat. Reduce heat to low and simmer, covered, stirring occasionally, until broccoli is heated through, about 5 minutes. Stir in chicken and cook, stirring occasionally, until cooked through, about 2 minutes.
In separate pan, cook fettuccine according to package instructions.
Serve chicken, broccoli and sauce over hot fettuccine and sprinkle grated Parmesan cheese on top, if desired.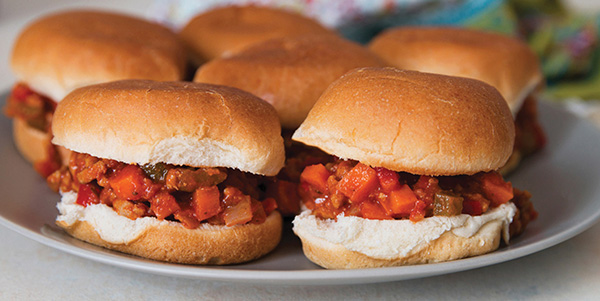 Mini Turkey Sloppy Joes
Recipe courtesy of "Honey and Birch" on behalf of RAGÚ
Prep time: 10 minutes
Cook time: 20 minutes
Servings: 4
1 teaspoon extra-virgin olive oil
1 cup diced onion
3 cloves garlic, minced
1 pound ground turkey
1 cup finely diced carrots
1 medium green pepper, diced
1 medium red pepper, diced
1 jar RAGÚ Simply Chunky Marinara Sauce
1 tablespoon Worcestershire sauce
1 teaspoon ground mustard
1/2 teaspoon kosher salt
1/2 teaspoon black pepper
4 mini buns
In large skillet over medium heat, heat extra-virgin olive oil. When hot, add onion and garlic; sauté until onion is translucent.
Add ground turkey. Break up meat and stir frequently until browned. Add carrots, green pepper and red pepper. Cook 5 minutes until vegetables begin to soften.
Add marinara sauce, Worcestershire sauce, ground mustard, salt and pepper. Stir and bring to boil. Reduce heat to simmer and partially cover pan. Cook 10 minutes.
Serve on mini buns.


SOURCE:
RAGÚ