6 ways to build lasting healthy habits
(Family Features) Starting on a path toward healthy habits is often easier than maintaining them long term. This year, you can avoid a major pitfall of healthy resolutions and build healthy habits that stick by working small, positive steps into your daily life.
In fact, healthy habits are the first suggested treatment strategy for people whose blood pressure and cholesterol levels are creeping higher than normal, according to an American Heart Association scientific statement.
"The current guidelines for managing high blood pressure and cholesterol recognize that otherwise healthy individuals with mildly or moderately elevated levels of these cardiovascular risk factors should actively attempt to reduce these risks, and increasing physical activity is a great place to start," said Bethany Barone Gibbs, Ph.D., chair of the statement writing group and chair of the department of epidemiology and biostatistics at West Virginia University School of Public Health.
These six ideas from the American Heart Association's Healthy for Good Habit Coach can help.
Bust Common Habit-Building Myths
You may be surprised to learn the truth about creating and sticking to healthy habits. One myth is getting healthy means doing things you don't like. Research shows positive emotions make habits stick, so set your intentions on something you enjoy. Another misconception is big results require big changes, which may lead to overly ambitious habits. However, the simpler the routine is, the more likely it is to become habit.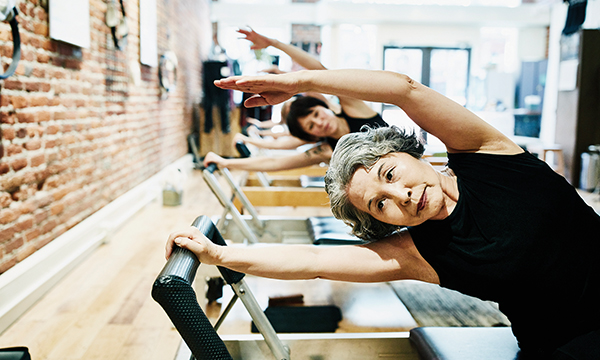 Work with Your "Brain Loops"
Your brain creates "loops" for habits made up of three things: a cue, a routine and a reward. Each time the loop is repeated, it becomes more routine and may become automatic. Knowing this, you can design cues for developing new, healthy habits, such as setting walking shoes by the bed to start a walking habit. The routine is putting on the shoes and walking around the block, and the reward is the pleasant sensations and brighter mood from a morning stroll.
Create Cues That Work for You
Most successful health habits begin with a cue. The cue can be external in your environment or internal in terms of your mindset. The more consistent the cue, the more likely it is to trigger the habit. Hacking your brain's reminder system can help you remember your cue. Some examples of visual cues are placing a sticky note where you'll see it often, keeping a water bottle on your desk or refrigerating fresh veggies at eye level.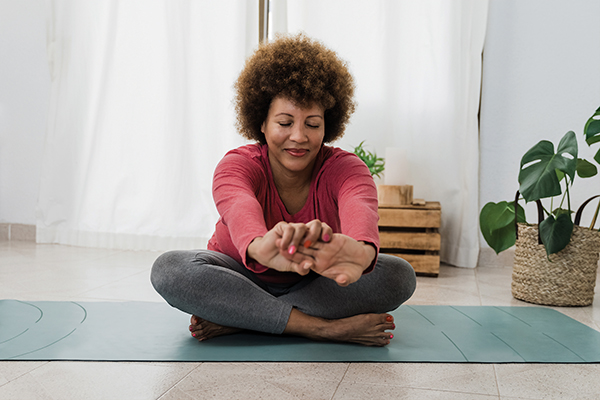 Build a Routine That Supports Your Goals
Positive and consistent habits are important to achieve your personal goals. Small habits done consistently can add up to big results. To create a new healthy habit, think through the steps that could lead to your desired outcome. Ask yourself whether you want to do it, if it's easy and if it's high impact. It's important to choose habits that make a difference and move you closer to your goals.
For example, if one of your goals is improving your heart health, a meaningful habit might be to move more. Increasing physical activity can help lower blood pressure and cholesterol along with many other health benefits, Gibbs said.
"Every little bit of activity is better than none," she said. "Even small initial increases of 5-10 minutes a day can yield health benefits."
Use Rewards to Make Habits Stick
Start by choosing a habit you enjoy that's rewarding by itself. If you're more of a dancer than runner, increase your physical activity with an upbeat dance class. You might also look for a more enjoyable version of a new habit, such as getting more fruits and veggies by sipping on a delicious smoothie.
Understand Resets are Part of the Process
New habits are experiments. If they don't stick, you haven't failed. Instead, you've learned what doesn't work, which is useful. Get curious and ask yourself which part of the habit didn't work for you. Maybe the cue was ineffective. Maybe the steps of the routine were too ambitious and you need to split them into smaller, easier steps. If you realize you don't enjoy the habit, stop doing it and try something else.
Find more inspiration and ideas to jumpstart healthy habits this year at heart.org/habits.
Photos courtesy of Getty Images


SOURCE:
American Heart Association
Spring checklist for pets
6 ways to keep your pets happy and healthy
(Family Features) Warmer weather means it's time to spring clean, get grooming and prepare your pets' diets to support them through the season.
Keep your furry friends happy and healthy this spring with these six tips from the experts at Zesty Paws, an award-winning pet supplement brand:
Give Skin and Coats a Little TLC: Many pets form winter coats during the colder months to help them stay warm and comfortable then shed the coats in the spring to prepare for warmer temperatures. Some pets may need extra help maintaining their shiny, healthy coats, especially if mats have formed in their fur or if they are breeds that develop a thick undercoat. Professional grooming, at-home brushing and regular bathing can all be helpful ways to speed up the process to remove some of the extra fur and decrease the prevalence of dander, dust and pollen that can attach to fur and skin through the season.

Add Seasonal Allergy Support with Supplements: Just like humans, furry friends can develop and experience seasonal allergies, too. Giving your pets' immune systems some extra support can help ease some common allergy symptoms. Supplements like Zesty Paws Aller-Immune Bites for Cats and Aller-Immune Bites for Dogs are chewables that provide seasonal allergy support by aiding normal immune functions, skin health and gut flora, and may also help maintain normal histamine levels.
Ease Back into Exercise: The change in weather means more time for outdoor adventures with your pets, but don't forget to cool down and warm up as you and your pets ease back into the season. Planning for short, leashed walks and timed play sessions can help your pets gradually prepare their hips and joints for fun, warm weather activities.
Watch Out for Pet Pests: Once temperatures start to rise, the tiny, creepy critters start crawling. Fleas, ticks and other pests can cause serious health concerns for pets. This spring, make sure your pest control programs are primed and ready for added protection. Talk to your veterinarian about the best routine and products for your pets.
Freshen Up Bedding and Bowls: It's important to keep a clean environment by scrubbing, sweeping and vacuuming regularly to decrease allergens in the home. When you're tackling this year's spring cleaning, remember to put your pets' bedding and bowls on the list, too. Updating or disinfecting your pets' blankets, litter boxes, toys and other supplies is a good way to keep them feeling safe and comfortable in the home.
Schedule an Annual Vet Visit: Spring is a good time to schedule your pets' annual vet visits. Make sure they're up to date on all vaccinations, get their dental health checkups and re-evaluate nutrition plans.
Find more advice for keeping your pet healthy and happy at zestypaws.com.

SOURCE:
Zesty Paws
Take control: How managing blood pressure can help save lives
(Family Features) Effectively managing your blood pressure can help reduce your chances of life-threatening medical events, even death.
Gain confidence and learn how to take control of your blood pressure with these tips and resources from the American Heart Association.
The Silent Killer
High blood pressure is often referred to as the "silent killer" because it typically has few, if any, noticeable symptoms but can lead to heart attack, stroke, heart failure and even death. Many people with high blood pressure don't even know they have it. Some overlooked symptoms can include dizziness, facial flushing and blood spots in the eyes.
Understand Your Readings
(Family Features) Effectively managing your blood pressure can help reduce your chances of life-threatening medical events, even death.
Gain confidence and learn how to take control of your blood pressure with these tips and resources from the American Heart Association.
The Silent Killer
High blood pressure is often referred to as the "silent killer" because it typically has few, if any, noticeable symptoms but can lead to heart attack, stroke, heart failure and even death. Many people with high blood pressure don't even know they have it. Some overlooked symptoms can include dizziness, facial flushing and blood spots in the eyes.
Understand Your Readings
The only way to know if you have high blood pressure is to regularly take an accurate blood pressure measurement. Understanding your results is key to controlling high blood pressure. Blood pressure numbers of less than 120/80 mm Hg are usually considered within the normal range, yet it is important to talk to a doctor about your healthy range. Even if you fall within a healthy range, it can be beneficial to stick with heart-healthy habits like following a balanced diet and getting regular exercise. Consider these numbers and ranges to know if it's necessary to take action:
Elevated blood pressure is when readings consistently range from 120-129 mm Hg systolic (the upper number) and less than 80 mm Hg diastolic (the lower number). People with elevated blood pressure are likely to develop high blood pressure unless steps are taken to control the condition.
Hypertension stage 1 is when blood pressure consistently ranges from 130-139 mm Hg systolic or 80-89 mm Hg diastolic. At this stage, doctors are likely to prescribe lifestyle changes and may consider adding blood pressure medication based on your risk of atherosclerotic cardiovascular disease, such as heart attack or stroke.
Hypertension stage 2 is when blood pressure consistently ranges at 140/90 mm Hg or higher. At this stage, doctors are likely to prescribe a combination of blood pressure medications and lifestyle changes.
A hypertensive crisis requires medical attention. If your blood pressure readings suddenly exceed 180/120 mm Hg, wait 5 minutes then test again. If your readings are still unusually high, contact your doctor immediately. Seek emergency help if your blood pressure is higher than 180/120 mm Hg and you are experiencing signs of possible organ damage such as chest pain, shortness of breath, back pain, numbness or weakness, change in vision or difficulty speaking.
Know Your Risk
While many risk factors for high blood pressure may be related to your age, gender and family history, there are also risk factors you can change to help prevent and manage high blood pressure. People at added risk may be those who engage in lower levels of physical activity, eat a diet high in sodium (particularly from packaged, processed foods), may be overweight or obese, drink excessive amounts of alcohol and may have multiple chronic conditions.
Talk About It
Whether you're making changes in your own life to combat high blood pressure or helping someone else, positive feelings and confidence are longer-term motivators to making health changes. If you're talking with friends, loved ones or your doctor, be prepared to ask open-ended questions. Be curious and kind to yourself and others you may be helping.
Lowering Your Pressure
You can reduce your risk of heart disease, stroke, heart failure and even death with lifestyle changes and medication.
Watching your weight, especially if you are overweight or obese, can bring health gains; losing as little as 5-10 pounds may help lower your blood pressure. Managing your stress by relaxing for short periods during your workday, at night and on weekends is another productive practice.
If you have diabetes, it's important to work with a doctor to manage the disease and reduce your blood glucose levels.
If you think you could have sleep apnea, getting screened for and treating the condition can also reduce your risk for developing high blood pressure.
When you have high blood pressure, medication may be an important part of your treatment. Follow the recommendations carefully, even if it means taking medication every day for the rest of your life.
When you're discussing high blood pressure concerns with your health care provider, also be sure to talk to your doctor about over-the-counter pain relievers that may raise your blood pressure. Talking with your doctor can help you identify over-the-counter pain medications that won't raise your blood pressure to ensure you're not creating a blood pressure problem while treating other concerns.
Getting Ready for Your Appointment
Think about what challenges you face in controlling your blood pressure that you need to share with your doctor to create a plan that works for you. Start by considering the answers to these questions to discuss with your health care provider:
How often do you check your blood pressure?
Do you keep a log of your blood pressure measurements?
Are you taking medications as prescribed?
What are some things you can do to have less salt in your diet?
What are some reasons it can be hard to manage your blood pressure?
What are some things you'd like to discuss during your appointment?
Learn more about monitoring and managing high blood pressure at heart.org/bptools.
Photo courtesy of Getty Images (man talking with nurse)


SOURCE:
American Heart Association
3 steps to help pets achieve, maintain a healthy weight
(Family Features) Pet parents often show love for their pets with food. However, that extra "love" can lead to weight gain, which can increase the risk of developing other medical conditions.
More than 50% of pets are overweight, but 90% of pet parents with an overweight pet don't realize it, according to research from Hill's Pet Nutrition, a global leader in science-led nutrition.
To help transform the lives of pets, Drs. Vernard Hodges and Terrence Ferguson, stars of Nat Geo Wild's "Critter Fixers: Country Vets," are encouraging pet parents to take a proactive approach to maintaining their pet's weight.
"As veterinarians, we want every pet to live a long and healthy life," Hodges said. "That's why pet parents should actively monitor their pet's weight and address it in real time with the guidance of their veterinarian. We are proud to be a part of Hill's 'End Pet Obesity' campaign to help pet parents learn about the impact of even a few extra pounds and equip them with the tools and resources they need to help their pets achieve and maintain a healthy weight."
Consider these simple steps to get started:
Take the L.O.V.E. Test
To help assess a pet's weight, use the L.O.V.E. Test, which includes four simple actions:
Locate the pet's ribs
Observe from above
View from the side
Evaluate feeding behavior
"Sometimes, under all their beautiful fur, it's hard to realize our pets have gained weight, and even just a few extra pounds can have an impact on their energy and overall wellness," Ferguson said. "Taking the L.O.V.E test is an easy way to evaluate a pet's body condition to determine if it's time to take action."
Schedule a Visit with a Veterinarian
Pet parents who have concerns about their pet's weight should seek their veterinarian's guidance. Conversation starters include:
Is my pet at an ideal weight?
How can I help my pet reach an ideal weight?
How can food help manage my pet's weight?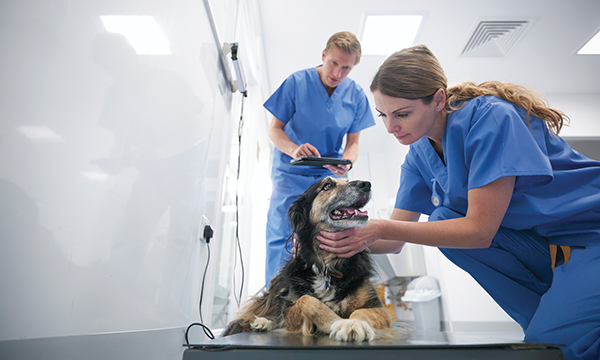 Switch to the Right Food
"Obesity is one of the greatest health risks for pets, and what a pet eats is one of the most important decisions a pet parent can make," Ferguson said. "Whether your pet is a new addition to the family or has just eaten a little too much, now is a great time for pet parents to reset nutritional habits and make sure their pet is at a healthy weight – starting with the food they feed."
Pet parents should work with their veterinarian to choose the right food to support their pet's weight loss journey. Weight management products can help pets achieve an ideal weight, including Hill's Science Diet Perfect Weight, which has shown to lead to weight loss within 10 weeks in 70% of pets fed this nutritional food. For obese pets, veterinarians may recommend a therapeutic food.
"We have been studying the impact of nutrition on how pets' bodies function for over a decade," said Dr. Karen Shenoy, chief veterinary officer of Hill's Pet Nutrition U.S. "We learned lean pets have a different biology than overweight pets. This guided our development of formulas that both help support a pet's metabolism for a healthy body weight and taste great. With the guidance of a veterinarian, it can be as simple as feeding the right kind of 'love' to lose the weight."
To learn more and access free tools and resources for pet weight management, visit endpetobesity.com.
Photo courtesy of Getty Images


SOURCE:
Hill's Pet Nutrition