Dietitian-approved ways to add nutrition to your diet for sustained energy
(Family Features) Nutrition plays a key role in overall health and can positively affect everything from mood to energy levels. When thinking about ways to fuel busy days that will help you feel fuller, longer, look to clean, quality protein, which isn't just good for muscle growth and repair but also plays an integral part in overall health.
In fact, protein helps keep bones strong, supports your immune system, fuels metabolism to sustain energy, curbs cravings, distributes nutrients throughout your body and more.
If you're looking for ways to optimize your nutrition intake, it's important to know the U.S. Department of Health and Human Services' Dietary Guidelines for Americans recommends the average person consume 10-35% of their daily calories from protein. Some changes like replacing cereal with protein-rich foods like eggs, snacking on healthy fats like nuts or fibrous veggies and fruits, or starting meals by eating the protein first can help set you on the right path.
In honor of National Nutrition Month, consider these bite-sized tips from nutrition expert Steph Grasso, a registered dietitian nutritionist (RDN), social media influencer and member of the Orgain Nutrition Advisory Board, to help incorporate more quality nutrition into your diet in convenient, delicious ways and keep you feeling fuller, longer:
Choose nutritious, filling snacks. As part of your preparation for the week ahead, meal prep refrigerated snack containers featuring nuts, sliced cheese, veggies and a fun dip, like hummus. Grab-and-go fuel is imperative to creating balanced eating habits when life gets crazy. Another convenient solution, a high-quality nutrition shake can serve as a delicious option on jam-packed days.
Maximize nutrition when enjoying sweets. If you have a sweet tooth, adding a scoop of high-quality protein powder to baked goods can be a simple way to sneak more protein into your diet. For example, Grasso recommends adding unsweetened Orgain Plant-based protein powder to these High-Protein Pumpkin Pancakes. With 21 grams of vegan protein and an excellent source of iron with 6 milligrams per serving, organic protein powder is non-GMO and made without added sugar and artificial sweeteners.
Have frozen veggies on hand. Frozen fruits and vegetables are just as nutritious and delicious as their fresh counterparts and often more affordable and convenient. They are typically picked and frozen at the peak of ripeness when they are most nutrient-dense. They are prepped and ready to go, making meal preparation fast and easy. An ideal accompaniment to your choice of protein and grain, this Frozen Veggie Side Dish includes Greek yogurt and cheese for an added protein punch.
Find more tips and protein-packed recipes at Orgain.com.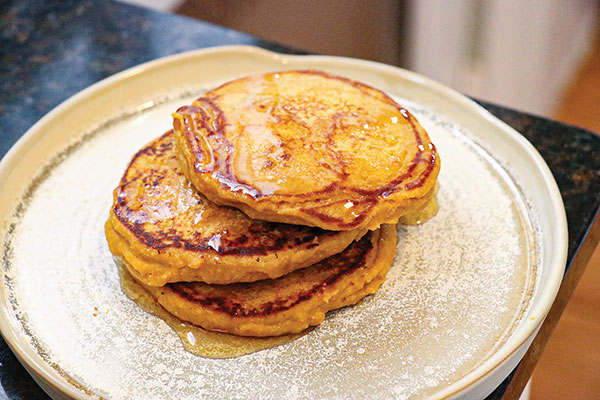 High-Protein Pumpkin Pancakes
Recipe courtesy of Steph Grasso on behalf of Orgain
2 cups oats
1/2 cup cottage cheese
1/3 cup pumpkin
1 teaspoon vanilla extract
2 egg whites
nonstick cooking spray
berries, for topping (optional)
bananas, for topping (optional)
nut butter, for topping (optional)
syrup, for topping (optional)
In bowl, use blender to blend oats, cottage cheese, pumpkin, protein powder, vanilla and egg whites.
Spray pan over medium heat with nonstick cooking spray.
Use 1/3 cup measuring cup to scoop batter into hot pan one scoop at a time.
Flip pancake once pan-side is lightly browned. Remove from pan once both sides are cooked. Repeat with remaining batter.
Stack pancakes and top with berries, bananas, nut butter and syrup, if desired.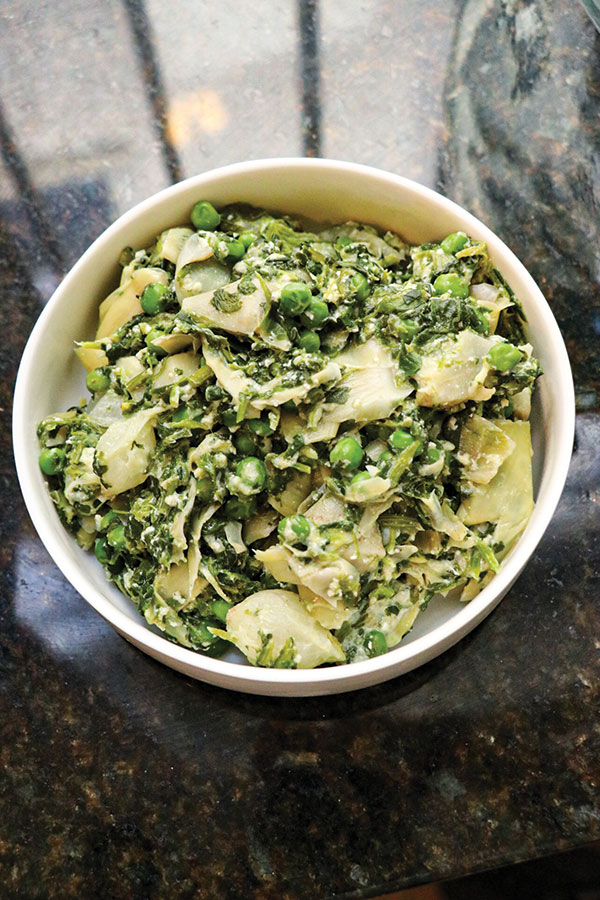 Frozen Veggie Side Dish
Recipe courtesy of Steph Grasso on behalf of Orgain
1/2 bag (14 ounces) frozen white pearl onions
1 box (8 ounces) frozen quartered artichoke hearts
1 box (10 ounces) frozen chopped spinach
salt, to taste
pepper, to taste
1/2 cup frozen sweet peas
1/4 cup heavy whipping cream (optional)
1/4 cup 2% plain Greek yogurt
1/4 cup grated Parmesan cheese
Prepare frozen white pearl onions, artichoke hearts and spinach according to package instructions.
In pan over medium heat, saute onions and artichoke hearts until tender. Season with salt and pepper, to taste.
Add spinach, frozen sweet peas, heavy whipping cream, Greek yogurt and Parmesan cheese. Mix until cheese is melted, and peas are soft.
Serve with protein and grain of choice, if desired.


SOURCE:
Orgain
Stress-free steps toward self-care
(Family Features) Over the last few years, self-care has taken on heightened importance for moms across the country.
That is why Mrs. T's Pierogies is partnering with actress, entrepreneur and mom JoAnna Garcia Swisher for its "All-Star Moms" campaign to spotlight the importance of finding ways to recharge and help these real-life superheroes prioritize me-time.
Simplifying self-care for All-Star Moms everywhere can be as easy as designating a "recharging room" in the home, which offers a personal space to reset and relax. When creating your recharging room, keep these tips from Garcia Swisher in mind:
Balance Beautiful with Functional: Find hosting staples like cutting boards, utensils and napkins that match the vibe of your personal space so the area can double as an entertaining space.
Keep it Easy to Clean: Choose furniture and decor that can handle a little mess from snacks, like Mrs. T's Mini Pierogies and your favorite dip, which are perfect for enjoying while binge-watching favorite shows.
Add a Personal Touch: Showcase a piece that tells a story, like a favorite embroidered pillow, piece of meaningful jewelry or framed photo of an amazing memory.
Bring In Something Cozy: Add cozy touches like a blanket, fluffy pillow or favorite slippers for something comfortable.
Make a Statement: Let your inner designer shine by taking a chance on something bold that represents a part of your personality you don't normally indulge.
Plan an Anchor Piece: This item is the foundation for everything, such as a vintage armchair, comfy couch or storage piece that tells a story. Choose this item first then build around it.
Moms can also prioritize self-care by whipping up an easy-to-make recipe, like these Margherita Pizza Pierogy Skewers, for themselves, a gathering of friends or an afternoon family snack. Pasta pockets filled with creamy mashed potatoes, cheesy goodness and other big, bold flavors, Mrs. T's Pierogies are simple to prepare. This means more time for moms to do the stuff they love like unwinding from the day with favorite foods in their recharging spaces.
Visit MrsTsPierogies.com for more recipe inspiration.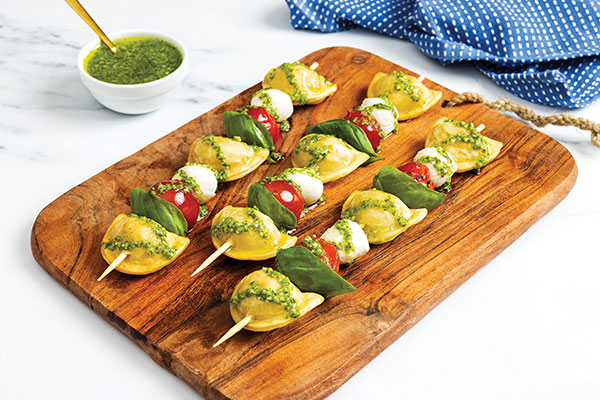 Margherita Pizza Pierogy Skewers
Prep time: 10 minutes
Total time: 35 minutes
Servings: 9
Pizza Skewers:
1 box (12.8 ounces) Mrs. T's Mini Classic Cheddar Pierogies
3 cups cherry tomatoes
2 tablespoons olive oil, plus additional for brushing pierogies, divided
1 teaspoon salt
1/2 teaspoon ground black pepper
1/2 teaspoon oregano
1-2 cups mozzarella balls (18 total)
fresh basil leaves
bamboo skewers (10 inches)
Fresh Pesto:
2 cups fresh basil
2 garlic cloves, peeled
1/2 cup olive oil
1/4 cup pine nuts
1/4 grated Parmesan cheese
salt, to taste
ground black pepper, to taste
Preheat air fryer to 400 F.
To make pizza skewers: In small bowl, combine cherry tomatoes, olive oil, salt, ground black pepper and oregano; toss to coat. Transfer tomatoes to air fryer tray or basket. Cook in air fryer 10 minutes, or until tomatoes are slightly charred; remove and set aside.
Lay pierogies on same tray or basket. Make sure not to overlap. Lightly brush each side with olive oil. Cook about 12 minutes, or until golden brown and crispy. Flip halfway through cooking.
To make pesto: In food processor, process basil; garlic; olive oil; pine nuts; Parmesan cheese; salt, to taste; and pepper, to taste, until smooth. (If preferred, use store-bought pesto.)
Add one pierogy to bamboo skewer followed by one tomato, one mozzarella ball and one basil leaf. Repeat with ingredients until each skewer is filled. Drizzle with pesto.


SOURCE:
Mrs. T's Pierogies
Selecting a health care provider: Resources to guide your selection
(Family Features) Getting health care for yourself or a loved one is a big responsibility, especially if you're just getting started with Medicare or have changes in your life, such as a new diagnosis of a condition or disease. It can be overwhelming if you need services like nursing home care, have to find a new doctor or get home health care.
Using online tools like "Find Care Providers" on Medicare.gov can make it easier to make comparisons and help choose doctors, hospitals, nursing homes and more for you or the person you are helping provide care to. Consider these benefits of using the comparison tools to narrow your options.
A Resource for Research
The website provides a simple search and compare experience that allows you to find providers near you. Simply put in a ZIP code and the type of provider to receive a list of providers, their contact information and a map of locations. The information even includes "star ratings" and services provided. The tool can be used to find all sorts of providers, including doctors, hospitals, home health care agencies, skilled nursing facilities, rehabilitation providers, hospice and dialysis facilities.
For example, two sisters needed to find a nursing home that was right for their father. This proved to be a difficult, emotional decision. They didn't know what nursing homes were in the area where he lives, so they entered his ZIP code and searched for nursing homes. They then received a list of each one in his area, complete with ratings as well as staffing data and inspection reports.
Using a laptop, desktop, tablet or mobile device, you can see how patients rate their care experiences at the hospitals in your area and find home health agencies that offer the services you might need, like nursing care, physical therapy and occupational therapy.
Contact information for local inpatient rehabilitation facilities or long-term care hospitals is available, as well as hospice quality care ratings and specific care details, such as which dialysis facilities offer home dialysis training.
Finding Health Care Services
Many factors influence who you trust with your health care. In some cases, family, caregivers or friends may offer referrals to a doctor or medical facility based on their own experiences, and that can be a helpful guide.
Whether you have referrals or are starting from scratch, you can compare health care providers near you using the Medicare.gov tool, pinpointing which category of services you need, whether it's doctors and clinicians, hospitals, hospice and home health agencies, dialysis facilities, inpatient rehabilitation centers or nursing homes.
In addition to searching by your location using your address or a combination of city, state or ZIP code, you can search by provider type and keyword to generate a list of providers that could fit your needs.
Finding a Doctor Who Fits
When you're looking for a new doctor and not sure where to start, the tool makes it quick and easy to find and compare doctors in your area. You can find contact information, practice locations, specialty and hospital affiliation as well as hospital ratings.
Selecting the "compare" button allows you to compare up to three different health care providers at once. When you're ready to schedule a visit with a new provider, be sure to take time during your scheduling call to verify general information, like the office location, whether the office is accepting new patients with Medicare and whether you need a referral to be treated.
Comparing Nursing Homes
Whether you're planning ahead or need to make an unexpected decision, there's a lot to think about when choosing the right nursing home for you or someone else. Many family members and caregivers prioritize location so they're able to check in and visit frequently, but there are many other important factors you may want to consider, too.
The comparison tool at Medicare.gov provides filtering options that allow you to personalize your results by sifting through the criteria that matter most to you, such as inspection results, number of beds, staffing data and more.
You'll be able to check out the nursing home's overall "star ratings." The information can serve as a guide of a provider's track record to help assist you with finding a home that best suits the person's needs.
Visit Medicare.gov/care-compare to access the tool and find health care providers and services in your area that fit your needs.
Paid for by the U.S. Department of Health & Human Services.
Caregiver Guide
Making decisions as a caregiver can be challenging but taking advantage of available resources can help you feel more confident in your choices.
For example, Medicare.gov allows you to find information about health care providers, hospitals, nursing homes, hospice, home health agencies, dialysis facilities, inpatient rehab and long-term care hospitals near you. The website also provides quality ratings, so you can see the provider or facility's history of service, among other details that help you make the most informed decision on behalf of the person you're helping.
Photos courtesy of Getty Images
Ways to make your pet feel like part of the family
(Family Features) It's said that pets can be people's best friends, but the relationships between people and their four-legged friends often run even deeper. In fact, many consider pets to be an integral part of their families.
From eating and playing together to matching outfits and more, consider these practical ways to make dogs and cats feel like they're important members of your household so you can become two peas in a pod.
Play Often
Playtime is an easy (and fun) way to bond with pets, whether your furry friends prefer fetch, tug-of-war or any other game that keeps you both active. On top of the emotional benefits, it can help keep them in better physical shape – you might even be able to get a little exercise, too.
Feed Human-Grade Food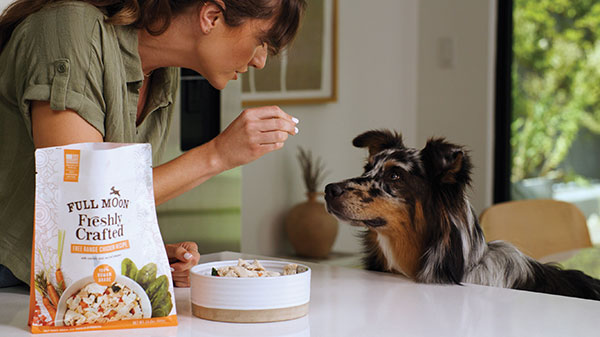 Sharing a meal with people is a common way to connect, and that same connection can be made with pets. Feeding them at the same time you sit down for a meal can create a special bond. Though it's tempting to feed them off your plate, consider a human grade food option like Freshly Crafted from Full Moon Pet. Created for pet parents who seek homemade quality ingredients free from additives or preservatives, this fresh frozen food includes 100% human-grade ingredients like real USDA chicken breast and blueberries, meaning it looks, smells and tastes just like food you would cook in your own kitchen while providing complete nutritional benefits pets need to thrive.
With flavors including Homestead Turkey, Ranch-Raised Beef and Free-Range Chicken, these curated meals promote skin and coat health, support immune health and encourage muscle growth.
Set Up a Special Space
Just like humans, pets need a little quiet time now and then. Creating an area they can retreat to with a bed, blankets and favorite toys offers a "safe space" where they can be comfortable. Plus, it's a perfect spot for them to nap when you're away and the house is empty.
Schedule Regular Wellness Visits
The veterinarian's office may not be your furry friend's favorite hangout, but scheduling regular checkups is an important part of owning pets. A balanced, quality diet can reduce trips to the vet to just essential visits – often annually or bi-annually – and help your pets live happy and healthy lives.
Show Affection
Belly rubs, freshly brushed coats and simply spending time together are all effective ways to show pets your affection. Another way to share your love is to reward dogs with their favorite treats like Full Moon Chicken Jerky, which is a high-protein, meaty treat made with few ingredients, including USDA chicken breast, so you can feel good about providing your pets with a treat that tastes good and is good for them.
Take Pets on Vacation
Skip the anxiety of leaving pets behind during your next trip by letting them join in on the fun. Exploring the world together is an exciting way to bond as you can visit new places, find dog parks and discover pet-friendly restaurants. If it's your pet's first road trip, consider a shorter excursion to ensure he or she is comfortable in the car, and make sure to bring all the essentials like food, water, bowls, bedding, toys and medications.
Wear Matching Clothes
When you're dressed to feel your best, you're likely to feel more confident in yourself. Provide that same feeling of satisfaction to pets by dressing them in the same clothes you plan to wear for a walk around the block or a trip to the dog park. Next time there's a family photo session, plan to include furry friends in matching outfits so everyone can be dressed to impress.
Celebrate Special Occasions
Birthdays, "gotcha days" or holidays are perfect moments for celebrating your bond with your pets. Make the day extra special by indulging in favorites like going for a walk, heading to the dog park, gifting a new toy, enjoying specialty treats and more.
To find more ways to bond with your pets, visit FullMoonPet.com.


SOURCE:
Full Moon Pet