Halbrooks enjoy life with their parrots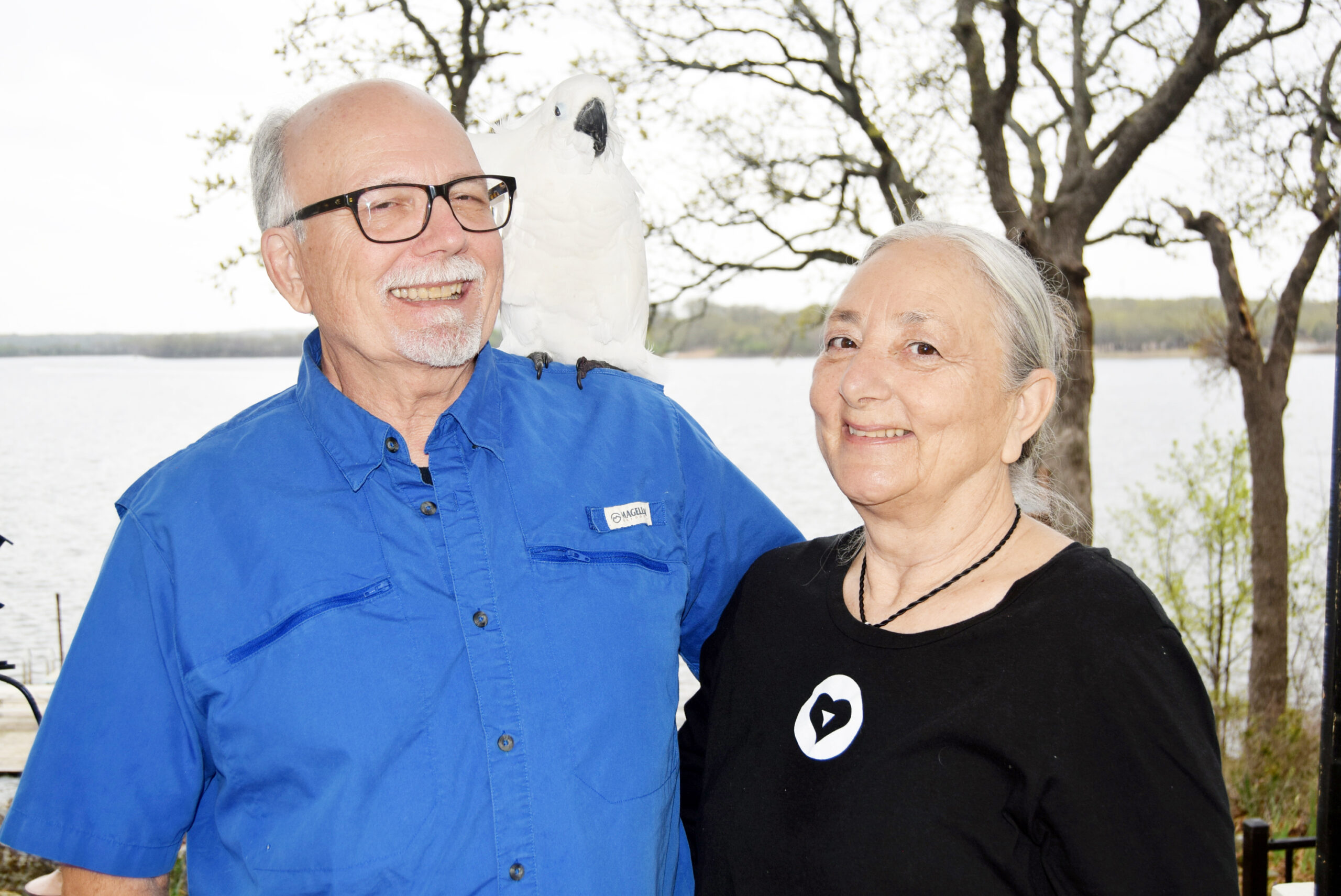 By BARBARA GREEN
[email protected]
When you walk into the lake home of John and Debbie Halbrook you feel welcomed immediately when you hear someone call out "hello" or "I love you."
A warm greeting for sure, but it comes from Angel the cockatoo who is waiting for you to become her new friend. The Halbrooks are a bird household with Angel and a lilac crowned Amazon named Molly as their pets.
For dog and cat families, one wonders what a bird brings as a pet, but the Halbrooks enjoy each of their unique personalities. Angel likes to cuddle, and while Molly doesn't want to be touched, but she might whistle or sing a little song. Angel will turn her back if she doesn't like what is happening and Molly may do a little dance on her perch.
The Halbrooks have lived in Bowie since 2019 after making a move from Carrolton. They were married in 2000 with her two children and his two children joined together plus seven grandkids.
The Halbrooks considered another bird after they lost their beloved black and white Cocker Spaniel Oreo after 14 years. It was a difficult loss and Debbie is quick to say "I don't know if I could do that again."
John had never had a bird as a pet, and Debbie had a small Cockatiel when her children were young, but it flew away. She recalls her grandmother had a parakeet that would talk to her.
Molly the Amazon parrot was inherited by John after he lost his mother 18 years ago following a battle with Alzheimer's disease. They are uncertain if she is a male or female and her age is unknown.
Debbie explains this green bird, which is about half the size of her pal Angel first made its way into John's mother's yard in sometime in the early 1990s because she had it 10 years before the couple started dating in 1999.
"It was 110 degrees outside and she saw the bird in the driveway where it looked so hot. She got a bowl of water and put it down. The bird stepped onto the edge of the bowl and his mom went inside the house. She soon became a house pet," said Debbie.
The lilac crested Amazon is common in the South Texas or Southern California wilds but originates in Mexico where their numbers have reportedly declined rapidly due to demands of the pet trade, poachers and the destruction of its habitat.
Spruce Pets calls this species relatively gentle with quiet manners, full of personality and a loyal companion, but their temperament can be challenging as they want their wall all the time. Considered on the small side for Amazon parrots, they reach about 13 inches and have a life span up to 60 years.
After Molly came into their home, the couple thought she might need a buddy because birds need a lot of social stimulation and attention. They were meeting some of their kids for dinner and wandered into a pet store while they waited. That is where they met Angel, a six-month-old hatchling Cockatoo. She was a charmer and joined the family.
The Cockatoo is any of the 21 species of parrots in the family Cacatuidae and they are recognizable by their prominent crests and curved bills. Their plumage is generally less colorful than other parrots mainly white, grey or black and often with colorful features on the crest, cheeks or tail.
Cockatoos are medium to large parrots of stocky build growing 12 to 24 inches in length. They have a waddling gait.
They share many features of other parrots including the distinctive curved beak shape and a "zygodactyl" foot with the two middle toes forward and the two out toes backward. Their claws are strong just like their bill which they often use to climb through tree branches.
The cockatoo's most distinctive feature is its erect plumes of feathers on their heads, which form a very striking crest. Angel has light blue feathers around his eyes which make them stand out even more.
They also have longevity with some reaching 70 years of age. Debbie says she has met a 90-year-old Cockatoo, so she knows they have a long life.
Read the full feature in your weekend Bowie News.
Fantasy of Lights one of biggest ever
The Fantasy of Lights Christmas Parade was one of the largest in the last 15 years. See all the first and second place winning floats in the weekend Bowie News. Congratulations to Bowie Community Development and all its volunteers and helpers who made the festival such a success.
Picture above first place winner Sister Act Connection.
Tales 'N' Trails offering engraved bricks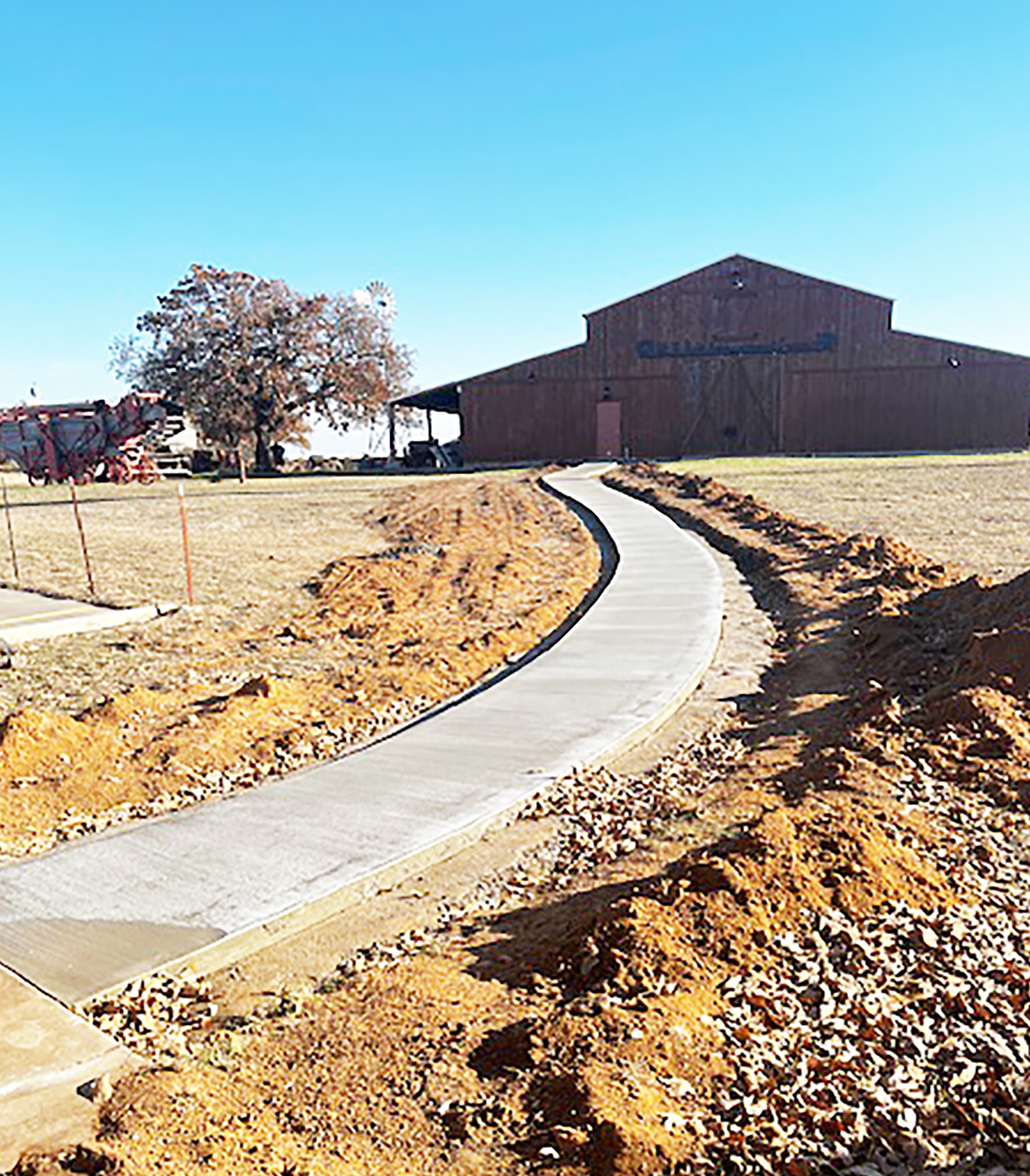 Tales 'N' Trails Museum is offering the opportunity to purchase a personalized, engraved paving brick that will be part of a permanent walkway at the museum. Anyone may purchase a brick to support the museum while leaving a lasting mark. Bricks may honor a loved one, be in memory of a family member, celebrate a special occasion or promote a business or a worthy cause. The cost of a brick is $50 with three lines available with up to 21 letters or spaces per line. Make checks payable to Tales 'N' Trails Museum, 1522 E. Highway 82, Nocona, TX 76255. NellAnn McBroom, TNT curator, said the response has been great for the bricks. Bricks from downtown Nocona will line the walkway that leads to the outside exhibits at the museum's back entry and the engraved bricks will go in a special area in the sidewalk."They would make a great Christmas presents and we have gift certificates you can put in a card. The Nocona High Class of 1975 has purchased one for each of its members and challenged the other classes to do the same. The Classes of 1976 and 1978 have taken the challenge," explained McBroom. The brick forms are at talesandtrails.org or the TNT Facebook page.
Return you Bowie Chamber director ballots
Ballots for the three vacancies for the Bowie Chamber of Commerce Board of Directors are due on Dec. 11.
Membership Director Debbie Herriage reminds members to submit their ballots that went out in email. The election will select three of the possibly 15 members of the board. The directors serve a three-year term.
The ballot contains three candidates and a place for a write-in nomination. Those on the ballot are Diane Romine, Texas Landmark Realtors, Elaine Kunkleman, Wise Street Mercantile and Suite and Kory Hooks, Kory Hooks Auto Group.
Drops ballots off at the office 101 E. Pecan or return by email.