Halbrooks enjoy life with their parrots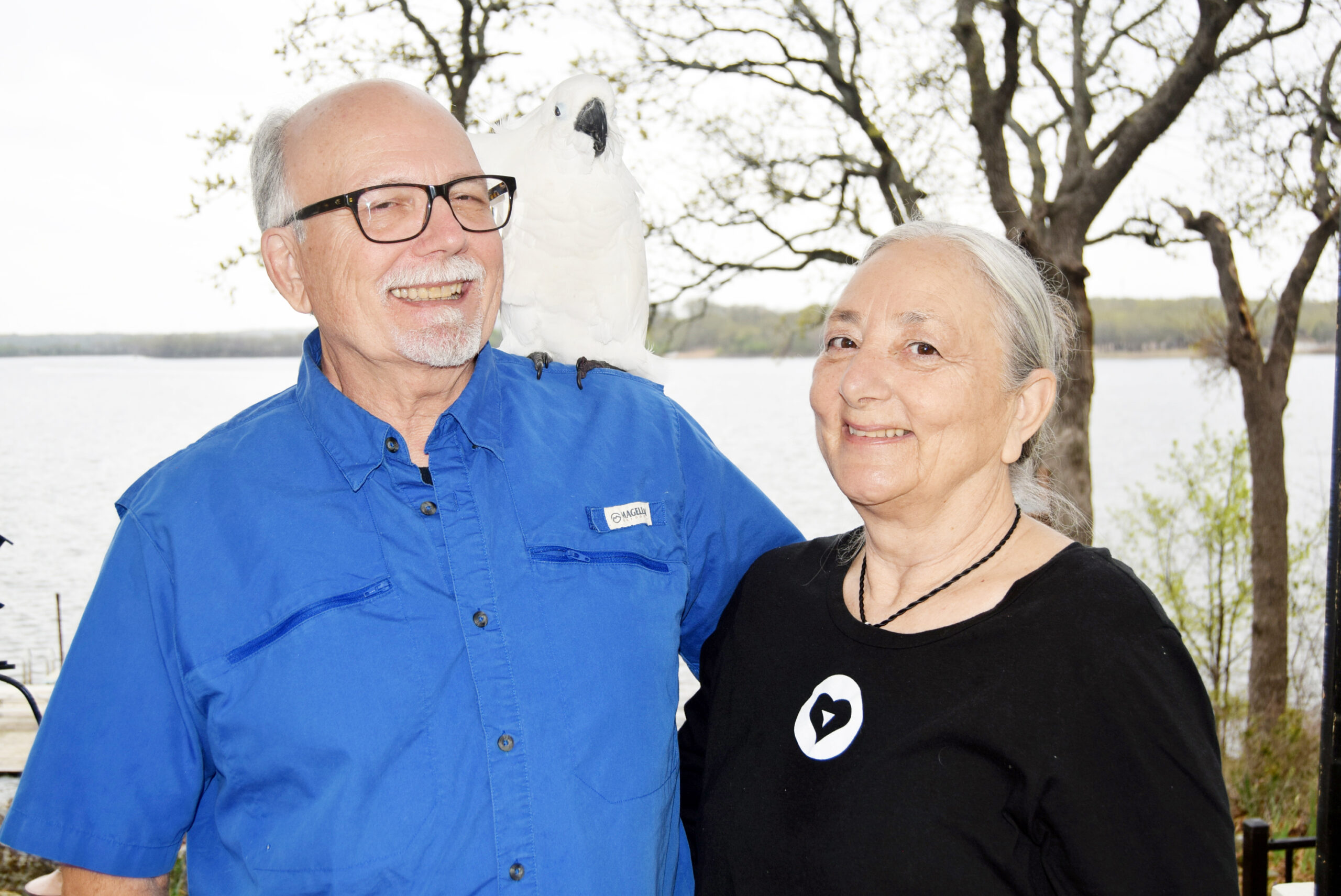 By BARBARA GREEN
[email protected]
When you walk into the lake home of John and Debbie Halbrook you feel welcomed immediately when you hear someone call out "hello" or "I love you."
A warm greeting for sure, but it comes from Angel the cockatoo who is waiting for you to become her new friend. The Halbrooks are a bird household with Angel and a lilac crowned Amazon named Molly as their pets.
For dog and cat families, one wonders what a bird brings as a pet, but the Halbrooks enjoy each of their unique personalities. Angel likes to cuddle, and while Molly doesn't want to be touched, but she might whistle or sing a little song. Angel will turn her back if she doesn't like what is happening and Molly may do a little dance on her perch.
The Halbrooks have lived in Bowie since 2019 after making a move from Carrolton. They were married in 2000 with her two children and his two children joined together plus seven grandkids.
The Halbrooks considered another bird after they lost their beloved black and white Cocker Spaniel Oreo after 14 years. It was a difficult loss and Debbie is quick to say "I don't know if I could do that again."
John had never had a bird as a pet, and Debbie had a small Cockatiel when her children were young, but it flew away. She recalls her grandmother had a parakeet that would talk to her.
Molly the Amazon parrot was inherited by John after he lost his mother 18 years ago following a battle with Alzheimer's disease. They are uncertain if she is a male or female and her age is unknown.
Debbie explains this green bird, which is about half the size of her pal Angel first made its way into John's mother's yard in sometime in the early 1990s because she had it 10 years before the couple started dating in 1999.
"It was 110 degrees outside and she saw the bird in the driveway where it looked so hot. She got a bowl of water and put it down. The bird stepped onto the edge of the bowl and his mom went inside the house. She soon became a house pet," said Debbie.
The lilac crested Amazon is common in the South Texas or Southern California wilds but originates in Mexico where their numbers have reportedly declined rapidly due to demands of the pet trade, poachers and the destruction of its habitat.
Spruce Pets calls this species relatively gentle with quiet manners, full of personality and a loyal companion, but their temperament can be challenging as they want their wall all the time. Considered on the small side for Amazon parrots, they reach about 13 inches and have a life span up to 60 years.
After Molly came into their home, the couple thought she might need a buddy because birds need a lot of social stimulation and attention. They were meeting some of their kids for dinner and wandered into a pet store while they waited. That is where they met Angel, a six-month-old hatchling Cockatoo. She was a charmer and joined the family.
The Cockatoo is any of the 21 species of parrots in the family Cacatuidae and they are recognizable by their prominent crests and curved bills. Their plumage is generally less colorful than other parrots mainly white, grey or black and often with colorful features on the crest, cheeks or tail.
Cockatoos are medium to large parrots of stocky build growing 12 to 24 inches in length. They have a waddling gait.
They share many features of other parrots including the distinctive curved beak shape and a "zygodactyl" foot with the two middle toes forward and the two out toes backward. Their claws are strong just like their bill which they often use to climb through tree branches.
The cockatoo's most distinctive feature is its erect plumes of feathers on their heads, which form a very striking crest. Angel has light blue feathers around his eyes which make them stand out even more.
They also have longevity with some reaching 70 years of age. Debbie says she has met a 90-year-old Cockatoo, so she knows they have a long life.
Read the full feature in your weekend Bowie News.
Saint Jo Panthers ready homecoming events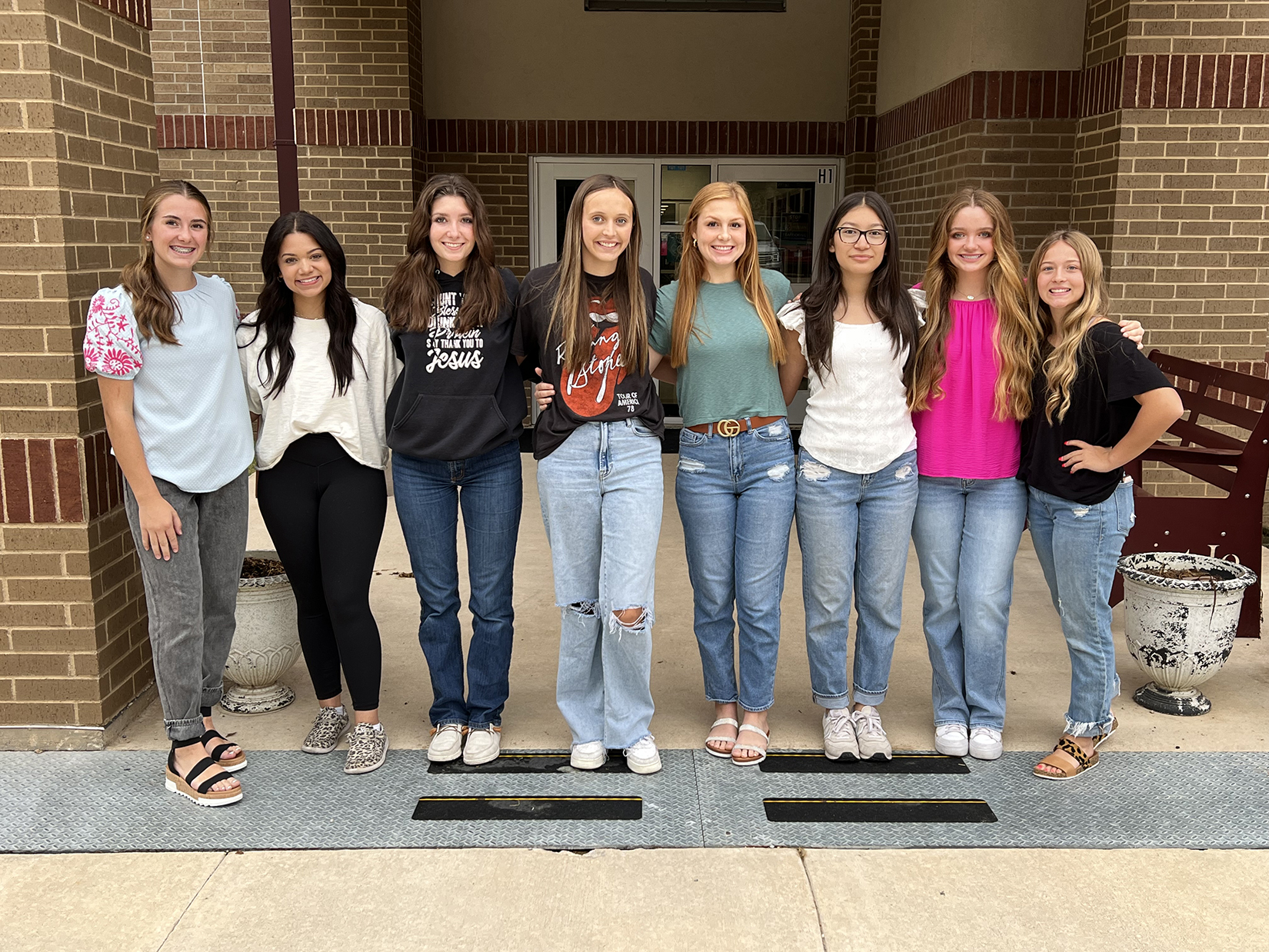 Saint Jo High School celebrates homecoming this Friday as the Panthers take on Gold-Burg. Members of the homecoming court include Junior Princess Taylor Patrick, Junior Princess Ava Rossin, senior candidates Jacie Weger, Presley Deweese, Kyler Dunn, Saraiah Vasquez, Sophomore Princess Maxey Johnson and Freshman Princess Jordyn O'Neal. The queen selected from the senior ladies will be crowned during halftime ceremonies at Harley Sewell Stadium Friday night. The game starts at 7:30 p.m. Courtesy photo.
There will be a homecoming dance starting about 15 minutes after the football game. A king will be crowned at the dance.
Fall home and garden section inside today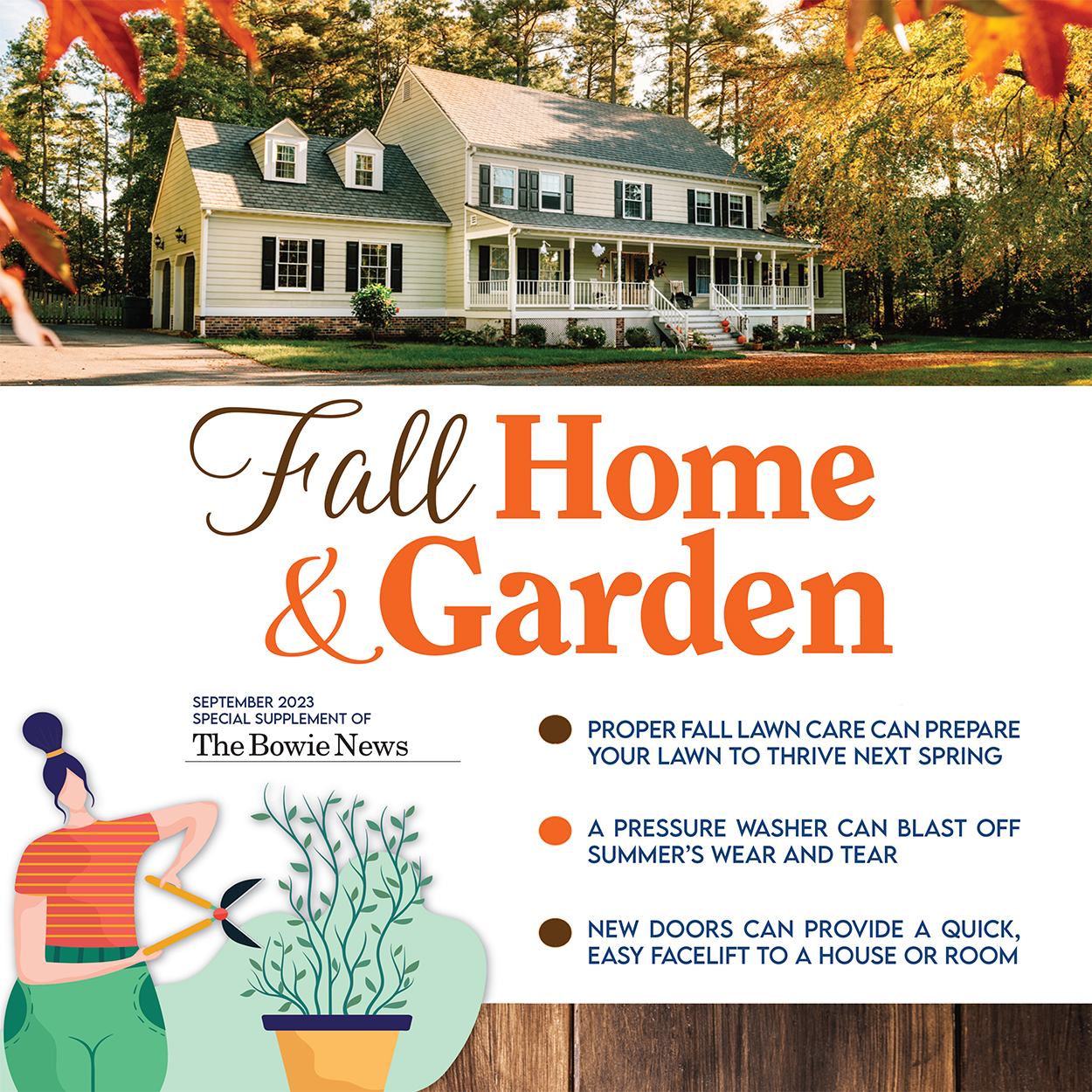 Are you looking to spruce up your home as the seasons change? In your mid-week Bowie News read the Fall Home & Garden special section. Gets tips for your yard to be ready for next spring or a facelift for the inside or the home. Also see the special from sponsoring merchants.
Shebang to feature lots of great live auction items; event supports TNT
Tales 'N' Trails Museum will host its primary fundraiser, Shebang on Sept. 23 with dinner, a live auction, music and the popular bucket auction at the H.J. Justin Building at 100 Clay Street.
Proceeds from the event go to pay for the museum's annual operating costs as well as special projects like the current restoration of two of Dell Motley's large leather art pieces. TNT celebrates its 13th year of operation in 2023.
Tickets for Shebang are $50 or $350 for a table of eight and will feature dinner and entertainment, plus the live auction, silent and bucket auctions. It is BYOB.
Tickets are available at the museum office at 1522 E. Highway 82.
The live auction will feature some unique items this year. How about a house concert with Thom Shepherd and Coley McCabe performing a two-hour acoustic set at your home on an agreed-upon date. Minimum bid is $1,000. This pair is an award-winning duo and songwriters for songs like "Redneck Yacht Club" and "Lucky For You."
How about a three-hour tour of the Red River by airboat for five people or a Invacare Lynx L-4 travel scooter? Then how about a load of base rock or gravel, beautiful western art, a custom made Nokona ball glove or pair of Fenoglio boots?
Live bids are now open at the shebang website at tntshebang.org. Online bids on many of these items will end on Sept. 21 and the last one will be the opening bid at the live auction at Shebang.
Bidders have to be present for the bucket and silent auction, but you can see some of the items on the webpage.
Call the museum at 825-5330 to reserve tickets. The TNT Board of Directors invites you to visit Montague County's largest museum that showcases the unique history of the area. Visit the museum webpage at talesntrails.org.