How to store, reheat leftovers and ideas on what to do with all that turkey
The minute your Thanksgiving feast hits your table, the clock starts ticking. No, not the countdown to when the doors swing open for Black Friday shopping — the food safety countdown has begun. 
Leftovers from that elaborate meal you may have spent days planning and preparing need to be refrigerated within two hours. And although that may sound like not enough time for your fourth cousin twice removed to go back for a second helping, much less a third, it is a rule that should be followed.
Recipes that call for chicken can be interchanged with turkey when working with leftovers. No matter what type of bird you serve at Thanksgiving, all poultry leftovers need to follow the same safety guidelines. (Shutterstock photo)
Texas A&M AgriLife Extension Service experts shared safety guidelines and a timeline to help Texans safely enjoy their leftovers.
"Every minute food passes through the danger zone food quality breaks down," said Rebecca Dittmar, AgriLife Extension program specialist for the agency's food safety education program.
"The danger zone is between 40-140 degrees, which is the range where bacteria can multiply quickly and cause the food to become unsafe," Dittmar said.
Dittmar said to keep these key things in mind on Thanksgiving and the days that follow:
Remember the two-hour rule
All perishable items should be refrigerated within two hours of coming out of the oven or refrigerator. After two hours, perishable food enters the danger zone. If food has been left out for more than two hours, discard items to prevent foodborne illness.
Day four? Leftovers no more
The Monday after Thanksgiving means anything still in the refrigerator needs to go.This is your last chance to eat it, freeze it or dump what's left of the leftovers.
Freeze it for 2-6 months
Frozen food stays safe indefinitely, though the quality may decrease over time. If you store leftovers in the freezer, they will taste best if used within two to six months.
Bacteria can't thrive over 165
No matter what method you use to reheat leftovers, from refrigerated or frozen, the food needs to reach at least 165 degrees before being consumed. Invest in a food thermometer if you don't already have one.
Use it or lose it
As long as you follow proper safety protocols to thaw, reheat and refreeze food, you can pretty much keep it in your freezer indefinitely, Dittmar said. The texture and taste will start to go downhill after a few months and you probably won't want to eat it, but it isn't unsafe.
Get creative with leftovers
If you cooked too much or your guests ate too little, you may want to get creative with leftovers.
"The fresher the food the better anything you make with it will taste," said Odessa Keenan, AgriLife Extension specialist with the Dinner Tonight program. "Being prepared with recipes and ideas in advance of how to get more meals out of your Thanksgiving feast means less waste. Just keep in mind that all food safety rules still apply."
From a curry turkey salad to a southwest turkey bake to turkey tacos, the Dinner Tonight website offers recipes and leftover inspiration.
"People should also keep in mind that pretty much anything you can use chicken in, turkey can be substituted," Keenan said.
For those families who celebrate Thanksgiving potluck style, additional food safety guidelines are also available on the website. If your feast is served buffet style, keep food hot in chafing dishes, slow cookers or warming trays. Keep cold-served food cold with nesting dishes in bowls of ice.
Keenan said another idea to avoid too many leftovers is to cook what you think your family and guests will actually eat. Just because a certain side is a "tradition" doesn't mean you can't trade it out for a new recipe.
More food safety tips to keep in mind year-round
The safest way to store food is to use small and shallow containers. Whether in the fridge or freezer, smaller containers help cool leftovers more quickly than storing them in large containers. It also allows to reheat just the amount you'll need.
When reheating in a microwave, first arrange food items evenly in a covered microwave safe glass or ceramic dish. Add some liquid if needed. If your microwave doesn't have a carousel, rotate the food during reheating to ensure even heating.
Since microwaves have cold spots, use a food thermometer to check the internal temperature of the food in several places with a food thermometer after allowing a brief resting period. Cooking continues for a longer time in dense foods such as a whole turkey or beef roast than in less dense foods like breads, small vegetables and fruits.
Keep your refrigerator at or below 40 degrees. Your freezer should be set to 0 degrees. Check temperatures periodically using an appliance thermometer.
The U.S. Department of Agriculture's Food Safety and Inspection website is a great additional resource for food safety.
Fantasy of Lights one of biggest ever
The Fantasy of Lights Christmas Parade was one of the largest in the last 15 years. See all the first and second place winning floats in the weekend Bowie News. Congratulations to Bowie Community Development and all its volunteers and helpers who made the festival such a success.
Picture above first place winner Sister Act Connection.
Tales 'N' Trails offering engraved bricks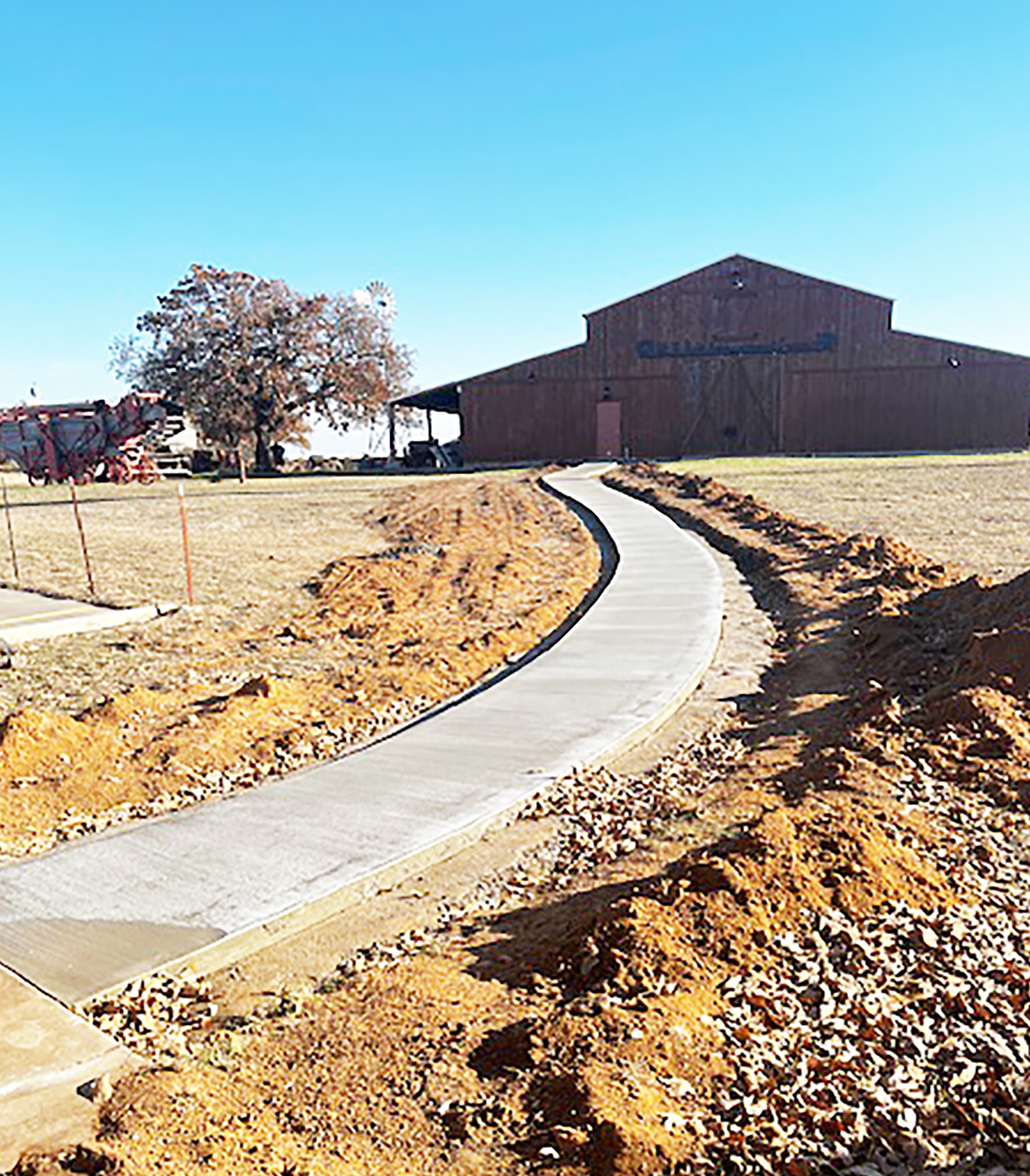 Tales 'N' Trails Museum is offering the opportunity to purchase a personalized, engraved paving brick that will be part of a permanent walkway at the museum. Anyone may purchase a brick to support the museum while leaving a lasting mark. Bricks may honor a loved one, be in memory of a family member, celebrate a special occasion or promote a business or a worthy cause. The cost of a brick is $50 with three lines available with up to 21 letters or spaces per line. Make checks payable to Tales 'N' Trails Museum, 1522 E. Highway 82, Nocona, TX 76255. NellAnn McBroom, TNT curator, said the response has been great for the bricks. Bricks from downtown Nocona will line the walkway that leads to the outside exhibits at the museum's back entry and the engraved bricks will go in a special area in the sidewalk."They would make a great Christmas presents and we have gift certificates you can put in a card. The Nocona High Class of 1975 has purchased one for each of its members and challenged the other classes to do the same. The Classes of 1976 and 1978 have taken the challenge," explained McBroom. The brick forms are at talesandtrails.org or the TNT Facebook page.
Return you Bowie Chamber director ballots
Ballots for the three vacancies for the Bowie Chamber of Commerce Board of Directors are due on Dec. 11.
Membership Director Debbie Herriage reminds members to submit their ballots that went out in email. The election will select three of the possibly 15 members of the board. The directors serve a three-year term.
The ballot contains three candidates and a place for a write-in nomination. Those on the ballot are Diane Romine, Texas Landmark Realtors, Elaine Kunkleman, Wise Street Mercantile and Suite and Kory Hooks, Kory Hooks Auto Group.
Drops ballots off at the office 101 E. Pecan or return by email.