BASKETBALL: Saint Jo camp meets target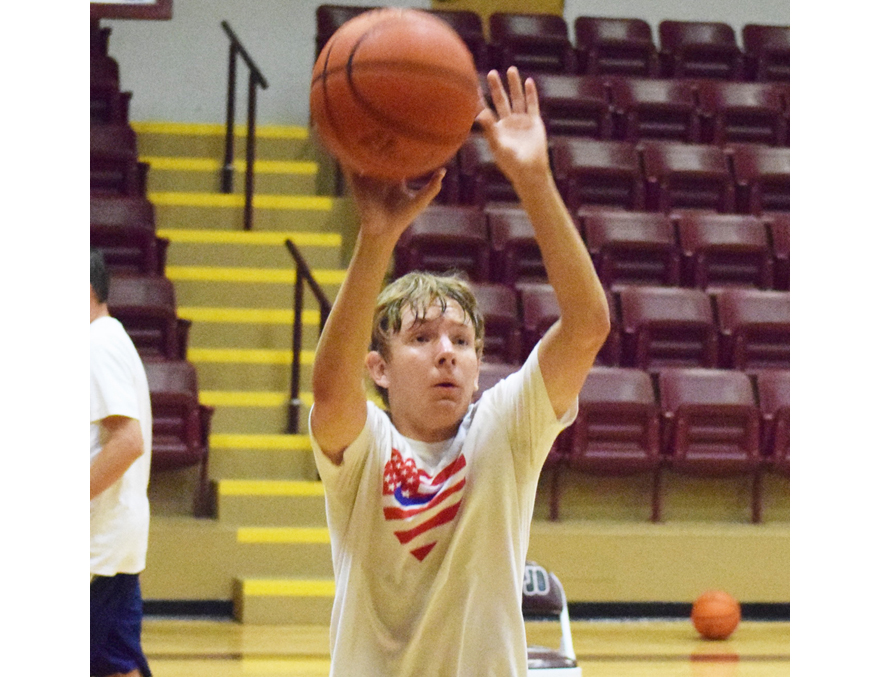 By ERIC VICCARO
[email protected]
National championship coach Clifton McDaniel gave youngsters insight on how to become a better shooter on Monday at "The Dome" in Saint Jo.
McDaniel had a one-day shooting clinic at the school.
"It was good to have a coach of his caliber here," said Saint Jo head girls' basketball coach Kyle Sivadon. "He's had a lot of success, and won national championships at the collegiate level."
Sivadon said McDaniel ran the clinic like one of his practices.
The pair of coaches go back to when they were rivals in the same district, with Sivadon at Oglesby and McDaniel at Iredell.
McDaniel is the head women's basketball coach at Arlington Baptist College, where he guided the school to the National Christian Colleges Athletic Association Division II title this past year.
ABC is a small Bible-centered school with an enrollment of about 250 students. Central Baptist Church of Bowie pastor Rocky Lindley serves the school board president here.
The Lady Patriots won the national crown with a 102-99 victory over Hillsdale (Okla.). Read more in the June 15 edition of The Bowie News.
Saint Jo camper Cody Thurman works on his form during Monday's special shooting clinic at "The Dome." (News photo by Eric Viccaro) 
Prairie Valley Volleyball Interview
Gold-Burg Football Interview
Saint Jo vs Prairie Valley
The Saint Jo Lady Panthers opened up district play on Friday by beating Prairie Valley at home.
The Lady Panthers won in straight sets against the young Lady Bulldogs.
Saint Jo came into the game following a tough five-set win against Poolville and Coach Kelly Skidmore was hoping her team would play better than that.
Prairie Valley struggled in the match with slow starts in all three sets. The Lady Panthers were ahead 8-2 in sets one and three and 9-1 in set two.
The closest the Lady Bulldogs got was in set three when they cut the lead to 12-8 midway through, but each time Saint Jo remained firmly in control.
Frustration seemed to set in for Prairie Valley at times with self-inflicted errors which did not help.
The Lady Panthers won with the set scores being 25-11, 25-9 and 25-13.
Bowie
The Bowie Lady Rabbits lost a tough match at Holliday.
The Lady Eagles won in straight sets against the Lady Rabbits.
Bowie was able to put it together to compete well and nearly win the second set, but ultimately lost 25-22. The first and third sets were not too great for the Lady Rabbits as they lost 25-11 and 25-10.
Coach Ashley Sanders did not think her team was in rhythm or playing their game at all during the match. It wasn't so much at Holliday overwhelmed her team, Sanders said, but more about her team not playing up to its capability.
Nocona
The Nocona Lady Indians won their eighth straight match of the season on Friday with a win against Wichita Falls High School.
The Lady Indians won in straight sets as well, which keeps another streak going of not losing a set in the last eight matches.
The Lady Coyotes made Nocona work a bit, but the Lady Indians were in control each set as they won with little drama. The set scores were 25-18, 25-15 and 25-14.
Skyler Smith led the team with 15 kills, 23 assists and two service aces. Meg Meekins also had 15 kills and was second with 21 assists while leading the team with two blocks.
Aubree Kleinhans had a team high 11 digs while Ava Johnson and Graci Brown each had two aces.
Forestburg vs Bellevue
The Forestburg Lady Horns opened district play on Friday with a win against Bellevue.
The Lady Horns won in straight sets against the Lady Eagles as they started off district strong.
The two teams played exactly a month previously and while it was similar results, Bellevue was looking much better than in that contest.
Forestburg had to work in all three sets. Though the Lady Eagles didn't almost win a set like they did in the first match, they were more competitive throughout.
It was not good enough though as a solid Lady Horn team won with set scores being 25-18, 25-21 and 25-15.
To read the full story, pick up a copy of the mid-week edition of the Bowie News.