Annual nativity display readied Dec. 1 in Saint Jo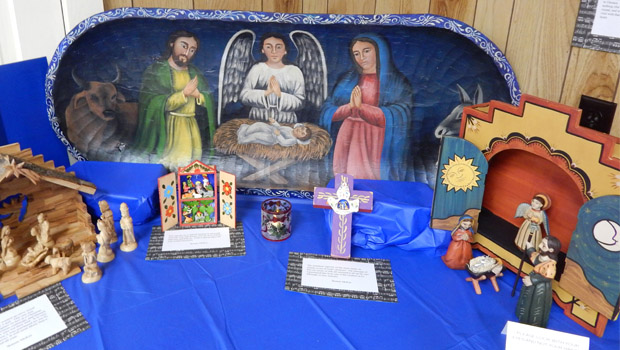 Make a trip to First United Methodist Church in Saint Jo, 306 W. Boggess St./FM677 South, to see a collection of nativity sets from people in Saint Jo, as well as the surrounding area.
The display includes sets as tall as four-to-five feet to a nativity so small you can hold it in the palm of your hand. The display will be open from 2-4 p.m. on Dec. 1.
Various mediums will be represented including metal, wood, felt, china, ceramic and more. This is the fourth year to sponsor the display.
If you would like to share your nativity set call Rhelda Harris at 940-995-2720 or Laurie Martin at 940-995-3099.
There also will be carol singing with refreshments to follow from 2-4 p.m. on Dec. 2. There will be special music from several local individuals and choirs including the bell choir from First United Methodist Church of Bowie. There is no admission.
Panther kicker named homecoming queen
Kyler Dunn was crowned homecoming queen for Saint Jo High School Friday night and was escorted by her father Charlie Dunn. She is senior class president and kicker on the football team, among other activities. (Photo by Jordan Neal)
(Cover photo) Homecoming Queen Kyler Dunn is surrounded by the other beautifully dressed ladies of the homecoming court. (Photo by Jordan Neal)
American Hat's Bowie Pro Rodeo comes to town Friday, Saturday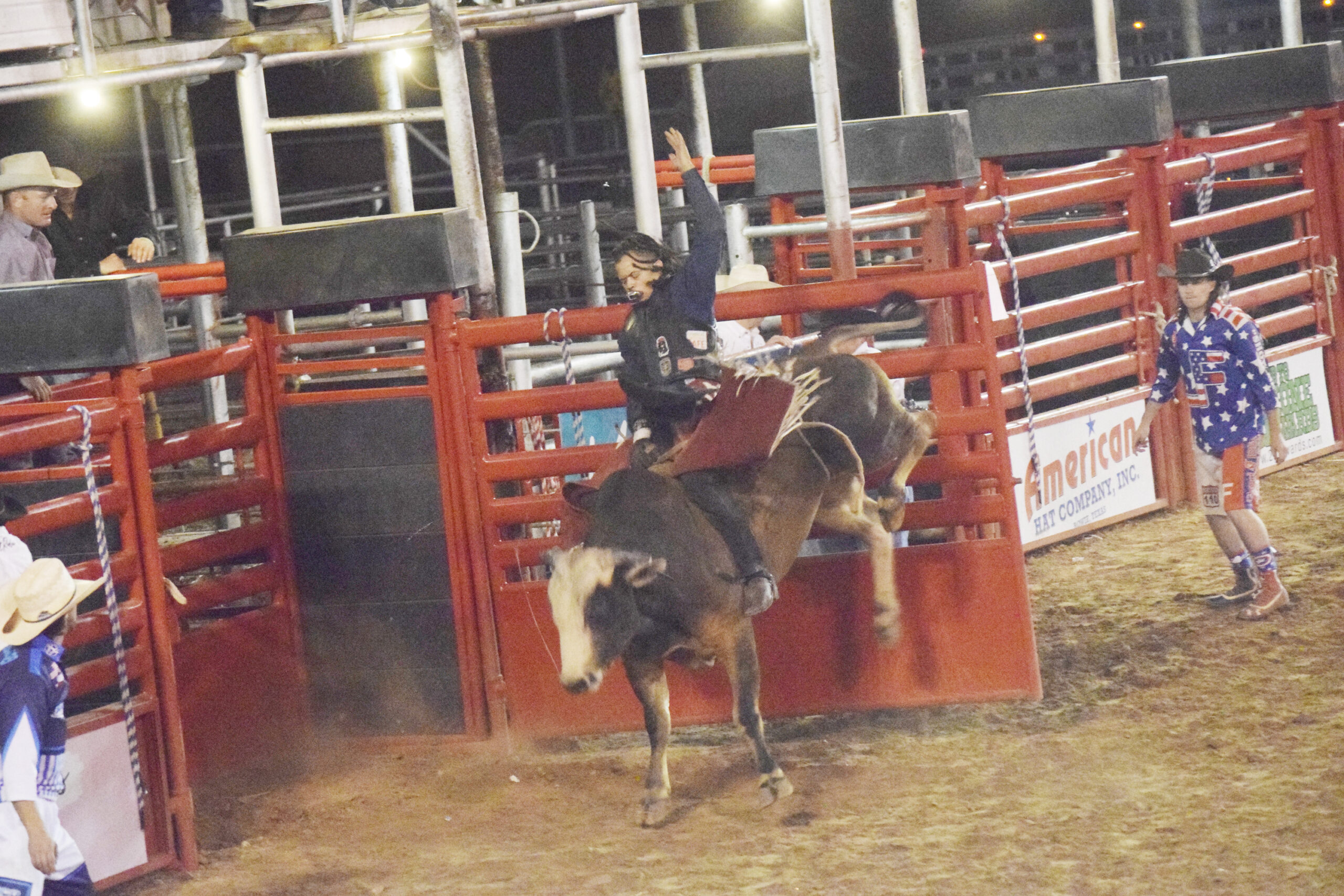 American Hat's Bowie Pro Rodeo comes to town Sept. 29-30 in the Jim Bowie Arena.
Tickets are $15 in advance and $20 at the gate. Advance tickets are available online at mccoyrodeo.com.
Rodeo action begins nightly at 7:30 p.m. Organizer Cord McCoy invites guests to arrive a little early, gates open at 5:30 p.m. to see the stock.
PRCA and WPRA rodeo cowboys and cowgirls will be competing for top prize money including $9,000 added money. There will be fun for the entire family including a calf scramble and mutton bustin'.
All the traditional rodeo events will take place including bareback riding, saddle bronc riding, calf roping, team roping, steer wrestling and bulls. The ladies will be competing in barrel racing and breakaway roping.
McCoy said they also will present the Flying Arena Stars a trick riding group, which has been selected to perform at the National Finals Rodeo in Las Vegas this year.
"We invite everyone to come out and taste a bit of Vegas there in Bowie," exclaimed McCoy. "This is our third year with the American Hat Bowie Pro Rodeo and I love the arena and the community. I feel like that rodeo could gradually grow and Bowie would have two big rodeos. We are glad to be part of this one. We also have been talking about the possibility of this being televised, which is exciting."
County sheriff's staff readies National Night Out for Oct. 3
Montague County Sheriff Marshall Thomas and members of his staff invite everyone to attend the annual National Night Out event from 6-8 p.m. on Oct. 3 on the courthouse square.
National Night Out is an opportunity to enhance the relationship between neighbors and law enforcement while bringing back a true sense of community.
Furthermore, it provides a great opportunity to bring police and neighbors together under positive circumstances. The state of Texas and select areas celebrate the first Tuesday in October.
Guests will enjoy a free meal of a chopped barbecue sandwich and chips with a drink. There will be an inflatable BB-gun range and door prizes for the adults, bounce house and games for the kids, along with free popcorn.
Thomas said he and the staff enjoying getting to interact with local residents in a different fashion that is fun as they get to know about the sheriff's office.