Palo Pinto County develops Community Wildfire Protection Plan to address risks
COLLEGE STATION, Texas — Palo Pinto County has adopted a plan to reduce risks and better prepare for wildfires.
Palo Pinto County, west of Fort Worth, is the 24th county to complete a Community Wildfire Protection Plan in Texas.
A Community Wildfire Protection Plan is a proven strategy for reducing the risk of wildfire to communities. The Palo Pinto County plan establishes goals and strategies for long-term success by identifying priorities and proposing immediate measures that will protect communities, especially those at highest risk, from wildland fire.
The plan was developed in cooperation with Palo Pinto County officials, local fire departments and representatives from Texas A&M Forest Service.
"With the signing and implementation of the Community Wildfire Protection Plan, we took a big step toward improving the safety and security of the citizens and visitors of Palo Pinto County," said Ricky Hunter, Palo Pinto County Emergency Management Coordinator. "Wildfires will remain a threat, but this plan, and the involvement and support of the community, will help to lower that threat. I would like to thank all our volunteer fire departments, Palo Pinto County Emergency Services District 1 and Texas A&M Forest Service for their help in achieving this important goal."
The county has been impacted by wildfires in recent years and is subject to Southern Plains Wildfire Outbreak events.
On April 9, 2011, conditions aligned to create a Southern Plains Wildfire Outbreak, which resulted in 144 wildfires burning more than 582,000 acres. The PK Complex ignited that day in extremely dry vegetation after 10 consecutive days with critical fire weather. The rugged terrain around Possum Kingdom Lake was also a major influence on fire behavior.
The wildfire burned uphill, causing it to travel rapidly and burn intensely, exposing homes along hilltops and ridges to some of the most extreme fire behavior that emergency responders observed that year.
The wildfire burned 126,734 acres in Palo Pinto, Young and Stephens counties and destroyed 168 homes. It is the 10th largest wildfire to burn in Texas since 1988.
The 2011 wildfire season in Texas was unprecedented, and wildfires have continued to threaten the communities of Palo Pinto County.
In 2022, the busiest fire year since 2011, 12,411 wildfires burned across Texas. Of that total, 123 wildfires burned in Palo Pinto County. The largest of these wildfires was the 11,598-acre Dempsey Fire, which threatened the town of Graford.
"Completing this plan is a great first step towards reducing the county's risk from wildfire," said Wes Moorehead, Texas A&M Forest Service Fire Chief. "By focusing on actions that improve preparedness and response to wildfire, Palo Pinto County can work towards becoming a more resilient community."
Initial conversations and meetings for the Palo Pinto plan took place during the fall of 2021. As the 2022 wildfire year began, the need for a comprehensive plan was reinforced.
On March 3, the Palo Pinto County Community Wildfire Protection Plan was approved and signed by the County Commissioners and Texas A&M Forest Service.
To learn more about Community Wildfire Protection Plans and reducing your risk from wildfire, visit https://tfsweb.tamu.edu/ProtectYourCommunity/.
Panther kicker named homecoming queen
Kyler Dunn was crowned homecoming queen for Saint Jo High School Friday night and was escorted by her father Charlie Dunn. She is senior class president and kicker on the football team, among other activities. (Photo by Jordan Neal)
(Cover photo) Homecoming Queen Kyler Dunn is surrounded by the other beautifully dressed ladies of the homecoming court. (Photo by Jordan Neal)
American Hat's Bowie Pro Rodeo comes to town Friday, Saturday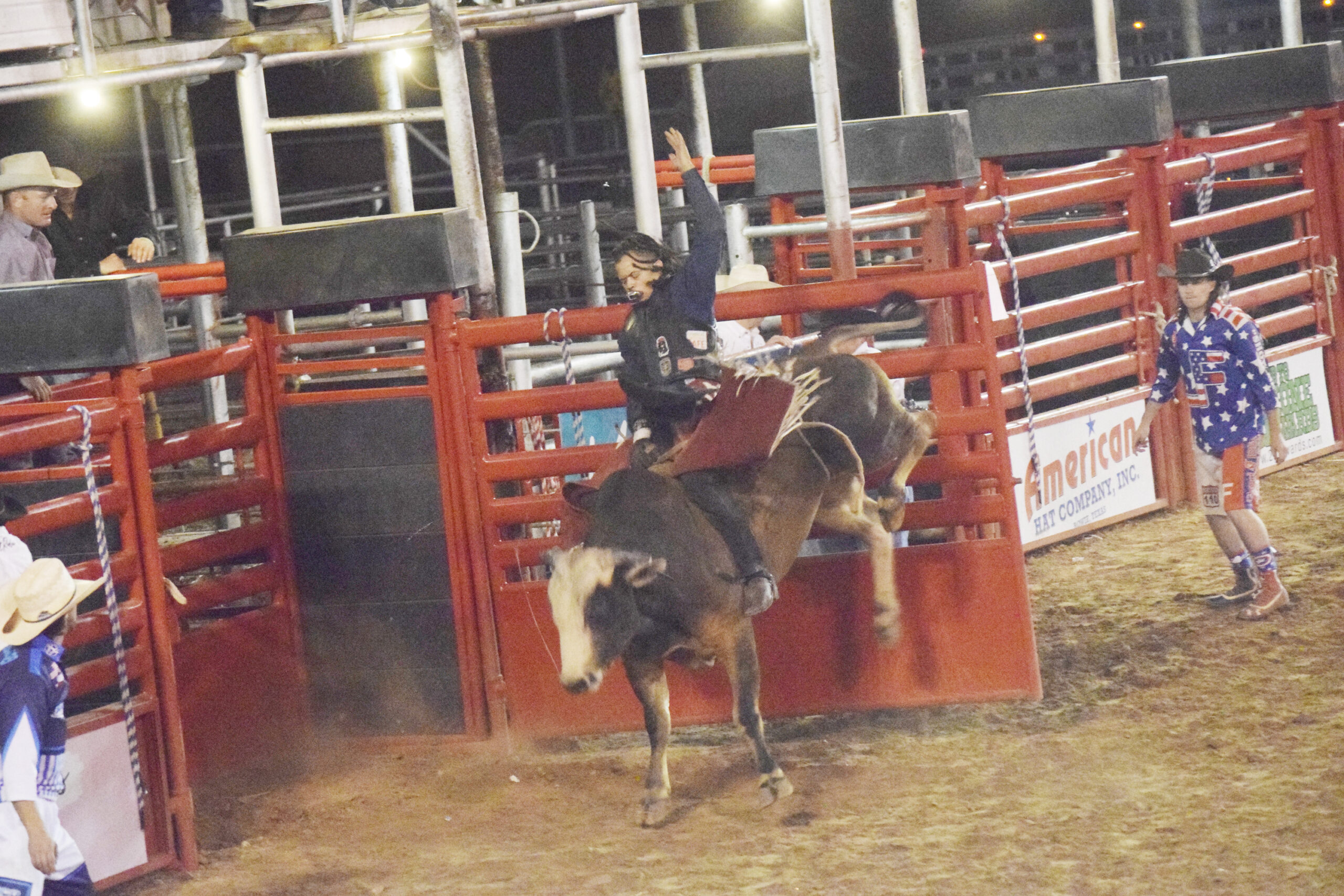 American Hat's Bowie Pro Rodeo comes to town Sept. 29-30 in the Jim Bowie Arena.
Tickets are $15 in advance and $20 at the gate. Advance tickets are available online at mccoyrodeo.com.
Rodeo action begins nightly at 7:30 p.m. Organizer Cord McCoy invites guests to arrive a little early, gates open at 5:30 p.m. to see the stock.
PRCA and WPRA rodeo cowboys and cowgirls will be competing for top prize money including $9,000 added money. There will be fun for the entire family including a calf scramble and mutton bustin'.
All the traditional rodeo events will take place including bareback riding, saddle bronc riding, calf roping, team roping, steer wrestling and bulls. The ladies will be competing in barrel racing and breakaway roping.
McCoy said they also will present the Flying Arena Stars a trick riding group, which has been selected to perform at the National Finals Rodeo in Las Vegas this year.
"We invite everyone to come out and taste a bit of Vegas there in Bowie," exclaimed McCoy. "This is our third year with the American Hat Bowie Pro Rodeo and I love the arena and the community. I feel like that rodeo could gradually grow and Bowie would have two big rodeos. We are glad to be part of this one. We also have been talking about the possibility of this being televised, which is exciting."
County sheriff's staff readies National Night Out for Oct. 3
Montague County Sheriff Marshall Thomas and members of his staff invite everyone to attend the annual National Night Out event from 6-8 p.m. on Oct. 3 on the courthouse square.
National Night Out is an opportunity to enhance the relationship between neighbors and law enforcement while bringing back a true sense of community.
Furthermore, it provides a great opportunity to bring police and neighbors together under positive circumstances. The state of Texas and select areas celebrate the first Tuesday in October.
Guests will enjoy a free meal of a chopped barbecue sandwich and chips with a drink. There will be an inflatable BB-gun range and door prizes for the adults, bounce house and games for the kids, along with free popcorn.
Thomas said he and the staff enjoying getting to interact with local residents in a different fashion that is fun as they get to know about the sheriff's office.