How to use a beauty blender
So many people including myself are intrigued by the Beauty Blender
. Is it because it looks like a hot pink egg but it's for your face? It's just a sponge right? Wrong, it's the most amazing sponge you've ever seen! Believe me I was skeptical before trying it too, but now I don't ever apply foundation without it.
Why it's so incredible:
1 // It makes foundation look flawless, almost as if you aren't wearing anything. "Seeing make up is the first sign of an amateur application." –Beautblender.net
2 // It makes hard to reach areas such as under the eyes, around the nose, and corners of the mouth easy to get to with the small pointy end of the sponge.
3 // You can use it for any type of face makeup like foundation, concealer, blush, bronzer, and powder.
How To: Use a Beauty Blender:
1 // Start by wetting your Beauty Blender (BB) in your sink and at this point your BB will be two times it's original size. If you don't wet it won't work the same
2 // Squeeze all the excess water out of your BB so it is left damp, not soaking wet. You can also use a towel to squeeze out the water. 
3 // I prefer applying foundation directly to the large end of the BB, but you can also dot the foundation around your face and start that way. 
4 // Start applying the foundation by using a "bouncing" technique, almost as if you are bouncing a ball off your face. Do this over your entire face until completely covered. This makes for a natural effect with no lines or streaks that you sometimes see with other applicators. 
5 // Use the small pointed end to apply under eye concealer as well as blemish concealer. Use the same bouncing technique for these areas as well. Don't drag the BB along your face.
6 // You can also apply blush, bronzer, and powder using the BB and the same technique.
7 // After you finished using your BB for the day rinse it under the sink again and set it out to dry until your next application. It will shrink back down to it's original size. 
What is your favorite way to apply your makeup? Any questions about the Beauty Blender ask in the comments below!
Navigating the vast world of mental health apps
(BPT) – This article is sponsored by Otsuka America Pharmaceutical, Inc.
Mental illness is a growing crisis in America that has been compounded by the pandemic1,2. In fact, more than 52 million adult Americans reported experiencing a mental illness in 2020 alone, according to the National Institute of Mental Health3. The silver lining is people are talking about their mental health and there are more options for getting help than ever before4.
"As conversations around mental health are normalized around the world, many people are exploring new and different management tools and resources to combat their condition," said Dr. Stephen Schueller, associate professor of Psychological Science and Informatics at the University of California. Schueller continues, "In fact, one of the more common tools people are turning to are mental health apps."
It's estimated that more than 10,000 mental health apps are currently available in major apps stores5. With so many apps to choose from, it can be overwhelming to navigate through the options, prompting questions such as "what's the difference between these apps?" or "which app is best for me?"
Understanding the Differences Between Apps
So, what are the differences between mental health apps and what features should potential users consider? As this is a relatively new and fast-growing area of healthcare, it's important to understand that there are different categories of mental health apps designed to address specific objectives.
These include overall wellness apps and digital therapeutics:
Wellness apps are software intended to promote healthy behaviors and wellness through things like teaching meditation skills, helping users stick to healthy habits, and providing general information and tips. They are not treatments for mental health conditions. These apps are generally not supported by evidence-based research and are not regulated6,7,8.
"There are a wide range of wellness apps available to patients as well as clinicians, but these apps have little to no oversight from the U.S. Food and Drug Administration, and many of them have not been reviewed or studied in a clinical trial to support claims of efficacy or safety," according to Schueller.
Unlike wellness apps, digital therapeutics are defined as high-quality software applications that help prevent, manage or treat a medical condition. These are often recommended and used under the care of a physician9.
Digital therapeutics help empower patients and clinicians with intelligent and accessible tools for addressing a wide range of conditions through high-quality, safe and effective data-driven interventions9. According to Schueller, these apps must meet certain core principles regarding user privacy, security and clinical evidence9.
Prescription Digital Therapeutics
Within digital therapeutics, there are prescription digital therapeutics, or PDTs9. "PDTs require more rigorous and additional testing in clinical studies and ultimately must gain clearance from the FDA, demonstrating they can treat a condition safely and effectively," said Schueller. "Importantly, PDTs can only be prescribed by a clinician."
Having a foundational understanding of available apps and the difference between app categories is the first step, but there are also a few key questions to ask while navigating the vast world of mental health apps, including:
Are there data or studies showing this app is e­ffective at what it claims to do?
Who is the app developer and what experience do they have in mental health?
How will personal data be protected? Will data be shared with third parties?
What do trusted sources (like clinicians, regulators or independent rating groups) say about this product?
"Taking the time to do the research and ask the critical questions is an important step before using any health app," said Dr. Schueller, adding, "However, if you are experiencing symptoms of a mental illness, don't try to rely on an app alone, talk to a doctor about a treatment plan that is right for you."
For more information on navigating the vast world of mental health apps click here.
References
Kearney, A., Hamel, L., & Brodie, M. (2021, April 14). Mental health impact of the COVID-19 pandemic: An update. KFF. https://www.kff.org/coronavirus-covid-19/poll-finding/mental-health-impact-of-the-covid-19-pandemic/
Mental health – A Workforce Crisis. American Heart Association CEO Roundtable. (2019, March 5). https://ceoroundtable.heart.org/mental-health-a-workforce-crisis-report/
U.S. Department of Health and Human Services. (n.d.). Mental illness. National Institute of Mental Health. https://www.nimh.nih.gov/health/statistics/mental-illness
Naslund, J. A., & Aschbrenner, K. A. (2021, September 12). Technology use and interest in digital apps for Mental Health Promotion and lifestyle intervention among young adults with serious mental illness. Journal of Affective Disorders Reports. https://doi.org/10.1016/j.jadr.2021.100227
Clay, R. A. (2021, January 1). Mental health apps are gaining traction. Monitor on Psychology. https://www.apa.org/monitor/2021/01/trends-mental-health-apps
Stoyanov, S. R., et al. (2015, November 3). Mobile app rating scale: A new tool for assessing the quality of Health Mobile Apps. JMIR mHealth and uHealth. https://mhealth.jmir.org/2015/1/e27/
Bakker, D., Kazantzis, N., Rickwood, D., & Rickard, N. (2016). Mental Health Smartphone Apps: Review and Evidence-Based Recommendations for Future Developments. JMIR mental health, 3(1), e7. https://doi.org/10.2196/mental.4984
Torous, J., Luo, J., & Chan, S. R. (2018, March). Mental health apps: What to tell patients. Current Psychiatry. https://www.mdedge.com/psychiatry/article/159127/depression/mental-health-apps-what-tell-patients
Digital Therapeutics Alliance. Digital Therapeutics: Combining Technology and Evidence-based Medicine to Transform Personalized Patient Care. (2018, October). https://www.dtxalliance.org/wp-content/uploads/2018/09/DTA-Report_DTx-IndustryFoundations.pdf
Support brain health: Simple ways to add to your wellness routine
(Family Features) When most people think of wellness, diet and exercise are the first things that come to mind. Brain health is another essential element of your overall wellness because it affects your quality of life in many ways.
Brain health is the foundation of your ability to live a productive and successful life by communicating and solving problems. It's the driving force behind your daily function.
Give your brain extra support with these tips:
Stimulate Your Mind

Like any muscle, your brain needs exercise. Your workout equipment for your brain can include activities like puzzles, reading, learning an instrument, taking up a new hobby or learning a new language.
Focus on Brain-Supporting Foods
What you eat doesn't just affect your physical health; it affects your brain health, too. One example is the Mediterranean-DASH Intervention for Neurodegenerative Delay (MIND) diet, which is the result of more than 20 years of data collected by researchers at Rush University Medical Center and Harvard School of Public Health.
It follows the Mediterranean style of eating whole foods with minimal processing and includes an emphasis on plant-based foods, including leafy greens, whole grains and heart-healthy legumes along with some fish and smaller amounts of poultry. The MIND diet aims to build on these principles and emphasizes antioxidant-rich berries, dark leafy greens and fatty fish like salmon, mackerel, herring or sardines.
A dish like Kale and Quinoa Bowl with Salmon reflects the MIND diet guidelines and is a delicious and smart way to support your brain with good nutrition.
"Fueling your brain starts with your plate," said Melissa Halas, MA, RDN. "This tasty kale, quinoa and salmon recipe by Alton Brown has smart ingredients that match the MIND diet. Plus, the results are delicious. It's so important to support your brain with the right nutrients."
Sleep Well
While you catch up on your rest, your body is hard at work rejuvenating all your systems, and your brain is no exception. Getting plenty of sleep each night gives your brain time to repair itself so you wake feeling sharp and focused.
Add a Supplement to Your Daily Routine
Most people fall short of reaching recommended nutrient levels with their diets alone. Supplements can help fill the gap. An option like Neuriva Plus can help support the key indicators of brain health: reasoning (think and understand things in a logical way), focus (zoom in and filter out distractions), accuracy (react with greater speed and precision), memory (record and recall stored information), learning (retain new information) and concentration (concentrating on tasks for longer periods).*
*These statements have not been evaluated by the Food and Drug Administration. This product is not intended to diagnose, treat, cure or prevent any disease.
Available in capsules and gummies, the Neuriva brain health supplements include naturally sourced ingredients like Neurofactor™ (coffee cherry extract) and plant-sourced phosphatidylserine (PS), as well as B vitamins to support brain health.
"I recently turned 60 and over the past couple of decades, I've been very focused on taking care of my health from the inside out – first with my food, and now taking action to support my brain health," said Alton Brown, award-winning chef and food geek. "Neuriva fits perfectly into my holistic regimen, which for me, is just simple life practices, like exercising, eating a balanced diet and getting a good night's sleep."
Manage Stress
Keeping your stress in check is good for your mental well-being, but it also affects your physical and cognitive health. Practicing yoga, meditation or listening to music are some ways to reduce stress while improving your cognitive function and performance.
Connect with Others
Personal interaction also sharpens your brain, as it encourages you to practice communication and other cognitive skills. You can protect and improve your brain health by creating and nurturing connections with friends and family.
Keep Moving
Your brain needs plenty of oxygen for good function. Physical activity burns calories and builds muscle while increasing oxygen flow and stimulating nerve cell growth.
For more ideas to support brain health and wellness, visit Neuriva.com and download the Neuriva Brain Gym app.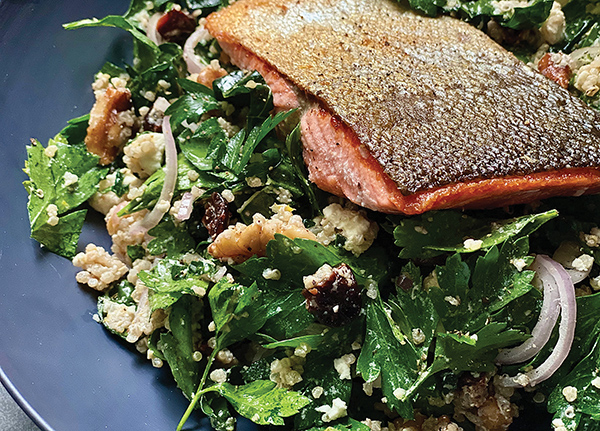 Kale and Quinoa Bowl with Salmon
Recipe courtesy of Alton Brown on behalf of Neuriva
Servings: 4
Kale and Quinoa Bowl:
1 bunch lacinato or "dinosaur" kale, stems removed and cut into ribbons (about 4 ounces, stemmed)
1 bunch (1 1/2 ounces) flat leaf parsley, stems removed and roughly chopped
2 shallots, thinly sliced
5 tablespoons extra-virgin olive oil, divided
1 lemon, zest and juice only
2 large garlic cloves, minced
1/2 cup plain, low-fat yogurt
4 ounces firm feta cheese, divided
1cup (3 1/2 ounces) walnuts, toasted and lightly crushed, divided
1 teaspoon kosher salt
2 cups cooked white quinoa
1/2 cup dried cherries
freshly ground black pepper
Salmon:
2 skin-on salmon fillets (around 1-inch thick and 5 ounces each)
1/2 teaspoon kosher salt
2 tablespoons light olive oil
To make kale and quinoa bowls: In large bowl, toss kale, parsley and shallots with 2 tablespoons olive oil; set aside 10 minutes.
In bowl of food processor, puree remaining olive oil, lemon juice and zest, garlic, yogurt, 2 ounces feta, 1/3 of the walnuts and salt.
Pour dressing over greens then fold in quinoa, remaining walnuts, cherries and remaining feta.
Cover and refrigerate at least 1 hour before serving with several grinds of black pepper.
To make salmon: Wrap fillets in paper towels then heat large cast-iron skillet over medium-high heat 5 minutes.
When skillet is hot, season fillets with salt. Add oil to skillet and carefully tilt to evenly cover bottom. When oil shimmers, slide fillets in, skin-side down, pressing each fillet firmly down with spatula.
Reduce heat to medium-low and cook 3 minutes then cover and cook 2 minutes.
Carefully flip fillets, cover and cook 1 minute, or until fillets reach desired doneness or internal temperature of at least 130 F** on thermometer inserted into centers.
**The United States Department of Agriculture recommends a minimum internal temperature of 145 degrees Fahrenheit.
To serve, separate kale and quinoa mixture into four bowls. Slice each fillet in half and place on top of kale and quinoa.
Content courtesy of Neuriva
Photo courtesy of Getty Images (woman eating at laptop)
Photo courtesy of Getty Images (woman doing a puzzle)
Photo courtesy of Lynne Calamia (Kale and Quinoa Bowl with Salmon)


SOURCE:
Neuriva
Living with psoriatic arthritis? How to manage your symptoms
(BPT) – Sponsored by Janssen
Imagine finding simple tasks, such as getting out of bed, dressing yourself or turning a faucet on and off, difficult to do because they're too painful.1 That's what a typical day can feel like for people living with active psoriatic arthritis (PsA). About 1.5 million Americans are living with PsA, and although patients may experience symptoms differently, the condition can often interfere with basic daily activities.1,2
Active PsA is a chronic condition that occurs when your body's immune system attacks healthy cells and tissue, which causes inflammation in the joints as well as overproduction of skin cells. 3 Common symptoms of active PsA include joint stiffness, pain and swelling.4 Some patients with active PsA can also experience fatigue, which is an underestimated and underreported concern that can interfere with daily life. 4-6
PsA symptoms can vary and differ in severity from patient to patient, so it's critical for healthcare providers and patients to have an open dialogue to build a personalized management plan together. 4 A PsA management plan may incorporate lifestyle changes as well as medication potentially to help address the disease symptoms.
"The symptoms of active psoriatic arthritis may be hard to describe or feel invisible at times, but that doesn't make them any less real," said Soumya D. Chakravarty, MD, PhD, Senior Director, Strategic Lead, Rheumatology Therapeutic Area at Janssen. "PsA can have debilitating effects on the lives of patients. It's important for patients to speak about symptoms with their rheumatologist because there are strategies they can implement to help see improvement."
Here are some top tips for managing symptoms of PsA:
Consider a Healthy Diet
While there isn't a specific diet for PsA, research shows that certain foods can help reduce inflammation in the body, which contributes to the disease.7 Consider incorporating more anti-inflammatory foods, such as fruits, vegetables, beans, whole grains and healthy fats like fish and avocado, while reducing foods like fatty red meats, dairy, refined sugars and processed foods. 7,8
Think About Finding a Workout That Feels Good
Exercise while living with active PsA can feel daunting, but physical activity has many benefits, including helping to maintain a healthy weight, taking extra pressure off painful joints, keeping joints flexible and increasing endorphins, which can provide an energy boost. 8,9 Make sure to speak with your healthcare provider or a physical therapist about a workout routine that is right for you. As a general guide, try to target 30 minutes of movement each day if you're able and consider lower impact workouts. 8
Lean On a Support System
For people living with PsA, the disease can have an impact beyond just physical symptoms. 10 Connecting with other patients who understand what you're experiencing, whether in a support group or an online community, can help if you're feeling overwhelmed, misunderstood or isolated. 10
Start a Dialogue With Your Healthcare Provider About Treatment Options
In addition to physical tests to assess the severity of your PsA, rheumatologists are also building treatment plans based on outcomes that are more personally significant to patients.6 "It's important to speak openly with your rheumatologist because there are treatments that may help improve PsA symptoms," said Dr. Chakravarty.
Be sure to describe your symptoms — such as joint pain, stiffness and swelling — with specific details about how they impact your daily activities. Also, let your rheumatologist know if you are experiencing fatigue from your active PsA. This information will help them develop an individualized treatment plan that is right for you, which may include a biologic therapy, such as TREMFYA® (guselkumab) — a prescription medicine used to treat adults with active PsA. Talk to your doctor to see if TREMFYA® is appropriate for you. TREMFYA® is the first FDA-approved medication of its kind to selectively block interleukin 23 (IL-23), one of the key proteins thought to be responsible for symptoms of PsA. TREMFYA® can help reduce the joint pain, stiffness, and swelling that make everyday tasks harder to do. In two medical studies, more than half of patients treated with TREMFYA® had at least a 20% improvement in joint pain, stiffness, and swelling at 24 weeks. Furthermore, at 24 weeks, people taking TREMFYA® showed an overall improvement in their ability to perform daily activities such as getting dressed, eating and walking. Some patients also reported improvement in fatigue as measured by the Functional Assessment of Chronic Illness Therapy – Fatigue (FACIT-F), a questionnaire to measure self-reported tiredness, weakness, and difficulty conducting usual activities due to fatigue.
TREMFYA® is not for everyone; only your doctor can decide if it's right for you. Do not use if you are allergic to TREMFYA®. TREMFYA® is a prescription medicine that may cause serious side effects, including serious allergic reactions and infections. It affects your immune system and may increase your risk of infections and lower your ability to fight them. Patients should be instructed to seek medical advice if signs and symptoms of clinically important chronic or acute infection occur. Patients should also be evaluated for tuberculosis before being treated with TREMFYA®. Please read the Important Safety Information and the Medication Guide for TREMFYA® available at www.tremfya.com to learn more about these and other risks for TREMFYA®. Discuss any questions you have with your doctor.
Coping with PsA can be overwhelming at times, but as difficult as it may be, don't get discouraged. There's no one-size-fits-all approach to PsA management and it's important to remember you have options. There are various steps you can take with your rheumatologist to help alleviate symptoms and better manage the disease.
You are encouraged to report negative side effects of prescription drugs to the FDA. Visit www.fda.gov/medwatch, or call 1-800-FDA-1088.