Coral clutter with a mudroom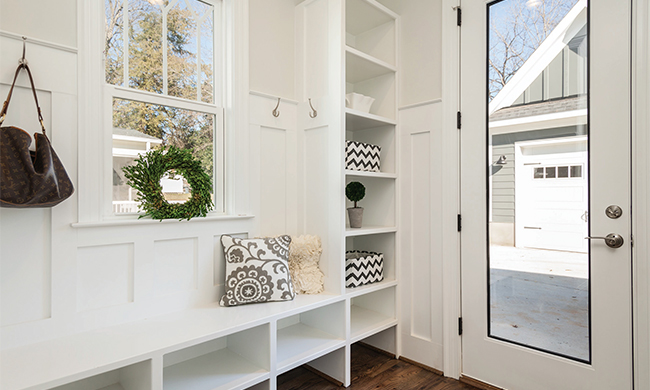 (Family Features) Often positioned near the primary point of entry, mudrooms are a popular addition to many family homes. These organizational dynamos are the perfect place to catch muddy boots, backpacks, sports equipment and dirty paws before they make it all the way into the main living areas.
Luxurious mudrooms in high-end homes can sometimes boast custom cabinetry, full bathrooms, laundry facilities, showers for pets and direct pantry access.
Regardless of whether your mudroom is an actual room or just a small space near the front door to hang bags and jackets, the organizational basics are the same:
Corral Clutter: One of the most important items in any mudroom is storage for shoes, pet supplies, backpacks, sporting equipment and other items. If built-in storage isn't in your budget, put up a sturdy shelving unit with a bin or basket for each family member.
Get Hooked: Securely anchor a row of strong hooks along the wall for coats, hats, scarves or other seasonal accessories that may otherwise find themselves dropped on the floor upon arriving home.
Mud Happens: Mudrooms are meant to handle dirt so nix the carpet and lay down tile or hardwood flooring. Pick a stylish rug to catch dirt in its tracks while also adding a design element to the space.
Shoe Space: Place a wooden bench or sturdy coffee table near the door so everyone has a place to sit while removing shoes. Slide a few baskets or bins underneath as an alternate location for storing backpacks and other gear when not in use.
Take Command: Create a family command center by adding a small cabinet or desk with a corkboard above. It makes for a perfect spot to stash keys, charge cell phones, open mail, sort school papers and post the family calendar.
Find more organization tips and tricks at eLivingtoday.com.
Photo courtesy of Unsplash


SOURCE:
Family Features
5 lifestyle changes to help combat incontinence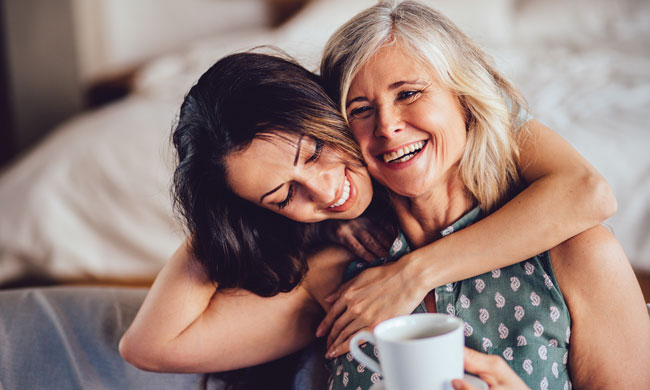 (Family Features) Sometimes living a healthy lifestyle can feel like an impossible task when combined with all your other responsibilities like working a full-time job, taking care of family and friends or spending time in the gym. Add dealing with an underlying health condition and it may seem almost overwhelming.
For example, a condition such as urinary incontinence is a common problem that is often difficult to manage and can range from a light leak while coughing or sneezing to even greater loss of bladder control.
In fact, almost two-thirds of U.S. women over the age of 20 will experience leaking, according to the experts at FitRight Fresh Start. While stress, aging and obesity can cause incontinence, certain health events unique to women such as pregnancy, childbirth and menopause can also cause problems with the muscles and nerves that help control your bladder.
Consider these healthy lifestyle changes to help combat issues like urinary incontinence:
Focus on Fluid Intake
While it may seem counterintuitive when dealing with certain conditions, it's important to hydrate appropriately. In fact, drinking too infrequently can cause other issues like dehydration. To avoid frequent or urgent needs to urinate, the Mayo Clinic recommends drinking smaller amounts throughout the day, such as 16 ounces with each meal and 8 ounces between meals. If you find yourself waking multiple times at night to urinate, try drinking more of your fluids in the morning and afternoon rather than evening, and avoid alcohol and beverages with caffeine like coffee, tea and soda.
Make Dietary Modifications
The things you eat can have an impact on your condition – both positively and negatively. For example, alcohol; spicy foods; chocolate; artificial sweeteners; caffeinated, carbonated and citrus beverages; and high-acid foods, like citrus and tomatoes, may contribute to bladder irritation, according to the National Institutes of Health. On the other hand, consider incorporating more of these foods considered good for bladder health:
Blueberries
Green beans
Cauliflower
Winter squash
Sea bass
Eggs or egg whites
Whole grains
Nuts
Manage Bladder Leaks
Changing day-to-day habits may improve bladder control, but for those living with leaks, it's important to manage the condition rather than letting it disrupt your life or define you. One way to do that is choosing products that allow you to live your life to the fullest.
For example, created for women by women, FitRight Fresh Start offers a range of options including discreet underwear, surface protectors, liners and pads that fit close to your body and smoothly under your clothes – all available in a variety of sizes and styles – deliver one-of-a-kind wetness and odor control and uncompromising personal care. The proven power of Arm and Hammer Baking Soda helps fight odor faster and longer, and ultra-advanced materials instantly absorb and trap moisture to keep you feeling dry and confident all day long. Additionally, they're built for maximum comfort for discreet use whether you're staying on the couch or heading out on the town, and the 100% breathable materials enriched with vitamin E help soften and protect sensitive skin.
Maintain a Healthy Weight and Stay Active
Two factors that have been shown to be part of nearly every healthy lifestyle include overall body strength and weight loss, which can be improved by increasing physical activity. Seek out exercises you enjoy so you can get physical while having fun. Aim for 30 minutes daily of low-impact activities such as brisk walking, biking or swimming.
Stop Smoking
As a habit that can be detrimental to overall health, smokers are also more likely to suffer more severe symptoms from a variety of conditions, according to the Mayo Clinic. For instance, heavy smokers may also develop a chronic cough, which could cause pressure on the bladder, further aggravating urinary incontinence.
Find more savvy tips to slow urinary incontinence at FitRightFreshStart.com.
Understanding Urinary Incontinence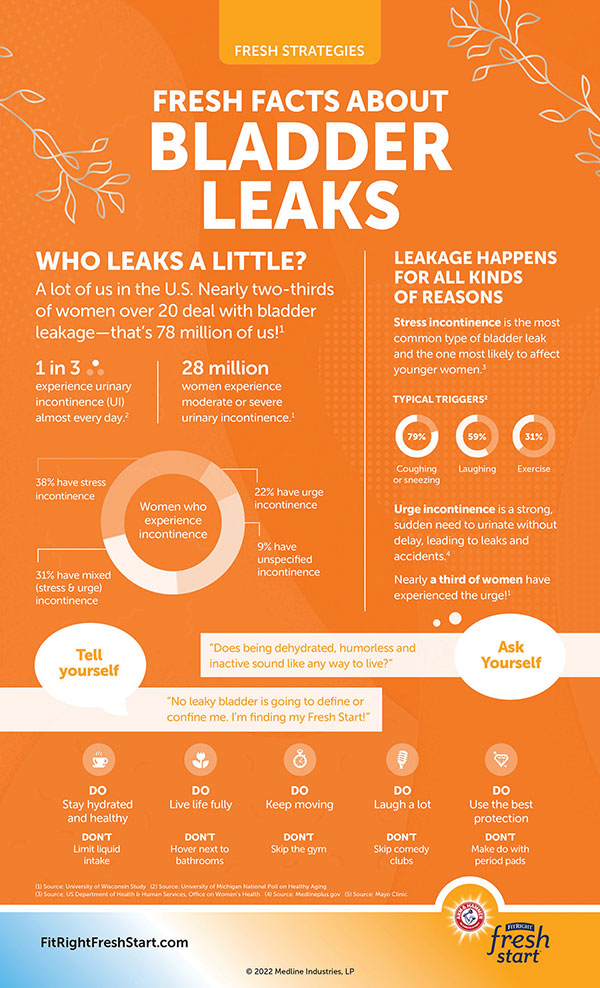 If you're experiencing bladder leaks, dealing with them and the frustrations they bring shouldn't keep you from freely living your full, multifaceted life. Designed for women by women, FitRight Fresh Start offers this information to help you learn about leaks and understand what's happening to give you the power to keep bladder leaks from disrupting or defining your life.
Common Kinds of Urinary Incontinence
Strong urges: That overwhelming need to use the restroom right away is known as urge incontinence, which frequently involves some level of unwelcome, involuntary leakage.
Stress and pressure: This is the type of incontinence many people experience and hate when they leak a little (or sometimes a lot) simply because a tiny sneeze or good laugh put extra pressure on the bladder. Jumping and heavy lifting are also causes.
Ongoing overflow: If it feels like your bladder is never completely empty and you feel a slow, continuous drip, you're experience overflow incontinence.
Common Causes of Urinary Incontinence
Motherhood: Carrying a bundle of joy inside your body for nine months then giving birth is bound to put pressure on your pelvic floor muscles, which don't always bounce back, especially after multiple births.
Menopause: Leaks can begin in perimenopause, before you actually stop having periods, usually in your 40s or 50s. As hormones shift, lower estrogen levels can lead to less elastic, weaker pelvic floor muscles.
Medical issues: Health conditions like diabetes, nerve or joint conditions, urinary tract infections and obesity can cause bladder leaks, too, as well as physical limitations that inhibit your ability to make it to the bathroom in time.
Photos courtesy of Getty Images


SOURCE:
FitRight Fresh Start
Calming color: Design inspiration for a comforting, relaxing home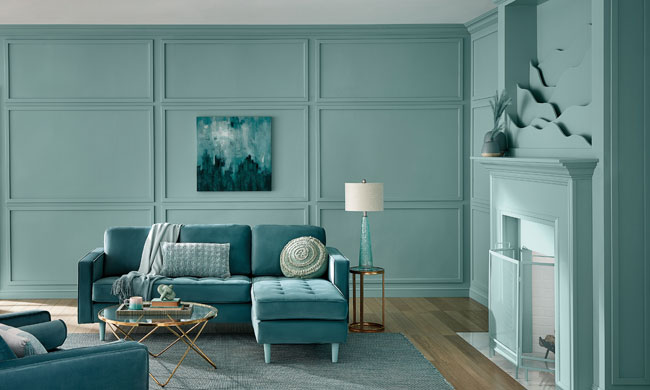 (Family Features) Updating your home can provide the perfect opportunity to explore new design styles or refresh living spaces with a new color scheme. In fact, a coat of paint can help set the mood for entire rooms in your home.
By turning to nature-inspired designs, you can create a sense of comfort and relaxation. A hybrid color, like Valspar's 2024 Color of the Year, Renew Blue, is gentle and airy with a touch of blue to set a restful and meditative mood. The grayed sea green – inspired by fleeting things such as fog, mist, clouds and glacier lakes – is a seasonless and versatile hue that features a mid-tone blue with warm undertones and can be used in outdoor living spaces and four-season rooms alike.
"This mid-tone shade has become popular for wellness environments over the years due to its low saturation level, which evokes a sense of rest and calm," said Sue Kim, Valspar's director of color marketing. "The harmonious green and blue open the possibility for outdoor applications, blurring the boundary between interior and exterior."
To help elevate the mood in your home, consider implementing Renew Blue into one of these popular design trends that can update the look of nearly any of your indoor or outdoor spaces.
Coastal
Coastal looks are timeless designs that have remained relevant for years because of their positive correlation to calming beach locations. Perfect for outdoor spaces like the backyard, you can implement a more curated and personal take on the trend by shifting from "typical" coastal design that pairs beachy hues with natural textures like rope, driftwood and wicker to something more classic and natural like the Cape Cod variation by working in some nautical touches like anchors, oars or seashells.
Modern Farmhouse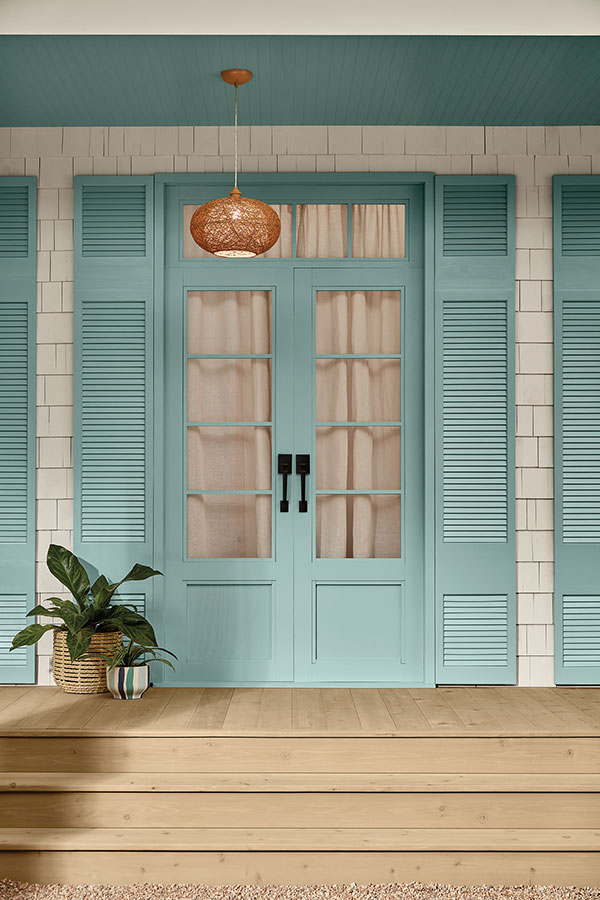 In the entryway, using beautiful and functional decor, such as unique ceramics and handwoven textiles, helps usher in a modern rustic style. By using timeless tones and accents, as well as layering heritage art, you can create visual mystery while elevating the ordinary to make your home feel warm and welcoming to guests from the moment they walk through the door.
Nordic Comfort
Modern Traditional is a style that came together over time, and the Hygge look is a refined take. It pulls elementary cues from traditional farmhouse style but has shaker-inspired elements mixed in and is done with a slightly modern twist. It can make a larger space like the kitchen feel welcoming, open, carefully curated and warm.
Modern Boho
Boho is a nature-loving and free-spirited style connected to earthy and botanical elements. From handmade decor to vintage metallic finishes, this style reimagines the past and elevates everyday spaces like bathrooms into personal retreats designed with wellness in mind.
Pastel Wabi-Sabi
Leaning into the modern sentiment of "less is more," this style reflects a naturally minimalist design aesthetic and showcases color coordination with mood-boosting hues and joyful color. Perfect for nurseries and other spaces that should be bright and welcoming, pieces with pared-back, welcoming shapes and silhouettes that allow quality natural materials to shine are perfect for decorating the room.
Visit Valspar.com to find more on-trend home design inspiration and order up to 10 free paint chips to be delivered to your home to see how your favorite colors will fit your space.
Exploring Color Pairings
If a concept like color drenching – using one color from the baseboards to the ceiling and decor – isn't what you're envisioning, pairing a gentle and airy color like Renew Blue with other hues may be just the trick to create the space of your dreams. Consider these popular Valspar pairing options:
Perfect Backdrop: The familiar, natural tone of beige has returned strong, balancing warm and cool shades to create comforting spaces that harmonize well with various design styles.
Dusk in the Valley: A barely-there, grayed pastel that is soothing to the senses, even amid constant changes. Layering pale tints in various materials can create a sense of calm and relaxation.
Personalized Advice for Your Space
If you're unsure where to begin your color search – or need advice on color matching, building your painting confidence or troubleshooting complicated projects – the experts at Valspar offer free virtual advice. Simply provide details about your space, lighting and style preferences using the questionnaire at valspar.com/en/color-consultation and by uploading photos of your space and any inspiration to receive personalized recommendations directly to your account.


SOURCE:
Valspar
5 ways to trim home energy bills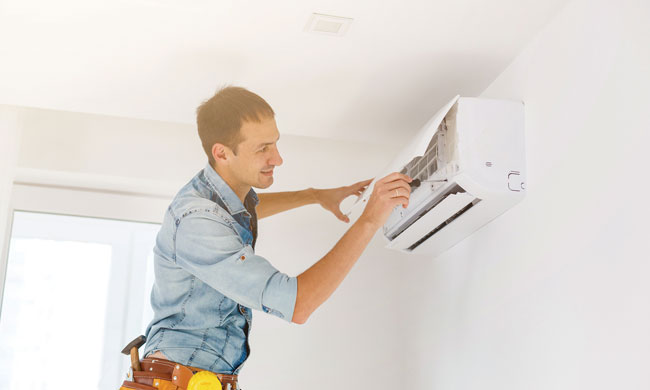 (Family Features) After the mortgage, utility costs, including electricity, likely make up one of the most significant portions of monthly budgets for the typical American household. In fact, according to data from the U.S. Energy Information Administration, the average residential electric bill in the United States is $143.
However, reducing your family's energy costs is possible by following some smart, practical, cost-cutting tips from the heating and cooling experts at Mitsubishi Electric. Consider these ways to help dial down your energy bills.
Service HVAC Systems Regularly
To ensure the best performance and efficiency possible, find a licensed contractor to keep your heating and cooling system well-maintained and serviced throughout the year. There are some tasks many homeowners can handle on their own, like keeping outdoor units free of debris and changing air filters. Some filters are removable and washable, saving you money. However, bringing in a professional 1-2 times a year for maintenance and to ensure proper function of ductwork and electrical components is also essential.
Use Appliances During Non-Peak Hours
Rather than using stoves, ovens and clothing dryers in the afternoon hours, consider doing so early in the morning or late in the evening. Peak time for many electricity providers is noon-6 p.m., meaning using these appliances outside of this timeframe when conventional heating and cooling systems are likely running full throttle can help lower energy costs.
Upgrade Your System
The Inflation Reduction Act (IRA) incentivizes homeowners that opt for energy-efficient air-conditioning and heating options to replace fossil-fuel-fired furnaces. This includes upgrading your existing HVAC system to a qualified heat pump. For example, Mitsubishi Electric heat pumps provide more energy-efficient cooling and heating that equals cost and energy savings as well as a reduced carbon footprint for homeowners.
Installing a smart electrical panel alongside an all-electric heat pump enables homeowners to monitor and control energy consumption on-site or remotely using a smartphone for better overall efficiency and utility cost savings.
Harness the Sun's Energy with Solar Panels
According to the Office of Energy Efficiency & Renewable Energy, the amount of sunlight that strikes the Earth's surface in 90 minutes could power the world's total energy usage for a full year. Investing in solar panels can help decrease energy bills and increase your home's sustainability. Additionally, some utility providers and government entities, including the IRA, offer incentives to help reduce installation costs.
Avoid Heating or Cooling Unused Spaces
One mistake many homeowners make is forgetting to adjust their temperature settings when leaving the house. Whether you're headed out for the weekend or just headed to work for the day, running your system in an empty house can result in unnecessarily high utility bills.
Multi-zone, all-electric heat pumps like those from Mitsubishi Electric allow homeowners to set the comfort level and adjust the temperature in each room, reducing the energy waste of cooling unoccupied rooms. With a smartphone app, you can even adjust the settings remotely.
Find more ways to increase energy savings while making your home more sustainable by visiting MitsubishiComfort.com.
Photo courtesy of Getty Images


SOURCE:
Mitsubishi Electric