Bowie Council to hear Nelson Street repair presentation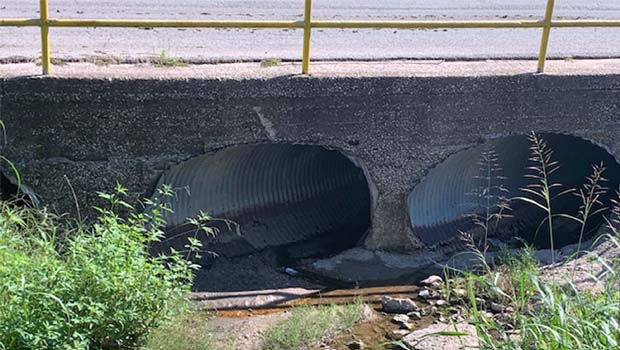 Members of the Bowie City Council will see a design presentation on the Nelson Street Bridge project at its 6 p.m. June 12 meeting.
Mike Tibbets with Hayter Engineering will meet with the council to review the design that would make repairs to the closed section of Nelson Street.
The block of Nelson Street at Kiwanis Park and Mill was closed on Aug. 21, 2022 after a section on the north side of the road failed and collapsed. This area along Nelson, Lamb and Rock have experienced ongoing drainage problems for many years.
City crews have undertaken significant work in the Kiwanis Park and Lamb Street area to slow the flow of water, but major work is needed to replace the large culverts that go under the street at Nelson and nearby drop boxes, as downstream at Rock and Pillar.
Hayter has estimated the Nelson Street repairs and the connecting work on Mill would run around $2 million. However, Public Works Director Stony Lowrance had told the council if they make repairs at Nelson that will only push more water down the channel and possibly blow out the culverts that need replacing at Rock and Pillar. Adding those repairs could add another million or more to the project.
The council will consider not only the Nelson Street repair, but alternate bids for Pillar and Rock. City Manager Bert Cunningham has said the city has funds to pay for the Nelson and Mill work if it is around $2 million, but any additional work may require borrowing money or using reserves, which he emphasized they do not want to reduce by too much in order to protect overall general operational costs.
Other topics
In the city manager's report, Bert Cunningham will report on the electric grant application he has been preparing. He said the city's substation needs some improvements, especially a new transformer, and he is pursuing all avenues to help find funding for the substation work.
In new business, the Montague County Tax Appraisal District has submitted its 2024 budget for council action.
An ordinance amendment for the mobile food vendors ordinance will be reviewed, along with a recommendation for a new member to the park's board.
Public comments wrap up the agenda along with the consent topics.
Faith Community Health System opens Bowie ER for patients today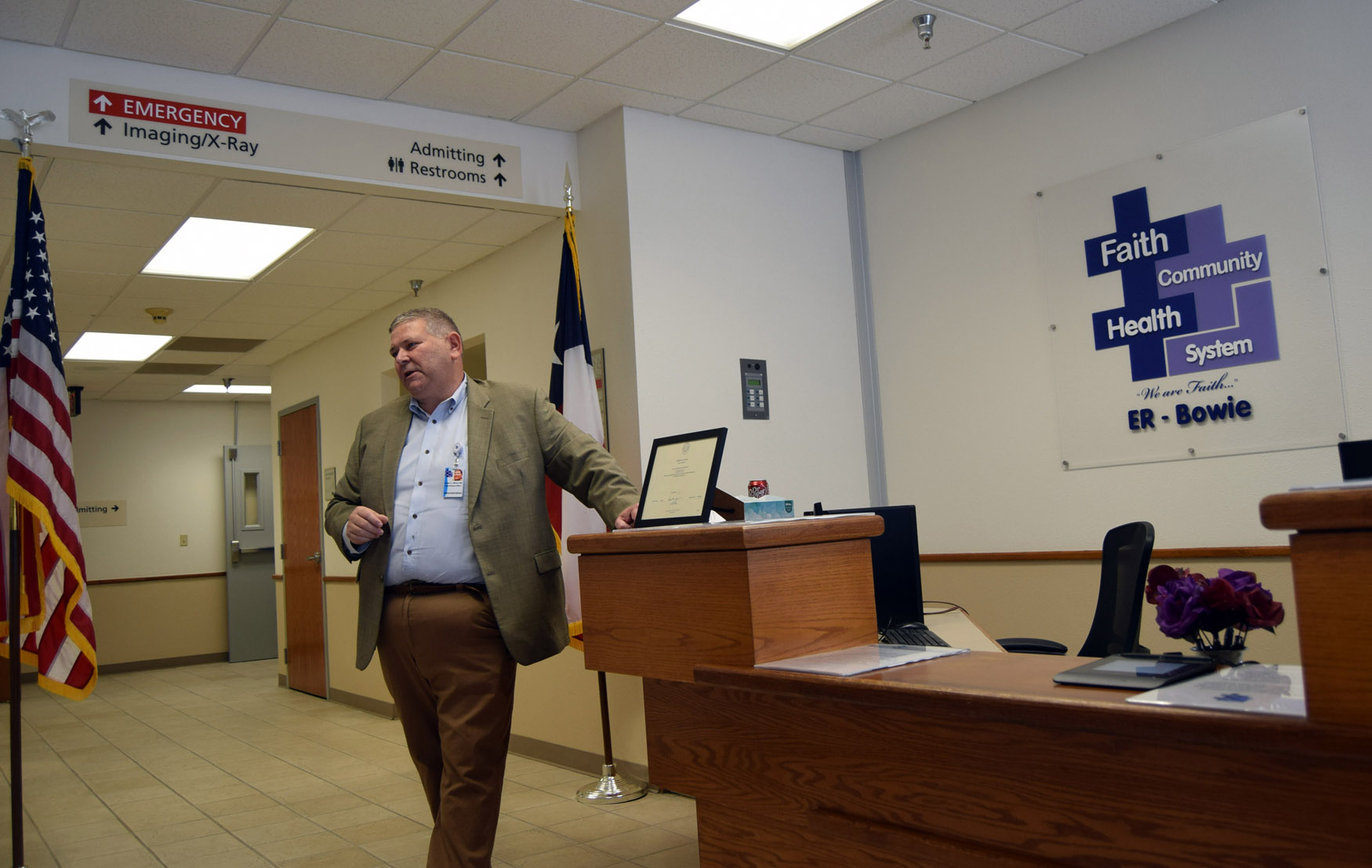 Shortly after 1 p.m. Sunday the new Faith Community Health System Bowie emergency room went "live" and began accepting patients.
That announcement was greeted with loud applause as a reverential dedication ceremony for employees, families and community leaders came to an end. Frank Beaman, chief executive officer for Faith Community, turned to the ER director and said it was a go everything was ready.
The return of emergency medical care in Bowie has been a major concern for businesses and citizens who have been without immediate ER care in the city since Feb. 4, 2020 when Central Hospital closed its doors. The property was in an out of the bank's hands many times and up for sale on the courthouse steps before it landed with investors who worked with Faith Community to establish a new ER in the former hospital. Bowie has been without a fully operational hospital since Nov. 16, 2015 when Bowie Memorial Hospital closed after nearly 50 years of service to the community. BMH was purchased and reopened as Central Hospital in May 2017, but it never really got its footing and closed in early 2020. Bowie emergency care has relied on Nocona General Hospital and Wise Health Care in Decatur.
It was a major undertaking as the building had been left to waste after it closed. Rain, freezing weather, thieves and neglect took a drastic toll by the time Faith launched the renovation and announced its intention to open an ER in August 2021. The last two years have been fraught with delays and unexpected costs many caused by the pandemic and post-pandemic business environment.
Top photo – Faith Community Rural Health System Medical Director Shawn White welcomed guests to Sunday's ceremony.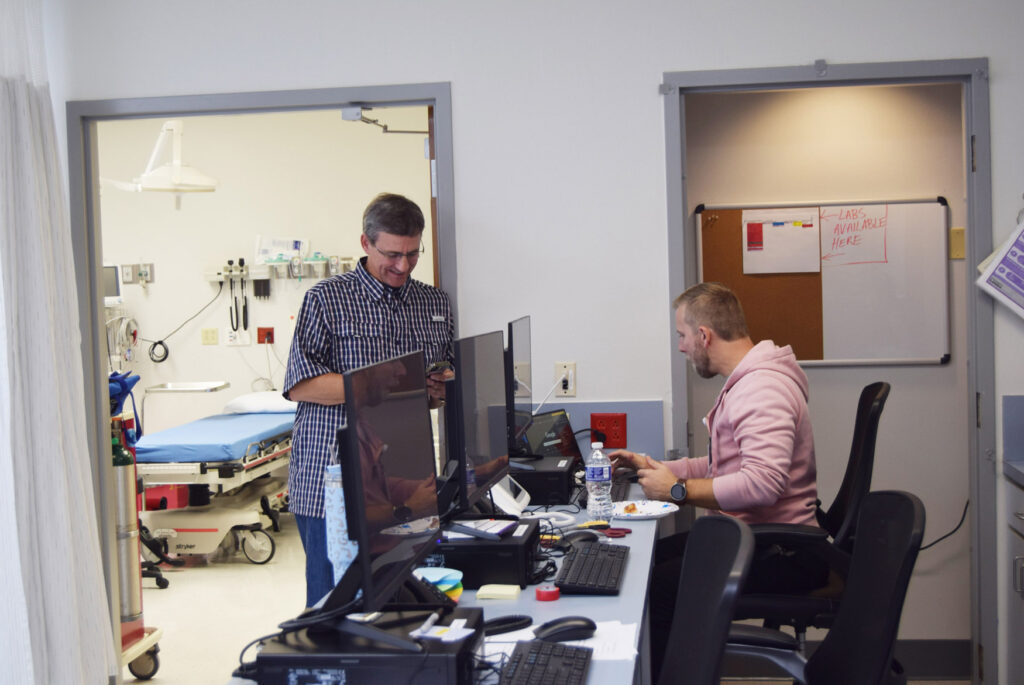 BISD readies bond election public meetings
Bowie Independent School District bond election public meetings have been scheduled for October, prior to the Nov. 7 election.
BISD is offering voters a $90 million bond election for various building projects including a new intermediate school and renovations to the present intermediate school to accommodate junior high students, who would be moved to that building. The present junior high would then be used for administration and other district programs.
Topics of discussion at these meetings will be bond facts, bond scope, impact on safety, tax impact and voting. Visit bowieisdnet and click the bond election tab.
The meetings will be Oct. 2 at the junior high, Oct. 12 at the intermediate and Oct. 23, junior high.
They open at 5:30 p.m. for campus tours, 6 p.m. for information and question and answer with Superintendent Blake Enlow at 6:30 p.m. plus building tours.
Nocona ISD offers $19 million bond proposal on Nov. 7 ballot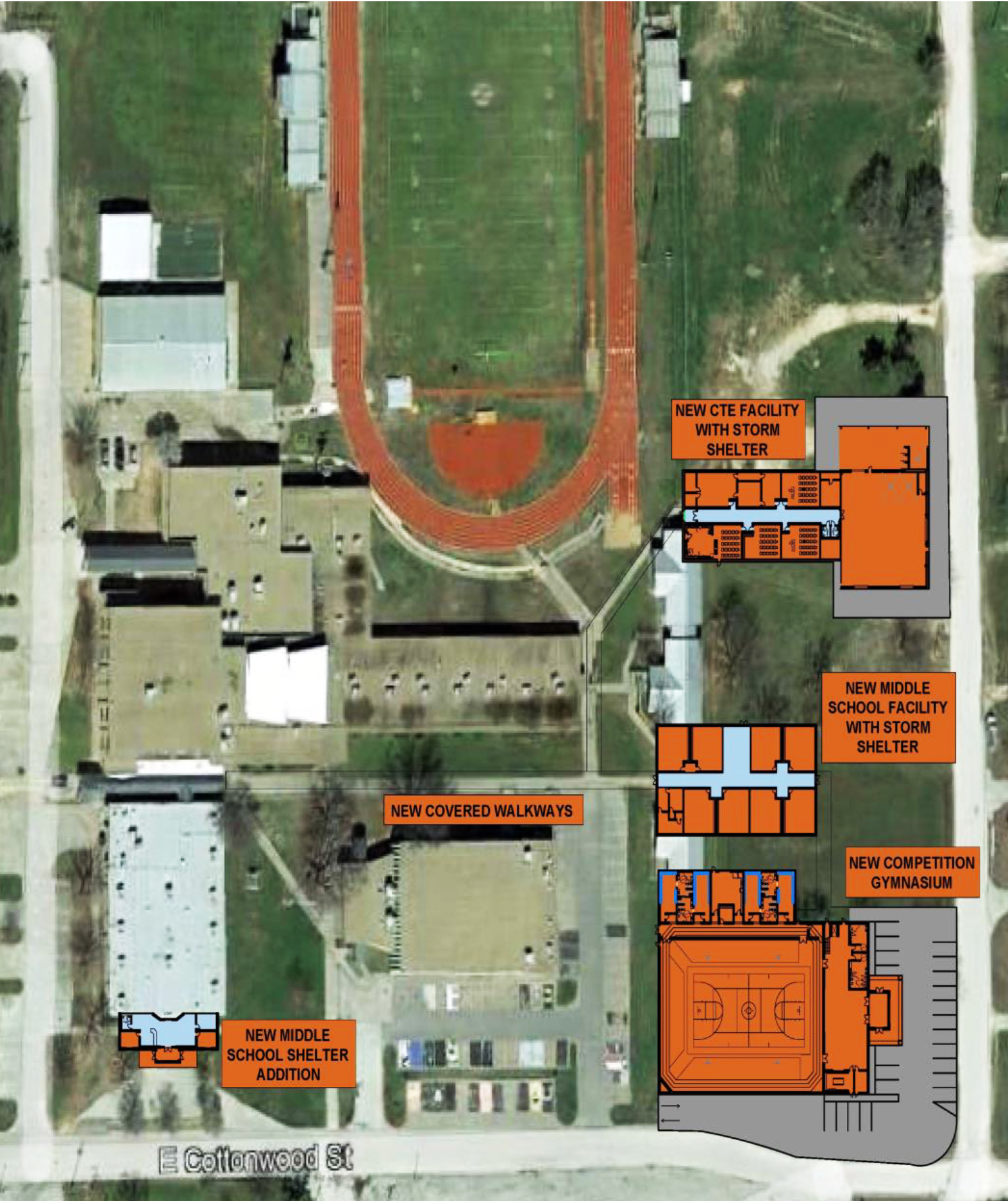 By BARBARA GREEN
[email protected]
It has been more than 20 years since the Nocona Independent School District took on any debt to build new campuses and back in spring 2016 voters said no to a $15.1 million bond issue for a new high school.
Before that 2016 bond election it had been 38 years since citizens were asked to cast a bond ballot. The second in a series of public meetings took place Sept. 25 saw less half a dozen people in attendance to learn about the $19 million bond proposal.
The next meetings are: Oct. 2, 5:30 p.m., elementary cafeteria; Oct. 2, 6:30 p.m. NES cafeteria (Spanish) and Oct. 20, 7 p.m., middle school cafeteria.
A facilities' committee spent months developing a plan and a slate of objectives that includes providing tornado shelters for all students and staff, no students crossing roads to go to classes and eliminating students leaving secure areas during the instructional day, ending the use of portable buildings for instruction and providing adequate space for current programs on all three campuses.
Read the full story in the Saturday Bowie News.