Rabbits not fazed after loss
By ERIC VICCARO
[email protected]
For Bowie High School head football coach Dylan Stark, the focus goes from a top-flight running back to a speedy quarterback.
Bowie's defense will take on Lake Worth signal caller Tray White, who started as a wide receiver last season but moves under center this season.
"Their quarterback is athletic," Stark said. "They like to have the ball in his hands, and he's elusive."
West has a 40-yard dash time of about 4.5 seconds, which isn't nearly as fast as Wichita Falls Hirschi's Cedric Battle, who controlled last Friday's game at Memorial Stadium as the Huskies won 40-28.
"We want to be able to get that first win," Stark said.
Lake Worth will try to confuse Bowie's offense with a pair of different defensive alignments, with both a 4-3 and a split 4-4.
The Bullfrogs, like Hirschi a member of Conference 4A, has Kameron Milton at middle linebacker.
"He runs downhill well, and he's aggressive," Stark said. "He knows how to get after it."
Last week, like Bowie, Lake Worth was on the losing end of things falling to Fort Worth Country Day, 27-22. Both teams are 0-1 heading into Friday's contest at Jackrabbit Stadium.
Lake Worth was 6-5 last season, a bi-district finalist, however only two returners come back on both offense and defense. The Bullfrogs have lost a whopping 19 seniors to graduation from last year's postseason team. Read more in the mid-week edition of The Bowie News, including game statistics.
Are you ready for some football?
Who: Lake Worth at Bowie
When: 7:30 p.m., Friday
Where: Jackrabbit Stadium
Why it's important: Both teams are seeking their first wins.
Tickets: $5 for adults and students.
Carter Shackelford finds room to run during Friday's game against Hirschi at Memorial Stadium in Wichita Falls. Shackelford had a successful day running and receiving, despite Bowie falling to Hirschi 40-28. (News photo by Eric Viccaro)
Bowie
The Bowie Lady Rabbits won on the road on Tuesday night, winning in Vernon to improve their district record to 3-2.
The Lady Rabbits won in straight sets, with two of the three being pretty competitive.
Bowie was coming off a tough loss at Holliday and needed to bounce back against the Lady Lions.
The first set was as competitive as it could be. The Lady Rabbits barely escaped with the win 25-23 to go up early in the match.
Following the big momentum swing of pulling out the close set, Bowie then went on to dominate in set two. Vernon never got anything going as the Lady Rabbits rolled over the Lady Lions 25-8 to go up 2-0.
Vernon woke up for the final set, not ready to roll over and give Bowie set three so easily. It was competitive and though not quite as dramatic as set one, the Lady Rabbits did have to execute at the end to close it out. Bowie won 25-20 to win the set and the match 3-0.
Nocona
The Nocona Lady Indians won their ninth match in a row with a win on the road at Collinsville.
The Lady Indians won a tight match 3-1, with all but one of the sets being competitive.
Nocona had barely been challenged in the past several weeks, but the Lady Pirates offered a challenge.
The Lady Indians barely won sets one and four, winning by the smallest margin in both with the score being 26-24.
Collinsville did win set two 25-22 to initially tie the match up, also winning the first set off of Nocona in the last eight matches.
The Lady Indians bounced back strong to win set three in the most one-sided set of the match 25-15 before clutching things out in the final set to win.
Saint Jo vs Forestburg
The Saint Jo Lady Panthers won their second district match on Tuesday with a win against Forestburg.
The Lady Panthers won in straight sets against the Lady Horns. The set scores were 25-9, 25-14 and 25-14.
Saint Jo came in expecting to win as the team is planning another playoff run later this season. The win moves the Lady Panthers to 2-0 in district and into first place.
Missing scores
Bellevue had a bye-game earlier this week.
To read the full story, pick up a copy of the weekend edition of the Bowie News.
Prairie Valley volleyball beats Gold-Burg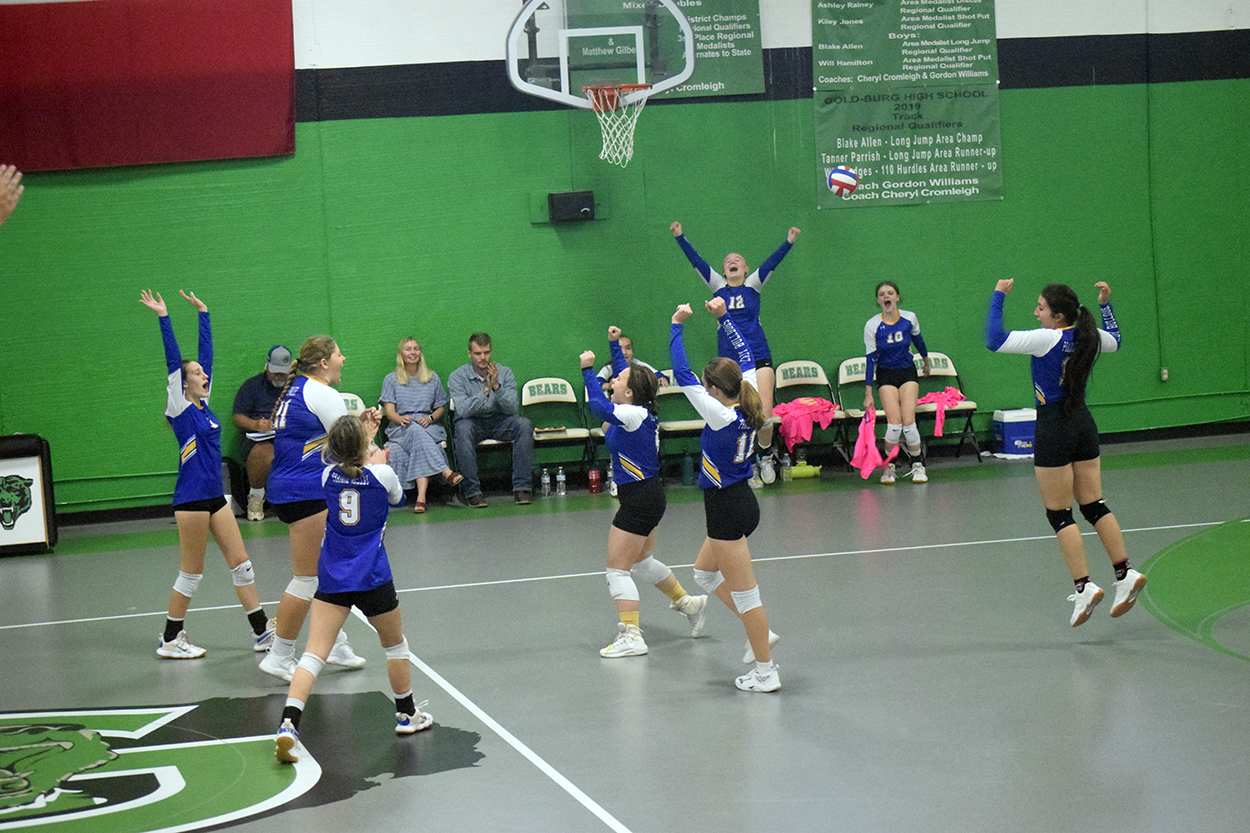 The Prairie Valley Lady Bulldogs won their first district match at Gold-Burg on Tuesday night.
The Lady Bulldogs won 3-1, coming back to win after losing the opening set of the match.
Prairie Valley was coming into the match after losing its opening district match at Saint Jo the previous week in ugly fashion. For the Lady Bears, it was their opening district game.
Last year the two teams battled for second place in the district, ultimately needing to have a play-in game after splitting the regular season matches. It was Gold-Burg that came out on top last year.
This year, both teams look radically different with much younger rosters and less depth overall.
The Lady Bears grabbed control with their good serving and scrappy defensive style in the first set. They led 16-9 at one point.
Prairie Valley came back to tie the set up at 17-17, but once Gold-Burg broke the serve it was in control for the rest of the set.
The Lady Bears went 8-2 to close the set, winning 25-19 to take the lead.
The second set saw the Lady Bulldogs get under control to play a bit more solid, not getting sucked into playing Gold-Burg's style of play. Prairie Valley led 15-10, but the Lady Bears tied up the score at 16-16.
The Lady Bulldogs then went on a good streak of good serving and solid play to close out the set. Prairie Valley went 9-1 on its way to win 25-17 to tie the match up at 1-1.
The third set went all to the Lady Bulldogs. Gold-Burg struggled with serve-receive and Prairie Valley was not bailing them out with service errors.
The Lady Bulldogs dominated, winning 25-6 to take the lead 2-1 and with a big boost of momentum.
The opening 20 points of set four was competitive with Prairie Valley leading only 11-9 at that point. Then the Lady Bulldogs got hot from the service line again and Gold-Burg had not answer.
Prairie Valley extended its lead to 20-10 and everyone could see the end was near.
The Lady Bears did win six of the final 11 points of the set to make it respectable, but the Lady Bulldogs won 25-16 to win the set and the match 3-1.
To read the full story, pick up a copy of the weekend edition of the Bowie News.
County teams run at Lindsay/PV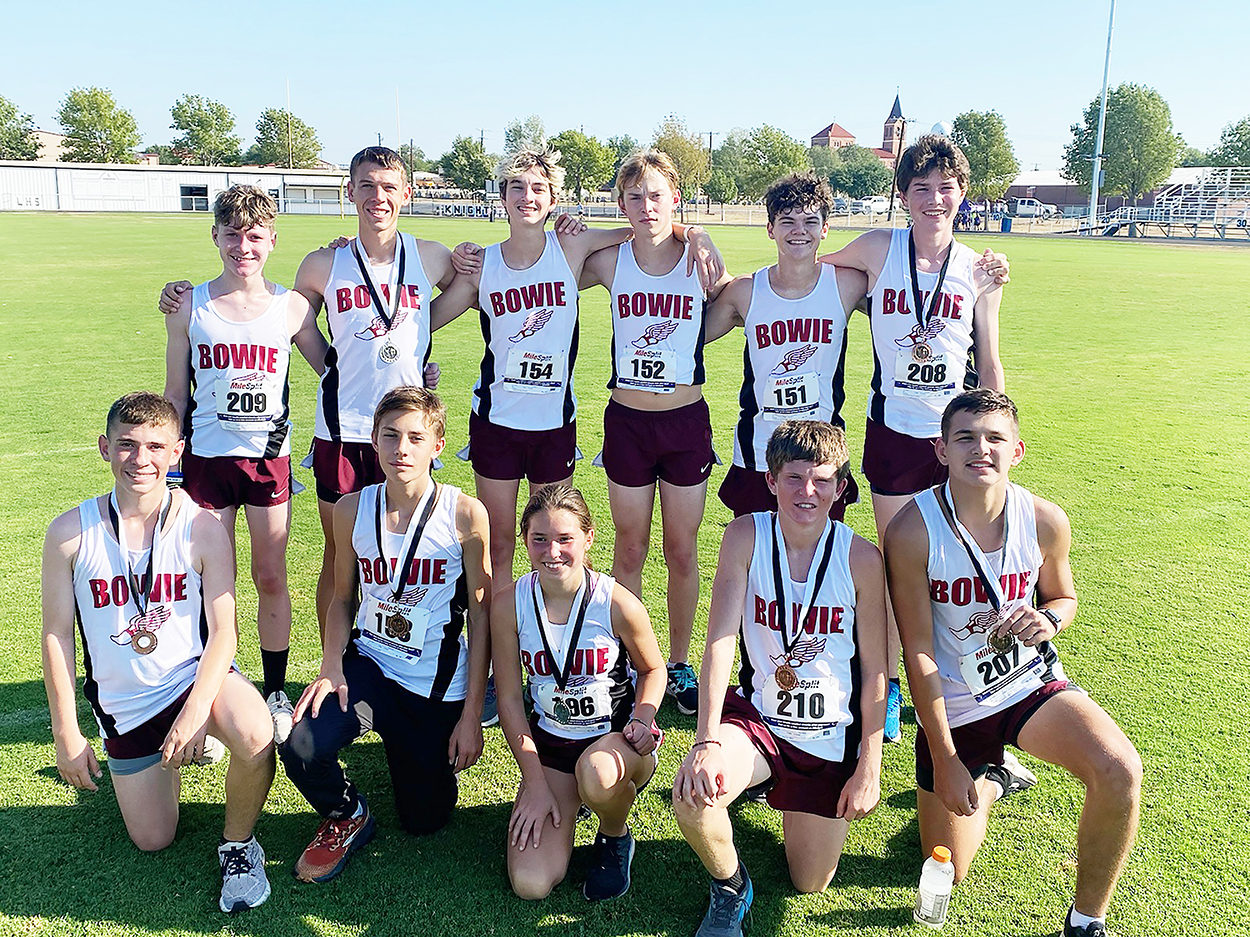 County cross country teams ran at Lindsay and at Prairie Valley on Wednesday morning.
The Nocona boy's team got first running at Lindsay while the Bowie team finished third.
At Prairie Valley, the Bellevue girl's team finished first overall while the hosts finished second. On the boy's side, it was Prairie Valley that won first while Bellevue finished third.
The Nocona Indians were led by Claudio Segura who finished first overall with a time of 18:42. The top five Nocona runners included Ivan Vera (4th), Freddy Duran (5th), Omar Salinas (7th) and Jhett Miller (11th).
The Jackrabbit team was led by Alex Castro who finished second with a time of 18:55. Bowie's top five runners included Liam Pearson (10th), Ryder McChesney (20th), Monte Mayfield (24th and Kaz Williams (38th).
The Nocona girls were one runner short of competing as a team. Jayce Rose had the highest finish, getting fifth place with a time of 15:12.
Bowie had only girl compete, with Samara McChesney finishing second in the JV race with a time of 18:55.
At Prairie Valley's race, the Lady Eagles were led by Brylie Hager who finished second with a time of 14:41. Bellevue's top five runners also included Brittany Gill (3rd), Kaycee Conner (5th), Callie Martin (6th) and Tristan Shook (7th).
The Prairie Valley girls finished second overall and were led by Linzie Priddy who finished first with a time of 14:31. The top five runners also included Natalee Young (9th), Renee Stout (12th), Christy Anderson (13th) and Kennedy Stone (14th).
The Prairie Valley boys team ended up finishing first overall in that race. Josh Stout was the team's top runner finishing 3rd with a time of 20:08. The Bulldogs top five runners also included JR Jones (4th), Tyson Easterling (5th), Matt Deen (13th) and Hunter Camden (18th).
Bellevue finished third and was led by River Trail who finished 2nd with a time of 19:18. The Eagles top five runners included Brycen Bancroft (9th), Jayson Gill (16th), Ryan Jones (19th) and Evan Chavez (21st).
Gold-Burg did not have enough runners in either race to compete as a team, but some still did well. Isaac Renteria finished first overall in the boys race with a time of 17:52. In the girls race, Ollie Gaston finished fourth overall with a time of 16:35.
Pick up a copy of the weekend edition of the Bowie News for results of all varsity runners.