Give back this holiday season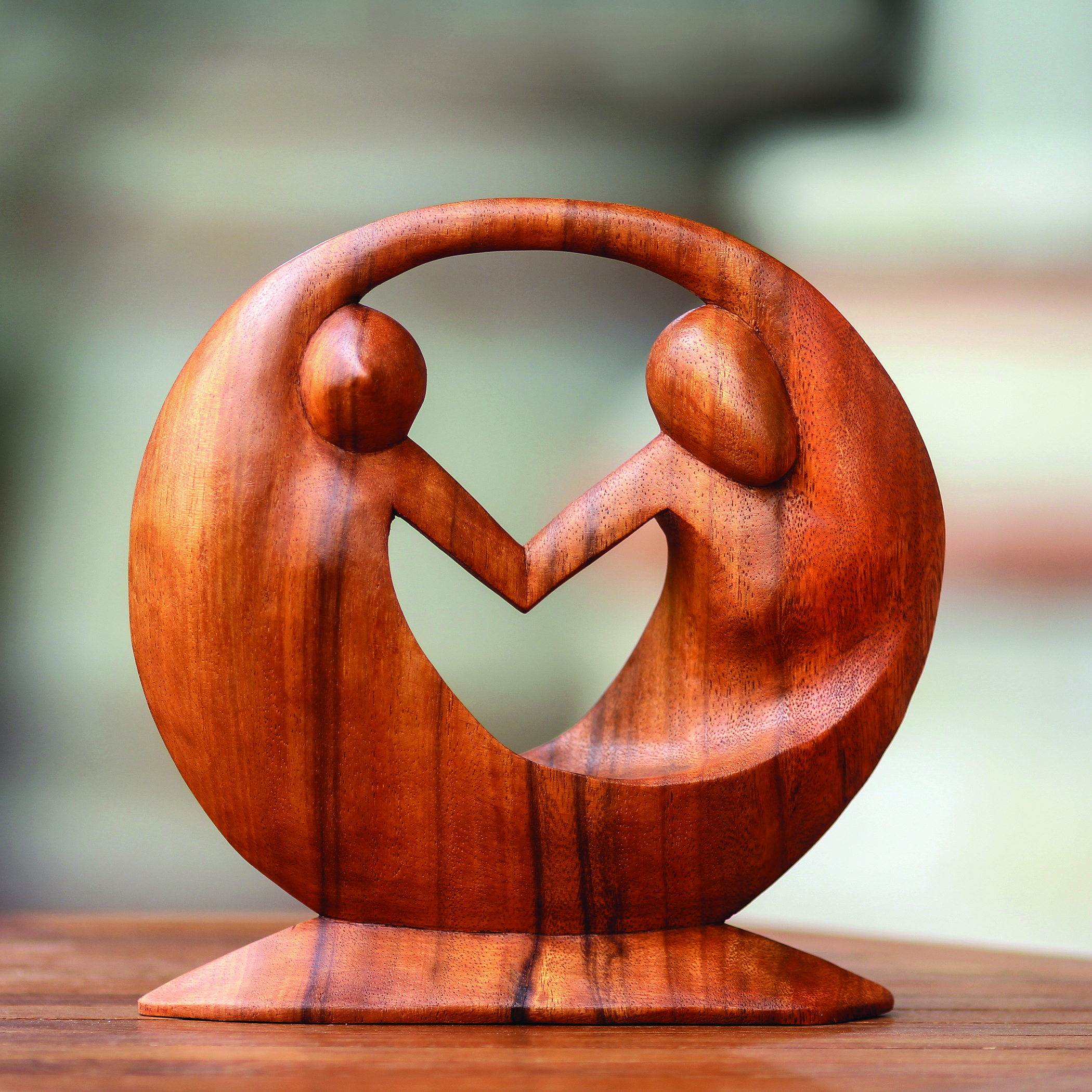 (Family Features) During this hectic holiday shopping season, the best gifts for friends and family are not only wonderful to receive, but also give back to children who need help.
The United Nations Children's Fund (UNICEF) works in more than 190 countries and territories to save and improve children's lives, providing medicine, clean water, nutrition, education, emergency relief and more. This year, the organization is proud to announce the launch of its inaugural UNICEF Market, an online holiday marketplace which benefits the organization's work for children, featuring gifts from around the globe, from hand-crafted jewelry, home accents and accessories, to books that will inspire readers.
Give an inspired gift
For a truly unique gift experience, shoppers can purchase UNICEF Inspired Gifts in their loved one's name. From packages providing lifesaving nutrition to vaccines and mosquito nets, you can find more ways to help children at www.inspiredgifts.org.
The organization also offers a variety of boxed holiday cards ($10 to $20) that can be purchased online and through Pier 1 Imports, IKEA, Barnes and Noble and select Hallmark Gold Crown stores. Pier 1 Imports and IKEA will donate 100% of the purchase price from the sale of each greeting card to the U.S. Fund for UNICEF. To shop online, visit market.unicefusa.org.
The perfect gift for the book lover, Caryl Stern's memoir "I Believe in ZERO: Learning from the World's Children," takes readers on journeys through Africa, South America, and South and East Asia to experience the lives of women and children. The author has chosen to donate 100 percent of the royalties she would have received to the U.S. Fund for UNICEF.
Other ways to support
For more than 20 years, Pier 1 Imports and UNICEF have held a greeting card contest with the winning design being reproduced as the organization's official greeting card. The winning card is sold exclusively at stores nationwide and on pier1.com with 100 percent of the purchase price going to the organization.
IKEA's global "Soft Toys for Education" campaign has raised more than $90 million to help provide a quality education to 11 million children in 46 countries. From November 9 to January 3, for every soft toy or children's book sold in IKEA stores, the IKEA Foundation will donate one euro (approximately $1.30) to support UNICEF and Save the Children's global education programs. The Soft Toys for Education collection includes a wide range of woodland and fairy tale creatures with accompanying story books. The 2014 collection includes newcomers such as KATTUGGLA the soft toy owl and PIPHARE the soft toy rabbit. For more information, visit www.ikeafoundation.org.
K.I.N.D: Kids in Need of Desks offers desks ($65 each) for children in schools in Malawi, where four out of five students do not have a desk or chair. In addition, the fund is providing scholarships for girls in the country. A donation of $177 delivers one year of education, and is available for purchase at http://inspiredgifts.unicefusa.org/shop/schools.
This holiday season, as travelers visit loved ones around the globe, they can use their spare currency to make a difference in the lives of children in need. Through UNICEF's Change for Good program on American Airlines, travelers can make donations of foreign and domestic currency on select international flights or at Admirals Club and Flagship Lounges.
Through Delta's SkyWish program, SkyMiles(r) members can donate their unused frequent flier miles to the U.S. Fund for UNICEF for travel in support of UNICEF's lifesaving work for children. As part of a long-standing partnership of over a decade between the U.S. Fund for UNICEF and Delta, this is a simple way for SkyMiles(r) members to put their unused miles to good use this holiday season. For more information or to donate miles, visit www.delta.com/skywish.
Through Dec. 31, 2014, donations to UNICEF's education programs in Syria will be matched one-for-one by Western Union, aiming to raise a total of $100,000 to support education programs in and around Syria. As part of its broader Education for Better Fund, Western Union has committed a minimum of $50,000 to support UNICEF's efforts to provide education to children in Syria and neighboring countries. In the U.S., donations can be made via westernunion.com using a credit card or debit card. For more information or to donate, please visit www.westernunion.com/donate.
To find out more, and to shop for holiday gifts that help others, visit shop.unicefusa.org.
Come see the Kell House decorated for the holidays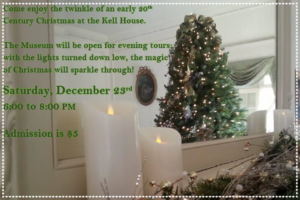 We have three ways for you to come see the Kell House decorated in all its Christmas finery this week before it'll be closed until 2018!
Regular weekday tours will take place 10 a.m. to 3 p.m., Monday through Friday (closed Wednesday) from 10 a.m. to 3 p.m.
We will be part of Downtown's Candlewalk on Thursday, December 21st, from 5 p.m. to 8 p.m. Come see our favorites Elves!
Or come enjoy the Kell House with a special Candelight tour on Saturday. December 23rd from 6 p.m. to 8 p.m. Admission is $5.
Tips for less stressful holiday travel
As the holiday season is upon us, it can be a stressful time for many, including for those traveling to visit family and friends. Follow these tips below to help make your holiday travel less stressful. See your mid-week News for other tips, along with more holiday fun in each edition of The Bowie News in November.
Tips for less stressful holiday travel
Roadways, railways and skies tend to get busy come the holiday season, when millions of people across the globe travel to visit family and friends.
Wherever travelers are headed, be it across the country or across the world, they should realize that many other people are traveling as well. That can lead to traffic, long lines and other side effects associated with large crowds. But before travelers let the idea of challenging travel conditions deter them, they can consider certain ways to make the process of getting from point A to point B a bit more manageable.
Travel by car
Those traveling by automobile will have a few extra steps to take to ensure their trips go off with minimal disturbances. One of the more important steps is to ensure the vehicle is properly maintained prior to departing. Have the car checked by a mechanic and take care of any service appointments, such as oil changes or tire rotations.
Map out the route in advance and have an alternative plan if the route chosen proves to be too congested. One idea is to choose a scenic drive that may be a little longer but has less traffic. In addition, account for rest stops or points of interest that can break up the trip. Apps such as GasBuddy can help drivers find the cheapest gas or the cleanest bathrooms along their routes.
Bring along plenty of snacks so you can eat healthy and arenÕt forced to rely on foods you otherwise would not eat. This is particularly helpful with keeping kids satiated. Plan for a few treats along the way so that everyone traveling has an end goal, such as an ice cream or a souvenir.
Traveling by plane
One of the key things air travelers can do to make holiday traveling easier is to avoid peak travel dates. Whenever possible, avoid traveling the day right before the holiday, which tends be the busiest and most expensive. Remember, weekends tend to be more harried and expensive as well, particularly when the holidays fall in close proximity to a weekend.
Weather is a gamble in many regions of the world during the holiday season. Develop a contingency plan just in case foul weather delays or cancels flights. ItÕs much less stressful to put plan B into motion than it can be to rush around trying to make new, last-minute plans.
Always shop around for the best rates, but also the best atmosphere. It may be wiser to fly out of a smaller airport where crowds will be thinner and delays less frequent, or you may prefer a larger airport thatÕs closer to home and offers more amenities.
Another way to avoid delays is to pack minimally. Ship gifts and even travel essentials ahead to your destination, and only bring carry-on bags aboard the plane. This helps travelers sail through security checks and avoid the crowds at the luggage carousels.
Holiday travel requires planning, patience and having alternative plans in place so that everyone can make it home for the holidays.  TF169407