18 Handmade Stocking Stuffers
The best DIYs come in small packages.
Sweet Scrub
When you're in a pinch for that last gift, skip the body lotion aisle and create a spa-worthy concoction out of pantry staples and cinnamon-scented oil.
Upcycled Mittens
Surprise your kids on Christmas morning with cozy winter accessories made out of their favorite outgrown sweaters.
Crafty Case
Worried that your penchant for the handmade isn't up to snuff in today's tech-obssesed world? Prove that crafty is cool when you stitch a simple (or intricate) design in a holey iPhone case.
Nice Notes
Simple stationary gets an extra-special upgrade with glittery detailing (which looks great no matter how polished your handwriting is).
Special Utensils
An ordinary wooden spoon might strike the receiver as underwhelming, but a bit of neon paint turns these blank-slate utensils into the perfect gift for the enthusiastic home cook.
Peppy Paperweight
Add some sparkle to an overly utilitarian workspace with this two-ingredient glitzy decoration.
Sweet Glow
Votive holders slipped into lace trim let the light dance through the open weave. Buy trim from any fabric store (one yard will yield roughly seven candleholders) and get fashion tape, which sticks better than double-sided tape, from a beauty-supply store. Wrap the lace around your votive to find the proper length and cut. Secure the two ends of each piece around the votive with a small strip of tape.
Throw and Sow
Kids will go wild over seed balls that bloom where you toss them. To make, combine two parts mixed flower seeds with three parts compost, and stir in five parts powdered clay (available at craft stores), and moisten with water. Form balls one inch in diameter, and let dry in an empty egg carton for 24 to 48 hours. Gather in paper and tie with raffia, with easy how-tos on a tag.
Clever Coupons
Give the gift of time (without costing yourself a dime) with cards that offer to relieve your loved ones of some everyday duties — like running errands, or walking the dog.
Cute Cookbook
Share a selection of your favorite recipes, organized in a clever and spill-proof catchall. Buy an inexpensive plastic photo album and pretty scrapbook paper at a crafts store. Slip patterned paper into the cover, then fill sleeves with handwritten cards.
Shore Thing
Rest drinks on something see-worthy — clear coasters decorated with aquatic images. Shell out for inexpensive glass or acrylic coasters from a crafts store, then find ocean-inspired designs (look online or in books — you can cut out original pages or copy them). Using a coaster's bottom as a template, trace, then snip, circles from designs. Affix them to bottoms of coasters with a clear-drying glue stick.
Chic Spot
Reclaim a forgotten frame as a tray for baubles and bottles. Gather pretty printed fabric, cardboard, scissors, masking tape, four inexpensive half-inch beads, and a hot glue gun. Remove the glass from the frame, trace it onto cardboard, and cut it out. Snip out a slightly larger piece of fabric. Cover cardboard with cloth, taping excess tautly to the back. Reassemble the frame (if needed, gently pry or cut off the attached easel back). To create feet, glue beads to the bottom.
Tot Trimmings
Start with a white cotton onesie. Buy a rubber Christmas stamp and a fabric ink pad. Put a layer of clean cardboard inside the onesie (to keep the ink from soaking through), then lay the garment on a flat, hard surface and tape down the edges so the fabric is taut. Stamp using steady pressure. Let dry for 10 to 15 minutes, then press with a hot iron to set the ink so it won't run.
Monthly Masterpieces
Perfect for proud grandparents, display your tyke's art year-round with this clever calendar. Collect the best work of the past 365 days, and have the local copy shop Xerox it and bind together. At less than $20, this arty agenda can share little ones' work with the whole family.
Truffles to Go
Start with our simple truffle recipe. Then, nestle the goodies in an empty clear plastic egg carton, cutting out the inner plastic flap and cushioning treats with mini-cupcake liners. Add a note under the lid using double-sided tape, and wrap with festive ribbon.
Sporty Design
Immortalize your little slugger with a frame inspired by his (and America's) favorite pastime. Pick up a classic wooden frame, a white matte, a pencil, a ruler, and a red medium-tip permanent marker. With the pencil, lightly draw diagonal lines from the outer corners of the matte inward; these will serve as your guides. Then, with the marker, draw small, angled lines coming from the pencil lines to look like stitches. Let marks dry for a minute or two; erase the pencil marks; reassemble the frame.
Poker Faces
These aren't quite stocking-stuffer size, but are too easy to skip. Take a matted frame, classic playing cards, craft glue, a paintbrush, and an X-Acto knife. Arrange cards along the matte so that they form a border, as shown (it's OK if they extend past the matte's edges; you'll trim them later).
Brush glue onto the front of cards; place them face down on matte's front; let dry overnight. Then, flip the matte over so the backs of the affixed cards are facing down. On a cutting surface, with your X-Acto, trim any excess card that hangs over the matte edges. Reassemble frame with a photo of your choice.
In the Bag
Or, skip the stocking and go all-DIY with this perfect tote bag, customized to show your favorite photo. Start by finding a fun snapshot, then resize using a color copier  and print onto fabric transfer paper (available at crafts stores). Cut out the image, removing the background; then iron on, following the product instructions. Once it's cool, peel off backing for a tote bag that's worth a thousand words.
Come see the Kell House decorated for the holidays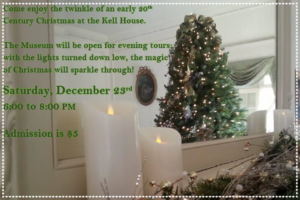 We have three ways for you to come see the Kell House decorated in all its Christmas finery this week before it'll be closed until 2018!
Regular weekday tours will take place 10 a.m. to 3 p.m., Monday through Friday (closed Wednesday) from 10 a.m. to 3 p.m.
We will be part of Downtown's Candlewalk on Thursday, December 21st, from 5 p.m. to 8 p.m. Come see our favorites Elves!
Or come enjoy the Kell House with a special Candelight tour on Saturday. December 23rd from 6 p.m. to 8 p.m. Admission is $5.
Tips for less stressful holiday travel
As the holiday season is upon us, it can be a stressful time for many, including for those traveling to visit family and friends. Follow these tips below to help make your holiday travel less stressful. See your mid-week News for other tips, along with more holiday fun in each edition of The Bowie News in November.
Tips for less stressful holiday travel
Roadways, railways and skies tend to get busy come the holiday season, when millions of people across the globe travel to visit family and friends.
Wherever travelers are headed, be it across the country or across the world, they should realize that many other people are traveling as well. That can lead to traffic, long lines and other side effects associated with large crowds. But before travelers let the idea of challenging travel conditions deter them, they can consider certain ways to make the process of getting from point A to point B a bit more manageable.
Travel by car
Those traveling by automobile will have a few extra steps to take to ensure their trips go off with minimal disturbances. One of the more important steps is to ensure the vehicle is properly maintained prior to departing. Have the car checked by a mechanic and take care of any service appointments, such as oil changes or tire rotations.
Map out the route in advance and have an alternative plan if the route chosen proves to be too congested. One idea is to choose a scenic drive that may be a little longer but has less traffic. In addition, account for rest stops or points of interest that can break up the trip. Apps such as GasBuddy can help drivers find the cheapest gas or the cleanest bathrooms along their routes.
Bring along plenty of snacks so you can eat healthy and arenÕt forced to rely on foods you otherwise would not eat. This is particularly helpful with keeping kids satiated. Plan for a few treats along the way so that everyone traveling has an end goal, such as an ice cream or a souvenir.
Traveling by plane
One of the key things air travelers can do to make holiday traveling easier is to avoid peak travel dates. Whenever possible, avoid traveling the day right before the holiday, which tends be the busiest and most expensive. Remember, weekends tend to be more harried and expensive as well, particularly when the holidays fall in close proximity to a weekend.
Weather is a gamble in many regions of the world during the holiday season. Develop a contingency plan just in case foul weather delays or cancels flights. ItÕs much less stressful to put plan B into motion than it can be to rush around trying to make new, last-minute plans.
Always shop around for the best rates, but also the best atmosphere. It may be wiser to fly out of a smaller airport where crowds will be thinner and delays less frequent, or you may prefer a larger airport thatÕs closer to home and offers more amenities.
Another way to avoid delays is to pack minimally. Ship gifts and even travel essentials ahead to your destination, and only bring carry-on bags aboard the plane. This helps travelers sail through security checks and avoid the crowds at the luggage carousels.
Holiday travel requires planning, patience and having alternative plans in place so that everyone can make it home for the holidays.  TF169407