Tips to keep pets out of trouble during back to school time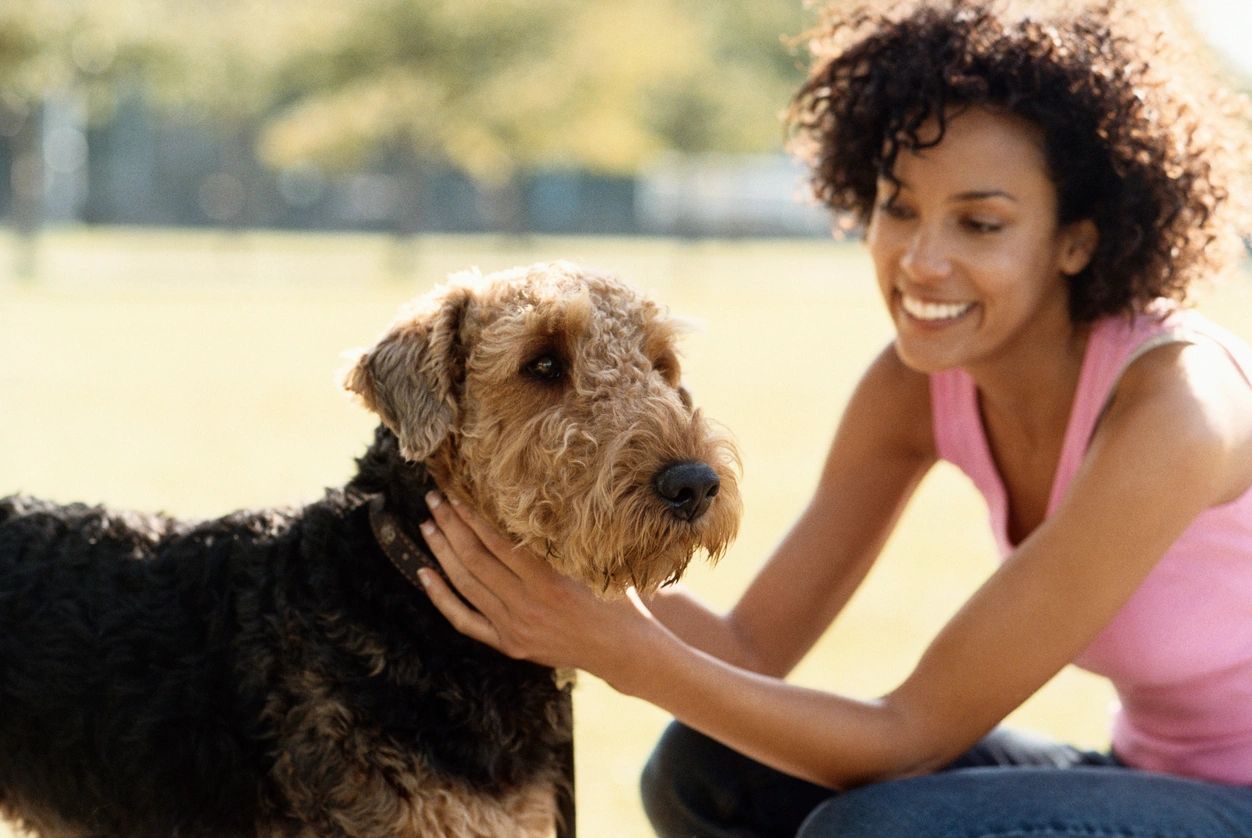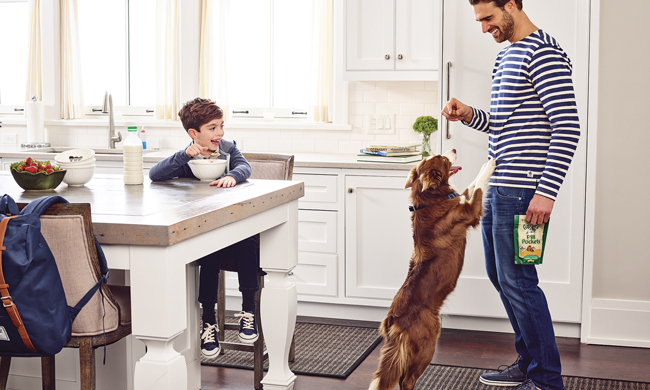 (Family Features) When structured school days and hours away from home return to the schedule, all members of the household feel the shift, even pets. Pets go from long days with the family in the yard to less time and activities with their favorite people.
Keep them in mind as you plan your days to ensure they get the activity they need and remain in a safe environment. When left to their own devices, furry family members can make questionable decisions, and the old "dog ate my homework" adage can come to life in a number of ways.
However, pet owners can count on an option like GREENIES™ Dental Treats to distract their pets from bad behavior and be their dog's best decision of the day. Be on the lookout for these potential mishaps, and visit Greenies.com for more information on better doggie decisions.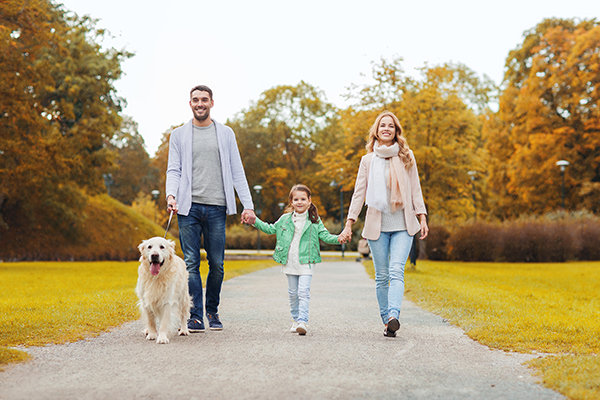 Watch the Door
Going from all-day adventures with kids to long hours away may leave your pet feeling bored and lonely. If your dog is craving a little adventure, following his or her friends outside and onto the school bus may seem like a reasonable solution. Make it a safe activity that both dogs and kids can look forward to by leashing your dog and joining them for the daily sendoff.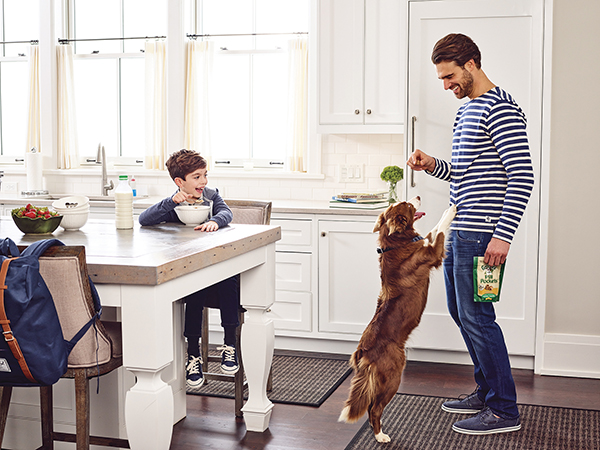 Store Lunches and Goodies Safely
While homework and paper aren't appealing to all dogs, bake sale snacks or packed lunches may pique more interest. A simple way to divert your pet's attention while you're prepping and packing food and goodies is an option like a GREENIES Dental Treat. Not only can the treat keep your furry friend occupied and away from countertops, but the chewy texture also helps clean his or her teeth by fighting both plaque and tartar buildup, freshening breath and helping to maintain healthy teeth and gums.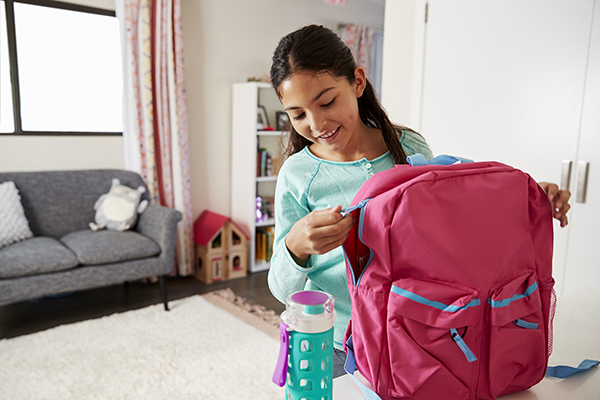 Keep Backpacks Zipped
You never know what you'll find in a child's backpack. In addition to the basics like notebooks, pens and pencils, there's always a chance of finding leftover food. Because dogs are known to stick their noses where they don't belong, it's important to keep schoolbags zipped and out of their reach.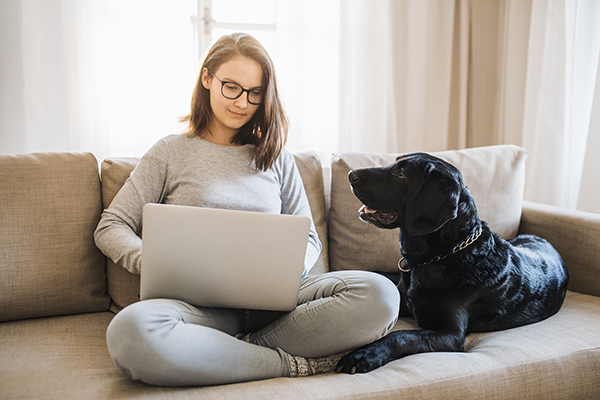 Stow Away Wires and Cords
From laptops and tablets to earbuds and chargers, tech devices are essential during the school year. While kids are busy doing homework, your dog's attention could turn to these gadgets at any time, so keep cords and wires packed away and devices on top of tables and desks or in their protective cases when not in use.
Photos of family walking dog and women with laptop and dog courtesy of Adobe Stock. Photo of girl with backpack courtesy of Getty Images.
SOURCE:
Greenies
Celebrate the season with pop-able fall flavors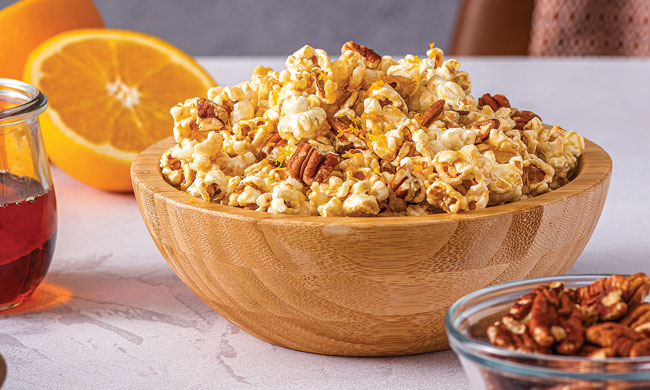 (Family Features) As part of the season of change with leaves crunching underfoot and a crispness in the air, remember to pause to celebrate a food known for its change, crunching and crispness – popcorn.
In honor of National Popcorn Poppin' Month, a time when farmers head to the fields to harvest crops, gather with loved ones to celebrate this humble yet extraordinary snack. Whether it's prepped on the stove, in the microwave or purchased ready-to-eat, Americans consume around 14 billion quarts each year of the wholesome whole grain, according to the Popcorn Board.
With each kernel, popcorn's tantalizing aroma fills the air, setting off a journey of sensory bliss, as the sound of popping echoes in ears and the taste of buttery goodness dances on tongues. Whether enjoyed at the movies, during a cozy night in or at festive gatherings, popcorn brings people together, creating moments of shared joy and laughter. Catering to every palate, popcorn's versatility knows few boundaries, as it can be dressed up with caramel, chocolate or even savory seasonings.
Join the celebration this fall with a fitting recipe like Old Fashioned Bourbon Maple Popcorn with Pecans. Accented with warming flavors of bourbon, orange and bitters, this maple-glazed treat offers a fun, cocktail-inspired snack perfect for sharing.
Discover more snacks that celebrate fall flavors at Popcorn.org.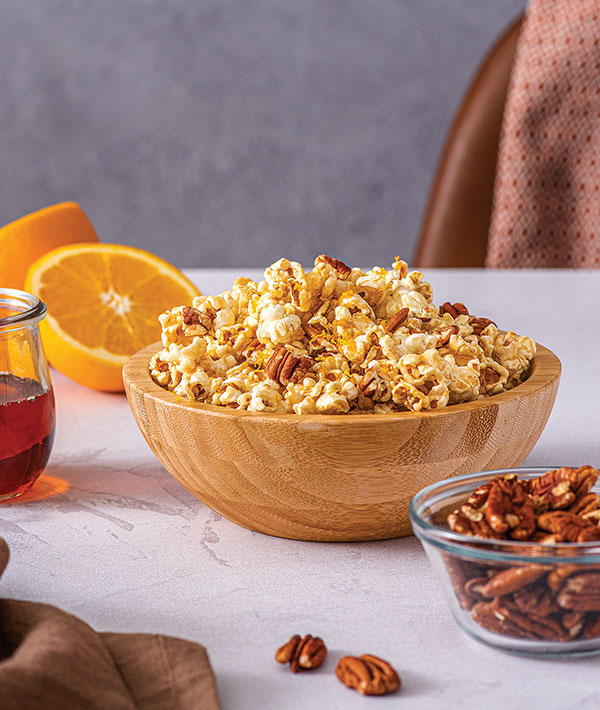 Old Fashioned Bourbon Maple Popcorn with Pecans
Servings: 4-6
8 cups popped popcorn
1/2 cup chopped toasted pecans
1/3 cup maple syrup
1 tablespoon bourbon
2 tablespoons butter
1 tablespoon orange zest
1 dash bitters
Place popcorn and pecans in large bowl.
In small saucepan over medium-high heat, combine maple syrup, bourbon and butter; bring to boil. Cook, swirling pan, 3-5 minutes, or until mixture thickens to corn syrup consistency. Stir in orange zest and bitters.
Drizzle maple syrup mixture over popcorn; toss to evenly coat. Cool completely and serve.
Tips: Substitute bourbon with rye or whiskey. For "mocktail" popcorn, substitute with non-alcoholic bourbon or whiskey.


SOURCE:
Popcorn Board
Find holiday gifts teens, young adults will actually like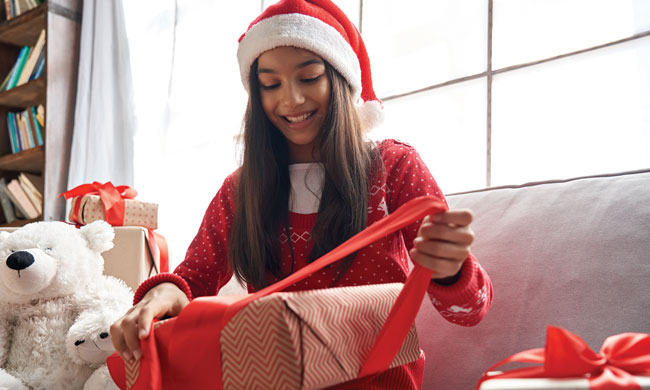 (Family Features) One of the best parts of the holidays is being together with those you love, and for many families that time together involves the exchanging of gifts among loved ones young and old. Finding the right gift for everyone can be a challenge, especially if teenagers and young adults are on your shopping list.
It seems like social media feeds are constantly filled with a new tech item, style, pastime or trend, making it more challenging to pick out gifts for the young ones on gift lists. This year, consider some on-trend gift ideas – like Jelly Belly Jelly Beans – to show appreciation for the Gen-Zers in your life with presents and stocking stuffers that can win them over.
New in Tech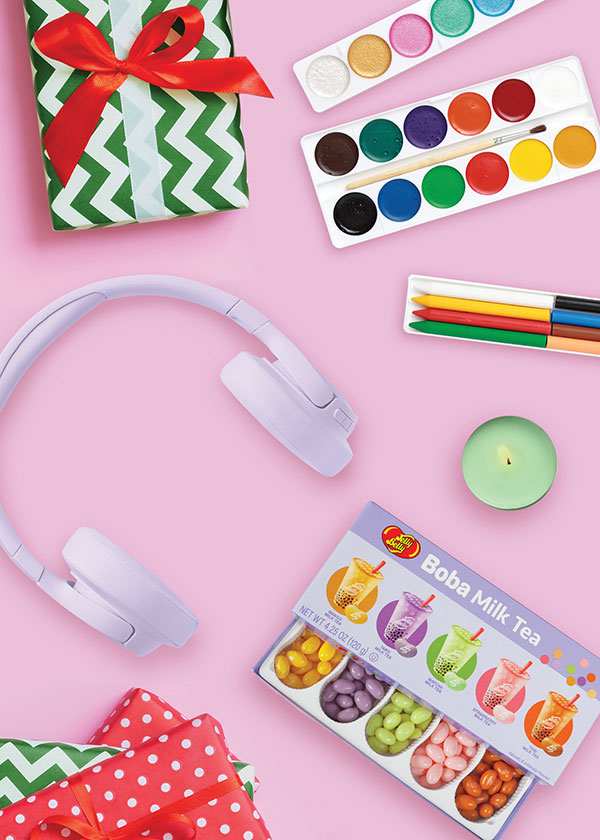 As one of the most popular categories of gifts for teens and one that's always evolving, deciding which devices and gadgets to gift can be hard. Consider your loved ones' hobbies and interests to make the job easier; for example, if they're music lovers or podcast fanatics, wireless earbuds or headphones are a perfect option. If social butterflies are on your shopping list, portable phone chargers and smartphone accessories like a pop-out phone grip can make sure they're one step ahead of their next photo or social post.
For Boba and Candy Lovers
Many Gen-Zers love a good cup of bubble tea or boba swag, so feed their cravings with an option like Jelly Belly Boba Milk Tea jelly beans. With gift boxes, snack bags and more, these delicious treats made for candy lovers provide a perfect balance of tea, tapioca and sweetness in five true-to-life milk tea flavors: Mango, Taro, Matcha, Strawberry and Thai Milk Tea jelly beans. Find these treats at JellyBelly.com where you can purchase online or locate a store near you.
Cozy Comforts
For teens heading to college or young adults venturing out on their own, consider gifting items to spruce up their new spaces. You can give them a helping hand to start their next chapter with fun decor items like throw pillows and blankets or add life to their new homes with stylish wall art or flower subscriptions. For simple reminders of home, consider candles with their favorite scents or aromatherapy diffusers and essential oils to add a touch of calm to the chaos of heading out on their own.
Play to Their Hobbies
Help them embrace their talents and favorite activities whether it's art, reading, cooking, gaming, playing sports or mastering instruments. New paint kits and supplies can help young Picasso's take their art to the next level while a new appliance or cookbook can provide an upgrade for avid home chefs.
The Gift of Music
Whether they have a favorite band or are up-and-coming musicians themselves (or both), give the gift of music with fun ways to enjoy their favorite songs. Record players and vinyl records are making a major comeback while portable speakers allow music lovers to take their favorite sounds wherever they go. A subscription to a streaming service can be perfect for casual listeners or, if you're looking to splurge, consider concert tickets.
Outdoor Adventures
From jogging around the neighborhood to exploring nearby parks and trails, outdoor enthusiasts can never have enough gear. Runners are always searching for the latest sneaker launch or fitness tracker to keep on pace with their goals while more casual enjoyers of the outdoors may love a new water bottle, picnic blanket or beach bag.
Photo courtesy of Getty Images (girl opening gift)


SOURCE:
Jelly Belly
Getting your pet ready for fall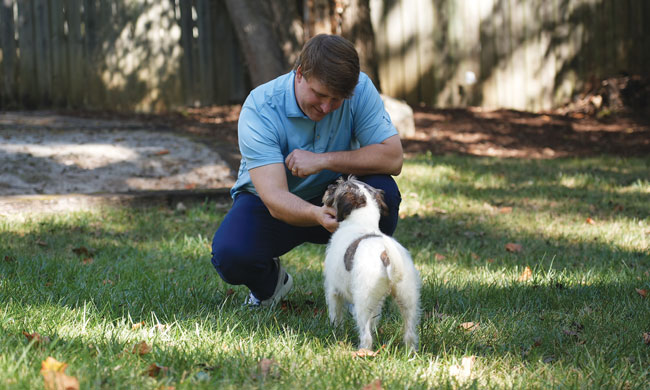 (Family Features) Pets provide unconditional love to their companions; in return, it's important to make sure they live happy and healthy lives by providing the best care possible. This means making sure that in addition to food, treats and toys, they receive daily care for their eyes, ears and overall health.
With a desire to bring a dog into his family's lives, Albert, a Bausch + Lomb employee, rescued a terrier mix named Watson. However, it soon became apparent Watson needed some extra love and care to help protect his eyes and ears from irritation and excess buildup. When finding a remedy proved difficult, Albert worked with veterinarians to develop Project Watson Health Care for Dogs, a comprehensive line of quality products targeting these specific areas.
To help ensure your furry member of the family has the best head to tail health possible, consider these tips.
Schedule Regular Vet Visits
Routine wellness checks are an essential part of your pet's care. Annual screenings, even if your dog seems healthy, allow your veterinarian to provide vaccines to combat disease and uncover any health issues that may have otherwise gone undiagnosed until symptoms advanced.
Watch Your Pet's Diet
Feeding your pet a proper diet based on his or her breed, age, size and lifestyle plays a big role in overall health. A balanced diet that includes high-quality food can lead to a shiny coat, healthy skin, bright eyes and may also help strengthen your pet's immune system, maintain intestinal health, increase mental acuity, regulate weight, keep muscles and joints healthy and more.
Support Clean Ears and Eyes
Often overlooked, the eyes and ears are vital areas to the overall health and wellness of your pet. To help keep these areas free of any buildup of bacteria that may cause irritation, consider an option like the line of Project Watson Health Care Products for Dogs, which includes an eye wash, eyelid wipe, ear wash, ear wipe and supplements made using high-quality and naturally inspired ingredients.
Excessive blinking or pawing at the eyes can be signs of buildup, irritation or infection. Dirt and debris trapped around the eyes can also clump in fur, leading to skin irritation and infections while excessive tear production can lead to fur staining, which can develop an unpleasant odor. Eye wipes can be used daily to relieve staining and remove excess buildup. Washing your dog's ears may help reduce dirt, debris and wax buildup; help prevent itching; and reduce the chance of infection while keeping ears smelling fresh.
Create an Exercise Routine
Walks, games in the backyard and social time with other pets can help keep your furry friend in good physical condition. While different breeds and species often have different needs, adequate activity can provide benefits beyond the physical, including reducing boredom, which can potentially lead to anxiety or destructive behaviors.
Prevent Pests
In addition to regular vaccinations, ensure your pet is up to date on parasite prevention. This includes fleas, ticks, mites, heartworm and more which can cause reactions ranging from mild to severe (or even fatal in some cases of heartworm or Lyme disease). Look for pests and skin abnormalities when grooming your pet and contact your vet if your pet excessively scratches, chews or licks his or her fur or ears, or persistently shakes his or her head.
For more solutions to keep your four-legged friend happy and healthy, speak with your veterinarian or visit tryprojectwatson.com.


SOURCE:
Bausch + Lomb