Seven rainy day hairstyles
As if waking up early and making yourself look presentable for class wasn't hard enough, add rain to the mix and you get the undeniable urge to just throw your hair up in a ponytail and call it a day. Check out these seven quick and easy hairstyles that will turn heads and also keep the frizz down!
1.     Messy Ponytail
This is a classic updo for those rainy days when you're also running late. Just tease your roots to add some extra volume then loosely pull hair back into a ponytail securing it tightly. Finish it off by teasing your ponytail and you're ready to go!
2.      Fishtail Braid Updo
Take your fishtail braid up a notch by making it into a bohemian inspired updo. Part your hair down the center and make fishtail braid pigtails, securing them at the bottom with a small elastic. Gently pull and separate the hair in the braids to make them messy. Bring one pigtail across to the other side of your head horizontally and pin in place. Repeat that on the other side and tuck the ends up underneath the braids, pin, and you're done.
3.     Headband
Keep baby hairs from curling and sticking out by wearing a thick fashionable headband. It will keep hair out of your face and prevent it from getting too frizzy. Plus it adds a great accessory to your outfit!
4.     Top Knot
A go-to hairstyle for anyone on a rainy day has to be a top knot! It's one of the simplest styles in the book but can look super chic. To start, gather your hair on the top of your head. Twist and wrap your hair at the same time making it into a knot and secure it by wrapping an elastic around it. Leave it like that if you want a messy look or use bobby pins to make it neater.
5.     Half Pulled Back
This hairstyle is especially useful for women with short hair. Pull back a small section from one side of your head and secure in the back with a bobby pin. Repeat on the other side and hairspray to keep the frizz down.
6.     Easy Chignon
To create this easy chignon hairstyle start with your hair in a low ponytail at the back of your neck. Flip the ponytail inside out by making a hole above the elastic and pulling the ponytail through it. For the final step, gather your ponytail and roll it up, securing it in place with bobby pins.
7.     Twisted Bun
For a fun, simple twist on the classic bun, part your hair down the center and create pigtails on the back of your head. Take one ponytail, separate it into two pieces, and wrap them around each other in a spiral. Secure it with a small elastic and repeat on the other side. Now that you have two spiral pigtails, take each of them in your hands and twist them together forming a messy bun. Pin it in place with as many bobby pins as necessary.
6 ways to build lasting healthy habits
(Family Features) Starting on a path toward healthy habits is often easier than maintaining them long term. This year, you can avoid a major pitfall of healthy resolutions and build healthy habits that stick by working small, positive steps into your daily life.
In fact, healthy habits are the first suggested treatment strategy for people whose blood pressure and cholesterol levels are creeping higher than normal, according to an American Heart Association scientific statement.
"The current guidelines for managing high blood pressure and cholesterol recognize that otherwise healthy individuals with mildly or moderately elevated levels of these cardiovascular risk factors should actively attempt to reduce these risks, and increasing physical activity is a great place to start," said Bethany Barone Gibbs, Ph.D., chair of the statement writing group and chair of the department of epidemiology and biostatistics at West Virginia University School of Public Health.
These six ideas from the American Heart Association's Healthy for Good Habit Coach can help.
Bust Common Habit-Building Myths
You may be surprised to learn the truth about creating and sticking to healthy habits. One myth is getting healthy means doing things you don't like. Research shows positive emotions make habits stick, so set your intentions on something you enjoy. Another misconception is big results require big changes, which may lead to overly ambitious habits. However, the simpler the routine is, the more likely it is to become habit.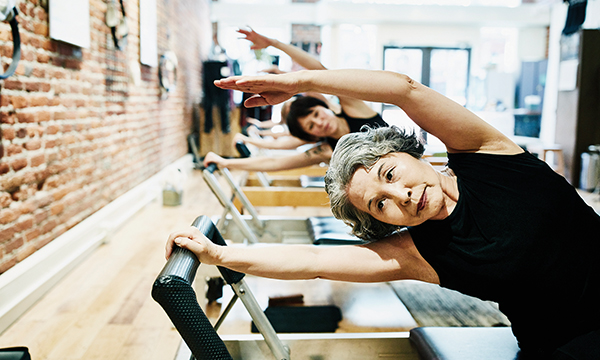 Work with Your "Brain Loops"
Your brain creates "loops" for habits made up of three things: a cue, a routine and a reward. Each time the loop is repeated, it becomes more routine and may become automatic. Knowing this, you can design cues for developing new, healthy habits, such as setting walking shoes by the bed to start a walking habit. The routine is putting on the shoes and walking around the block, and the reward is the pleasant sensations and brighter mood from a morning stroll.
Create Cues That Work for You
Most successful health habits begin with a cue. The cue can be external in your environment or internal in terms of your mindset. The more consistent the cue, the more likely it is to trigger the habit. Hacking your brain's reminder system can help you remember your cue. Some examples of visual cues are placing a sticky note where you'll see it often, keeping a water bottle on your desk or refrigerating fresh veggies at eye level.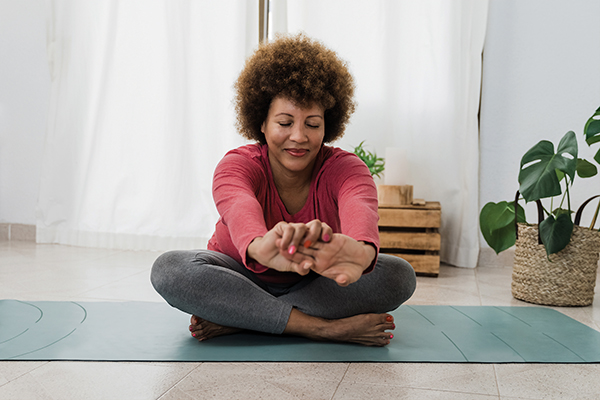 Build a Routine That Supports Your Goals
Positive and consistent habits are important to achieve your personal goals. Small habits done consistently can add up to big results. To create a new healthy habit, think through the steps that could lead to your desired outcome. Ask yourself whether you want to do it, if it's easy and if it's high impact. It's important to choose habits that make a difference and move you closer to your goals.
For example, if one of your goals is improving your heart health, a meaningful habit might be to move more. Increasing physical activity can help lower blood pressure and cholesterol along with many other health benefits, Gibbs said.
"Every little bit of activity is better than none," she said. "Even small initial increases of 5-10 minutes a day can yield health benefits."
Use Rewards to Make Habits Stick
Start by choosing a habit you enjoy that's rewarding by itself. If you're more of a dancer than runner, increase your physical activity with an upbeat dance class. You might also look for a more enjoyable version of a new habit, such as getting more fruits and veggies by sipping on a delicious smoothie.
Understand Resets are Part of the Process
New habits are experiments. If they don't stick, you haven't failed. Instead, you've learned what doesn't work, which is useful. Get curious and ask yourself which part of the habit didn't work for you. Maybe the cue was ineffective. Maybe the steps of the routine were too ambitious and you need to split them into smaller, easier steps. If you realize you don't enjoy the habit, stop doing it and try something else.
Find more inspiration and ideas to jumpstart healthy habits this year at heart.org/habits.
Photos courtesy of Getty Images


SOURCE:
American Heart Association
3 health care trends for 2023
(Family Features) With many people preparing for health and wellness resolutions in the new year, understanding the state of access to care and other patients' booking choices may give a sense of optimism for 2023.
To examine the outlook for 2023, Zocdoc, a free platform where people can find and book in-person or virtual health care appointments across more than 200 specialties and 12,000 insurance plans, analyzed appointment booking trends and conducted a provider survey. The results are reflected in the report, "Healthcare Hope For the Holidays: 2022," which provided three key insights.
Happier Providers, Happier Patients
Provider and health care staff burnout can have a negative effect on patient experience, and 52% of providers surveyed indicated they agreed or strongly agreed practices will face increased financial challenges in 2023. However, savvy providers and support staff are taking steps to run more efficient practices, including using technology. This saves providers time and stress, giving them more time to focus on patient care.
In 2022, positivity pervaded providers' perspectives on technology:
64% of providers indicated they agreed or strongly agreed their scheduling software helped their practice run more efficiently.
57% agreed or strongly agreed their telehealth solution was easy and intuitive to use.
36% agreed or strongly agreed insurance verification and eligibility software helped their practice run more efficiently.
This perspective paints a positive picture for patient-provider relationships in 2023:
71% of providers agreed or strongly agreed scheduling software will help run a more efficient practice.
69% agreed or strongly agreed technology will help practices run more efficiently.
59% agreed or strongly agreed their telehealth solution will become more intuitive and easier to use.
Technology Can Speed Up Access to Care
Amidst the unprecedented landscape of labor and supply costs rising, and physician and staff burnout a reality, innovation is driving positive change for patients. With a growing number of people embracing technology as a driver of access to an improved health care experience, and patients and providers aligned on telehealth as a supplement to in-person care, there are reasons for optimism.
Expediting patients' access to care by surfacing the 20-30% of appointments that become available last minute due to cancellations and rescheduled appointments allows Zocdoc to enable faster speed-to-appointment for patients, compared to the averages reported in the Merritt Hawkins 2022 Survey of Physician Appointment Wait Times.
Cardiology: Typically 1-3 days with 39% seeing a cardiologist within 48 hours, compared to 26.6 days national average appointment wait time
Dermatology: Typically 1-3 days with nearly 30% seeing a dermatologist within 48 hours, compared to 34.5 days national average appointment wait time
OB-GYN: Typically 1-3 days with nearly 26% seeing an OB-GYN within 48 hours, compared to 31.4 days national average appointment wait time
Orthopedic surgery: Typically 1-3 days with nearly 38% seeing an orthopedic surgeon within 48 hours, compared to 16.9 days national average appointment wait time
Family medicine (PCP): Typically 1-3 days with 42% seeing a PCP within 48 hours, compared to 20.6 days national average appointment wait time
Looking Back to Look Forward
Unique, actionable insights into consumers' health care behavior can be derived from 2022 data, providing a glimpse into what's to come. Examining the industry's journey affords the opportunity to predict what may continue to resonate in 2023.
For example, patients got back to regular care appointments after delaying or canceling appointments following the COVID-19 pandemic's onset.
Additionally, telehealth usage declined in all specialties except mental health, moving virtual care toward being a specialty- and case-specific care modality. Consider these appointment trends from January-November:
18% of appointments across all specialties were conducted via telehealth.
Excluding mental health, just 9% of booked appointments were conducted via telehealth.
88% of mental health appointments were conducted via telehealth.
To find more information or book an appointment, visit Zocdoc.com.
Photo courtesy of Adobe Stock


SOURCE:
Zocdoc
Caring for older adults: Managing heart attack treatment, follow-up care
(Family Features) As the proportion of older adults in the U.S. continues to increase, appropriate care for older people becomes increasingly important. In fact, caregivers and loved ones should be aware of age-appropriate care for heart attack or chest pain.
The first step is to call 911. Once medical care is started, age-related changes in general health and in the heart and blood vessels require consideration, and likely modifications, in how people age 75 and older are treated, according to a scientific statement from the American Heart Association, published in its flagship, peer-reviewed journal "Circulation."
The statement, "Management of acute coronary syndrome (ACS) in the older adult population," highlights evidence to help clinicians better care for older patients. According to the statement, 30-40% of people hospitalized with ACS, which includes heart attack and unstable angina (heart-related chest pain), are age 75 or older.
"Older patients have more pronounced anatomical changes and more severe functional impairment, and they are more likely to have additional health conditions not related to heart disease," said Abdulla A. Damluji, M.D., Ph.D., FAHA, chair of the scientific statement writing committee, director of the Inova Center of Outcomes Research, and an associate professor of medicine at Johns Hopkins School of Medicine. "These include frailty, other chronic disorders (treated with multiple medications), physical dysfunction, cognitive decline or urinary incontinence."
Normal Aging and Age-Related Changes in the Heart and Blood Vessels
Cardiovascular changes that occur with normal aging make ACS more likely and may make diagnosing and treating it more complex. These changes include large arteries becoming stiffer, the heart working harder but pumping less effectively, blood vessels becoming less flexible and less able to respond to changes in the heart's oxygen needs and an increased tendency to form blood clots. Sensory decline due to aging may alter hearing, vision and pain sensations. Kidney function also declines with age, with more than 1/3 of people ages 65 and older having chronic kidney disease.
Multiple Medical Conditions and Medications
As people age, they are often diagnosed with health conditions that may be worsened by ACS or complicate existing ACS. As these chronic conditions are treated, medications prescribed may result in unwanted interactions or medications that treat one condition may worsen another.
"Geriatric syndromes and the complexities of their care may undermine the effectiveness of treatments for ACS, as well as the resiliency of older adults to survive and recover," Damluji said. "A detailed review of all medications – including supplements and over-the-counter medicines – is essential, ideally in consultation with a pharmacist who has geriatric expertise."
Steps for Heart Attack Care and Follow-Up for Older Adults
Call 911 if you notice someone experiencing heart attack warning signs. These include chest discomfort, discomfort in other areas of the upper body (one or both arms, back, neck, jaw or stomach), shortness of breath or other symptoms such as a cold sweat, nausea or lightheadedness.
Consider treatment needs for co-existing conditions. An individualized, patient-centered approach is best for older adults.
Get input from multiple specialists, including a pharmacist, to manage care and medications.
People with cognitive difficulties and limited mobility may benefit from a simplified medication schedule, with fewer doses per day and 90-day supplies of medications so fewer refills are necessary.
The goals of care for older people with ACS should extend beyond clinical outcomes and focus on quality of life and the ability to live independently.
Do-not-resuscitate orders should be discussed before any surgery or procedure.
For more information about managing ACS in older adults, visit Heart.org.
Photo courtesy of Getty Images


SOURCE:
American Heart Association