Preparing for a financial emergency
5 tips for building (or rebuilding) your emergency savings
(Family Features) The new year provides an opportunity to re-evaluate different aspects of your life, and that includes your budget and savings habits. Planning for emergencies by building – or rebuilding if the COVID-19 pandemic required making a withdrawal – a savings account to withstand the unforeseen can increase confidence in your overall financial health and reduce worry that a significant life event will negatively impact your finances.
"Our research shows having emergency savings is the foundation for long-term financial health," said Chandni Ohri, program lead in savings and financial health with BlackRock's Emergency Savings Initiative. "The start of a new year is a good time to make a savings plan, which can consist of putting a little bit of money away regularly."
Even before the pandemic began, 4 out of 10 Americans had a hard time finding even $400 to cover an emergency, according to a report from the United States Federal Reserve. However, if you don't think you have money to save, consider the majority of people who were able to save for an emergency for the first time in 2020 earned less than $60,000, according to research from BlackRock's Emergency Savings Initiative, a group of nonprofit experts, corporate partners, and providers. Changes in spending due to the pandemic plus government stimulus packages helped many individuals create much-needed cash buffers.
Consider these tips to build your emergency savings account and create a buffer of cash for when emergency strikes.
Start a Savings Habit
While it's less important to have a specific dollar amount in mind, getting into the habit of putting some money in savings with each paycheck can help protect you should an emergency arise. While one good rule of thumb is to set aside enough to cover roughly six weeks of living expenses – housing, food, transportation – take a look at what it would cost to cover unexpected issues with your car, a trip to the hospital, a leak in your home or the replacement of a major appliance and start there.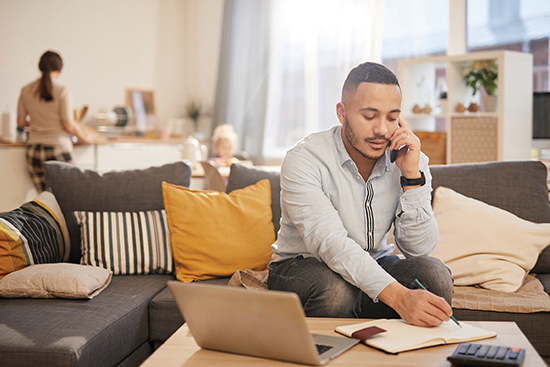 Even a small amount, such as $50 in your savings account when it's the day before payday and you're running on fumes, can save you from an overdraft fee, having to resort to using a credit card, borrowing from a loved one or taking out a loan. However, research from the AARP Public Policy Institute found having a cash buffer of approximately $2,500 can help prevent financial hardship over the longer term. If you lose your job, for example, your emergency account could help pay for necessities while you find a new position, or the funds could supplement any unemployment benefits you may receive.
Automate Your Savings
Because an emergency can strike at any time, it's important to have easy access to your funds. However, the account should also be separate from your checking account so you're not tempted to dip into your reserves. Pick a free savings account with no minimum balance requirements and link it to your everyday account to quickly move money over if you need it.
Look for ways you can automatically save such as enabling roundups from your checking account to be transferred to your savings with each purchase or having your employer split your paycheck and automatically deposit a portion into savings each payday.
If you're planning to stash funds away for months or years that can serve as both an emergency fund and long-term savings, consider a high-yield savings account.
Look for Ways to Cut Back
While you may have already made changes to your spending habits amid the pandemic, periodically shopping for competitive rates of recurring bills, such as cable and internet, cell phones insurance policies and other utilities, can be a simple way to save some money each month. Start by asking your current providers about any special rates and promotions that may be available to loyal customers then check with alternative providers to see if they can provide the same or better offerings at a reduced cost. Sometimes returning to your current provider with a more competitive rate from elsewhere can be extra incentive to work out a deal to keep a longtime customer.
Also look at any subscription services you use, or potentially don't but still pay for, and see if they offer a cheaper plan that still meets your needs or if you're able to cancel subscriptions you no longer use frequently. Other expenses such as dining out or buying new clothing and accessories could also be scaled back if you find you're splurging too much. Avoid completely cutting spending for leisure activities from your budget but look for reasonable tweaks that can allow you to set more money aside for unforeseen expenses.
Take Advantage of One-Time Opportunities to Save
Assuming you expect to receive a tax refund, this provides an easy way to boost your emergency fund if circumstances allow you to save all or a portion of the return. If you're able, consider having your refund directly deposited in your emergency account. The same strategies can be applied to any government aid checks you may receive, such as a second round of stimulus money that could be distributed to eligible citizens in 2021 to help reinvigorate the economy amid the COVID-19 pandemic.
There may also be other times throughout the year when you receive one or more cash gifts, like your birthday or holidays, that can help provide a nice cushion to your emergency fund if you can avoid the temptation to spend it.
Replenish What You Use
Remember to review and adjust your savings plan as needed, whether you're able to contribute over a longer period of time without dipping into the account or if an expensive life event pops up that requires using all or a portion of the funds.
Should you need to dip into the savings, do your best to make replenishing the account to a level you're comfortable with a primary goal in case any additional unexpected expenses arise. Alternatively, if your saving is going well, consider increasing the amount you're saving each paycheck so you're better protected against any major life changes or able to finance a large-scale purchase down the road.
Find more information and tips for building your savings at savingsproject.org.
Photos courtesy of Getty Images

SOURCE:
Financial Health Network
Tips to pull off holiday hosting
(Family Features) With stay-at-home holidays a thing of the past for many families, they're now busy preparing for full-blown celebrations. The return of traditional festivities brings seemingly never-ending to-do lists and pressure to be the perfect host.
From mastering a mouthwatering menu and donning your home with decadent decor to ensuring guests enjoy the evening to the fullest, hosting duties bring plenty of responsibilities. This year, though, you can avoid those anxious feelings with some preparation ahead of the big day.
To help pull off a sensational seasonal soiree, consider these tips from the entertaining experts at Sun-Maid to make the holidays brighter and more manageable so you can navigate the stresses of hosting.
Invite Others to Share Favorite Traditions
Especially with stay-at-home holidays in recent years, some friends and family members may have developed their own special traditions from new recipes and foods to seasonal games and activities. Inviting your guests to bring or share something that represents their favorite part of the holidays can help everyone feel welcome.
Take Time for Yourself
Remember to make time for yourself so you can enjoy the fruits of your labor right alongside guests. The busyness of this time of year can add stress but reflecting on the true meaning of the season and reveling in your favorite parts of the holidays can help you avoid feeling overwhelmed.
Add New Ingredients to Your Menu
While pairing this year's turkey or ham with the classics provides comfort and calls to mind holiday memories of the past, cooking with new ingredients and adding fresh recipes to the menu can put a fun spin on the season and maybe even create your own traditions to carry forward.
For example, baking with an option like Sun-Maid Raisins provides a whole fruit option with zero grams of added sugars per 1/4-cup serving. They're an easy, better-for-you substitution to reduce overall sugar intake without compromising flavor or texture when compared with dried cranberries, which contain 27 grams of added sugars per 1/4-cup serving. The natural sugars of raisins make them a versatile, useful addition to a wide variety of holiday-worthy dishes.
Hop On Hot Food Trends
One of this year's most popular trends in the kitchen is food boards, a fun and easy way to elevate flavor while incorporating favorites like cured meats, cold cuts, cheese slices and cubes, dips, nuts and more. Plus, you can keep your board balanced with nutritious items like vegetables and fruit, such as raisins, which provide sweet flavor without the added sugars.
A Time for Truce
Gathering for the holidays is about coming together with loved ones, family, friends and neighbors – and pulling it off means catering to everyone's needs and wants. It's a time for compromises and truces. To help add a little extra spark this year, try incorporating a theme to the party or coordinate fun activities and games that can be enjoyed by all. For example, holiday-themed charades, a seasonal "name that tune" game and gift exchanges all give guests ways to get in on the excitement.
To find more holiday entertaining inspiration and recipe ideas, visit SunMaid.com/PullOffTheHolidays .
Photos courtesy of Getty Images


SOURCE:
Sun-Maid Raisins
Why you next car will probably be electric
(BPT) – Love them, hate them, or don't really care, electric vehicles are beginning to take over transportation conversations and roadways, and soon, boats and planes. Already, there were 16.5 million electric cars on the road worldwide in 2021, three times more than in 2018, according to S&P Global. Though still in the early adopter phase, here are four reasons your next vehicle is likely to be electric.
Auto manufacturers are phasing out the production of internal combustion engine (ICE) models. General Motors announced in 2021 that the company will only sell vehicles that have zero tailpipe emissions by 2035, across all global markets. Similarly, leading companies like Ford committed to zero emissions globally by 2040 and no later than 2035 in key markets. Some states are making the same commitment. Through Michigan's Healthy Climate plan, for example, the state is working to achieve economy-wide carbon neutrality by 2050, including through electrifying vehicles and increasing public transit.
States are accelerating the push for EVs through legislation. The Air Resources Board is offering a Clean Vehicle Rebate Program, making new and used electric cars more affordable for consumers, as some states seek to ban the sale of ICE model vehicles. On the federal level, as part of a broad new Inflation Reduction Act — designed to address climate change, healthcare, and taxes — a new tax credit of up to $4,000 on used electric cars and revised tax credits of up to $7,500 on certain new EVs are available for prospective buyers to take advantage of. These legislative changes highlight the need for tangible progress in increasing the accessibility of EVs.
States are building out supporting infrastructure for EVs. All over the United States, you will find EV chargers popping up at local supermarkets, malls and sporting events. Michigan is taking it a step further by bringing chargers to state parks and working with public universities on pilot programs and research programs to improve battery design. The Lake Michigan EV Circuit Tour, for example, is a network of EV chargers that, once completed, will span over 1,100 miles of drivable shoreline around Lake Michigan throughout Michigan, Indiana, Illinois and Wisconsin.
"We are going to see a huge uptick in EV adoption, especially as manufacturers continue to diversify the EV models on the market, lower prices for increased accessibility, and partner with states to ensure infrastructure is catching up with the high-tech innovation happening across the country," says Trevor Pawl, Chief Mobility Officer for the State of Michigan. "It's only a matter of time before your neighbors are driving one too."
Beyond incentives and legislation, we're still human and want to keep up with our neighbors and peers. EVs have been around for almost 30 years, with the first mass-produced, purpose-built modern electric car from one of the industry's key players released in 1996 from General Motors. Soon, EVs will make up a majority of new cars available. And, with the many financial incentives and user benefits associated with making the shift to EVs, it may not take long for you to begin reimagining how an EV could fit into your life, too.
While your next car choice will hinge on a range of factors — lifestyle, brand preference, car features, safety ratings, availability and price — you may be surprised how many boxes an EV can tick. Even without gas, there's a lot of sustainable power under their hoods.
Help for older adults on a budget may be a few clicks away
Help for older adults on a budget may be a few clicks away
(BPT) – Food and gas prices continue to rise, on top of record-high housing costs in many cities across the U.S. If you're an older adult who is already living on a tight budget, today's inflation can be particularly difficult. Fortunately, there are programs available that can help you save money on health care, prescriptions, food, utilities and more.
One of the easiest ways to find out if you're eligible for benefits is to visit the National Council on Aging's BenefitsCheckUp.org. The free and confidential tool connects older adults, people with disabilities and caregivers to benefit programs. The site is easy to use, even for people with minimal digital experience.
"It only takes a few minutes to learn about all the programs available and how to apply," said Ramsey Alwin, president and CEO of NCOA. "For example, there are Medicare programs that can boost your budget by helping with prescription drug costs, as well as premiums, deductibles and coinsurance."
There are thousands of programs on BenefitsCheckUp, including:
The Supplemental Nutrition Assistance Program (SNAP), which can help you pay for healthy food
The Medicare Part D Low Income Subsidy and Medicare Savings Programs, which can help people with Medicare afford their out-of-pocket health care expenses
The Housing Choice Vouchers and Public Housing Programs, which can help with housing costs
Supplemental Security Income, which provides cash for basic needs
The Affordable Connectivity Program, which provides discounted internet services
The Low-Income Home Energy Assistance Program, which can help you pay for home heating and cooling
Millions of older adults are eligible for, but not enrolled in these programs. In fact, NCOA estimates that $30 billion in benefits go unused each year simply because older adults don't know about these programs — or how to apply.
BenefitsCheckUp.org will give you a personalized list of benefits you may be eligible for and the steps you need to apply, including links to the correct government agencies and applications. Just a few minutes could save you money every month.