(Family Features) Many consumers are curious to learn more about the purpose and safety of GMOs.
"GMO" is a common term used to describe foods made from organisms (plants, microorganisms and animals) that have been created using technology called genetic engineering. Genetic engineering allows scientists to copy a gene with a desired trait from one organism and put it into another.
Purpose of GMOs
Humans have modified crops and animals to suit their needs and tastes for thousands of years. Crossbreeding, selective breeding and mutation breeding are examples of traditional ways to make these genetic changes, and they have been used to create crops like modern corn varieties and seedless watermelon. These methods often involve mixing all the genes from two different sources. For example, today's strawberries are a cross between a strawberry species native to North America and a strawberry species native to South America.
Modern technology allows scientists to use genetic engineering to take a specific beneficial gene, like insect resistance or drought tolerance, and transfer it into a plant without also transferring undesirable genes, which sometimes occurs in traditional plant breeding. The reasons for genetic modification today are similar to what they were thousands of years ago: higher crop yields, less crop loss, longer storage life, better appearance, better nutrition or a combination of these traits.
Some GMO plants have been modified to improve their nutritional value. An example is GMO soybeans with healthier oils – higher oleic acid – that can be used to replace oils containing trans fats. Scientists are continuing to look for new ways to develop foods with increased nutritional value and other useful traits.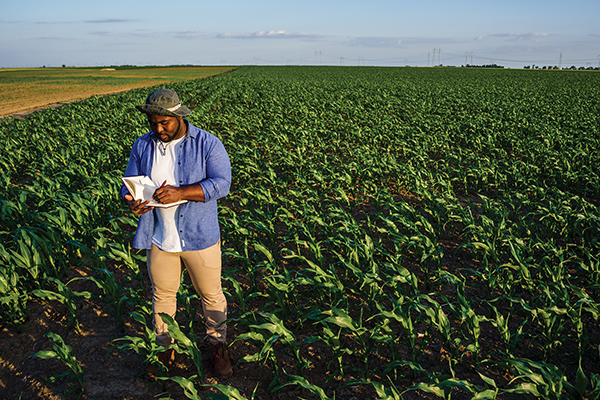 Safety of GMOs
Multiple agencies within the United States government work to regulate GMOs, including the U.S. Food and Drug Administration (FDA), the U.S. Environmental Protection Agency and the Animal and Plant Health Inspection Service in the U.S. Department of Agriculture. Each agency plays a part in ensuring GMOs are safe for human, plant and animal health. For example, the FDA makes sure foods from the GMOs it regulates meet the same safety standards as the non-GMO version. The three agencies also monitor the impact of GMOs on the environment.
Research shows GMO foods currently on the market are no more likely to cause allergic reactions than non-GMO versions of the same foods. Most food allergies are caused by allergens found in just nine foods: peanuts, tree nuts, milk, eggs, wheat, soy, sesame, shellfish and fish.
The way GMOs are created allows scientists to know precisely which new proteins are produced in a plant. Scientists perform tests to make sure these new proteins are not allergens. This type of testing, called allergenicity testing, is always part of the process for developing GMOs. As part of this testing, developers consider whether any substances added to the food have characteristics of allergens, such as whether they come from an allergenic source.
Learn more about GMOs and their impact on your health at fda.gov/feedyourmind.
Updated Food Labeling
Certain types of GMOs have a disclosure that lets you know if the food is a bioengineered food. Bioengineered food is the term that Congress used to describe certain types of GMOs when they passed the National Bioengineered Food Disclosure Standard.
The Standard establishes requirements for labeling foods that humans eat that are or may be bioengineered and defines bioengineered foods as those that contain detectable genetic material that has been modified through certain lab techniques and cannot be created through conventional breeding or found in nature.
Photos courtesy of Getty Images
Help for older adults on a budget may be a few clicks away
Help for older adults on a budget may be a few clicks away
(BPT) – Food and gas prices continue to rise, on top of record-high housing costs in many cities across the U.S. If you're an older adult who is already living on a tight budget, today's inflation can be particularly difficult. Fortunately, there are programs available that can help you save money on health care, prescriptions, food, utilities and more.
One of the easiest ways to find out if you're eligible for benefits is to visit the National Council on Aging's BenefitsCheckUp.org. The free and confidential tool connects older adults, people with disabilities and caregivers to benefit programs. The site is easy to use, even for people with minimal digital experience.
"It only takes a few minutes to learn about all the programs available and how to apply," said Ramsey Alwin, president and CEO of NCOA. "For example, there are Medicare programs that can boost your budget by helping with prescription drug costs, as well as premiums, deductibles and coinsurance."
There are thousands of programs on BenefitsCheckUp, including:
The Supplemental Nutrition Assistance Program (SNAP), which can help you pay for healthy food
The Medicare Part D Low Income Subsidy and Medicare Savings Programs, which can help people with Medicare afford their out-of-pocket health care expenses
The Housing Choice Vouchers and Public Housing Programs, which can help with housing costs
Supplemental Security Income, which provides cash for basic needs
The Affordable Connectivity Program, which provides discounted internet services
The Low-Income Home Energy Assistance Program, which can help you pay for home heating and cooling
Millions of older adults are eligible for, but not enrolled in these programs. In fact, NCOA estimates that $30 billion in benefits go unused each year simply because older adults don't know about these programs — or how to apply.
BenefitsCheckUp.org will give you a personalized list of benefits you may be eligible for and the steps you need to apply, including links to the correct government agencies and applications. Just a few minutes could save you money every month.
Helping teens develop financial literacy
(Family Features) Developing financial knowledge and effective money management habits are important stepping stones for teenagers to become financially stable adults who aspire to build assets and achieve personal goals.
For example, most teens (88%) would like to own a home someday, according to a survey conducted by Wakefield Research on behalf of Junior Achievement USA and Fannie Mae. The survey of 1,000 teens ages 13-17 in the United States found most (85%) believe "owning a home" is part of "the good life," compared to nearly as many adults (87%). However, fewer than half (45%) could correctly identify the definition of a home mortgage and 76% said they lacked clear understanding of credit scores.
"There's been this theme that younger Americans aren't interested in homeownership, but the results of this survey contradict that assumption," said Jack E. Kosakowski, president and CEO of Junior Achievement USA. "Teens appear interested in owning a home someday but seem to realize they need more information on how to do it."
To help teens gain a better understanding of financial decisions they'll face in adulthood, consider these common terms.
Credit Score
While nearly all teens (96%) believe credit scores play an important role in the ability to purchase a home, approximately 3 in 4 (76%) said they understood credit scores only "somewhat," "a little" or "not at all." A credit score is a number from 300-850 based on a number of factors, including credit history, open accounts, total debt, repayment history and more. Lenders use credit scores to evaluate a person's ability to repay loans.
A person's credit score may also determine the size of a down payment needed when purchasing a smartphone or home, or the deposit needed for renting property or obtaining utilities and may impact interest rates and credit limits on credit cards. Generally, scores below 620 may require paying a higher rate, a shorter repayment term or a co-signer. Scores of 700 or higher are considered more favorable to creditors and may result in lower interest rates while scores higher than 800 typically provide the most benefits to consumers.
Mortgage
While a slight majority of white teens (52%) correctly identified the definition of a mortgage, only around a quarter (26%) of Black teens and fewer than half (41%) of Hispanic or Latino teens could do so. A mortgage is a type of loan used to purchase or maintain a home, land or other types of real estate. The borrower makes a down payment for a portion of the purchase price then borrows the rest from a lender. The borrower then repays the lender over a number of years – typically 15-30 – via a series of regular payments that are divided into principal (the money originally borrowed) and interest with the property serving as security.
Nearly all teens surveyed (97%) thought it would be helpful if schools offered lessons that explained homeownership, including mortgages. In response, Fannie Mae is supporting the development and deployment of Junior Achievement learning experiences for thousands of students annually in various age groups by integrating relevant content from its HomeView homeownership course materials and resources, which are designed with first-time homebuyers in mind.
"Young people today are the homebuyers of tomorrow," said Jeffery Hayward, executive vice president and chief administrative officer, Fannie Mae. "By providing them access to quality, foundational education now, Fannie Mae and Junior Achievement are helping these future homeowners prepare for the mortgage and homebuying process when they're ready to take that step."
Visit ja.org for more tips and information to help teens improve their financial knowledge and reach their goals.
Photo courtesy of Getty Images

SOURCE:
Junior Achievement
Helping families manage holiday stress
(Family Features) 'Tis the season for holiday parties, travel, hosting and more. While it is a joyous time of year, the never-ending to-do lists and school being out of session can make everyone feel a little overwhelmed, children included.
Consider these five practical tips from the experts at KinderCare to help families proactively manage holiday stressors.
Manage expectations. The commotion that often comes with the holiday season can be stressful for young children, but you can help alleviate worries by familiarizing them with what's to come. Talk to them about upcoming travel arrangements, who they'll see at events and what to expect throughout the season. If they are cautious in their current developmental stage, let loved ones know beforehand to give them a little extra space at festivities. Parents can also begin familiarizing little ones with relatives through photos and phone calls.

Empower children. It's important for children to understand they have a choice – and family members are willing to respect that choice. Parents should acknowledge their children's body language and empower them to say "no" in uncomfortable situations. Parents can help by proactively asking questions such as, "Do you want a hug?" and if they say "no," support them in their decision. This also helps establish healthy long-term social skills.

Maintain your schedule. Children thrive on consistency, and during the holidays it's important to at least try maintaining as much of what they're used to as possible, such as naps, meals and playtime. Changes in schedule can result in more tantrums, so be sure to allow space for them to safely work through their emotions.

It's also important to note that children feed off their parents' energy, so make sure you're in tune with your own emotions. When overwhelmed, openly discuss how you're feeling and involve your children when taking breaks. For example, "It's loud in here, would you like to go sit outside with me?"

Have fun. Make time to spread joy and integrate activities to bond as a family, such as reading holiday-themed books, crafting, playing games, singing or baking. Whether old traditions or new, these are moments your child can cherish for years to come.

Keep others in mind. While it's important to set children up for success ahead of the holidays, parents should also teach children the holiday season can look different for others. Putting a focus on experiences rather than the gifts can help them have more to discuss with their peers when returning to school. It's also a good time to consider donating toys to make room for new ones or volunteering at a local charity to show children joy can be experienced through more than just gifts.
To find more tips to help manage holiday stress, or to access additional resources around social development, setting boundaries and routines, visit KinderCare.com.
Photo courtesy of Getty Images


SOURCE:
KinderCare