Prepare homemade ribs for the big game
In 2016, more than 111 million viewers in the United States tuned in to watch the Carolina Panthers play the Denver Broncos in Super Bowl 50. The viewership numbers are even more impressive when international figures are added.
Simply put, the Super Bowl is one of the most popular sports and entertainment events of the year. Many people celebrate with parties filled with friends and, of course, food. Hosts who want to feed and impress their guests with some home-cooking for this year's big game can try their hands at the following recipe for "Red Chili Braised Short Ribs" courtesy of "Jon Bonnell's Texas Favorites" (Gibbs Smith).
Red Chili Braised Short Ribs
Serves 8 to 10
Red Chili Sauce
1 yellow onion, diced
2 ribs celery, diced
5 cloves garlic, peeled and chopped
1 tablespoon butter
3 cascabel chiles
3 guajillo chiles
3 pasilla chiles
1 ancho chile
2/3 cup dry red wine
31/2 cups chicken stock
11/2 teaspoons kosher salt
1/2 teaspoon cracked black pepper
1/4 teaspoon ground coriander
1/2 teaspoon sweet smoked paprika
1 cinnamon stick
Pinch of ground cumin
2 tablespoons tomato paste
Short Ribs
8 to 10 thick-cut large beef short ribs
1 teaspoon salt
1 tablespoon vegetable oil
1/2 cup dry red wine
In a medium-size soup pot, sauté the onion, celery and garlic in butter until the onion softens. Remove the stems and seeds from the dried chiles and add them to the pot. Add the remaining sauce ingredients and cook for 1 hour at a light simmer, covered. Remove the cinnamon stick and puree the entire mixture until smooth, then strain out the solids and discard. Set the sauce aside.
Season the short ribs with salt. In a Dutch oven, heat the vegetable oil on high heat and brown the shorts ribs over very high heat on all sides. Once the ribs are very brown, deglaze the pot with red wine, then pour in the Red Chili Sauce and cover with a tight-fitting lid. Place the pot in a preheated 250 F oven and cook for 5 hours. Once finished, the meat should be falling-off-the-bone tender and the sauce incredibly flavorful.
Kick winter's chill with hearty chowder
(Family Features) Colder, shorter days call for a little comfort. Cozying up with a hearty meal on brisk winter evenings can help fight off the chill while savoring favorite flavors alongside the ones you love.
Avoid venturing into the cold for a trip to the store by turning to a pantry staple like sweet potatoes. As one of the most versatile veggies, they're easy to add to a variety of recipes while enhancing both flavor and nutrition. Perfectly suitable for both simple and elevated dishes, they can be baked, microwaved, grilled, slow cooked or prepared on the stove so their sweet taste never goes out of style.
Their long shelf life – up to four weeks if stored properly in a cool, dry, well-ventilated area away from heat sources – means you can rely on sweet potatoes throughout the winter as an on-hand ingredient. Additionally, as a "diabetes superfood" according to the American Diabetes Association, they're rich in vitamins, minerals, antioxidants and fiber, all of which are good for overall health and may help prevent disease, making them a key source of nutrients during wintertime.
When your family needs a warm-up on those frosty days, put sweet potatoes at the center of mealtime (with an added kick) in this Jalapeno Sweetpotato Chowder. Loaded with the flavors of winter comfort, it's a filling meal that makes enough for a crowd so no one goes hungry.
Visit ncsweetpotatoes.com to find more comforting meal ideas.


Watch video to see how to make this recipe!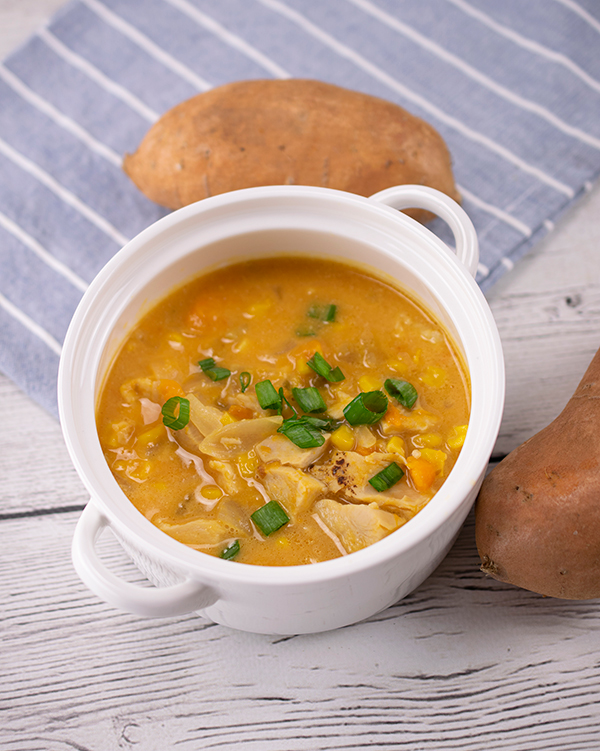 Jalapeno Sweetpotato Chowder
Recipe courtesy of the North Carolina SweetPotato Commission
Servings: 6
2          large North Carolina sweet potatoes, baked
1          small onion, 1/4-inch diced
2          tablespoons olive oil
1          quart chicken or vegetable stock
2          cups cooked chicken, cubed
1 1/2    cups whole corn kernels
2          teaspoons minced jalapenos
1/2       cup heavy cream
1          teaspoon salt
chopped scallions, for garnish
Peel baked sweet potatoes; discard skin and puree.
In soup pot, saute onion in butter until softened. Add pureed sweet potato and stock, as desired. Bring to boil, reducing liquid slightly.
Add chicken, corn, jalapenos, heavy cream and salt. Simmer 10 minutes.
To serve, ladle into bowls and garnish with chopped scallions.
Thanksgiving traditions, memory-making meals
Waking up to watch the Macy's Thanksgiving Day Parade is a tradition that brings smiles and happiness for many families, and this year, an iconic brand will join the festivities. Since 1921, Wonder Bread has captured the "wonder" its founder Elmer Cline experienced when first watching a hot air balloon race. It's often credited with the popularization of sliced bread in the United States and now, for the first time, its legacy will be on display Nov. 24 parading through the streets of New York City.
To celebrate the special occasion and the joy that Thanksgiving brings, you can enjoy Turkey Cranberry Dinner Rolls as a delicious homemade meal that's as easy to make as it is to share. If you're searching for a tasty side that'll leave your loved ones stuffed, look no further than this Thanksgiving Stuffing, a classic accompaniment to holiday meals and a favorite of home chefs across the country.
To learn more about the Macy's Thanksgiving Day Parade and find family-favorite recipes fit for Thanksgiving feasts, visit wonderbread.com/macys-parade.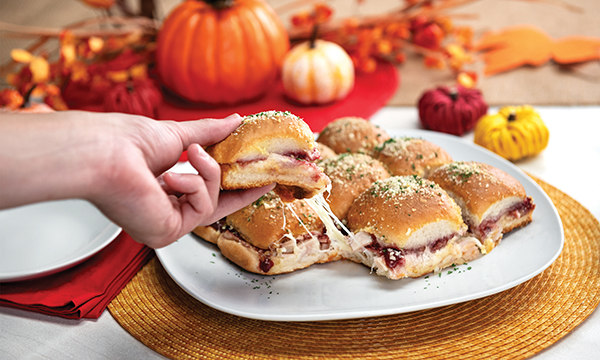 Turkey Cranberry Dinner Rolls
Nonstick cooking spray
1 package of Wonder Dinner Rolls
2 cups diced turkey, cooked
1 cup cranberry sauce or relish
6 slices Swiss cheese
6 tablespoons butter
1 tablespoon yellow mustard
1 tablespoon Worcestershire sauce
1/2 tablespoon dried minced onion
salt, to taste
pepper, to taste
1 tablespoon parsley
1 cup Parmesan cheese
Preheat oven to 325 F. Cover 9-by-13-inch baking pan with foil and spray with nonstick cooking spray.
Remove rolls from package in one piece, cutting entire slab in half lengthwise to create one half of "tops" and one half of "bottoms."
Place bottom half in foil-covered pan and layer with turkey, cranberry sauce and Swiss cheese. Add top half of rolls.
In microwave, melt butter and whisk in mustard, Worcestershire sauce, onion and salt and pepper, to taste. Pour evenly over rolls.
Cover with foil and let sit 5-10 minutes then bake, covered, 20 minutes. Uncover and bake 5 minutes.
Sprinkle with parsley and Parmesan cheese. Slice into individual rolls.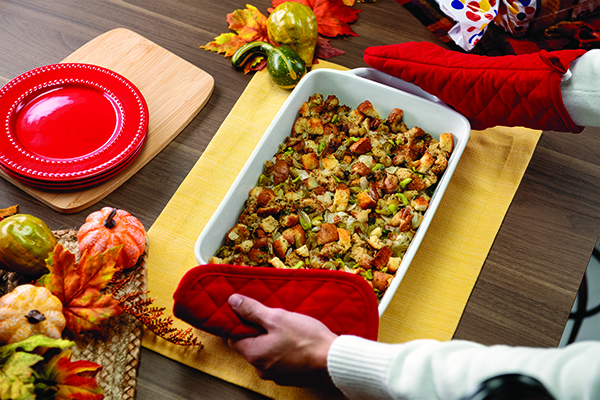 Thanksgiving Stuffing
1/2 cup unsalted butter, divided
3 cups chopped onion
2 1/2 cups chopped celery
1 clove garlic, finely chopped
1 1/2 tablespoons chopped fresh sage
1 1/2 tablespoons chopped fresh thyme
2 teaspoons celery seeds
1 pinch grated nutmeg
1 pinch ground cloves
1 teaspoon kosher salt
1 loaf Wonder Classic White Bread, cubed
1/2 teaspoon freshly ground black pepper
1 1/2 cups low-salt chicken broth
Heat oven to 325 F.
In large skillet over medium heat, melt 1/4 cup butter. Add onion, celery, garlic, sage, thyme, celery seeds, nutmeg, cloves and salt.
Cover and cook until onions are soft, 5-7 minutes. Remove from heat.
In large bowl, toss sauteed vegetables with bread cubes and season with pepper. Melt remaining butter and pour over stuffing along with broth then toss to coat.
Bake, covered, until heated through, about 35 minutes. Uncover and bake additional 15 minutes.


SOURCE:
Wonder Bread
Serve up smiles with favorite holiday sides

(Family Features) Turkey and ham may sit centerstage, but classic holiday sides can make the season truly special. You can bring smiles to your loved ones' faces by dishing out those favorite recipes everyone asks for year after year.
Made with a delicious combination of rice, cheddar cheese, cream of mushroom soup and broccoli florets, this quick and easy version of Broccoli and Cheese Rice Casserole is an ideal one-pot dish to keep the holidays simple. With three easy steps and everyday ingredients, it comes together with minimal effort for traditional casserole taste.
When it comes to feeding a crowd, it's often best to let your oven do the work. This Brussels Sprouts and Ham Rice Gratin recipe allows you to serve up a filling favorite with little effort using pantry staples. Plus, it's a kid-friendly way to encourage veggies at this year's holiday meal with gooey cheese providing tempting taste bud motivation.
These seasonal classics and more are made quick and easy with an option like Success Boil-in-Bag Rice, a pre-measured, mess-free way to make fluffy, high-quality rice. It's cooked by simply dropping a bag of rice in a pot of water or broth then boiling it for 10 minutes. BPA-free and FDA-approved, the bags are safe to use and made to withstand high temperatures.
An added bonus: If you're aiming to achieve a particular flavor, just season the rice by cooking in water infused with herbs, spices, broth, coconut milk or other liquids like juice for sweeter recipes.
Visit SuccessRice.com to find more holiday recipe inspiration.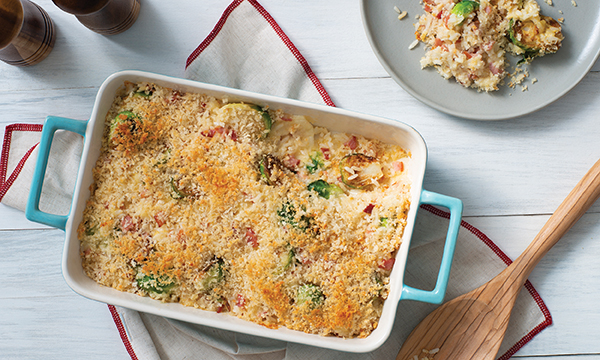 Prep time: 20 minutes
Cook time: 25 minutes
Servings: 4
1 bag Success White Rice
1/2 pound Brussels sprouts, trimmed and halved
1/3 cup diced ham
1 clove garlic, minced
1 tablespoon olive oil
3/4 teaspoon salt, divided
3/4 teaspoon black pepper, divided
1 cup heavy cream
2 tablespoons finely chopped fresh chives
2 tablespoons Dijon mustard
1 cup shredded sharp cheddar cheese
1/2 cup grated Parmesan cheese, divided
1/3 cup breadcrumbs
2 tablespoons butter, melted
Preheat oven to 450 F. Prepare rice according to package directions.
In large bowl, toss Brussels sprouts, ham, garlic, olive oil, 1/4 teaspoon salt and 1/4 teaspoon pepper. Place on parchment paper-lined baking tray and roast 12-15 minutes, or until caramelized. Decrease oven temperature to 425 F.
In large bowl, toss rice, Brussels sprouts mixture, cream, chives, Dijon mustard, remaining salt and remaining pepper. Stir in cheddar and 1/3 cup Parmesan cheese. Transfer mixture to greased, 2-quart baking dish.
In small bowl, stir breadcrumbs, remaining Parmesan and melted butter. Sprinkle over rice mixture.
Bake 12-15 minutes, or until golden brown and bubbling.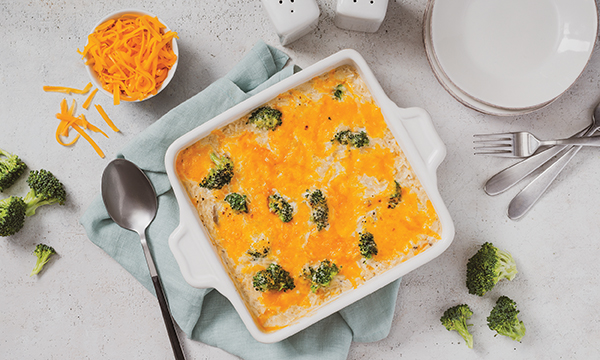 Prep time: 5 minutes
Cook time: 30 minutes
Servings: 4-6
1 bag Success White Rice or Brown Rice
nonstick cooking spray
1 can (10 3/4 ounces) condensed cream of mushroom soup
2 cups frozen broccoli florets, thawed and drained
1 1/2 cups shredded cheddar cheese, divided
1/2 cup evaporated milk
3 tablespoons butter, melted
1 tablespoon grated onion
1/2 teaspoon salt
1/2 teaspoon black pepper
Prepare rice according to package directions. Preheat oven to 350 F.
Coat 2-quart casserole dish with nonstick cooking spray. In medium bowl, combine soup, broccoli, 1 cup cheddar cheese, evaporated milk, butter, onion, salt and pepper. Fold in rice.
Pour mixture into prepared dish and top with remaining cheddar cheese. Bake 20 minutes.

SOURCE:
Success Rice