31 Adorable Toe Nail Designs For This Summer
Looking for ways to amp up your toes this summer?  If you're always in search for some cute and creative nail designs for your nails, you're at the right place. Sandal season is near so there's no reason not to do some nail art on your toes, right?
From easy and simple to fun and colorful, we've collected 30 stunning nail designs for your toes. Take your inspiration from our list and cancel your next appointment to your favorite nail salon. You won't need their services any more.
1. PINK AND BLUE GLITTER DESIGN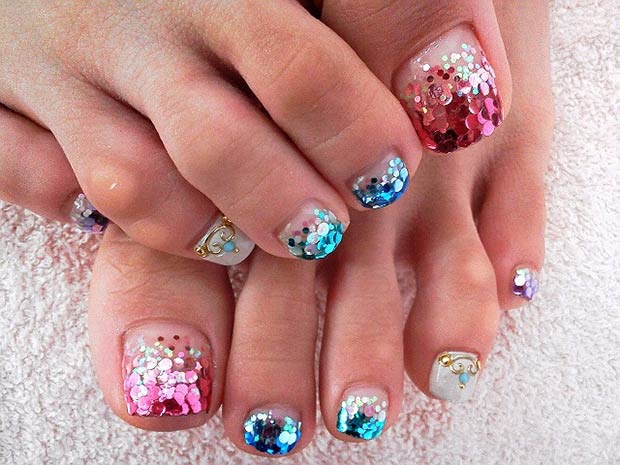 Add a little sparkle to your look with some pink and blue glitter on your toes. In just one stroke, a glitter nail polish will turn every toenail into a master piece. The only bad thing about it? It's a real pain to remove.
2. NUDE OMBRE DESIGN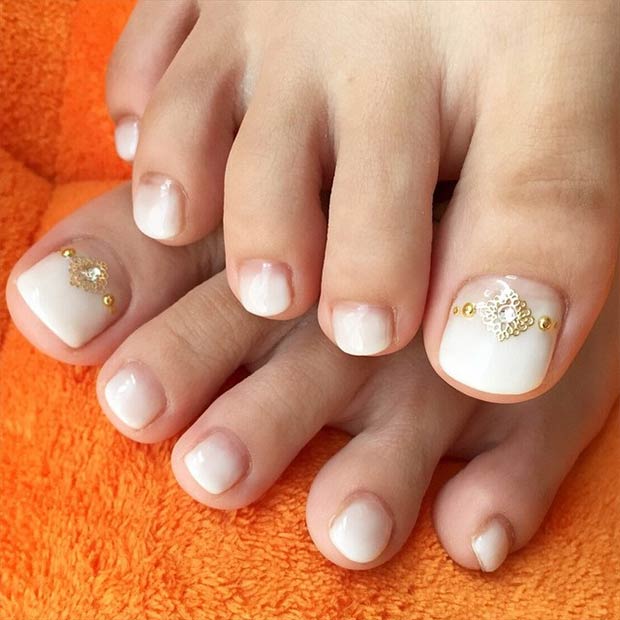 This simple and elegant toe nail design is perfect for special occasions. Gold details look amazing against the nude ombre background. If you don't have gold nail jewelry in your nail design kit, you can opt for simple and clean rhinestones.
3. NEON POLKA DOTS DESIGN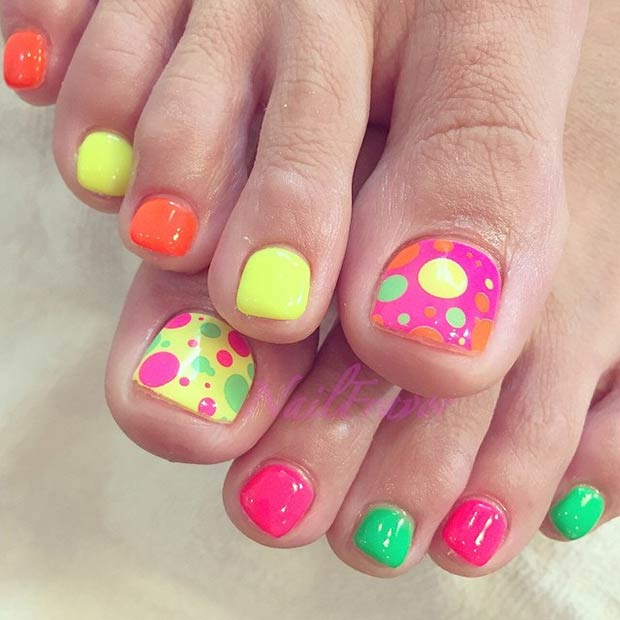 Summer calls for bright, vibrant and fun nail designs as on the fingers and on the toes. A pedicure traditionally means the same color (or nail polish) on each toenail, but that trend slowly becomes boring. Polka dot design is one of the easiest and simplest ways to adorn your toes.
4. WHITE DAISY DESIGN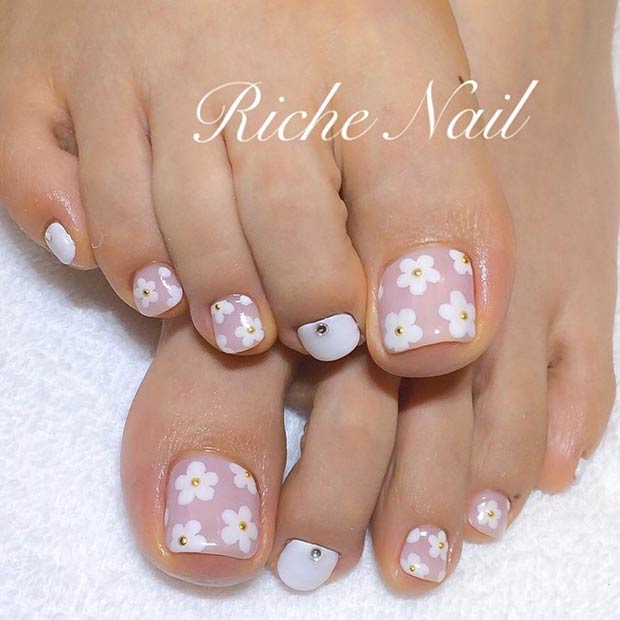 White daises with gold studs create a cute and trendy toe nail design against nude background. All white nails make the design pop even more. Make sure to try to re-create this look because daises are going to be everywhere this season.
5. PINK FLORAL DESIGN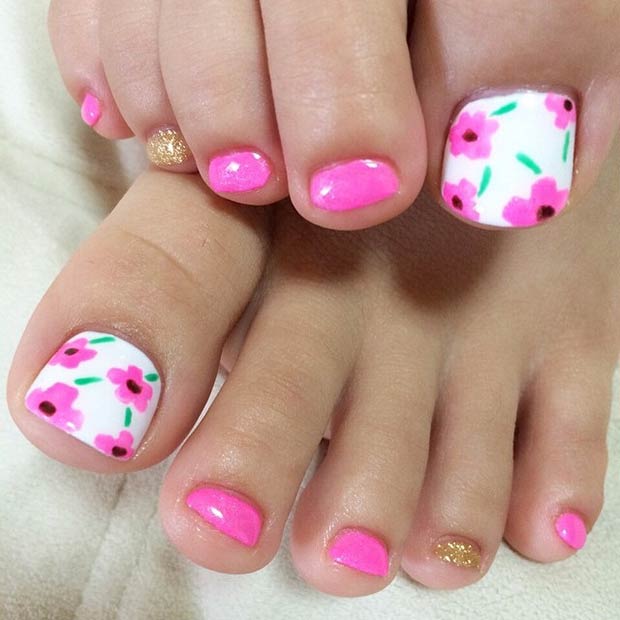 Not a fan of daises? Then you're gonna love this girly flower design. The pink flowers can be done freehand for a casual look or with a dotting tool for a more clean look. Either way, both ways look absolutely stunning.
6. PINK AND ORANGE DESIGN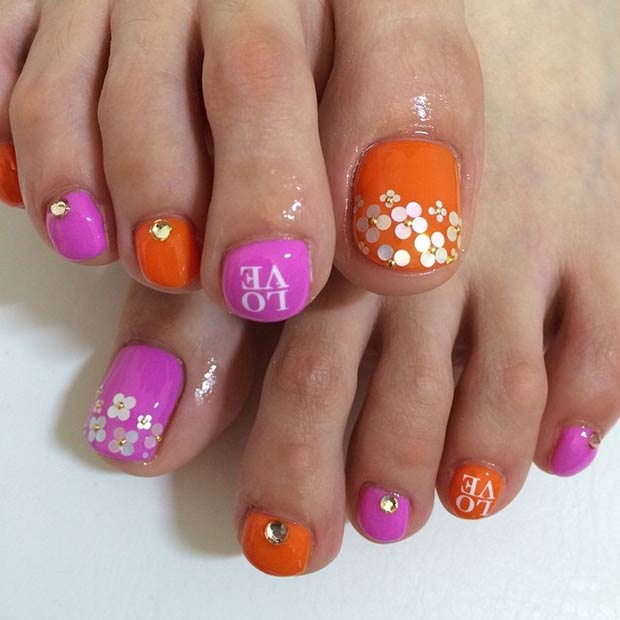 Pink and orange are probably not your ordinary color combination, but unexpectedly they work really well together, right? Amazing! This toe nail design can be done in a variety of ways. Be creative!
7. CUTE PASTEL DESIGN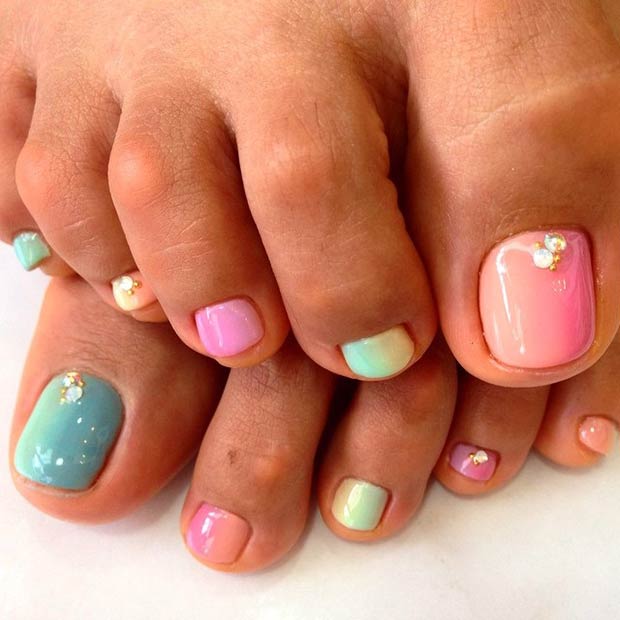 How beautiful are these pastel colors? We're obsessed! Nail accessories like beads, studs and rhinestones will make your toe nails really pop, but don't get carried away.
8. PINK AND PURPLE DESIGN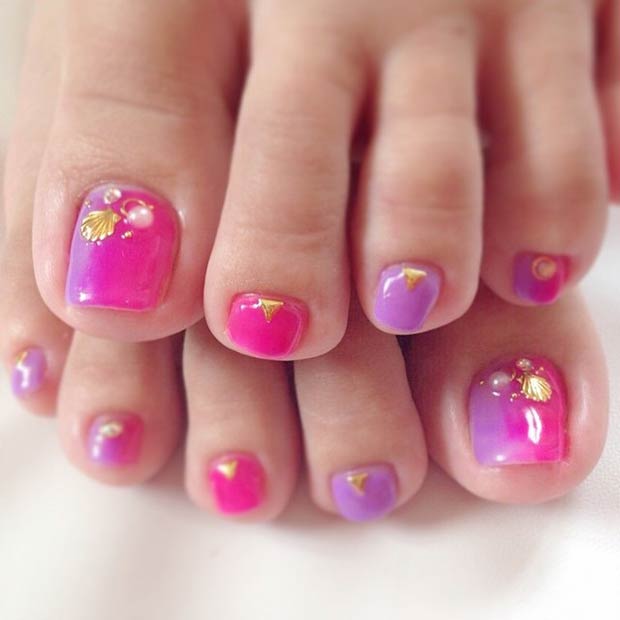 Pair a hot pink with a gorgeous purple for an ultimate girly design. This color combination will never go out of style! If you really want your toe nails to get noticed, this design is for you.
9. BEACH PALMS DESIGN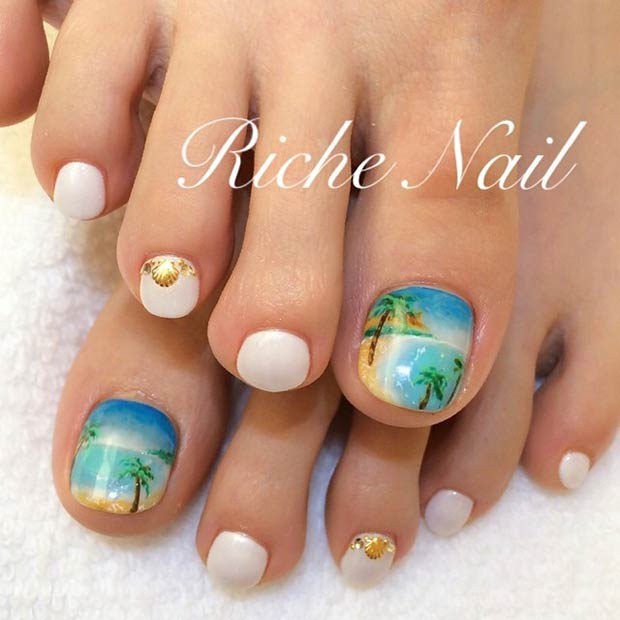 What is summer without palm trees on our nails, right? Beautiful beach designs on the big toes look like a piece of art. Other toenails should be simple and clean so the design can really pop and make some heads turn.
10. BLUE AND YELLOW DESIGN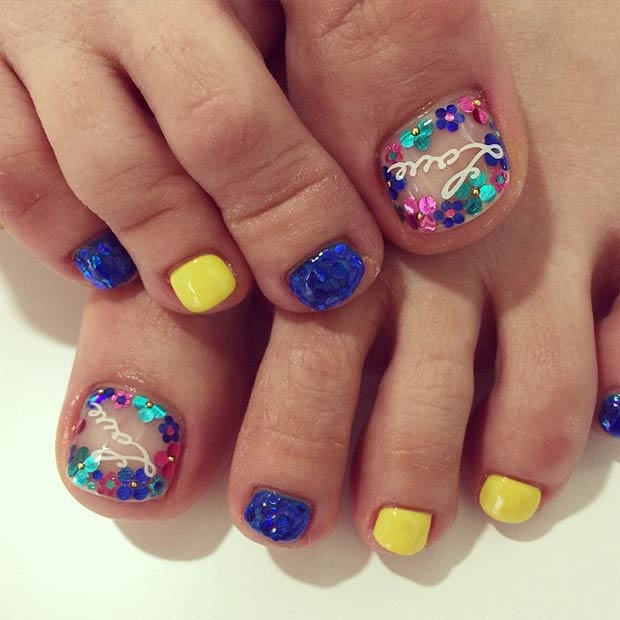 Colors like blue and yellow are just meant to be worn together. It's time to forget about boring color combinations and designs! Treat your feet like a canvas and use them to express your creativity.
11. PINK NAILS + PEARLS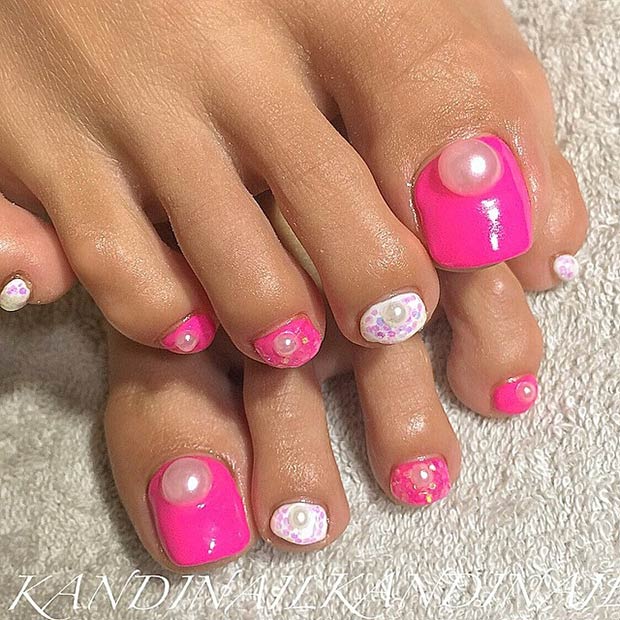 Pearl nail jewelry will give your feet some certain elegance. This toe nail design isn't time-consuming since you only have to paint your toenails into two different colors (pink and white) and adorn them with pearl nail jewelry.
12. ORANGE NAILS + RHINESTONES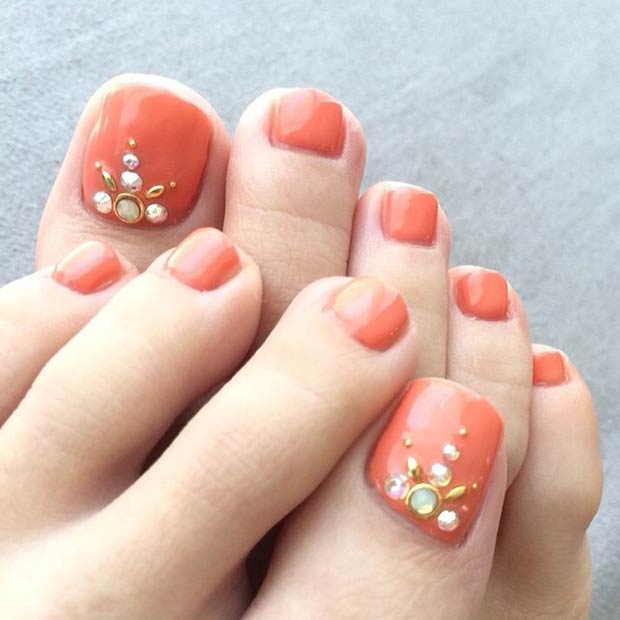 Having nice nails without professional help may seem nearly impossible… but it's actually possible. You can have a nice pedicure using just one nail polish color and some rhinestones. Simply paint your toenails with an orange nail polish (or any other desired color), let it dry and finish the look by applying few rhinestones on each big toe. There it is, your glamorous pedicure is ready for some peep toe heels or sandals!
13. RED HEARTS + NEGATIVE SPACE DESIGN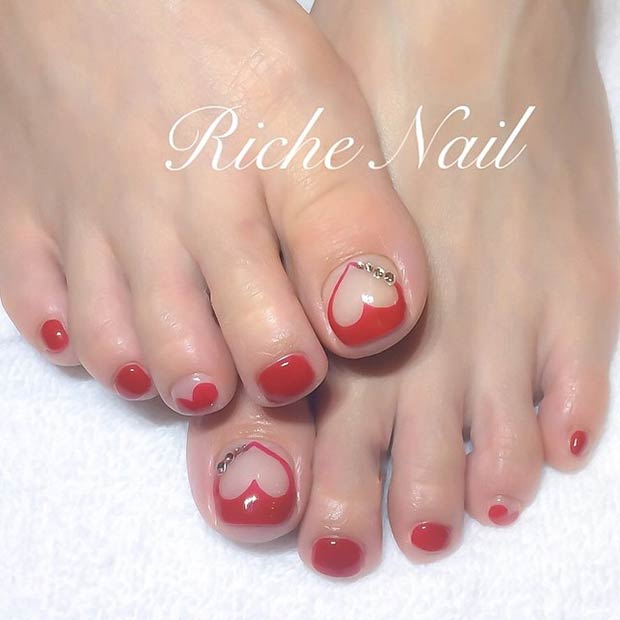 Yes, you can rock heart nail design even if it's summer time and Valentine's day was long time ago. This design would look great in some other colors as well. Negative space makes the heart design even more compelling.
14. COLORFUL MERMAID DESIGN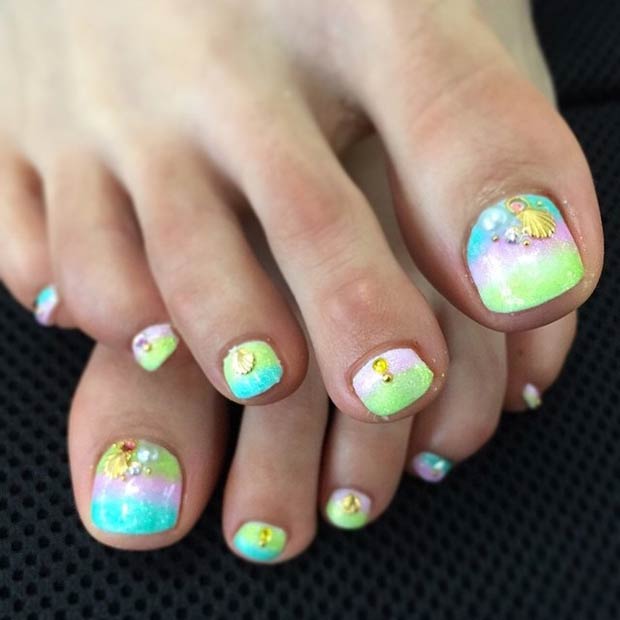 Who doesn't love bright and eye-catching colors after a cold and dark winter? It's time to bring out colorful nail polishes from the bottom of a drawer.
15. RED & WHITE CHERRY DESIGN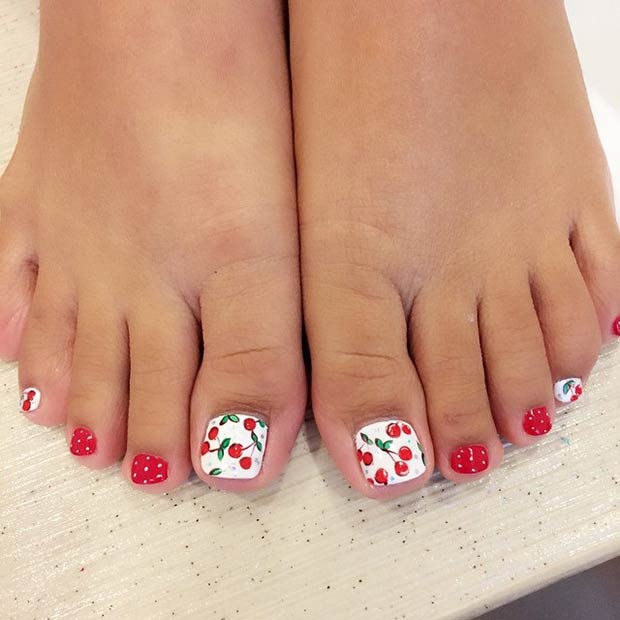 Invest in some nail wraps and you'll have no problems re-creating this super cute design. What could be easier than that? Most nail wraps can last up to a month on toes, especially if you finish the look with a gel top coat.
16. PINK & YELLOW FLOWER DESIGN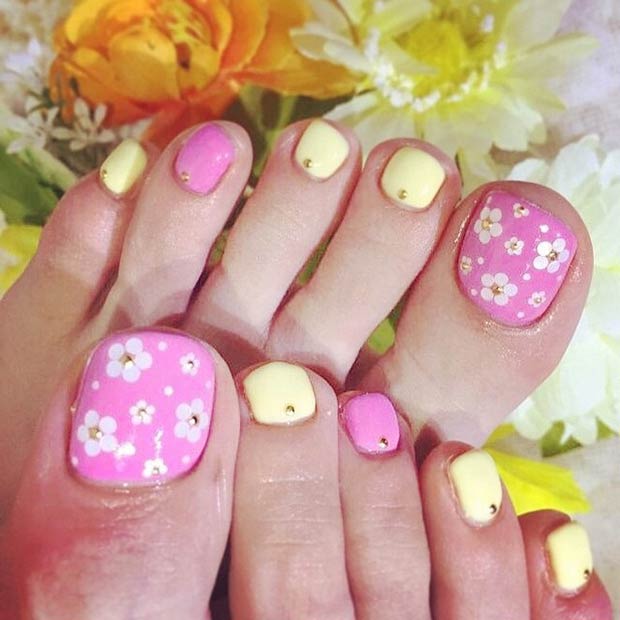 Flowers and pastel colors are universal sign of spring. White flowers can be easily created using a small dotting tool. If you don't have gold studs on hand, you can use yellow or gold polish. This pink and yellow color combination will make your toenails look like candies!
17. ORANGE NAILS + WHITE FLOWER DESIGN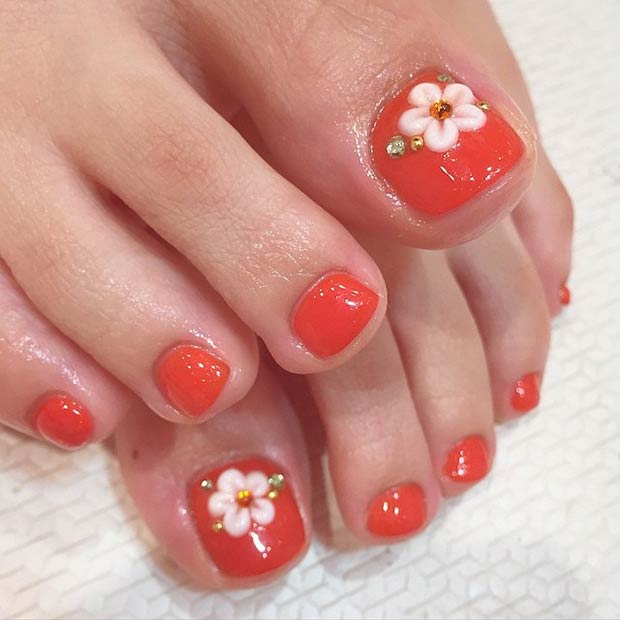 As you can see, adding a single flower can really make a huge difference. Flowers and rhinestones are always a good choice for nail decoration. Easy and good-looking – can't beat that, right?
18. SEA AND SAND DESIGN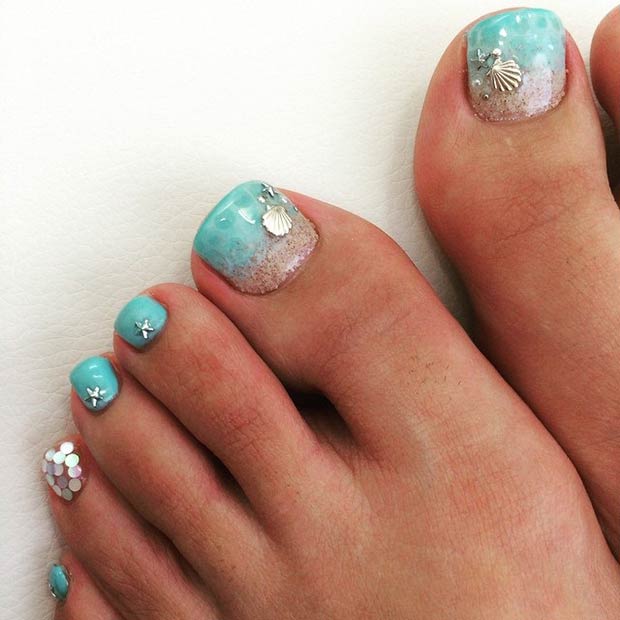 Don't let summer pass without trying this beach-inspired toe nail design! The gradient effect on the big toe can be easily done using a sponge. Silver seashell and star studs make this beach nail design even more interesting.
19. PINK AND WHITE STRIPES DESIGN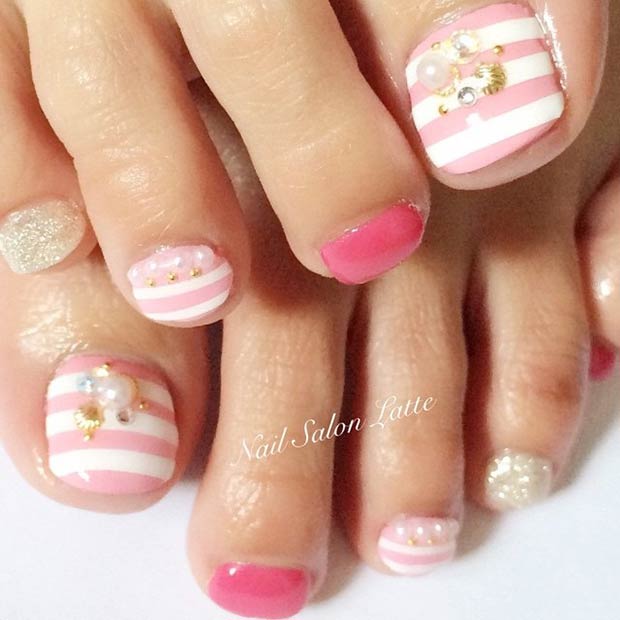 This lovely striped toe nail design is very simple to create. You just need a light pink and white nail polish, and some tape. Striped nail art is quick, easy and looks jaw-dropping. Everyone can do it!
20. NEON NAILS + GOLD DETAILS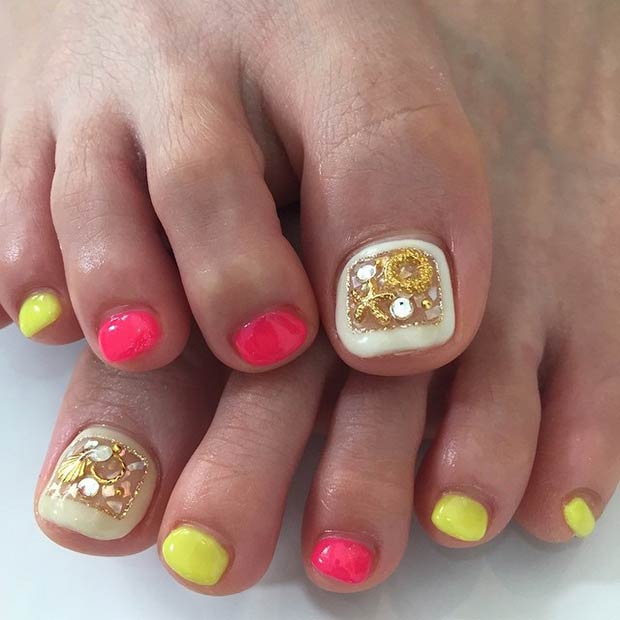 If you're a sucker for bright colors, this lovely design is for you. Get creative with how you use your gold details on your toenails. You can put them on each toenail or just on the big toes. Whatever design suits you the best.
21. BLUE & GOLD DESIGN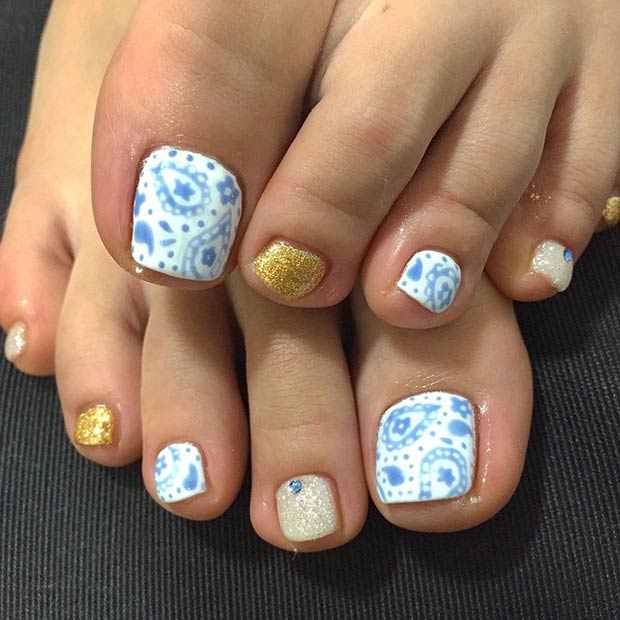 When in doubt what color combination to use for your pedicure, always opt for blue, white and gold combo. White and gold nails will stand out against a bronzed complexion.
22. PINK & ORANGE NAILS + GOLD DETAILS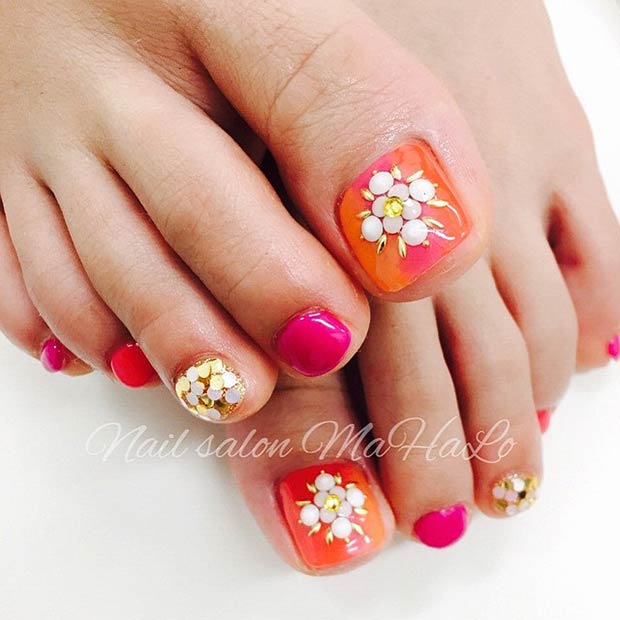 Add a touch of glam to your pedicure with gold sequins and rhinestones. Go for this summery look if you want to stand out from the crowd.
23. PURPLE GLITTER DESIGN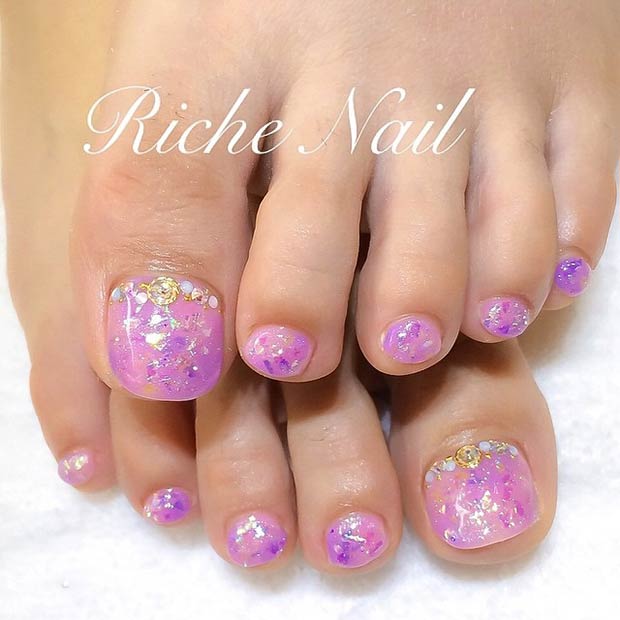 It's important to always have tidy and pretty nails so the nail design can truly stand out. This nail design is perfect for beginners. Will you give it a try?
24. SIMPLE TURQUOISE NAILS + SILVER GLITTER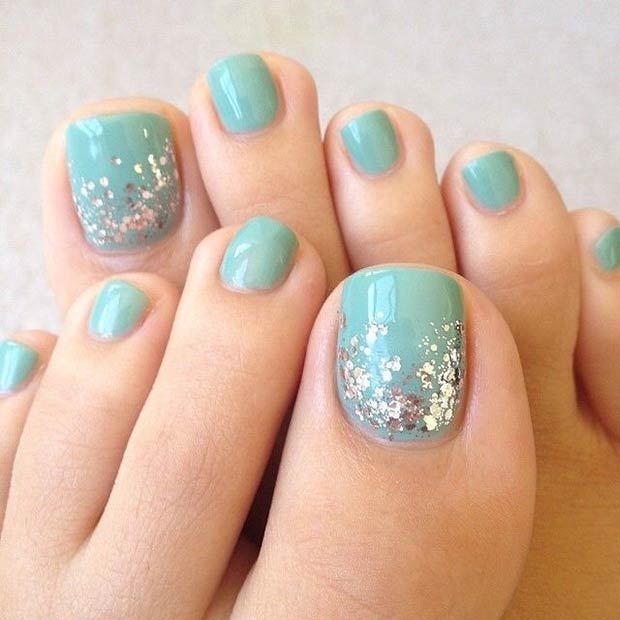 Looking for an easy-to-create nail design for your toes? We got your back. Use a vibrant polish color and simply apply just one stroke of a silver glitter nail polish on your big toes. Voila here's your easy but eye-catching toe nail design.
25. WHITE & GOLD BORDERLINE DESIGN
For days when you bolder than others, we recommend this borderline toe nail design. Be different and unique!
26. PINK NAILS + COLORFUL RHINESTONES DESIGN
Colorful rhinestones are one of the easiest ways to add some bling bling to your toenails. Summer is just around the corner so it's time get your toes ready!
27. PASTEL BEACH DESIGN
For those who love pastel colors, here's another cute toe nail design. These colors are a very stylish way to decorate your nails, especially if you match them with some gold studs, rhinestones and sequins.
28. GOLD SEASHELL DESIGN
This nail design is perfect for our ladies who don't have time to visit a nail salon. The design is super simple and easy to do. Think about all that time and money you'll be saving if you decide to do your nails alone.
29. PINK, ORANGE AND GOLD DESIGN
It's seems that this season is all about the pink and orange color combination. Recently, we've seen it everywhere from runways to red carpets. Either way, you must admit that this color combo is absolutely stunning. Gold details are an easy way to accent the colors.
30. COLORFUL GLITTER DESIGN
Don't have rhinestones at hand but you want to add some bling bling to your nails? No worries, glitter nail polish can give you desired bling in just one stroke.
31. PINK AND BLUE TRIBAL DESIGN
We are used to see tribal nail designs in fierce and bold colors but this design proves that you can rock wild patterns in pastel colors, too.
Support brain health: Simple ways to add to your wellness routine
(Family Features) When most people think of wellness, diet and exercise are the first things that come to mind. Brain health is another essential element of your overall wellness because it affects your quality of life in many ways.
Brain health is the foundation of your ability to live a productive and successful life by communicating and solving problems. It's the driving force behind your daily function.
Give your brain extra support with these tips:
Stimulate Your Mind

Like any muscle, your brain needs exercise. Your workout equipment for your brain can include activities like puzzles, reading, learning an instrument, taking up a new hobby or learning a new language.
Focus on Brain-Supporting Foods
What you eat doesn't just affect your physical health; it affects your brain health, too. One example is the Mediterranean-DASH Intervention for Neurodegenerative Delay (MIND) diet, which is the result of more than 20 years of data collected by researchers at Rush University Medical Center and Harvard School of Public Health.
It follows the Mediterranean style of eating whole foods with minimal processing and includes an emphasis on plant-based foods, including leafy greens, whole grains and heart-healthy legumes along with some fish and smaller amounts of poultry. The MIND diet aims to build on these principles and emphasizes antioxidant-rich berries, dark leafy greens and fatty fish like salmon, mackerel, herring or sardines.
A dish like Kale and Quinoa Bowl with Salmon reflects the MIND diet guidelines and is a delicious and smart way to support your brain with good nutrition.
"Fueling your brain starts with your plate," said Melissa Halas, MA, RDN. "This tasty kale, quinoa and salmon recipe by Alton Brown has smart ingredients that match the MIND diet. Plus, the results are delicious. It's so important to support your brain with the right nutrients."
Sleep Well
While you catch up on your rest, your body is hard at work rejuvenating all your systems, and your brain is no exception. Getting plenty of sleep each night gives your brain time to repair itself so you wake feeling sharp and focused.
Add a Supplement to Your Daily Routine
Most people fall short of reaching recommended nutrient levels with their diets alone. Supplements can help fill the gap. An option like Neuriva Plus can help support the key indicators of brain health: reasoning (think and understand things in a logical way), focus (zoom in and filter out distractions), accuracy (react with greater speed and precision), memory (record and recall stored information), learning (retain new information) and concentration (concentrating on tasks for longer periods).*
*These statements have not been evaluated by the Food and Drug Administration. This product is not intended to diagnose, treat, cure or prevent any disease.
Available in capsules and gummies, the Neuriva brain health supplements include naturally sourced ingredients like Neurofactor™ (coffee cherry extract) and plant-sourced phosphatidylserine (PS), as well as B vitamins to support brain health.
"I recently turned 60 and over the past couple of decades, I've been very focused on taking care of my health from the inside out – first with my food, and now taking action to support my brain health," said Alton Brown, award-winning chef and food geek. "Neuriva fits perfectly into my holistic regimen, which for me, is just simple life practices, like exercising, eating a balanced diet and getting a good night's sleep."
Manage Stress
Keeping your stress in check is good for your mental well-being, but it also affects your physical and cognitive health. Practicing yoga, meditation or listening to music are some ways to reduce stress while improving your cognitive function and performance.
Connect with Others
Personal interaction also sharpens your brain, as it encourages you to practice communication and other cognitive skills. You can protect and improve your brain health by creating and nurturing connections with friends and family.
Keep Moving
Your brain needs plenty of oxygen for good function. Physical activity burns calories and builds muscle while increasing oxygen flow and stimulating nerve cell growth.
For more ideas to support brain health and wellness, visit Neuriva.com and download the Neuriva Brain Gym app.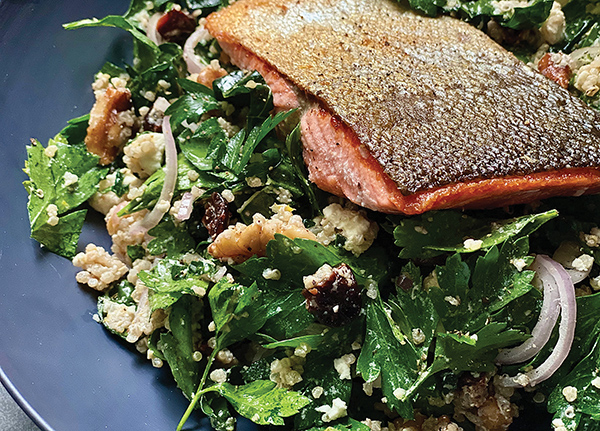 Kale and Quinoa Bowl with Salmon
Recipe courtesy of Alton Brown on behalf of Neuriva
Servings: 4
Kale and Quinoa Bowl:
1 bunch lacinato or "dinosaur" kale, stems removed and cut into ribbons (about 4 ounces, stemmed)
1 bunch (1 1/2 ounces) flat leaf parsley, stems removed and roughly chopped
2 shallots, thinly sliced
5 tablespoons extra-virgin olive oil, divided
1 lemon, zest and juice only
2 large garlic cloves, minced
1/2 cup plain, low-fat yogurt
4 ounces firm feta cheese, divided
1cup (3 1/2 ounces) walnuts, toasted and lightly crushed, divided
1 teaspoon kosher salt
2 cups cooked white quinoa
1/2 cup dried cherries
freshly ground black pepper
Salmon:
2 skin-on salmon fillets (around 1-inch thick and 5 ounces each)
1/2 teaspoon kosher salt
2 tablespoons light olive oil
To make kale and quinoa bowls: In large bowl, toss kale, parsley and shallots with 2 tablespoons olive oil; set aside 10 minutes.
In bowl of food processor, puree remaining olive oil, lemon juice and zest, garlic, yogurt, 2 ounces feta, 1/3 of the walnuts and salt.
Pour dressing over greens then fold in quinoa, remaining walnuts, cherries and remaining feta.
Cover and refrigerate at least 1 hour before serving with several grinds of black pepper.
To make salmon: Wrap fillets in paper towels then heat large cast-iron skillet over medium-high heat 5 minutes.
When skillet is hot, season fillets with salt. Add oil to skillet and carefully tilt to evenly cover bottom. When oil shimmers, slide fillets in, skin-side down, pressing each fillet firmly down with spatula.
Reduce heat to medium-low and cook 3 minutes then cover and cook 2 minutes.
Carefully flip fillets, cover and cook 1 minute, or until fillets reach desired doneness or internal temperature of at least 130 F** on thermometer inserted into centers.
**The United States Department of Agriculture recommends a minimum internal temperature of 145 degrees Fahrenheit.
To serve, separate kale and quinoa mixture into four bowls. Slice each fillet in half and place on top of kale and quinoa.
Content courtesy of Neuriva
Photo courtesy of Getty Images (woman eating at laptop)
Photo courtesy of Getty Images (woman doing a puzzle)
Photo courtesy of Lynne Calamia (Kale and Quinoa Bowl with Salmon)


SOURCE:
Neuriva
Living with psoriatic arthritis? How to manage your symptoms
(BPT) – Sponsored by Janssen
Imagine finding simple tasks, such as getting out of bed, dressing yourself or turning a faucet on and off, difficult to do because they're too painful.1 That's what a typical day can feel like for people living with active psoriatic arthritis (PsA). About 1.5 million Americans are living with PsA, and although patients may experience symptoms differently, the condition can often interfere with basic daily activities.1,2
Active PsA is a chronic condition that occurs when your body's immune system attacks healthy cells and tissue, which causes inflammation in the joints as well as overproduction of skin cells. 3 Common symptoms of active PsA include joint stiffness, pain and swelling.4 Some patients with active PsA can also experience fatigue, which is an underestimated and underreported concern that can interfere with daily life. 4-6
PsA symptoms can vary and differ in severity from patient to patient, so it's critical for healthcare providers and patients to have an open dialogue to build a personalized management plan together. 4 A PsA management plan may incorporate lifestyle changes as well as medication potentially to help address the disease symptoms.
"The symptoms of active psoriatic arthritis may be hard to describe or feel invisible at times, but that doesn't make them any less real," said Soumya D. Chakravarty, MD, PhD, Senior Director, Strategic Lead, Rheumatology Therapeutic Area at Janssen. "PsA can have debilitating effects on the lives of patients. It's important for patients to speak about symptoms with their rheumatologist because there are strategies they can implement to help see improvement."
Here are some top tips for managing symptoms of PsA:
Consider a Healthy Diet
While there isn't a specific diet for PsA, research shows that certain foods can help reduce inflammation in the body, which contributes to the disease.7 Consider incorporating more anti-inflammatory foods, such as fruits, vegetables, beans, whole grains and healthy fats like fish and avocado, while reducing foods like fatty red meats, dairy, refined sugars and processed foods. 7,8
Think About Finding a Workout That Feels Good
Exercise while living with active PsA can feel daunting, but physical activity has many benefits, including helping to maintain a healthy weight, taking extra pressure off painful joints, keeping joints flexible and increasing endorphins, which can provide an energy boost. 8,9 Make sure to speak with your healthcare provider or a physical therapist about a workout routine that is right for you. As a general guide, try to target 30 minutes of movement each day if you're able and consider lower impact workouts. 8
Lean On a Support System
For people living with PsA, the disease can have an impact beyond just physical symptoms. 10 Connecting with other patients who understand what you're experiencing, whether in a support group or an online community, can help if you're feeling overwhelmed, misunderstood or isolated. 10
Start a Dialogue With Your Healthcare Provider About Treatment Options
In addition to physical tests to assess the severity of your PsA, rheumatologists are also building treatment plans based on outcomes that are more personally significant to patients.6 "It's important to speak openly with your rheumatologist because there are treatments that may help improve PsA symptoms," said Dr. Chakravarty.
Be sure to describe your symptoms — such as joint pain, stiffness and swelling — with specific details about how they impact your daily activities. Also, let your rheumatologist know if you are experiencing fatigue from your active PsA. This information will help them develop an individualized treatment plan that is right for you, which may include a biologic therapy, such as TREMFYA® (guselkumab) — a prescription medicine used to treat adults with active PsA. Talk to your doctor to see if TREMFYA® is appropriate for you. TREMFYA® is the first FDA-approved medication of its kind to selectively block interleukin 23 (IL-23), one of the key proteins thought to be responsible for symptoms of PsA. TREMFYA® can help reduce the joint pain, stiffness, and swelling that make everyday tasks harder to do. In two medical studies, more than half of patients treated with TREMFYA® had at least a 20% improvement in joint pain, stiffness, and swelling at 24 weeks. Furthermore, at 24 weeks, people taking TREMFYA® showed an overall improvement in their ability to perform daily activities such as getting dressed, eating and walking. Some patients also reported improvement in fatigue as measured by the Functional Assessment of Chronic Illness Therapy – Fatigue (FACIT-F), a questionnaire to measure self-reported tiredness, weakness, and difficulty conducting usual activities due to fatigue.
TREMFYA® is not for everyone; only your doctor can decide if it's right for you. Do not use if you are allergic to TREMFYA®. TREMFYA® is a prescription medicine that may cause serious side effects, including serious allergic reactions and infections. It affects your immune system and may increase your risk of infections and lower your ability to fight them. Patients should be instructed to seek medical advice if signs and symptoms of clinically important chronic or acute infection occur. Patients should also be evaluated for tuberculosis before being treated with TREMFYA®. Please read the Important Safety Information and the Medication Guide for TREMFYA® available at www.tremfya.com to learn more about these and other risks for TREMFYA®. Discuss any questions you have with your doctor.
Coping with PsA can be overwhelming at times, but as difficult as it may be, don't get discouraged. There's no one-size-fits-all approach to PsA management and it's important to remember you have options. There are various steps you can take with your rheumatologist to help alleviate symptoms and better manage the disease.
You are encouraged to report negative side effects of prescription drugs to the FDA. Visit www.fda.gov/medwatch, or call 1-800-FDA-1088.
Tips for caring for a loved one from afar
(Family Features) Caring for a family member or loved one with a serious health condition like Parkinson's disease (PD) can be a big undertaking and often takes a concerted effort from many family members and friends to provide the best care possible. Even if you're not available to provide hands-on assistance on a consistent basis, there are ways to provide aid from a distance.
PD is one condition that may have an impact on the entire family, necessitating a broad care network. The second-most common neurodegenerative disorder behind Alzheimer's disease, PD affects nearly 1 million nationwide, with more than 60,000 Americans newly diagnosed each year. Because it can be hard to tell if a loved one has the disease and no two people experience it quite the same way, some early signs to look for include tremors, slowness of movement and stiffness or rigidity, among others.
Organizations like the Parkinson's Foundation have resources that can help you and your family members provide long-distance care to a loved one. As an ally to care partners, the Foundation aims to make life better for people living with PD and their families by improving care and advancing research toward a cure.
Experts from the Foundation offer these tips for long-distance caregivers:
Learn about your loved one's condition. You will be better able to provide support if you have a basic understanding of the disease. Be sure to gather information on the condition's symptoms, how it is diagnosed and what treatment options are available.
Be well versed in your loved one's needs. Learn about his or her general health and keep a list of doctors and neighbors along with their contact information. Also keep any pertinent financial and legal documents readily accessible.
Keep an open line of communication with the primary caregiver. As care partner responsibilities often increase over time – and can easily lead to burnout – be sure to let the primary caregiver know you are there for them. Consider sending a simple gift such as a hand-written card, flowers or a gift card for a self-care appointment, like a massage.
Consistently offer to help. There are many ways you can offer support. If in doubt, directly ask how you can be of the most help. Even if you cannot be present to offer hands-on assistance, consider sending meals, troubleshooting technology issues or providing other assistance based on your skillset. You may even offer to have your loved one come stay with you for a while, if they are able to travel, to give the primary caregiver a respite from duties.
Call often. Set a designated day and time each week to chat with your loved one and make the call faithfully, even if just to catch up for a few minutes. Consider using a video calling service so you can see each other, if possible, to provide an additional level of connection.
Talk finances. Many people won't ask for financial help, even if the limitations of a fixed income mean going without necessities, so it may be best to have this conversation proactively. If a regular subsidy isn't possible, offer to buy groceries online, send a weekly meal, purchase medical supplies or help with household utility bills, transportation costs or home-related services.
Visit when possible. If your budget allows, plan regular trips to check on your loved one and plan ahead with the primary care partner so you can provide respite. Offer to take on key responsibilities during your visit and provide a listening ear for the main caregiver while you're there.
You can find an array of free resources, including a comprehensive Caring and Coping guidebook, a video library, podcast episodes, courses and an online community, at Parkinson.org/Caregivers. To learn more and find additional resources in English or Spanish, visit the website or call the Parkinson's Foundation toll-free Helpline at 1-800-4PD-INFO (1-800-473-4636).
Photos courtesy of Getty Images


SOURCE:
Parkinson's Foundation