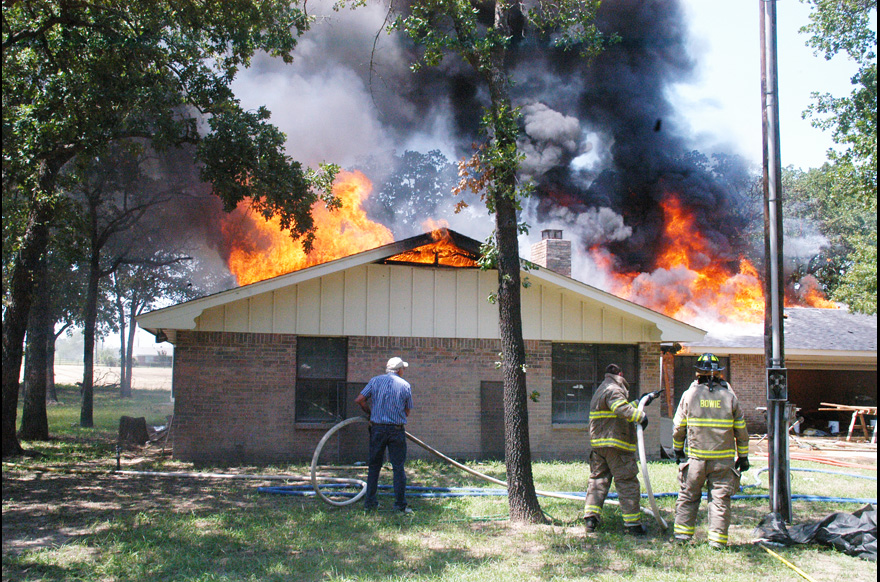 Structural fire at 423 Brazos Street in Salona, a rural area northeast of Bowie. Read the weekend edition of The Bowie News for more. (News photo by Eric Viccaro)
Police, sheriff investigate one possible suicide threat and one man who allegedly assaulted woman in a car

Montague County law enforcement and Bowie Police attended to a pair of separate incidents that prompted a delay in dismissing the local school campuses by about 15 minutes or more Monday.
Bowie Police Chief Guy Green reported about 4:45 p.m. Monday the bare basics of the incidents as the investigation is only in its preliminary stage.
Incident one involved information from the county sheriff's office about a man who was allegedly making threats of suicide and had a gun. Green said the man has children in local schools and there were concerns in case he came to school. The sheriff's staff was able to find him out in the county and talk with him. He was unharmed and additional details will come later.
Incident two the chief said involved a middle-aged lady who was driving in the area of Farm-to-Market 1125 and Rock Hill Road when she was flagged down by a man who needed a ride. She stopped and picked him up, but once inside he reportedly began threatening her to drive or he would kill her. Green said based on the basic info he had at 4:45 p.m. Monday the male subject began hitting the female driver assaulting her.
"She was able to stop the car and when she did, he jumped out running toward the area near Murphy Express and Walmart. Officers were already over at the high school which had been locked down and some of them went to that area to search. Deputy Chase Pelton brought over K9 Ace and he was deployed to track down the suspect. K9 Ace and Pelton captured and placed him into custody without further incident," said the chief.
Bowie Police and the sheriff's office expect to provide additional information tomorrow as they talk further with the suspects and witnesses.
County Judge says mask exemption is ended
Montague County Judge Kevin Benton reported Saturday morning he has found after talking with the local health authority and state health service officials the state is tracking 35 active COVID-19 cases in the county and there are likely some additional cases on on the list. This increase from Oct. 14 when the mask exemption was announced, now cancels the exemption. The Texas Department of Health is investigating probable origins of this increase in positive cases. Citizens are encouraged to follow the governor's order urging face coverings in public locations.
Burglars hit Montague store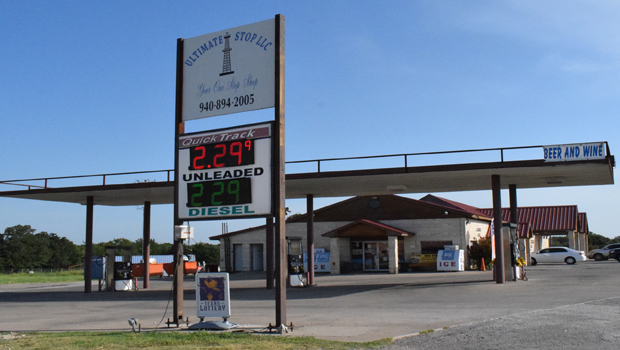 Ultimate Stop in Montague was burglarized at approximately 2:30 a.m. on July 26 when cigarettes and a safe deposit box were stolen.
The burglary was reported when an employee arrived in the early morning hours to open the store, located at 10343 State Hwy 59 N., and discovered damage to the building.
Montague County Sheriff Investigator Joey Stewart said entry was made using a crowbar. When officers arrived on the scene, they found the unknown suspect had tampered with the alarm keypad and cut the phone wires. Once inside, cigarettes and a safe deposit box were stolen.
The store did have video surveillance; however, the burglar also took the digital video recorder containing any video that may have identified the suspect.
As of Wednesday afternoon, there were no known suspects, but Stewart reported the department is processing evidence gathered at the crime scene and hope to identify a suspect soon. If you have any information regarding this crime, call the Montague County Sheriff's office at 894-2871.