HIGH SCHOOL POWERLIFTING: Bowie Invitational Results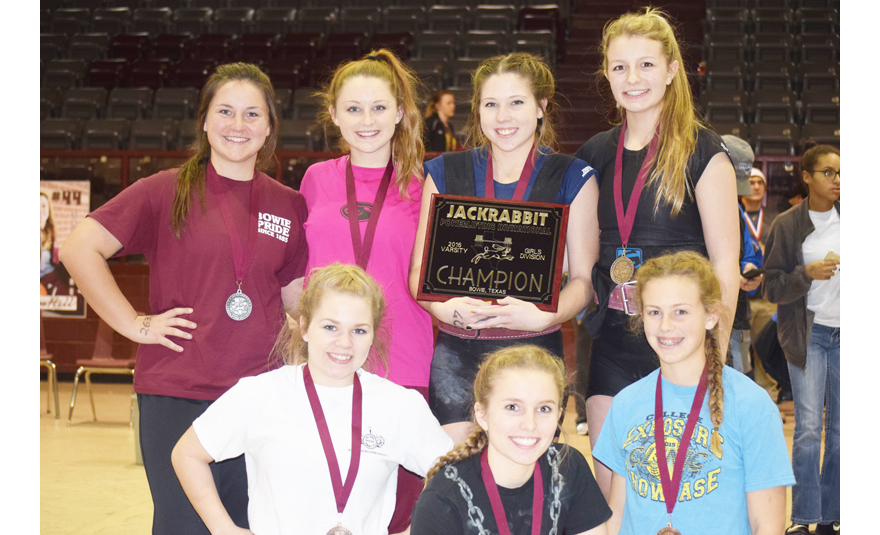 Results
Bowie Invitational
At Bowie
GIRLS
Team Standings
1, Bowie, 31; 2, Springtown, 27; 3, Wichita Falls City View, 16; 4, Keller Timber Creek, 15; 5, Petrolia, 12; 6, Chico, 12; 7, Callisburg, 11; 8, Gainesville, 8; 9, Burkburnett, 7; 10, Pilot Point, 7; Burkburnett takes ninth based on average
Bowie finishers
123 pounds: Kylie Robinson, first; Sofie Butler, third; 132: Carcyn Robertson, first; Madison Metzler, third; Sami Deford, fifth; 148: Montana Holbach, third; 165; Carrington Davis, second; Mylena Orcudero bombed out at 181.
Weight class champions
97 pounds: Alli Roglin, Springtown, 435; 105: Kati Roglin, Springtown, 475; 114: Kayla Wampler, City View, 655; 123: Kylie Robinson, Bowie, 650; 132, Carcyn Robertson, 640; 148: Caroline Ramsey, Petrolia, 715; 165: Faith Hollingsworth, Burkburnett, 665; 181: Kya Charron, Keller Timber Creek, 870; 198: Tabi Rogers, Springtown, 815; 220: Ashlynn Jackson, Pilot Point, 440; 220-plus: Tori Scott, Gainesville, 780
BOYS
Team Standings
1, Gainesville, 35; 2, Wichita Falls City View, 32; 3, Bowie, 28; 4, Paradise, 23; 5, Ponder, 22; 6, Burkburnett, 18; 7, Bridgeport, 13; 8, Chico, 11; 9, Alvord, 4; 10, Pilot Point; Alvord takes ninth based on average
Bowie finishers
123 pounds: Joey Crawford, second; 132: Cristian Martinez, first; Juan Mares, fourth; Jay Rogers, sixth; 148: Chance Tomlinson, fifth; Sawyer Przilas, 10th; Justin Jackson, 12th; 165: Chandler Hefley, third; 198: Bret Davis, second; 220: Tristan Dennison, sixth; Super heavyweight: Jared Roberts, second; Zack Otto bombed out at 181.
Weight class champions
114: Gavin Ruiz, Gainesville, 580 pounds; 123: Kyle Reed, City View, 660; 132: Cristian Martinez, Bowie, 1,040; 148: Darian Sotomi, Paradise, 1,100; 165: Danny Ho, City View, 1,190; 181: Chon Hernandez, Gainesville, 1,090; 198: Austin Bennett, Ponder, 1,245; 220: Cameron Starnes, Chico, 1,310; 242, Ronnie Killen, City View, 1,425; 275: Deric Conner, Paradise, 1,325; Super heavyweight: Manny Rodriguez, Gainesville, 1,375.
Editor's Note: Read The Bowie News for the most complete powerlifting coverage.
Carrington Davis, Sofie Butler, Montana Holbach, Kylie Robinson, Madison Metzler, Carcyn Robertson and Sami Deford all show off the medals they won during Saturday's Bowie Invitational. The Lady Rabbits won the meet by several points, and Robinson established a new personal record with a 290-pound dead lift. (News photo by Eric Viccaro) 
Bowie Volleyball Interview
Saint Jo Football Interview
Forestburg
The Forestburg Lady Horns came away with a silver bracket championship win at Saint Jo's tournament.
The Lady Horns went 3-2 overall, rebounding from a tough pool play to win some tough games during bracket play.
Forestburg had a tough pool, losing against state-ranked Graford and Dodd City. However the Lady Horns picked up a win against Vernon Northside so it was not all bad after day one.
This put them in the silver bracket. Against Ector and then Savoy both matches were competitive and emotional roller coasters. Playing Savoy in the championship game, Forestburg was even down by eight points in the final set. Eventually, the Lady Horns turned things around to win the match and the championship.
Nocona
The Nocona Lady Indians quickly rushed to beat Bridgeport on Friday so they could concentrate on homecoming.
The Lady Indians won in straight sets 3-0 against the Lady Blues, with neither set taking very long nor being too competitive.
Nocona won with set scores being 25-9, 25-13 and 25-10.
On defense Aubree Kleinhans led the team with six digs while Gracie Brown was second with five. Both Bren Fenoglio and Bailey Waters each had three blocks.
Meg Meekins led the team with 13 kills and six service aces while Kleinhans was second with five service aces. Skyler Smith had a team high 14 assists and eight kills while Meekins was second with eight assists.
Saint Jo
The Saint Jo Lady Panthers had a good hosted tournament last week, competing with and beating some tough teams.
The Lady Panthers went 4-1 overall, losing their only sets in their loss at the end of the tournament.
In pool play Saint Jo picked up straight sets win against Graham's JV, Savoy and a Chico team that made the Lady Panthers at least have to try.
This put Saint Jo in the gold bracket where it matched up against a state-ranked 1A team, Dodd City, a team it could see in the playoffs at some point. The Lady Panthers won a close first set 25-23 before pulling away in set two to win 25-15 and in straight sets.
Saint Jo had another challenge ahead, with another state-ranked 1A team Harrold up next with the winner playing the championship game.
The teams played the previous week with Harrold coming out on top. It was the same result this time as the Lady Panthers lost 25-17 and 25-18.
Prairie Valley
The Prairie Valley Lady Bulldogs had a tough tournament at Saint Jo last week.
The Lady Bulldogs went 2-3 overall while playing in the silver bracket, but ended strong with a remarkable comeback.
Prairie Valley opened the tournament with a competitive win against Ector the team wrapped up in straight sets. It would be the last wins of the day. The Lady Bulldogs lost to Victory Christian and state-ranked Harrold in straight sets to finish 1-2.
Sent to the silver bracket on day two, Prairie Valley lost an up and down match to Savoy in three sets. The Lady Bulldogs had one final match in the tournament which would be a rematch against Ector.
After winning the first set, Prairie Valley looked dead in the water down 17-1 to start set two. Somehow, some way the Lady Bulldogs came all the way back to grab the win 27-25 and the match 2-0.
Bellevue
The Bellevue Lady Eagles had one final test last week with a tournament at Saint Jo against several good teams.
The Lady Eagles went 1-4 overall, but with the team picking up their first win of the season only a week ago that is a good result.
In pool play the team suffered one-sided losses against Collinsville and state-ranked Harrold. Still, the day was saved with a three-set, competitive win against Ector raising the team's spirits some.
Still, the team played in the silver bracket on day two and had a rematch against Ector. This time around the Lady Eagles were not so fortunate, losing in straight sets, though only losing the second set by the narrowest of margins.
Bellevue then played Vernon Northside to end the tournament and the result was a loss in straight sets.
Missing Scores
Gold-Burg did not play a game late last week.
To read the full story, pick up a copy of the mid-week edition of the Bowie News.