Rhetoric fuels rumors, questions about election voting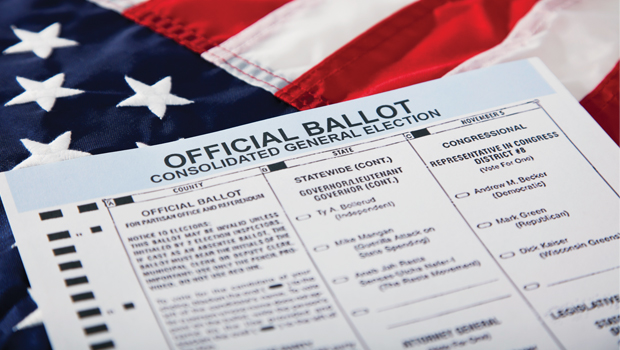 By BARBARA GREEN
The heated presidential race, coupled with rhetoric from a candidate about a "rigged system" has fueled skepticism and doubt prompting every aspect of voting to come into question.
Montague County Elections Administrator Brandi Shipman said this week she has had people question the type of machines that are being used, demand a paper ballot and question the hours of an early voting location.
Regarding the paper ballot, Shipman said someone demanded a paper ballot indicating they do not trust the electronic system. That citizen told Shipman federal law allows her to ask for a paper ballot; however, the administrator said this is no such stipulation.
In a fully electronic county, said Shipman, the only paper ballot is by mail where eligibility is based on disability, age or being absent on election day.
Responding to questions, Shipman has submitted a letter to the editor which is published in Saturday's Bowie News and answers many of these questions.  Please see the Saturday print edition to see the full letter.
Montague County appears to be heading to a record early voter turnout with one week left. Through Thursday at 4 p.m. the early voting total for the county was 3,002, which is 22.54 percent of the eligible voters.
Read the full story in the weekend News.
Fantasy of Lights Christmas Festival 2023 Sweet Tidings of Gingerbread schedule Dec. 1-3
Dec. 1
Sip & Stroll With Me, 5-8 p.m., downtown Bowie, $10 to purchase armband and glass from any participating merchant. See full list of merchants in your mid-week Bowie News.
Open house Bowie Economic Development office, 4-6 p.m., 101 E. Pecan.
Dec. 2
Pancakes with Santa, 7-10 a.m., Bowie Fire Department. Free, toy drive donations accepted and photos with Santa.
FUMC Elf 'N Magic Crafts, 8-11 a.m., Bowie Library, 301 Walnut, free.
Amity Club accepting Bowie Mission donations at 506 N. Mason from 9 a.m. to 6 p.m.
Christmas entertainment, 3-6 p.m., Wise Mercantile, 111 W. Wise.
Live entertainment and holiday songs, 5 p.m., main stage on Smythe Street
Christmas tree lighting ceremony, 6:45 p.m., Smythe and Tarrant Streets
Fantasy of Lights Parade, 7 p.m.
Dec. 3
Amity Club Christmas Tour of Homes, 2-5 p.m., various locations. Tickets $20 at the chamber office, Amity members at at home locations. See full list of homes in the mid-week Bowie News.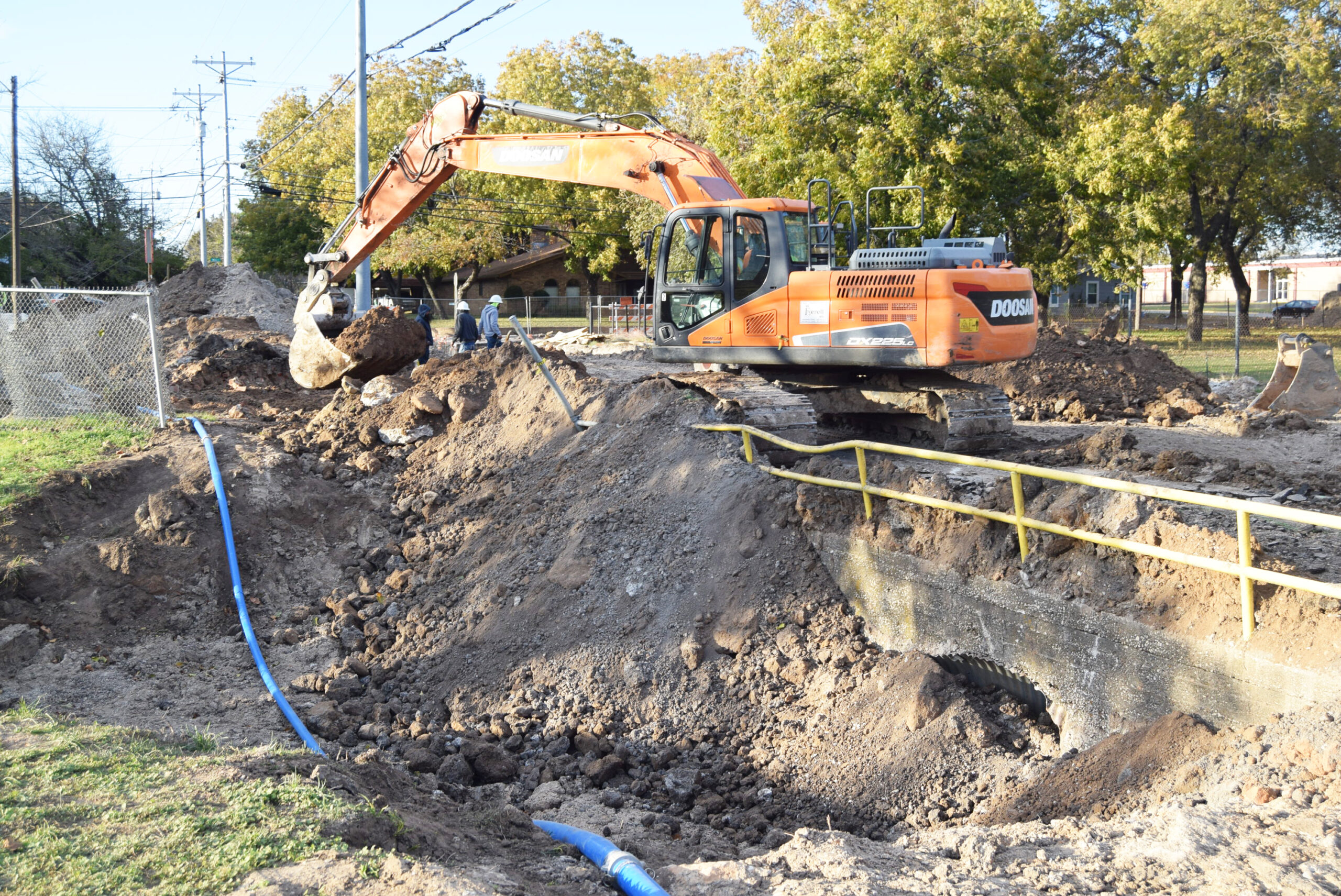 The drainage project at Nelson and Mill saw major progress as the first concrete drain boxes went in along with pipe. These 42-inch corrugated PVC pipes will connect to the inlet box at Mill. The bridge and rusted culverts and pipes have been removed. The pipes will flow through the 11-feet X 6-feet concrete culvert boxes which will be tied together and set in the creek, going under Nelson to Lamb Street.The project contractor has removed all the rusted out galvanized culverts that were located under Nelson Street at Kiwanis Park, along with the bridge that went across the creek that flows through the park. (Courtesy photo and by Barbara Green)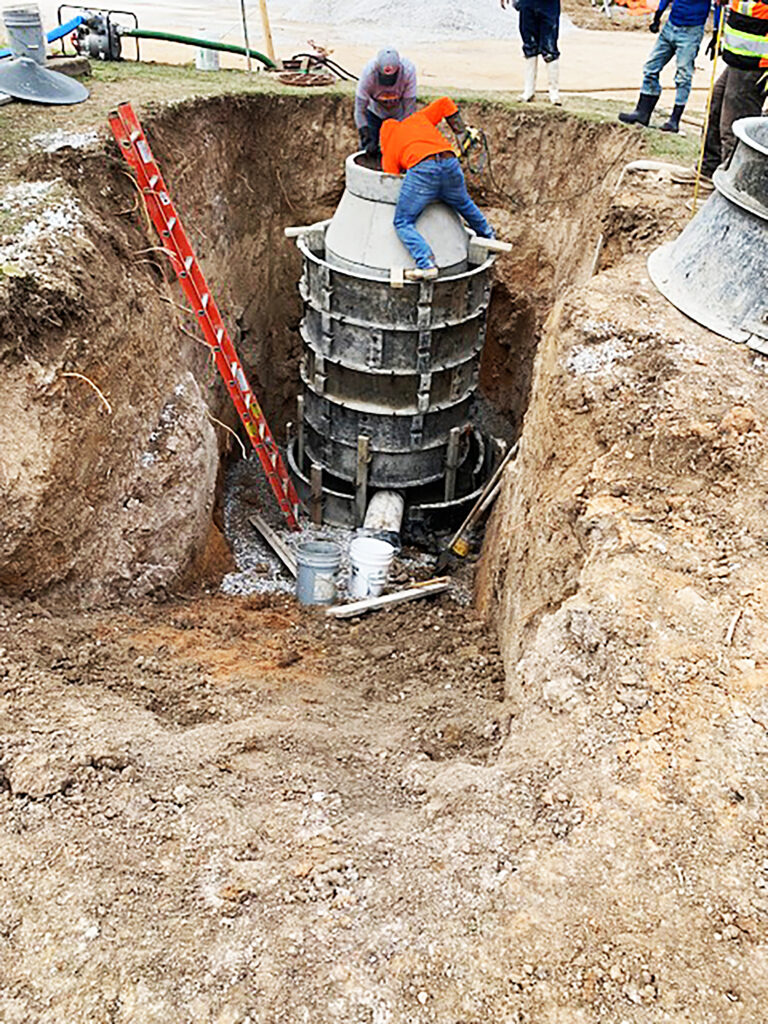 Volunteers make Thanksgiving merry with free community meals
There were 328 meals served at the community dinner including delivery, take-out and in-house. Coordinator Judy Broker thanked the volunteers and donors who provided nine hams and 15 turkeys along with the bakers of sides and desserts and those who delivered all the free meals. Pictured above volunteers fill meal plates for delivery to area residents.