OUTDOORS: TPWD combats invasive arundo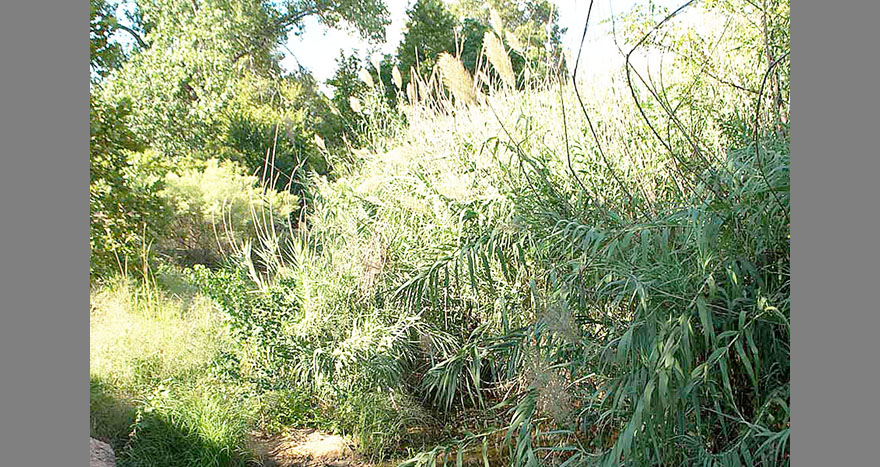 Like giant salvinia, another invasive plant species has invaded Texas: Arundo.
The plant is threatening to take over rivers in the Hill Country.
There's currently a statewide financial effort of $6.3 million going toward controlling invasive aquatic species.
The Texas Legislature approved the funding for the 2016-17 biennium – an increase of $1.1 million from the previous two-year cycle.
Arundo could alter the shape and flow of streams, worsen erosion and exacerbate flooding problems – as well as increase wildfire risk.
The plant also is known as the giant reed or Carrizo cane. The plant is native to the Mediterranean, and introduced here as an ornamental plant.
Arundo grows in dense thickets up to 30 feet tall or taller – choking deep-rooted vegetation and infesting areas that are prone to bank undercutting – which can reduce water quality.
The plant is a "big drinker," using more water than it displaces.
It threatens fish in Hill County rivers, including the state fish – the Guadalupe bass. The plant has degraded the bass' habitat.
To fight the problem, the Texas Parks and Wildlife Department and its partners are working with riverside landowners to put a stop to Arundo infestation. Read the Jan. 4 edition of The Bowie News for more outdoors news, including a list of trout stocking dates.
Arundo is yet another invasive plant species the Texas legislature has appropriated funds to combat. (Courtesy photo by the Texas Parks and Wildlife Department)
Prairie Valley Boys Interview
Montague County football all-district list revealed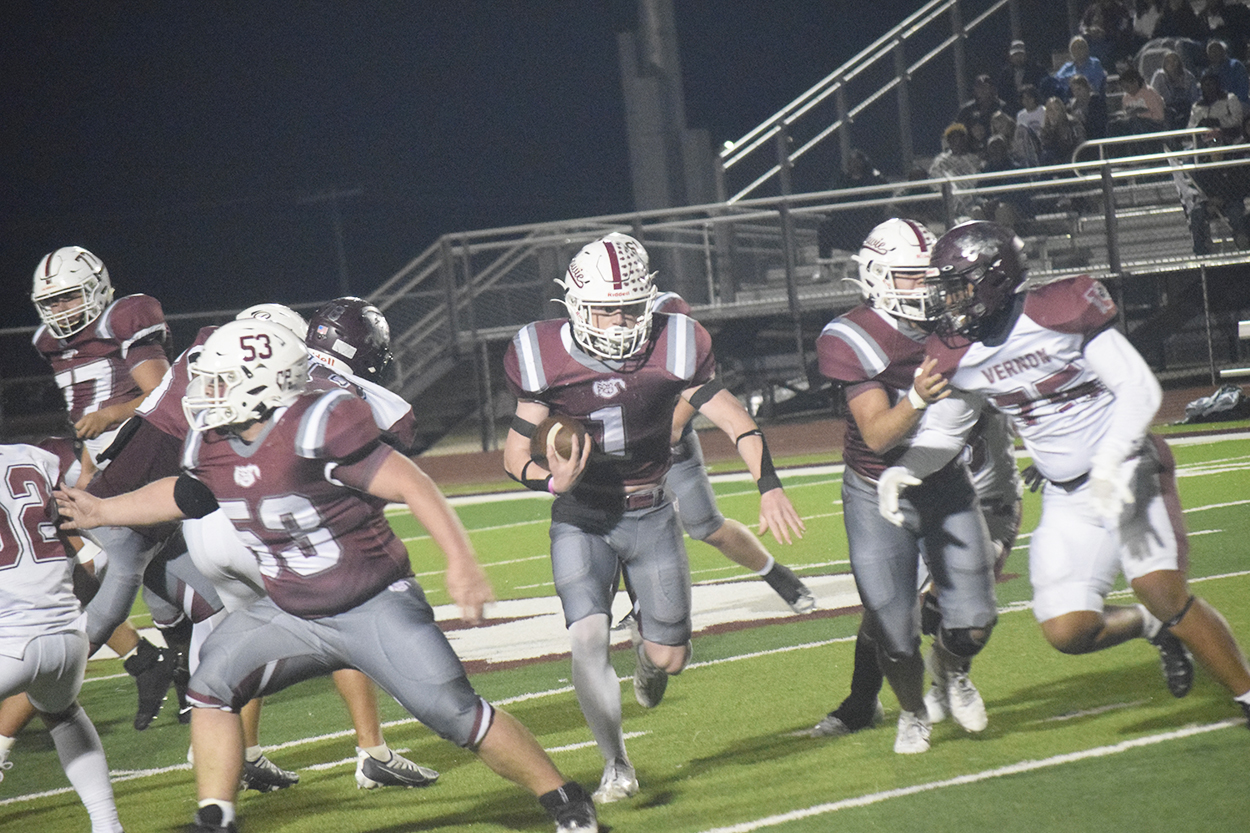 Bowie
First team
Justin Clark, RB; Troy Kesey, TE; Braden Rhyne, CB
Second team
Seth Mann, FB; Hayden Rodriguez, OL; Cody West, OL; Hunter Rodriguez, S; Theron Waldrop, TE
Honorable mention
Jax Johnston, RB; Will Cross, LB; Preacher Chambers, DL; Hunter Fluitt, DL; Zac Harris, LB
Academic all-district
Justin Clark, Rayder Mann, Will Cross, Hunter Rodriguez, Zac Harris, Tucker Jones, Cooper Hammer, Jakson Hofbauer, Tripp Brewer, Simon Tran, Johnny Arenas, Hunter Fluitt, Jacobi McGregor, Ridge Garner, Sterling Harrington, Jorge DeLeon, Theron Waldrop, Troy Kesey, Hayden Rodriguez
Nocona
Superlatives
District MVP: Brady McCasland, QB/LB
Offensive MVP: Charlie Fuller, WR/CB
Defensive newcomer of the year: Brody Landford, LB/RB
Coaching staff of the year: Nocona
First team
Johnny Stone, RB/LB; Caden Gaston, WR/DB; Cooper Waldrip, WR; Matthew Page, OL; Kasch Johnson, OL/DL; Matthew Johnson, OL; Carson Peters, DB; Oscar Salmon, LB; Jake Pribble, DL
Second team
Jose Gomez, FB/DB; Carson Peters, WR; Jake Pribble, OL; Wesley Murphey, OL; Javier Gaytan, K; Cooper Waldrip, LB; Matthew Page, DL; Matthew Johnson, DL; Gavin Miller, DL
Honorable mention
Javier Gaytan, DL; Cristhian Cortes, DL
Academic all-district
Charlie Fuller, Javier Gaytan, Konor Harrington, Kasch Johnson, Matthew Johnson, Brody Langford, Brady McCasland, Zyrus Moreno, Walker Murphey, Wesley Murphey, Jackson Nunneley, Matthew Page, Jake Pribble, Oscar Salomon, Johnny Stone, Walker Strahan, Cooper Waldrip, RJ Walker
Saint Jo
First team
Cooper Harris, TE; Wade Lucas, WR/LB; Lee Yeley, RB; Devin Stewart, SB; Kyler Dunn, K; Mathew Sampson, DL; Wyatt Lucas, CB
Second team
Jonathan Samson, TE; Cason Ruiz, C; Caleb Hennessey, SC; Charlie Evans, FB; Damon Byrd, SB; Logan Hoover, ST; Trevor Scott, DL; Lee Yeley, CB; Devin Stewart, S
Honorable mention
Blaine Penaluna, DL; Cody Gaston, DL
Academic all-district
Kyler Dunn, Charlie Barclay, Jayden Curry, Cooper Harris, Mathew Sampson, Devin Stewart
Gold-Burg
First team
Aidan Foster, SC/ST/DL; Jayon Grace, SB/LB; Isaac Renteria, CB
Second team
Levi Hellinger, QB; Jayton Epperson, RB/DL; Isaac Renteria, SB; Eli Freeland, NG
Honorable mention
Paul Jones, WR/S
Forestburg
First team
Kyler Willett, WR/P; Will Johnson, WR; Jeremiah Perez, S
Second team
Kayden Dill, WR; Nathan Payne, SC; Jesus Sanchez, QB/DL; Jeremiah Perez, RB; Angel Cruz, UB; Kyler Willett, K/DL; Tye Reid, S
Honorable mention
Nathan Payne, DL; Hayden Lawson, DUP
Prairie Valley
The Prairie Valley Lady Bulldogs lost a tough game at home on Tuesday night against 2A Sam Rayburn.
The Lady Rebels won 61-28 against the overwhelmed Lady Bulldogs.
Prairie Valley was hoping to try and compete well despite coming off more than a week break thanks to the Thanksgiving holiday.
Unfortunately, the Lady Bulldogs let the game slip away the longer it went on despite a competitive start to the game.
Prairie Valley knocked in some 3-pointers and trailed 17-11 after the first quarter.
The shooting did not keep up the rest of the game as the Lady Bulldogs scored only 17 points the final three quarters.
The more physical Lady Rebels continually got extra shots thanks to rebounding while limiting Prairie Valley to only one shot.
The lead grew more and more as the game went along as frustration set in with shots not going down and players trying to navigate a physical defense.
Sam Rayburn won 61-28.
Makaylee Gomez led the Lady Bulldogs with 13 points while Linzie Priddy was second with eight points.
Nocona
The Nocona Lady Indians got to show off in front of their home crowd for the first time this season on Tuesday as they blew out Vernon.
The Lady Indians won 63-28 coming back from the holiday break.
State-ranked Nocona is still undefeated early in the season despite playing in a tough tournament in Decatur a few days before Thanksgiving against all bigger schools. Coming out of that experience, the Lady Indians knew they just had to play decent against Vernon to win, though Coach Kyle Spitzer would be hoping for more than the bare minimum.
His team delivered as they started off on fire, grabbing control with a 23-6 lead after the first quarter.
The lack of conditioning might have affected Nocona after that as well as Spitzer trying different things throughout the game to try and make all game time valuable despite his team already, having the win in hand.
Only the fourth quarter was close as the Lady Indians slowed down the pace and played keep away to limit the chance of Vernon making a final late-game push even though the deficit was too high. It was still a scenario Nocona usually ends any games with, no matter the score being close or not that has proved Spitzer and his team well as it won 63-28.
Meg Meekins led the team with 28 points, nine assists and four steals. Skyler Smith was second with 20 points while grabbing a team high eight rebounds.
Aubree Kleinhans added six points, Reagan Phipps five and Jolie Rose four points.
Saint Jo
The Saint Jo Lady Panthers won at Gainesville in their first game back from the holiday break on Tuesday night.
The Lady Panthers won decisively 50-31 against the Lady Leopards.
Saint Jo used its aggressive pressure defense to control the fast pace and cause some chaos, but it was not all good for Coach Daniel Lindenborn.
"We never could get in a groove shooting threes, but the girls did a great job of adapting and getting the ball inside," Lindenborn said. "Defensively we still have some kinks to work out, but it is nothing that practice reps cannot fix."
Forestburg
The Forestburg Lady Horns won their first game back from the long holiday break at home against Savoy.
The Lady Horns won 42-37 against the Lady Cardinals in come from behind fashion.
Forestburg trailed Savoy 20-9 at halftime as the Lady Cardinals size was too much for the Lady Horns.
Still, Forestburg's fast pace seemed to be wearing on Savoy at the end of the first half which meant Coach Cori Hayes kept with his team's original plan to push the ball to tire the Lady Cardinals out.
That along with a few adjustments allowed the Lady Horns to start coming back. Savoy made three 3-pointers in the third quarter to keep Forestburg at bay and still up double-digits 33-22 heading into the final period.
The fourth quarter saw the Lady Horns defense limit the Lady Cardinals to just four points. This allowed Forestburg on the other end to almost double its three-quarter total, scoring 20 points to come all the way back.
The Lady Horns won 42-37.
Lili Cisneros led the team with 15 points, scoring 12 in the final quarter to help power Forestburg offensively late in the game. Brenna Briles was second with six points.
Bellevue
The Bellevue Lady Eagles won a one-sided game at Garner on Tuesday night.
The Lady Eagles won 73-20 against the Lady Horns.
Bellevue was coming off a rough tournament playing against bigger schools in Hirschi the days following Thanksgiving so the team had some experience following the holiday break.
The Lady Eagles rolled over Garner from start to finish, using their press defense to never let the Lady Horns get set offensively while pushing a fast pace on offense.
Cirstin Allen led the team with 17 points as she made five 3-pointers in the game. Callie Martin was second with 14 points and Braylie Hager also finished in double-figures with 12 points.
Gold-Burg
The Gold-Burg Lady Bears lost to Vernon Northside at home on Tuesday night.
The Lady Indians won 44-25 against the Lady Bears in a game that was closer in the first half, but the lack of depth hurt them as the game went along.
Gold-Burg does not have any bench players and most of the team has little varsity basketball experience.
Playing against a Northside team that employs a full-court press is a nightmare for a team like the Lady Bears, but the first half saw Gold-Burg hang with the Lady Indians.
Northside led 23-14 at halftime.
Eventually the long layoff and the lack of depth wore the Lady Bears down as the Lady Indians lead grew and grew in the second half.
Northside won 44-25.
Ollie Gaston led the team with nine points and Raigen Hilton was second with eight points.
Missing scores
Bowie had a bye game on Tuesday.
To read the full stories, pick up a copy of the weekend edition of the Bowie News.