Reader's response: Has the COVID-19 pandemic impacted your job or your family finances?
The Coronavirus pandemic is reaching into every corner of the earth and is no respecter of age, gender, financial status or culture. While the physical toll grows each day, the economic toll also mounts every minute as millions of Americans have lost their jobs, shuttered their businesses and pondered how the bills would get paid.
Montague County is a cross-section of North Texas with affluent and economically disadvantaged residents. It is difficult to get a true picture of where this crisis may end up, but The Bowie News asked in a Facebook poll: Has the COVID-19 pandemic impacted your job or your family's finances?
The FB page received more than 40 responses from people who own businesses now closed, those who work at those small businesses or in the energy industry, many now furloughed or released from their job. Here is a sampling of the impact. We appreciate all who took part in the question poll.
Read the comments from the Reader's Response poll in your weekend Bowie News.
Christmas Festival comes to Bowie this weekend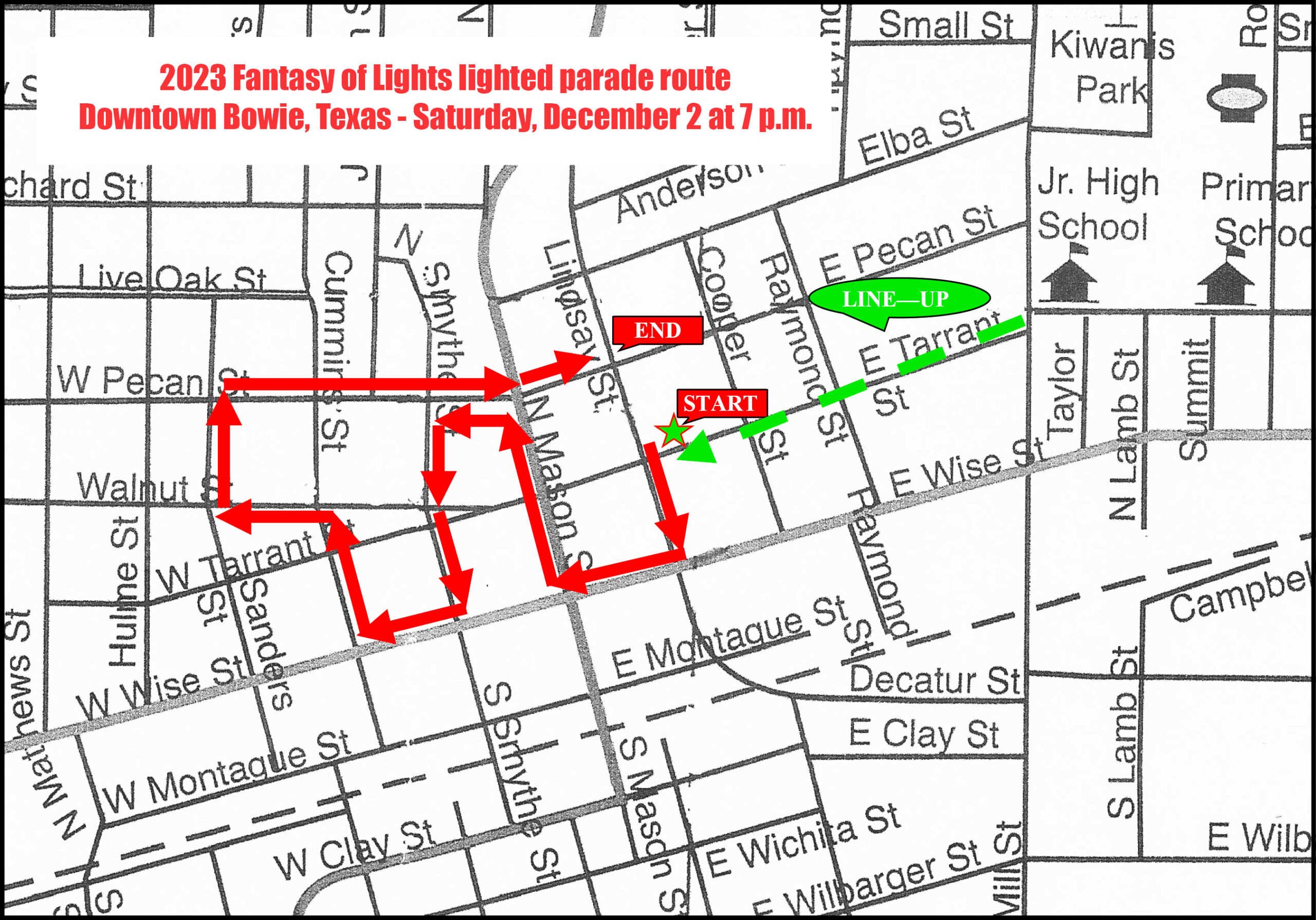 Bowie will be filled with holiday cheer this week as the 32nd annual Fantasy of Lights Christmas Festival comes to town to herald the start of the holidays Dec. 1-3.
This festival was one of the first in North Texas to feature a lighted Christmas parade and the activities have only grown through the years. Across three days there are activities to be enjoyed by the entire family. This year's theme is "Sweet Tidings of Gingerbread."
Sip & Stroll
The Gingerbread Sip & Stroll With Me will feature more than 40 downtown participating locations from 5-8 p.m. on Dec. 1. There also will be a storefront decorating contest following a gingerbread theme.
Open house
The Bowie Economic Development Open House from 4 to 6 p.m. on Dec. 1 with light refreshments.
Festival Saturday
Enjoy Pancakes with Santa from 7 a.m. – 10 a.m. at the Bowie Fire Hall, 203 Walnut Street, then visit the Bowie Library for Elf'n Magic, crafts and stories for kids and families.
The parade is at 7 p.m. There will be live music onstage downtown starting at 5 p.m. and the tree lighting at 6:45 p.m.
The Christmas Tour of Homes will be on Sunday from 2-5 p.m. Tickets are $20 and available at the Bowie Chamber office, Walters Surveying, Swaim Surveying, any Amity member at at a home.
Read the full story on the schedule in your mid-week Bowie News.
Nocona Rural VFD prepares to serve fish
It's time for the annual Nocona Rural Volunteer Fire Department fish fry from 5-8 p.m. on Dec. 1 at the H.J. Justin Community Room.
It is all you can eat fish, calf fries, french fries, beans, cole slaw and their famous tarter sauce. Prices are $15 for ages 12 and up, $12 for ages 6-12 and those under 6 eat free.
The department also is collecting children's toys for Christmas.
Save a trip and bring an unwrapped toy to the fish fry or drop it off at 217 Clay by Dec. 2.
Wreaths Across America deadline is Nov. 30; ceremony on Dec. 16
Nov. 30 is the deadline to order a wreath that will be laid on the grave of a veteran at Elmwood Cemetery on Dec. 16.
This annual ceremony will be at 11 a.m. on Dec. 16 with guest speaker Bryan Chisholm, ag teacher at Bowie High School and veteran. The Amity Club coordinate the Wreath project and invite anyone to attend and help lay the wreaths on the many graves at the cemetery.
Individuals who wish to sponsor a wreath can do so for $17. A family can purchase four at $68, 10 for $170 and a corporate sponsorship of 100 can be made for $1,700.
Deadline to purchase a wreath is Nov. 30. Call Angela Short at 940-841-1315 with questions.