Groups helping out the community during Christmas
Bowie High School varsity basketball players and their coaches helped the Bowie Lions Club load and sort food boxes that will be delivered to 52 families across the community for the holidays. Many other groups have been helping out during this season with donations to the food bank including cash and food items, as well as the Angel Tree needs. Way to have the Christmas spirit!
Vera Rae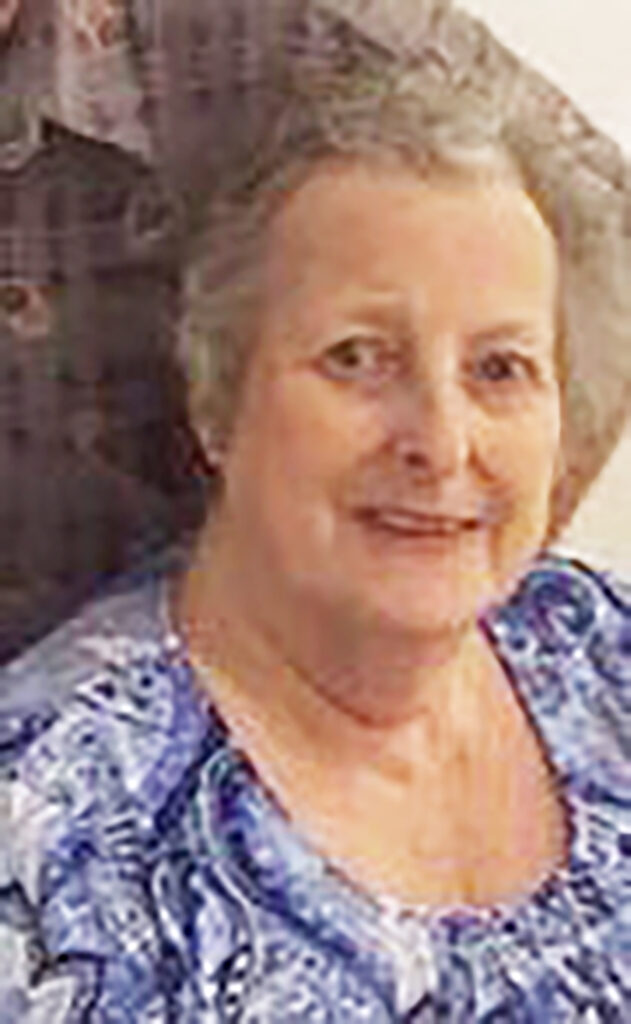 April 19, 1940 to October 29, 2023
AUSTRALIA – Vera Rae, 82, passed away peacefully after a set of health issues following a fall on Oct. 7, 2023.
Vera was born in Stockport, England to John "Jack" and Alice Gooch. They migrated to Australia following the Second World War, settling in Western Australia.
Vera met the love of her life in 1957, Robert John Rae, and they married on May 30, 1959. They were blessed with two daughters, Jenny and Debby.
Vera loved the Lord, had a strong faith, and was a prayer warrior. Throughout her various illnesses in life, she remained cheerful, gracious, and loving.
Vera was preceded in death by her parents, Jack and Alice Gooch; in-laws, Don and Amy Rae, and nephew, Justin Gooch.
Vera is survived by her loving husband, Robert Rae, Port Kennedy, Western Australia; daughter, Jenny Rae Rizzolo and partner Paul, Bowie, TX, and Debby Rae Harvey and husband Ian, Waikiki, Western Australia; grandchildren, Mandy Jones, Jodie Ehle, Jacilyn Kenny and Bronwyn Has; and great grandchildren, Tahlia, Tanaya, Shelby, Khy, Jordyn, Mollie, Bryce, Brett, Kobe, Lilly, Caitlin, Morgan and Olivia.
Funeral arrangements entrusted to Greenfield's Funerals, Port Kennedy Western Australia.
Paid publication
March 17, 1945 – May 15, 2022
RINGGOLD – Alton "Fred" Allen, 77, longtime resident of Ringgold, passed away on May 15, 2022 in Bowie.
The family received friends from 7 – 8 p.m. on May 17 at the White Family Funeral Home in Bowie. A graveside service will take place at 11 a.m. on May 18 at Cowboy's Last Ride Cemetery in Bowie with Richard Allen officiating.
Fred was born March 17, 1945 in Decatur to Alton "Frank" and Zula Prestwood Allen. He was a lifelong worker in the oil field and in his free time enjoyed fishing, hunting and spending time with his grandchildren.
He is preceded in death by his parents and brothers, Dick Allen and Gene Allen.
Fred is survived by his children, Lynn Allen, Ringgold and Zula Carol Dietrich and husband Steve, Petrolia; grandchildren, Blake Allen, Brady Allen, Barrett Allen, Jason Gray, Jennifer Gray, Terry Dietrich and Timothy Dietrich; great-grandchildren Cody and Kendra Harralson and Lincoln Gray; sister Zelta Baker, Bloomfield, NM and numerous nieces and nephews.
Arrangements entrusted to the White Family Funeral Home of Bowie.
Paid publication
Council facing lengthy agenda of new business
Bowie City Councilors face a lengthy agenda of new business on Oct. 25 spanning outside audit proposals, amendments to the personnel policy and six planning and zoning commission requests.
The panel will meet at 6 p.m. in council chambers.
A pair of audit proposals will be reviewed from Edgin, Parkman, Fleming and Fleming, and Mathis, West & Huffines Group.
The personnel policy amendments center on paid quarantine leave and officer mental health leave.
A resolution for repayment of opioid-related expenditures and payment to abate opioid-related harms will be reviewed, along with the 2021 tax roll.
The council also will discuss the Richwood Lake Estates Park at Amon Carter Lake. This topic is a proposition on the Nov. 2 ballot.
An executive session will have the council discuss economic development negotiations on a project. Janis Crawley, executive director of the Bowie Economic Development Corporation, also will give the council an update on the recent Economic Development Administration grant that will provide $1,460,000 to the BEDC for infrastructure work at the Bowie Business Park.
City Manager Bert Cunningham will make his monthly report discussing the asset management program, the audit, search for a new finance director, a program with Honeywell that evaluates facilities on where the city can save money and an update from the Association of Rural Communities.
Public comments and the consent agenda wrap up Monday night's council agenda.