Colt sells his first revolvers to the U.S. government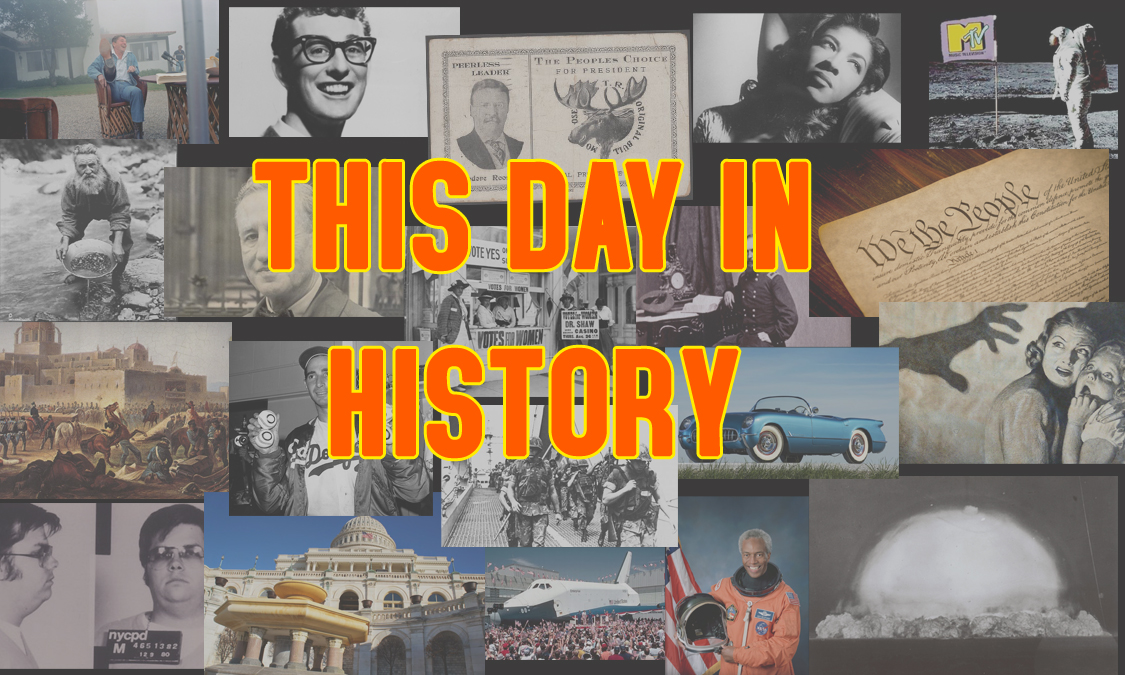 Samuel Colt rescues the future of his faltering gun company by winning a contract to provide the U.S. government with 1,000 of his .44 caliber revolvers.Before Colt began mass-producing his popular revolvers in 1847, handguns had not played a significant role in the history of either the American West or the nation as a whole. Expensive and inaccurate, short-barreled handguns were impractical for the majority of Americans, though a handful of elite still insisted on using dueling pistols to solve disputes in highly formalized combat. When choosing a practical weapon for self-defense and close-quarter fighting, most Americans preferred knives, and western pioneers especially favored the deadly and versatile Bowie knife.

That began to change when Samuel Colt patented his percussion-repeating revolver in 1836. The heart of Colt's invention was a mechanism that combined a single rifled barrel with a revolving chamber that held five or six shots. When the weapon was cocked for firing, the chamber revolved automatically to bring the next shot into line with the barrel.

Though still far less accurate than a well-made hunting rifle, the Colt revolver could be aimed with reasonable precision at a short distance (30 to 40 yards in the hands of an expert), because the interior bore was "rifled"–cut with a series of grooves spiraling down its length. The spiral grooves caused the slug to spin rapidly as it left the barrel, giving it gyroscopic stability. The five or six-shoot capacity also made accuracy less important, since a missed shot could quickly be followed with others.

Yet most cowboys, gamblers, and gunslingers could never have afforded such a revolver if not for the de facto subsidy the federal government provided to Colt by purchasing his revolvers in such great quantities. After the first batch of revolvers proved popular with soldiers, the federal government became one of Colt's biggest customers, providing him with the much-needed capital to improve his production facilities. With the help of Eli Whitney and other inventors, Colt developed a system of mass production and interchangeable parts for his pistols that greatly lowered their cost.

Though never cheap, by the early 1850s, Colt revolvers were inexpensive enough to be a favorite with Americans headed westward during the California Gold Rush. Between 1850 and 1860, Colt sold 170,000 of his "pocket" revolvers and 98,000 "belt" revolvers, mostly to civilians looking for a powerful and effective means of self-defense in the Wild West.
 – History.com Staff
Truman announces development of H-bomb
U.S. President Harry S. Truman publicly announces his decision to support the development of the hydrogen bomb, a weapon theorized to be hundreds of times more powerful than the atomic bombs dropped on Japan during World War II.
Five months earlier, the United States had lost its nuclear supremacy when the Soviet Union successfully detonated an atomic bomb at their test site in Kazakhstan. Then, several weeks after that, British and U.S. intelligence came to the staggering conclusion that German-born Klaus Fuchs, a top-ranking scientist in the U.S. nuclear program, was a spy for the Soviet Union. These two events, and the fact that the Soviets now knew everything that the Americans did about how to build a hydrogen bomb, led Truman to approve massive funding for the superpower race to complete the world's first "superbomb," as he described it in his public announcement on January 31.
On November 1, 1952, the United States successfully detonated "Mike," the world's first hydrogen bomb, on the Eniwetok Atoll in the Pacific Marshall Islands. The 10.4-megaton thermonuclear device, built upon the Teller-Ulam principles of staged radiation implosion, instantly vaporized an entire island and left behind a crater more than a mile wide. The incredible explosive force of Mike was also apparent from the sheer magnitude of its mushroom cloud–within 90 seconds the mushroom cloud climbed to 57,000 feet and entered the stratosphere. One minute later, it reached 108,000 feet, eventually stabilizing at a ceiling of 120,000 feet. Half an hour after the test, the mushroom stretched 60 miles across, with the base of the head joining the stem at 45,000 feet.
Three years later, on November 22, 1955, the Soviet Union detonated its first hydrogen bomb on the same principle of radiation implosion. Both superpowers were now in possession of the "hell bomb," as it was known by many Americans, and the world lived under the threat of thermonuclear war for the first time in history.
Source: https://www.history.com/this-day-in-history/truman-announces-development-of-h-bomb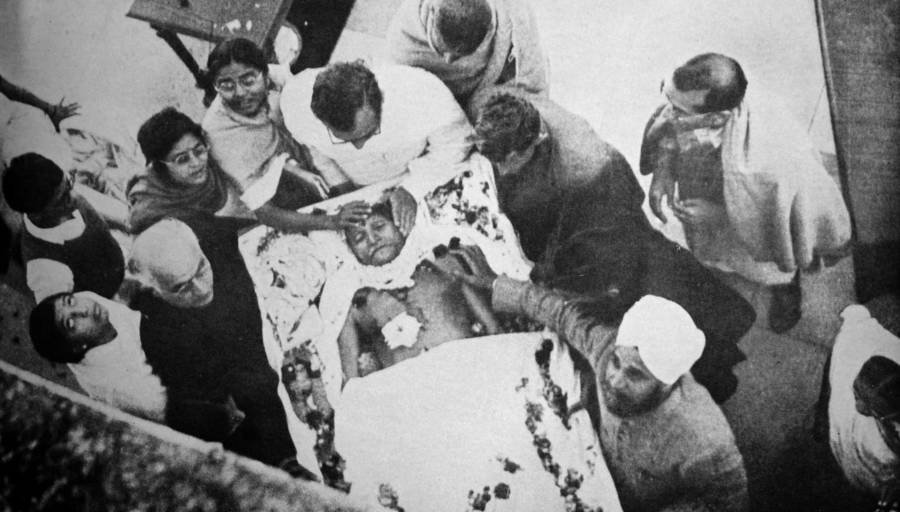 Mohandas Karamchand Gandhi, the political and spiritual leader of the Indian independence movement, is assassinated in New Delhi by a Hindu extremist.
Born the son of an Indian official in 1869, Gandhi's Vaishnava mother was deeply religious and early on exposed her son to Jainism, a morally rigorous Indian religion that advocated nonviolence. Gandhi was an unremarkable student but in 1888 was given an opportunity to study law in England. In 1891, he returned to India, but failing to find regular legal work he accepted in 1893 a one-year contract in South Africa.
Settling in Natal, he was subjected to racism and South African laws that restricted the rights of Indian laborers. Gandhi later recalled one such incident, in which he was removed from a first-class railway compartment and thrown off a train, as his moment of truth. From thereon, he decided to fight injustice and defend his rights as an Indian and a man. When his contract expired, he spontaneously decided to remain in South Africa and launched a campaign against legislation that would deprive Indians of the right to vote. He formed the Natal Indian Congress and drew international attention to the plight of Indians in South Africa. In 1906, the Transvaal government sought to further restrict the rights of Indians, and Gandhi organized his first campaign of satyagraha, or mass civil disobedience. After seven years of protest, he negotiated a compromise agreement with the South African government.
In 1914, Gandhi returned to India and lived a life of abstinence and spirituality on the periphery of Indian politics. He supported Britain in the First World War but in 1919 launched a new satyagraha in protest of Britain's mandatory military draft of Indians. Hundreds of thousands answered his call to protest, and by 1920 he was leader of the Indian movement for independence. He reorganized the Indian National Congress as a political force and launched a massive boycott of British goods, services, and institutions in India. Then, in 1922, he abruptly called off the satyagraha when violence erupted. One month later, he was arrested by the British authorities for sedition, found guilty, and imprisoned.
Source: https://www.history.com/this-day-in-history/gandhi-assassinated
U.S. Baseball Hall of Fame elects first members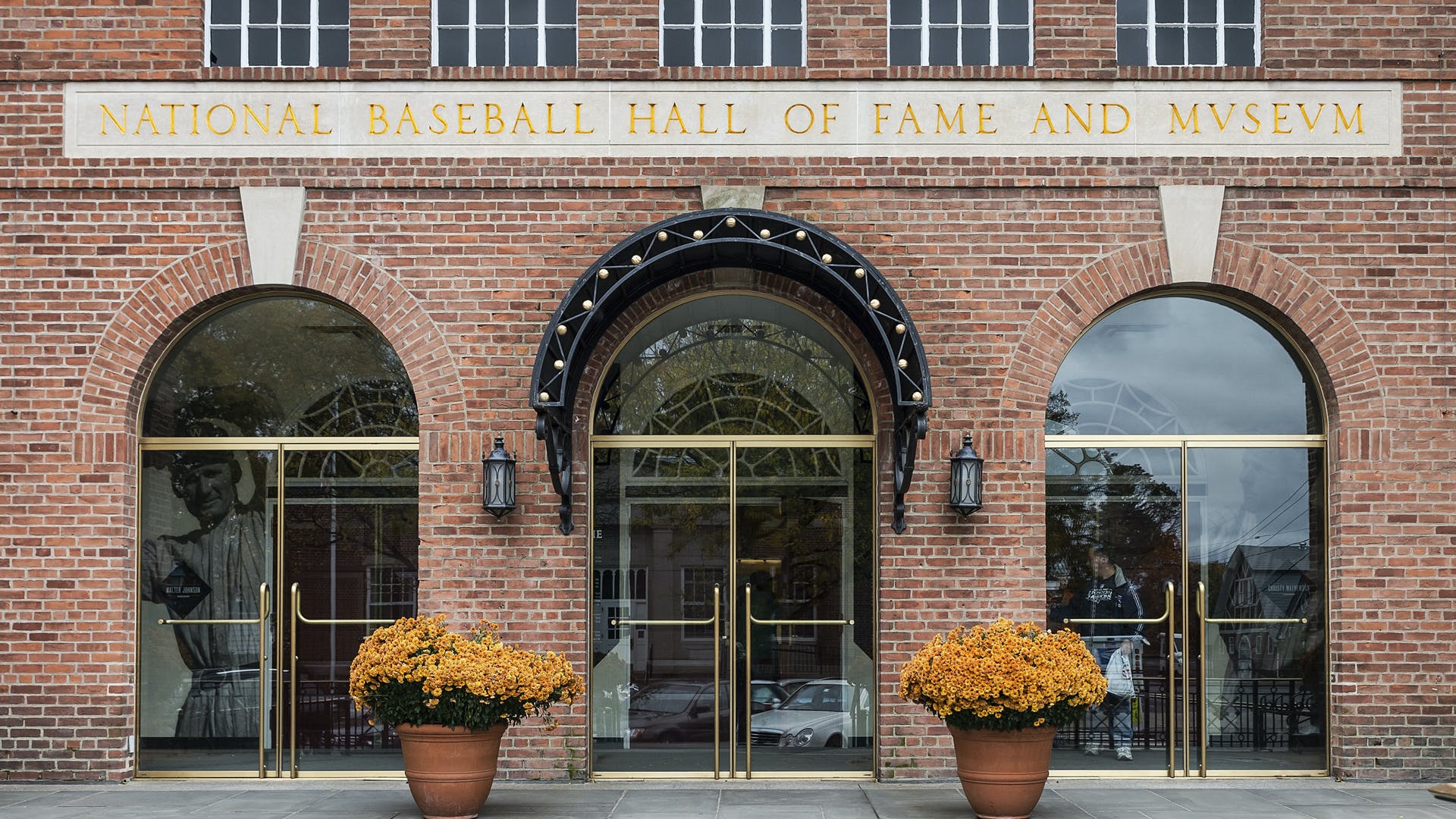 On January 29, 1936, the U.S. Baseball Hall of Fame elects its first members in Cooperstown, New York: Ty Cobb, Babe Ruth, Honus Wagner, Christy Matthewson and Walter Johnson.
The Hall of Fame actually had its beginnings in 1935, when plans were made to build a museum devoted to baseball and its 100-year history. A private organization based in Cooperstown called the Clark Foundation thought that establishing the Baseball Hall of Fame in their city would help to reinvigorate the area's Depression-ravaged economy by attracting tourists. To help sell the idea, the foundation advanced the idea that U.S. Civil War hero Abner Doubleday invented baseball in Cooperstown. The story proved to be phony, but baseball officials, eager to capitalize on the marketing and publicity potential of a museum to honor the game's greats, gave their support to the project anyway.
In preparation for the dedication of the Hall of Fame in 1939—thought by many to be the centennial of baseball—the Baseball Writers' Association of America chose the five greatest superstars of the game as the first class to be inducted: Ty Cobb was the most productive hitter in history; Babe Ruth was both an ace pitcher and the greatest home-run hitter to play the game; Honus Wagner was a versatile star shortstop and batting champion; Christy Matthewson had more wins than any pitcher in National League history; and Walter Johnson was considered one of the most powerful pitchers to ever have taken the mound.
Today, with approximately 350,000 visitors per year, the Hall of Fame continues to be the hub of all things baseball. 
Source: https://www.history.com/this-day-in-history/u-s-baseball-hall-of-fame-elects-first-members