Fight hunger with family meals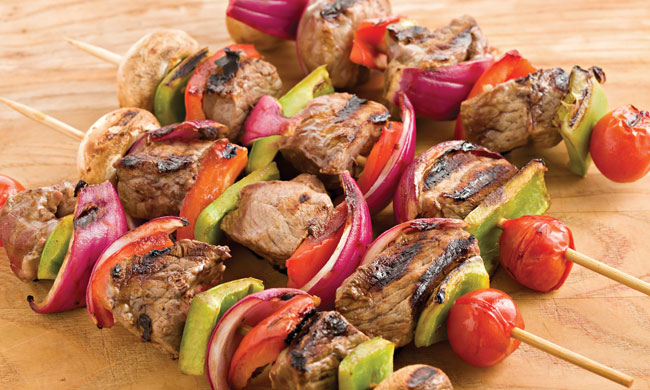 Selfless ways to support community members in need
(Family Features) With hectic day-to-day schedules and varying dietary needs, many families face the dreaded daily question: "What sounds good for dinner?" In contrast, millions struggle to put food on the table each night, impacting about 1 in 8 children, according to Feeding America.
You can help support those in need through Safeway and Albertsons' "Fight Hunger, Serve Hope" cause program – an initiative to fight hunger in local communities during summer months when households with school-aged children face higher rates of food insecurity. The company's private label will donate one meal for every O Organics® product purchased, up to $7 million and the equivalent of 28 million meals. Donations will be made to Nourishing Neighbors, a program of Albertsons Companies Foundation, to fund grants dedicated to providing healthy meals for at-risk youth throughout the summer.
"While summertime sparks excitement for countless students, it also marks the unfortunate reality that millions of children face when they lose access to school cafeteria lunches and breakfasts they depend on throughout the school year," said Jennifer Saenz, EVP and chief merchandising officer at Albertsons Companies. "As a company, we are committed to making a difference in the lives of children in need. For the first time, we are making it easier than ever for our customers to support this mission by connecting each purchase of our O Organics brand to hunger relief efforts in the communities we serve."
Following the campaign period, families looking to help in their communities can give back in a variety of ways.
Donate Canned Goods
Once school is in session, many classrooms participate in canned food drives for a variety of causes while serving a dual purpose: feeding those in need and teaching children the importance of giving back. Sending your students to school with canned goods can show them the value of helping others and instill a sense of responsibility.
Volunteer at a Food Pantry
Sharing valuable resources like canned goods helps make a difference in communities, but local food pantries also need willing volunteers to sort and distribute food, among other duties. It can provide a unique sense of perspective as you meet other volunteers, improve the lives of people in your community and gain new skills.
Promote the Power of Family Meals
Whether it's breakfast, lunch, dinner or all three, sharing a meal with neighbors can be a powerful moment. It provides an opportunity to connect while enjoying easy-to-make recipes like Ribeye Steak, Grape Tomato and Mushroom Kebabs; Grilled Chicken Salad with Goat Cheese, Fresh Raspberries and Pecans; and Mixed Berry-Lime Smoothie Bowl with Banana and Granola.
Find more meal ideas by visiting Safeway.com and Albertsons.com.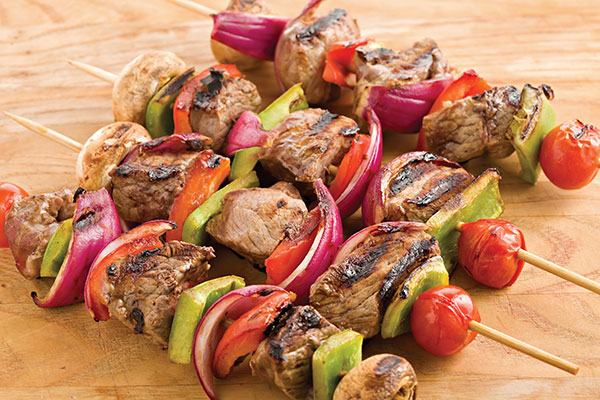 Ribeye Steak, Grape Tomato and Mushroom Kebabs
Recipe courtesy of Safeway and Albertsons
Total time: 30 minutes
2 cloves garlic
1/2 small bunch Italian (flat-leaf) parsley
1/4 cup O Organics extra-virgin olive oil
1/8 cup red wine vinegar
2 teaspoons O Organics Dijon mustard
1/2 teaspoon salt
1/2 teaspoon black pepper
3/4 pound O Organics ribeye steak
1/2 pint O Organics grape tomatoes
1/4 pound O Organics white mushrooms
green pepper, sliced (optional)
1/2 medium red onion
6 skewers
Peel and mince garlic. Wash and dry parsley. Shave leaves off stems; discard stems and mince leaves.
In large bowl, whisk minced garlic, half the minced parsley (reserve remainder for garnish), olive oil, vinegar, Dijon mustard, salt and pepper.
Cut steak into cubes; transfer to marinade bowl and toss to coat.
Wash tomatoes, mushrooms and green pepper. Halve mushrooms. Add tomatoes, mushrooms and green pepper to marinade. Peel onion and cut into chunks; add to marinade. Toss beef and vegetables until well coated.
Heat grill pan, outdoor grill or skillet to medium-high heat.
Thread steak and vegetables onto six skewers.
Cook kebabs in batches until steak is browned and vegetables are tender, 3-5 minutes per side. Transfer to plate and repeat with remaining kebabs.
To serve, plate kebabs and sprinkle with remaining minced parsley.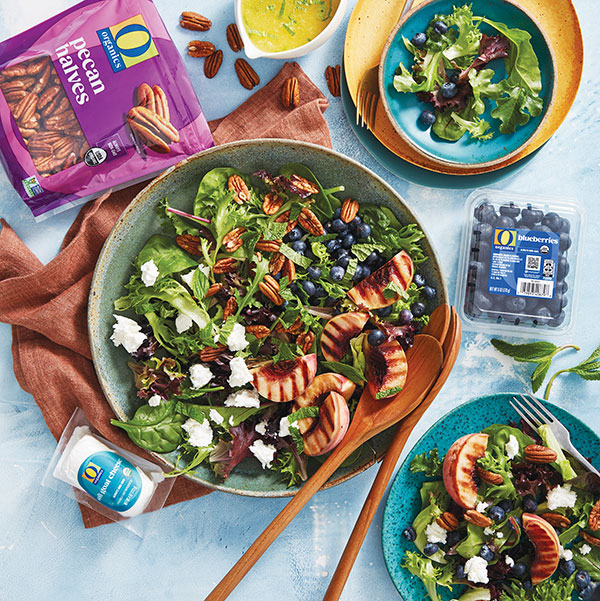 Grilled Chicken Salad with Goat Cheese, Fresh Blueberries and Pecans
Recipe courtesy of Safeway and Albertsons
Total time: 20 minutes
3/4 pound boneless, skinless O Organics chicken breasts
1/4 teaspoon salt
1/8 teaspoon black pepper
2 teaspoons O Organics extra-virgin olive oil
1 package (5 ounces) O Organics spring mix
1 package (6 ounces) O Organics blueberries (or desired berry)
1/4 cup O Organics pecan halves
3 tablespoons O Organics olive oil
1 tablespoon O Organics balsamic vinegar
1/2 log (4 ounces) O Organics goat cheese
Pat chicken dry with paper towels and place on cutting board. Cut chicken in half horizontally to form thin cutlets. Season with salt and pepper on both sides.
Preheat grill pan, outdoor grill or skillet to medium-high heat.
Once pan is hot, coat with oil. Add chicken to pan and grill, turning once, until cooked through, 3-4 minutes per side.
Wash and dry spring mix. Place in medium bowl.
Wash and dry blueberries. Add to bowl with mixed greens. Using clean cutting board, roughly chop pecans. Add to bowl.
Transfer cooked chicken to cutting board and cut into thin strips.
In bowl, mix olive oil and balsamic vinegar to create dressing.
Add chicken and dressing to salad bowl; toss to combine.
To serve, divide salad between plates or bowls and crumble goat cheese over top.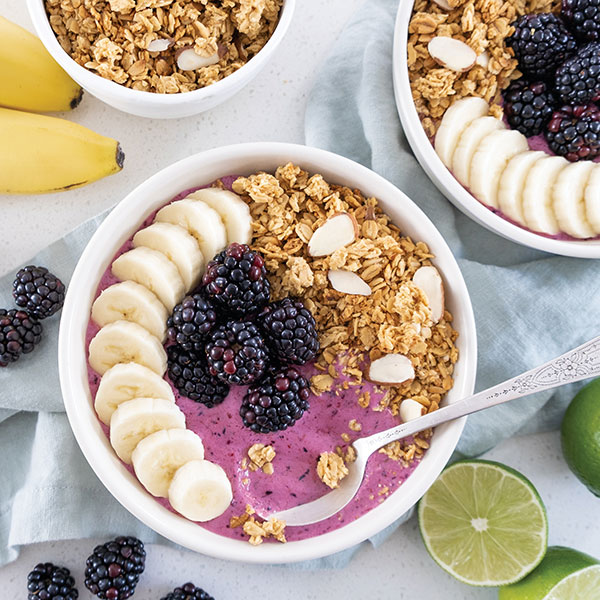 Mixed Berry-Lime Smoothie Bowl with Banana and Granola
Recipe courtesy of Safeway and Albertsons
Total time: 10 minutes
Yield: 3 cups
1 banana
1/2 package (6 ounces) O Organics blackberries
1/2 lime
2 cups O Organics frozen mixed berries
1 cup plain O Organics Greek yogurt
4 fluid ounces O Organics whole milk
1/8 cup O Organics honey
1/4 teaspoon ground cinnamon
2/3 cup O Organics granola of choice
Wash and dry banana and blackberries.
Peel and thinly slice banana; set aside.
Zest and juice lime into blender. Add frozen mixed berries, yogurt, milk, honey and cinnamon. Blend on high speed until smooth, 1-2 minutes.
To serve, divide smoothie between bowls and top with banana, blackberries and granola.
Photo courtesy of Getty Images (kebabs)

SOURCE:
Albertsons

Safeway
5 tips to be an after-school mealtime hero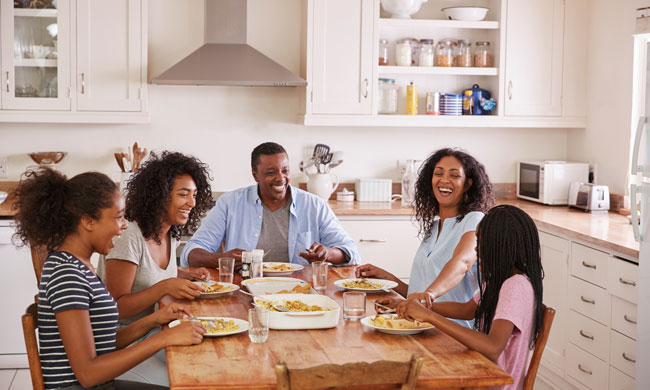 (Family Features) It's one of the busiest times of the year, meaning managing mealtimes can be tough as families navigate the school year hustle. Between school, work, extracurriculars and social activities, it can be overwhelming to figure out what to eat and when.
Put your worries aside and become a true after-school hero with these timesaving, delicious meal planning strategies while giving back to communities in need.
Conquer Your Next Grocery Trip
When it's time for a grocery run, write down everything you need, perhaps on your phone's notetaking app, being sure to take inventory of ingredients you already have on hand. Keeping the list handy can make your trip to the store efficient while helping you stay on track, avoid multiple trips and prevent buying excess or unnecessary items.
Champion Your Inner Meal Planning
One of the first steps in meal planning should be making a list of all the meals you and your family enjoy on a regular basis. Compiling this list can help simplify weekly dinner plans and reduce stress at the grocery store. Include simple recipes like sandwiches, tacos or chili. If you want to make an easy, tasty dinner to save the day, consider something simple like chicken fried rice. All you need is 15 minutes and Ben's Original Ready Rice, chicken breast meat, peas, carrots, reduced sodium soy sauce, garlic powder and eggs. As you try new recipes, add any family favorites to the list and consider reinventing classics by bringing in a different side dish like rice and grains to give them a whole new spin.

Come To the Rescue with Simple Prep Hacks
Before you plan your meals for the week, take a look at your calendar. On days that include evening activities, opt for easy-to-prepare meals or slow cooker- or air fryer-friendly recipes to save time. Leave more complex meals for less busy days or weekends, and don't be afraid to schedule a weekly leftover night to empty out the fridge before your next trip to the grocery store.
Take Advantage of Pantry Staples
Turning to your pantry for after-school snacks and quick meals can help keep busy nights from getting even more hectic. For example, the entire portfolio of Ben's Original Ready Rice – Whole Grain Brown Rice, Jasmine, Spanish Style and more – can help provide tasty, convenient meal options that are ready in just 90 seconds. Plus, until Nov. 12, for every $1 spent on participating products, $1 will be donated to No Kid Hungry through the "Be an After-School Hero" program, which can help provide 2.5 million meals to those who need them most.
Be a Prep Day Warrior
Setting aside some time – maybe a couple of hours on the weekend – to prep food for the week's meals can help stretch your time and allow more moments to enjoy meals around the table as a family. This time can be used to cut, brown and divide proteins into portions; chop or slice fruits and vegetables; prepare one-pan dishes; make sauces; and more.
Fight mealtime fatigue and make school night meals a cinch with more ideas and recipes at BensOriginal.com.
Photo courtesy of Getty Images


SOURCE:
Ben's Original
Family bonding time with easy meals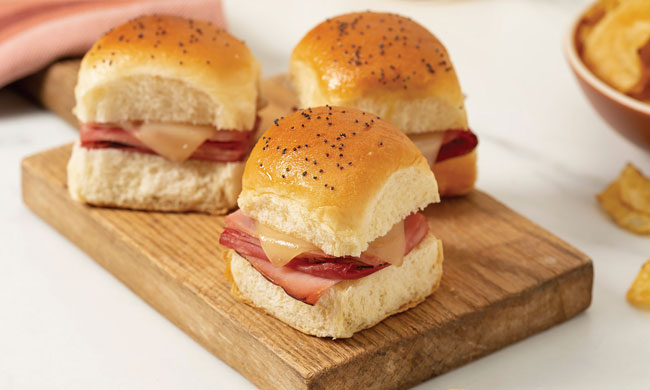 (Family Features) Busy fall schedules often leave little time for the things that matter most – sharing special moments with those you love. This year, as time seems to speed up during another school year, making family bonding a priority in your household can start with a few simple tricks.
Connect with your loved ones this fall while juggling hectic routines with this advice:
Schedule Family Nights
Desiring evenings spent with your nearest and dearest and actually making them happen are two separate things entirely. It's easy to get caught up in the hustle and bustle of the season with days that feel too long and evenings that are often too short. Putting dedicated family nights on the calendar is a good way to avoid last-minute commitments that take away from important bonding time. Incorporate some favorite activities, whether your loved ones are board game enthusiasts or movie buffs, to give everyone something exciting to look forward to.
Make Cooking Together a Family Activity
Making dinner for the family shouldn't take up valuable time that could be used for quality moments together. Seeking out quick and easy recipes leaves more hours in the day to spend with family members – or you can even make preparing dinner a family activity.
Teaching kids how to make your favorite recipes creates great memories and can maximize time spent together. From making kid-approved lunchbox sliders together to preparing time-saving, weeknight-friendly sliders as a family after school, King's Hawaiian Rolls and Slider Buns have the power to help unite busy parents and picky kids. Plus, they're soft and fluffy with the right touch of sweetness, and sliders are customizable, easy, fun and always a crowd pleaser. These Ham and Swiss Sliders or Peanut Butter, Jelly and Banana Sliders offer ways kids can help, from layering meats and cheeses to spreading peanut butter. Everyone can lend a hand in the kitchen while enjoying quality time together.
Encourage Extracurricular Participation
Beyond those special moments at home, there are plenty of ways to connect with your kiddos. Encouraging them to participate in extracurriculars, like sports, band, theater, dance, choir or other activities, provides a great way to enjoy something together as you watch your children branch out and try new things. If they happen to try an activity you used to (or still do) participate in, it's an easy way to make a unique connection by sharing your own memories, offering helpful tips or even passing down old equipment like sports gear or an instrument.
Find more inspiration for family bonding with delicious meals and snacks by visiting KingsHawaiian.com.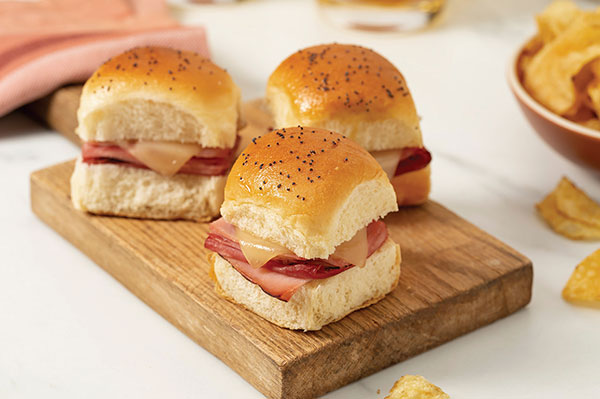 Ham and Swiss Sliders
Total time: 25 minutes
Servings: 4-6
1 stick butter
1 package (12 rolls) King's Hawaiian Original Hawaiian Sweet Rolls
1 pound shaved deli ham
1 pound thinly sliced Swiss cheese
Heat oven to 350 F. Melt butter and set aside.
Cut entire pack of rolls in half horizontally, keeping all top and bottom halves intact.
In 9-by-13-inch pan, place bottom halves of rolls and cover with ham and cheese.
Cover ham and cheese stacks with top halves of rolls. Drizzle butter mixture over tops of rolls.
Bake, uncovered, 15-20 minutes. Separate rolls for serving.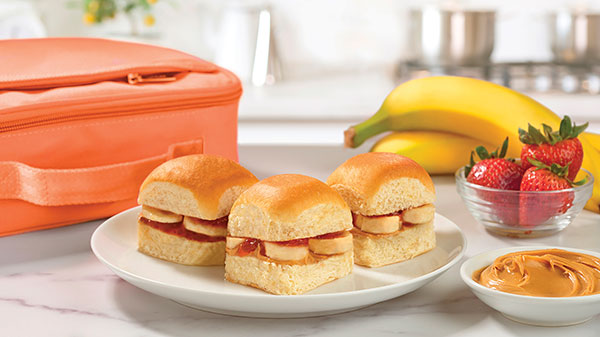 Peanut Butter, Jelly and Banana Sliders
Prep time: 5 minutes
Servings: 4-6
1 package (12 rolls) King's Hawaiian Original Sweet Rolls
4 tablespoons salted peanut butter
4 tablespoons strawberry jam
2 bananas, sliced
Cut entire pack of rolls in half horizontally, keeping all top and bottom halves intact.
Spread peanut butter on bottom halves followed by strawberry jam. Top with banana slices then top halves of rolls.


SOURCE:
King's Hawaiian
Make mornings a breeze with time-saving breakfasts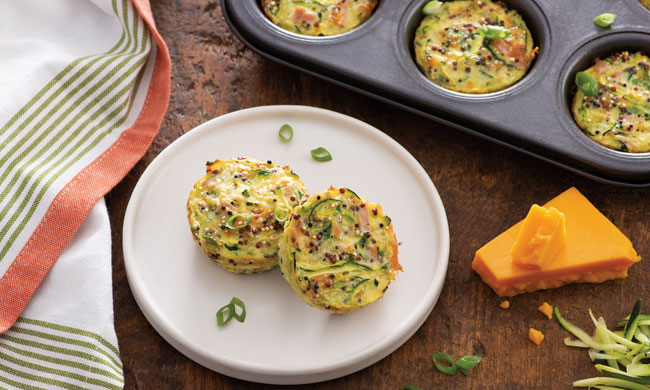 (Family Features) Mornings can be hectic enough with wake-up calls, preparing for work, getting the kids ready and so many other daily tasks. Add in the need (or desire, at least) for a nutritious breakfast, and starting a new day can feel downright exhausting.
Make your mornings easier with delicious, better-for-you meals you can make ahead of time using simple ingredients like Success Boil-in-Bag Tri-Color Quinoa, which offers a heat-safe, BPA-free and FDA-approved bag and is easily prepared in just 10 minutes. You don't have to know how to pronounce quinoa to enjoy its light, nutty flavor packed with protein and all nine essential amino acids.
As a good source of fiber, it's a perfect solution composed of a medley of red, black and white quinoa that can make these Ham, Cheese and Zucchini Breakfast Cups a breeze. They're an ideal on-the-go solution for weekday breakfast bites that fit your busy schedule.
Cook up a batch as part of your Sunday meal prep and enjoy a week's worth of tasty, simple cups for the entire family. Once the combination of green onions, cheddar, ham, quinoa and more have been cooked and cooled, they can be refrigerated for up to 1 week.
For a creamier, fruity, dairy-free option, these Quinoa Overnight Oats make for a satisfying breakfast you can grab from the fridge and take to the office. Loaded with whole grains, bananas, blueberries and pomegranate, they'll provide the energy you need to get through the day while saving time in the morning.
These tasty treats can also last up to 1 week in the refrigerator, but remember to wait to add any crunchy toppings, honey or syrup until you're ready to enjoy so those favorite ingredients stay fresh longer. Another pro tip: Once you're done preparing your sweet, nutritious breakfast for the week ahead, divide evenly into four resealable to-go containers to make weekday mornings as easy as possible.
To find more weekday morning solutions using easy-to-make whole grains, visit SuccessRice.com.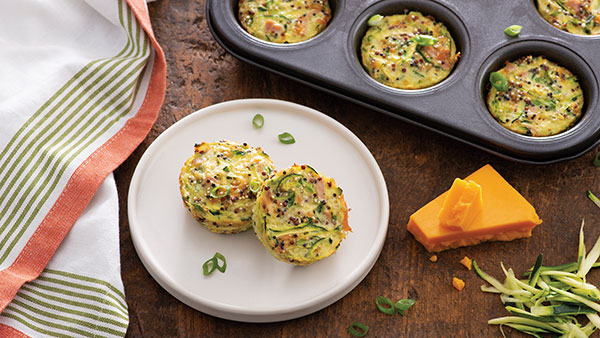 Prep time: 15 minutes
Cook time: 25 minutes
Servings: 12
1 bag Success Tri-Color Quinoa
nonstick cooking spray
1 cup shredded cheddar cheese
1 cup shredded zucchini
1/2 cup diced ham
2 eggs
1/4 cup egg white
1/4 cup sliced green onion
1/2 teaspoon salt
1/4 teaspoon black pepper
Prepare quinoa according to package directions. Preheat oven to 350 F.
Coat 12-cup muffin tin with nonstick cooking spray.
In large bowl, combine shredded cheddar cheese, shredded zucchini, diced ham, eggs, egg white, sliced green onion, salt and black pepper. Mix well. Spoon batter into prepared muffin tin.
Bake 25 minutes. Cool 5 minutes then remove to wire rack to cool completely.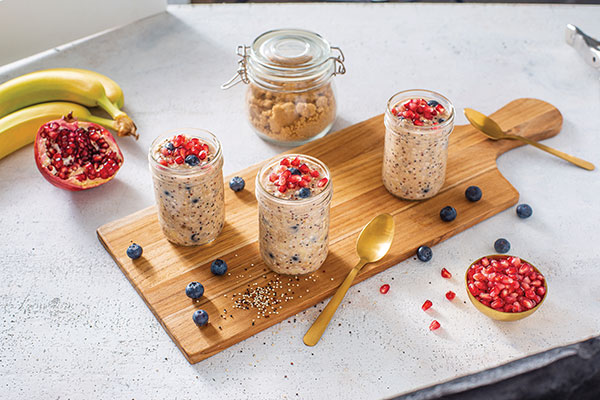 Prep time: 15 minutes
Cook time: 10 minutes
Servings: 4
1 bag Success Tri-Color Quinoa
2 cups almond milk
1 cup quick-rolled oats
2 bananas, mashed
1/2 teaspoon ground cinnamon
1 cup fresh blueberries
1/2 cup pomegranate seeds
Prepare quinoa according to package directions. Let cool completely.
In large bowl, combine almond milk, oats, bananas and cinnamon. Stir in quinoa and blueberries.
Cover and refrigerate overnight. Divide among four serving bowls and garnish with pomegranate seeds.
Tips: For added sweetness, drizzle with honey, maple syrup or agave syrup, to taste. For a grab-and-go breakfast, combine overnight oats mixture and divide in resealable, single-serving jars or containers. Seal and refrigerate overnight.

SOURCE:
Success Rice