Fruitland fire burns 230 acres; no inhabited homes destroyed, 10 structures burned
By BARBARA GREEN
[email protected]
It was a brutal afternoon of firefighting last Friday as a fire that began near State Highway 101 and Fruitland Road swept across 230 acres threatening homes and burning many other structures.
Bowie and Sunset firefighters were called out to a fire reported in the 2500 block of Fruitland Road near the intersection of Fruitland and Hwy. 101 shortly before 2:30 p.m. Sheriff Marshall Thomas said it was his understanding the fire may have started where a welder was working on a front entry of a property in this area.
The sheriff and Chief Deputy Jack Lawson responded to the call for assistance and asked for other law enforcement to send officers if they were available. The sheriff's deputies were attending a training on this afternoon and were out of pocket.
Thomas said Bowie Police and Department of Public Safety provided officers, the constables and game warden also helped.
Shortly before 3 p.m. officers began contacting area residents and encouraging them to evacuate. The specific directive came for all residents on Fruitland between Smyrna and Farm-to-Market Road 3043 (Brushy).
As the fire moved toward Brushy winds from the west and southwest were blowing toward the northeast leading to an evacuation notice to those on Orchard and Cole, which was closed at one point.
Read the full story in the mid-week Bowie News.
National emergency broadcast test comes at 1:20 p.m. today. It is just a test
Bowie Police officials remind citizens today is the day for the U.S. government's big emergency alert drill, which will send a test message to every TV, radio and cell phone in the nation.
Starting at approximately 1:20 pm Central time today, the federal government will begin conducting a nationwide test of its Emergency Alert System and Wireless Emergency Alerts. This will send an emergency alert to all radios, televisions, and cell phones.
The test is being conducted by the Federal Emergency Management Agency in coordination with the Federal Communication Commission. Its purpose is to ensure that the systems in place continue to be an effective means of warning the public about emergencies at a national level.
Essentially, what this means is that you can expect hundreds of millions of cell phones around the country to make a screeching alert noise at approximately the same time today, beginning around 1:20 pm Central. Radio and TV stations will also blare a test alert at around the same time. But there is no action required from you after receiving the free message — IT IS JUST A TEST
Bowie ER opens after 2 years of work by Faith Community Health System
By BARBARA GREEN
[email protected]
On Sunday afternoon the culmination of two years of hard work came to fruition as Faith Community Health System opened the doors of its new hospital emergency room in Bowie.
Chief Executive Officer Frank Beaman announced the ER was "going live" at the climax of a reverential dedication ceremony for employees, families and community leaders Sunday afternoon. It was greeted with loud applause from the audience.
There will be a grand opening ribbon cutting at noon on Oct. 23 and the public is invited.

Bowie Memorial Hospital closed Nov. 16, 2015 after nearly 50 years of service to the area. The property was purchased and reopened in May 2017 as Central Hospital of Bowie, but it closed in early 2020. Emergency care has relied on Nocona General Hospital and Wise Health in Decatur.
In mid-August 2021 Faith Community Health System announced it would open an emergency room at the former hospital location.
It was a major undertaking as the building had been left to waste after it closed. Rain, freezing weather, thieves and neglect took a drastic toll by the time Faith launched the renovation and announced its intention to open a full hospital ER in August 2021. The last two years have been fraught with delays and unexpected costs many caused by the pandemic and post-pandemic business environment.
The opening
Dr. Shawn White, medical director for Faith Community, welcomed the guests and reflected on how he was tasked with helping coordinate about 40 providers, employees and their families as the system grows. He promised the team at Faith, "Have their hearts in the right places doing this work to edify Bowie and serve patients"
Beaman said this was a very proud moment for his executive team, the board and all the employees who have been working to prepare the opening.
Read the full story in the mid-week Bowie News.
Swenson named JP2 during medical leave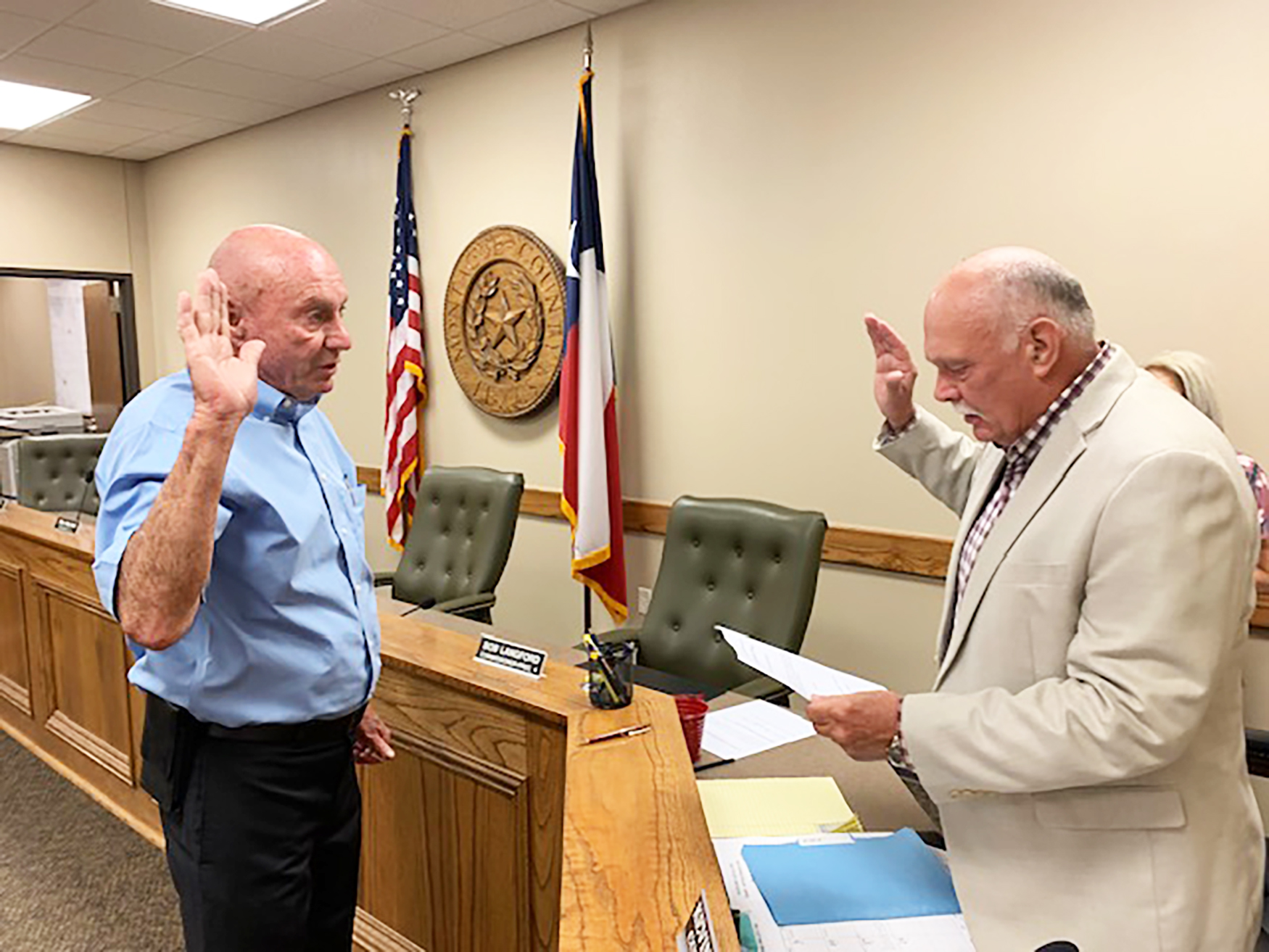 Henrietta attorney John Swenson was sworn in to temporarily serve as Montague County Justice of the Peace 2 Jack Pigg as the judge undergoes surgery and recovery.
The commissioner's court went into a 10-minute executive session Monday to discuss the JP position. Back in open session, County Judge Kevin Benton said Pigg will be out for a period of time after a medical procedure and they will need to appoint a temporary JP.
Retired Clay County JP John Swenson was named to the position Monday.
Read the full story in the mid-week Bowie News.
Pictured above: Interim JP2 John Swenson took the oath of office from Montague County Judge Kevin Benton Monday. (Photo by Barbara Green)