Coaches drawn to Bowie Schools – AD calls them 'one big family'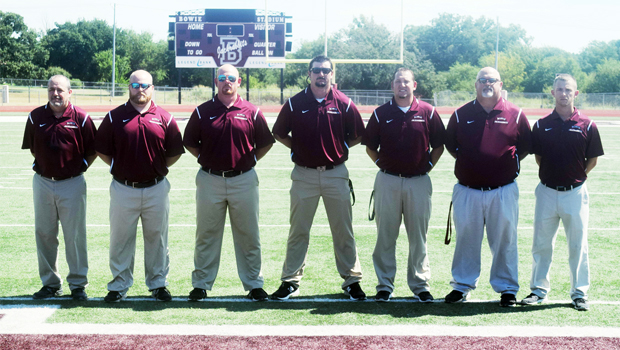 By ERIC VICCARO
Bowie athletic director Dylan Stark has helped foster a strong athletic program with talented coaches.
It's another one of the ways, we are "building a better Bowie."
"I feel like it's a great place to work," said Stark, who has been athletic director for more than half a decade. "We have really good kids, and there's not a lot of turnover."
Stark also credited Bowie's facilities with helping attract coaches to the community, which were built through passage of a bond issue in the late-2000s.
"I want a place where people enjoy their job," Stark said.
The current coaching staff has built longstanding lifetime relationships with each other.
Quentin Berend was working as a coach in the Alvord Independent School District when he received a call from Stark, who he knew from Windthorst.
"I knew it would be good to work with him," said Berend, who serves as Bowie's offensive coordinator and powerlifting coach.
Berend interviewed for the position of offensive line coach, and he was given the job. Quentin also performs a unique role in the school district as the credit recovery specialist.
"Everything has worked out for me here," Berend said. "I am comfortable here. Dylan and I work well together. It's been a great building experience."
Through Stark and Berend, Bowie has turned the football program around – with back-to-back six win seasons and the Jackrabbits claiming bi-district championships in both seasons.
For Brant Farris, the decision to accept a job at BISD was an easy one.
"It's been great for our family, and we've made a lot of new friends," said Farris, who serves as head softball coach and instructional technology coordinator.
"We liked the appeal of a small town," Farris added. "We wanted a place where our children would have a relationship with their teachers, and not just be a number. It's been great to be a part of a whole community."
Read the full story in your June 7 Bowie News.
Governor sends resources to border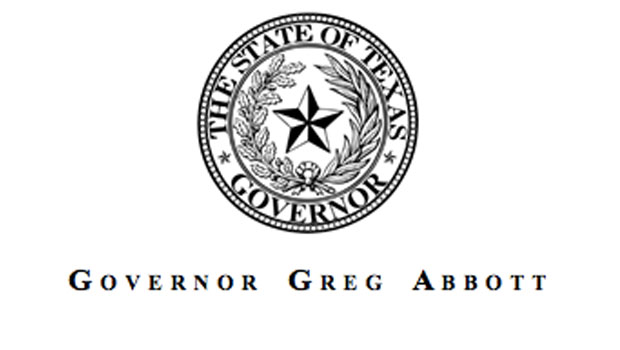 AUSTIN – Governor Greg Abbott today announced that he has directed the Texas Division of Emergency Management (TDEM) to deploy additional buses to Eagle Pass and El Paso to assist these border communities overwhelmed and overrun by President Joe Biden's border crisis.
"President Biden's continued refusal to secure our border invites thousands of illegal crossings into Texas and our nation each day," said Governor Abbott. "Texas communities like Eagle Pass and El Paso should not have to shoulder the unprecedented surge of illegal immigration caused by President Biden's reckless open border policies. I have directed the Texas Division of Emergency Management to deploy additional buses to send these migrants to self-declared sanctuary cities and provide much-needed relief to our overrun border towns. Until President Biden upholds his constitutional duty to secure America's southern border, Texas will continue to deploy as many buses as needed to relieve the strain caused by the surge of illegal crossings."
The buses in El Paso and Eagle Pass are being activated in addition to the ongoing state bus operations in Brownsville, Del Rio, Laredo, and McAllen.
In April 2022, Governor Abbott directed TDEM to charter transportation for migrants who have been processed and released by the federal government into Texas communities. To board a bus, a migrant must volunteer to be transported and show documentation of their release from the U.S. Department of Homeland Security.
To date, Texas has bused:
Governor Abbott has taken unprecedented action to secure the border in the wake of the federal government's inaction, including:
Securing over $9.1 billion in funding for Texas' border security efforts
Launching Operation Lone Star and deploying thousands of Texas National Guard soldiers and Texas Department of Public Safety troopers
Installing new floating marine barriers to deter illegal crossings in hotspots along the Rio Grande River
Deploying the new Texas Tactical Border Force for targeted responses to intercept and repel illegal crossings at hotspots along the border
Hiring Texas' first-ever Border Czar
Taking aggressive action to aid border communities, including busing thousands of migrants to Washington, D.C., New York City, Chicago, Philadelphia, and Los Angeles
Designating Mexican drug cartels as terrorist organizations to keep Texans safe amid the growing national fentanyl crisis
Arresting and jailing criminals trespassing or committing other state crimes along the southern border
Issuing an executive order authorizing the Texas National Guard and Texas Department of Public Safety to return illegal immigrants to the border at ports of entry
Allocating resources to acquire 1,700 unused steel panels to build the border wall in Texas
Signing new laws to:

Expand the authority and training of border personnel
Make it easier to prosecute smugglers bringing people into Texas
Crack down on human trafficking
Enhance penalties for the manufacturing and distribution of fentanyl
Compensate landowners for property damage related to border crimes

Issuing a disaster declaration for the border crisis
Activating the Joint Border Security Operations Center (JBSOC) and directing the Texas Department of Public Safety, Texas Military Department, and Texas Division of Emergency Management to coordinate Texas' response to secure the border
Bowie City Council argues if rate ordinance 'revenue neutral'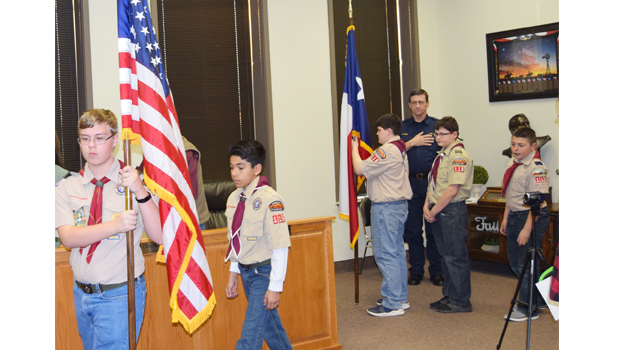 By BARBARA GREEN
[email protected]
The Bowie City Council continues to disagree as there was a split vote on an electric rate ordinance with the mayor breaking the tie with a yes vote.
Despite Monday's approval, it comes back around at the next meeting as the ordinance faces its second reading and final vote.
This ordinance came up after Councilor Tami Buckmaster kept pushing questions about the ordinance, which was not revised when the new rates went into effect Dec. 1.
Earlier in February, City Manager Bert Cunningham told the council after numerous back and forth emails with Schneider Engineering, including Buckmaster's questions, the engineers found a minor change needed to be made, but the formula used to calculate the costs is correct. A new ordinance was prepared by Schneider.
In an explanation about the change, Cunningham said the reason for a new ordinance goes back to the rate study of 2015 and subsequent rate increase, which also was the last time the rate ordinance was passed. However, in 2016 some changes were made in electric rates without a change in the electric rate ordinance.

Read the full story in the weekend Bowie News.
Bowie Council to have second reading of rate ordinances Tuesday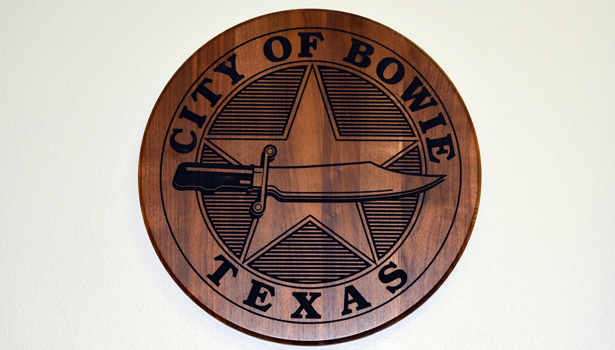 There will be a called meeting of the Bowie City Council at 5 p.m. on Sept. 18 in the council chambers.
Items on the agenda include the second reading of rate ordinances for the water and wastewater systems, plus the adoption of the 2018-19 budget. These items passed during a called meeting on Sept. 14.
In the water rates there is a three percent hike proposed which would be about $1.25 more for the average use of 5,000 gallons a month. In sewer it is a 15 percent increase adding about $5.50 a month with 5,000 in use.
The only item of new business is the first reading of the ordinance adopting the 2018 tax rate which is proposed at .5250 cents per $100 in property value. The 2017 rate is .53 cents per $100 in value.