Coaches drawn to Bowie Schools – AD calls them 'one big family'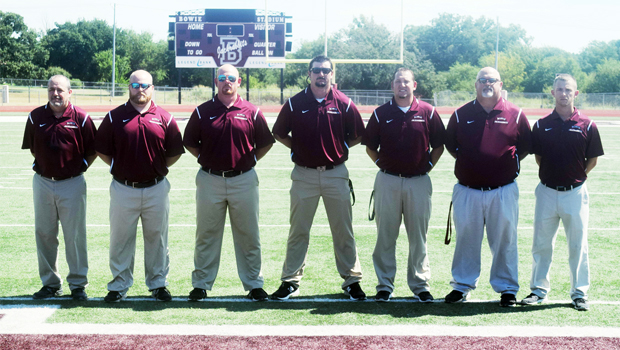 By ERIC VICCARO
Bowie athletic director Dylan Stark has helped foster a strong athletic program with talented coaches.
It's another one of the ways, we are "building a better Bowie."
"I feel like it's a great place to work," said Stark, who has been athletic director for more than half a decade. "We have really good kids, and there's not a lot of turnover."
Stark also credited Bowie's facilities with helping attract coaches to the community, which were built through passage of a bond issue in the late-2000s.
"I want a place where people enjoy their job," Stark said.
The current coaching staff has built longstanding lifetime relationships with each other.
Quentin Berend was working as a coach in the Alvord Independent School District when he received a call from Stark, who he knew from Windthorst.
"I knew it would be good to work with him," said Berend, who serves as Bowie's offensive coordinator and powerlifting coach.
Berend interviewed for the position of offensive line coach, and he was given the job. Quentin also performs a unique role in the school district as the credit recovery specialist.
"Everything has worked out for me here," Berend said. "I am comfortable here. Dylan and I work well together. It's been a great building experience."
Through Stark and Berend, Bowie has turned the football program around – with back-to-back six win seasons and the Jackrabbits claiming bi-district championships in both seasons.
For Brant Farris, the decision to accept a job at BISD was an easy one.
"It's been great for our family, and we've made a lot of new friends," said Farris, who serves as head softball coach and instructional technology coordinator.
"We liked the appeal of a small town," Farris added. "We wanted a place where our children would have a relationship with their teachers, and not just be a number. It's been great to be a part of a whole community."
Read the full story in your June 7 Bowie News.
Bowie City Council argues if rate ordinance 'revenue neutral'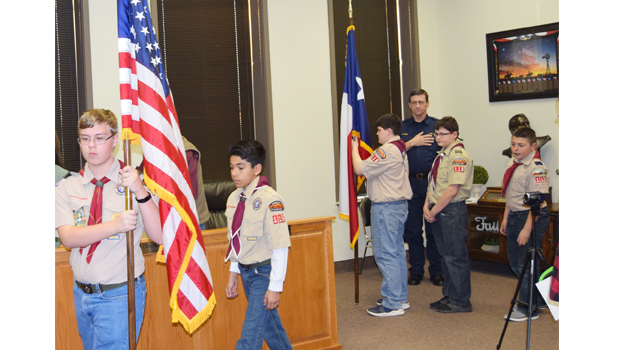 By BARBARA GREEN
editor@bowienewsonline.com
The Bowie City Council continues to disagree as there was a split vote on an electric rate ordinance with the mayor breaking the tie with a yes vote.
Despite Monday's approval, it comes back around at the next meeting as the ordinance faces its second reading and final vote.
This ordinance came up after Councilor Tami Buckmaster kept pushing questions about the ordinance, which was not revised when the new rates went into effect Dec. 1.
Earlier in February, City Manager Bert Cunningham told the council after numerous back and forth emails with Schneider Engineering, including Buckmaster's questions, the engineers found a minor change needed to be made, but the formula used to calculate the costs is correct. A new ordinance was prepared by Schneider.
In an explanation about the change, Cunningham said the reason for a new ordinance goes back to the rate study of 2015 and subsequent rate increase, which also was the last time the rate ordinance was passed. However, in 2016 some changes were made in electric rates without a change in the electric rate ordinance.

Read the full story in the weekend Bowie News.
Bowie Council to have second reading of rate ordinances Tuesday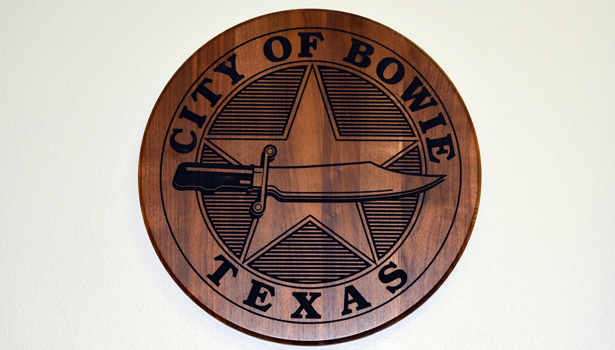 There will be a called meeting of the Bowie City Council at 5 p.m. on Sept. 18 in the council chambers.
Items on the agenda include the second reading of rate ordinances for the water and wastewater systems, plus the adoption of the 2018-19 budget. These items passed during a called meeting on Sept. 14.
In the water rates there is a three percent hike proposed which would be about $1.25 more for the average use of 5,000 gallons a month. In sewer it is a 15 percent increase adding about $5.50 a month with 5,000 in use.
The only item of new business is the first reading of the ordinance adopting the 2018 tax rate which is proposed at .5250 cents per $100 in property value. The 2017 rate is .53 cents per $100 in value.
BBB campaign wins first for community service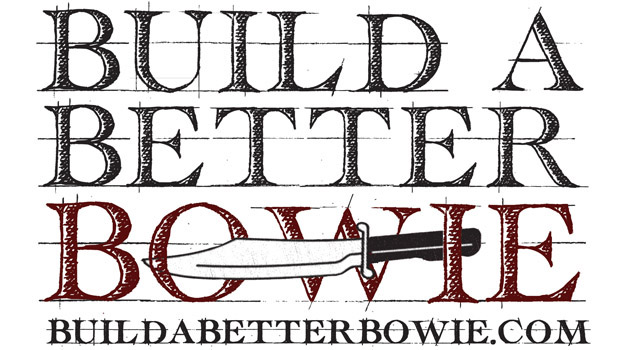 The Bowie News won first place in the Texas Press Association Better Newspaper Contest in the community service division for its Build a Better Bowie campaign. The News staff developed the campaign in 2016 in an effort to foster positive community spirit following the closure of the hospital and downturn in the oil and gas industry. Stories profile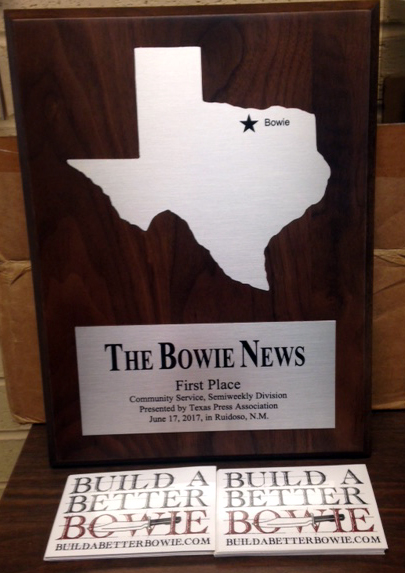 d assets in the community that reach out to the citizens and others outside the city.
Contest entries were judged by members of the Louisiana Press Association.
Judges said in their comments: "A great example of a newspaper striving to make a difference within its community. Goes beyond reporting into content generation designed to make a difference – to serve by delving into coming into topics suggested by the community. The range of subjects covered, the length of the program (ongoing), the involvement of others, the effort garnered, all speak to its success. Plus solid use of logo and photos throughout gave this effort a design advantage over other category entries."
Michael Winter, owner and publisher of The Bowie News, said he is very proud of the work the staff produces each day.
"I am very proud of each staff member and the timely, relevant product we publish twice a week and on the web," said Winter.
The Bowie News also won second place in general excellence, which recognizes the overall newspaper product from news and sports to advertising and features.
The judges' commented: "A real community newspaper that gives its readers a lot. It has a 'down home' look, but don't let that fool you. Everybody will read the Bowie News because everybody is in it."