Scary good food ideas for kids to try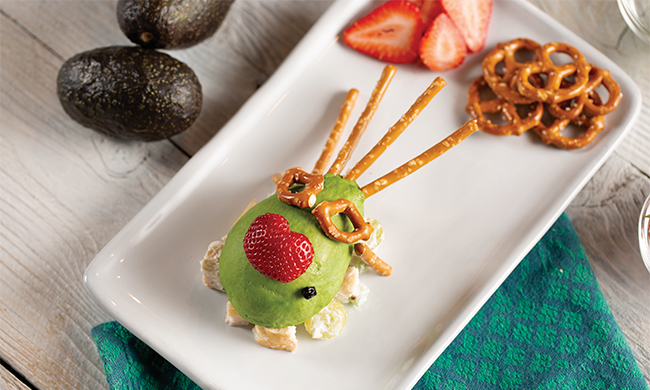 Take the fear out of trying unfamiliar produce
(Family Features) Introducing kids to unfamiliar flavors doesn't have to be a frightful experience. Getting creative and taking cues from some beloved characters may be all it takes for families to explore produce in a new way and discover how delicious, satisfying and enjoyable fresh fruits and vegetables can be.

A passion for produce may begin with America's favorites, like bananas, apples, citrus, celery, carrots and broccoli, but that's just the beginning.
Whether it's their angry names and tough exteriors, or simply a fear of the unknown about taste and preparation, dozens more diverse and exotic fruits and vegetables like dragon fruit, horned melon and Brussels sprouts are often the sources of produce paranoia.
An initiative from Dole, in collaboration with Disney and Pixar's Monsters, Inc., is helping to take the scare out of specialty fruits and vegetables and widen America's produce horizons. That's because, like a good book or the characters in a beloved film, you can't judge a fruit or vegetable by its appearance; nature's true beauty often lies within.
The campaign offers character-inspired recipes, serving suggestions, digital and social activations, family-friendly activities, fun trivia and influencer partnerships that celebrate the not-so-scary world of the planet's more unusual fresh bounty.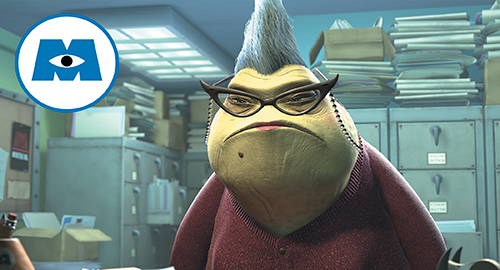 One easy way to introduce new flavors is by trying a variation of a familiar fruit or veggie. For example, there are more than 500 edible banana varieties in the world. You might sample a red banana or a Manzano, or even an ice cream banana, with a taste resembling vanilla custard.
These fun and kid-friendly Green Slime Nacho Cups feature plantains, for example, a member of the banana family with a different taste and texture than everyday yellow bananas – more firm and starchy like a potato. Increase your family's produce intake even further with a Slippery Slimy Smoothie and Chicken Stuffed Roz Heads, which call for green grapes, celery, avocados, strawberries and blueberries.
Find more recipes and other not-so-scary fun at dole.com/Disney, and follow #Dole and #DoleRecipes.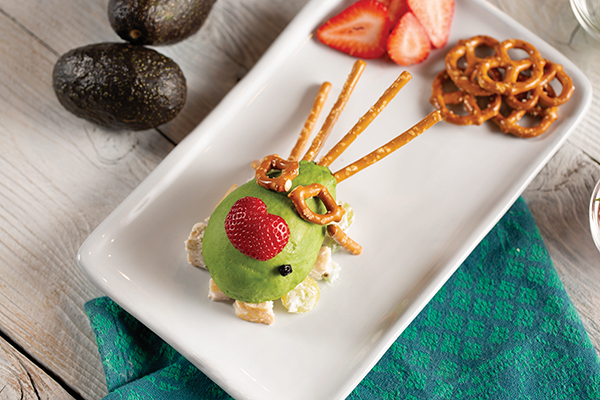 Chicken Stuffed Roz Heads
Prep time: 15 minutes
Servings: 3
1 cup cubed, cooked chicken breast
1/2 cup DOLE® Green Grapes, halved
1/4 cup chopped Dole Celery
1/3 cup nonfat plain Greek yogurt
1/4 teaspoon salt
1/4 teaspoon pepper
1 1/2 Dole Avocados, halved, pitted and peeled
6 whole-wheat pretzel twists
18 whole-wheat pretzel sticks
1 Dole Strawberry, sliced
3 dried, sweetened blueberries
In bowl, stir together chicken, grapes, celery, yogurt, salt and pepper.
Scoop three equal portions onto serving plate. Shape each into oval.
Top each with upside down avocado half.
Decorate each avocado half to resemble Roz's face. Using sharp paring knife, trim each pretzel twist to create horn-rimmed glasses lens by cutting off double loop section of each pretzel twist and discarding or enjoying as snack, keeping single loop portion, which will become one lens. Two lenses are needed per Roz Head.
Place two pretzel lenses on each avocado to form glasses. Add pretzel stick to each side of avocado to form arms of glasses. Push four pretzel sticks into top of each avocado to form hair. Add strawberry slice, trimmed to look like lips for her mouth, and place blueberry on lower left side of face to form mole.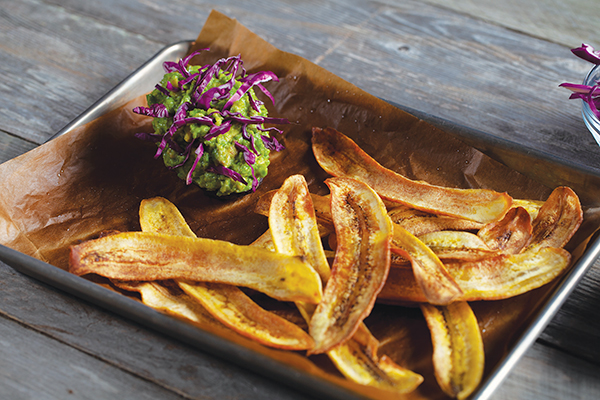 Green Slime Nacho Cups
Prep time: 5 minutes
Cook time: 20 minutes
Servings: 4
1 green starting to turn yellow DOLE® Plantain, peeled and thinly sliced on bias
1 1/2 teaspoons canola oil
1/4 teaspoon salt, divided
1 Dole Avocado, halved, pitted and peeled
1 tablespoon lime juice
1 clove garlic, minced
1/2 cup thinly shredded Dole Purple Cabbage
Preheat oven to 375 F. Toss plantain slices with canola oil and season with pinch of salt. On parchment paper-lined baking sheet, arrange slices in single layer with no overlapping.
Bake 18-20 minutes, or until crispy and lightly golden. Cool completely and set aside.
Using spoon, scoop flesh of avocado into small bowl and mash, reserving one half avocado shell. Stir mashed avocado with lime juice, garlic and remaining salt. Stir in slaw, reserving some for garnish. Scoop into reserved avocado shell and smooth top with back of spoon. Stick reserved cabbage shreds out of avocado mixture to look like hair.
Serve slime nacho cups with plantain chips.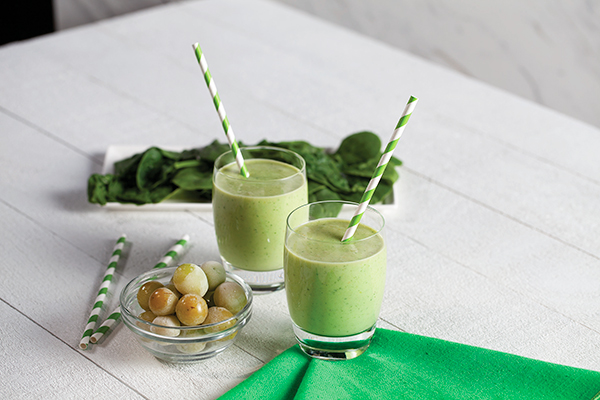 Slippery Slimy Smoothie
Prep time:10 minutes
Servings: 2 (8 ounces each)
1/2 cup DOLE® Spinach
1 Dole Banana, peeled and frozen
1/2 cup Dole Green Grapes, frozen
1/3 cup cucumber, diced
1/2 cup Dole Pineapple
1/2 cup unsweetened vanilla almond milk
1/2 cup nonfat plain Greek yogurt
5 ice cubes
In blender, blend spinach, banana, grapes, cucumber, pineapple, almond milk, Greek yogurt and ice cubes until smooth.
Pour smoothie into two glasses and serve.

©2020 Disney/Pixar (Roz)
SOURCE:
Dole
Bring sunshine to holiday celebrations with the gift of fresh citrus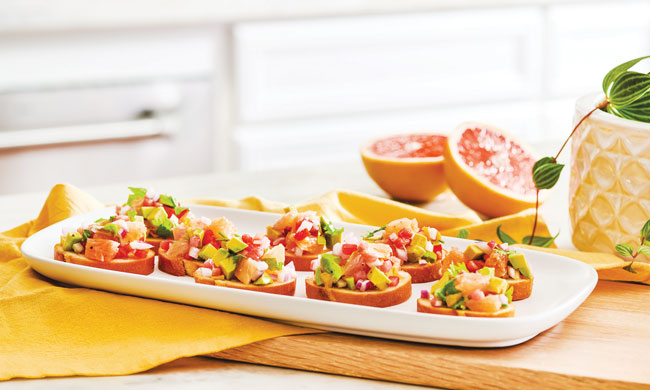 (Family Features) Holiday gifting is an exciting tradition for many families, but finding that perfect present for the person who seems to have it all can be tricky. This year, you can add a touch of sweetness to that special someone's stocking with the gift of fresh fruit.
Look no further than the delicious taste contained in Florida Citrus gift boxes with premium citrus hand-selected at the peak of ripeness and delivered fresh to your recipient's door. From varieties of fresh fruit to tasty delights like orange blossom honey, jellies, candies and chocolate, it's an easy choice for crossing off holiday checklists.
Well-known for its vitamin C content, it provides a combination of nutrients to support overall health for a nutritious twist on seasonal gifting.
"Fresh Florida Citrus fruits provide an attainable solution for individuals falling short of their daily nutrient goals," said Dr. Rosa Walsh, director of scientific research at the Florida Department of Citrus. "It offers a number of key vitamins and minerals, including vitamin C, folate, fiber and thiamin, and can help support overall well-being when consumed as part of a healthy diet."
Thanks to Florida's unique climate with subtropical temperatures, abundant sunshine, distinctive sandy soil and ample rainfall, the citrus fruits pack a juicy, naturally sweet taste from the Sunshine State. These gift boxes can bring a new spin to your holiday menu.
Whether you're shipping a box to a family member, friend, neighbor or your own front door, holiday get-togethers can receive a spark of sweetness from a delicious appetizer like Grapefruit Avocado Bruschetta. This fresh take on a party favorite calls for toasted baguette slices topped with chopped grapefruit, Roma tomatoes, avocado and red onion to take your hors d'oeuvres selection to the next level. For the adults in attendance, put a simple yet refreshing cocktail on the menu with this Grapefruit Paloma – just rim four glasses with margarita salt and mix a few easy ingredients to bring a little sunshine to the festivities.
Find more information, check availability in your area and shop for gift boxes at gifts.floridacitrus.org.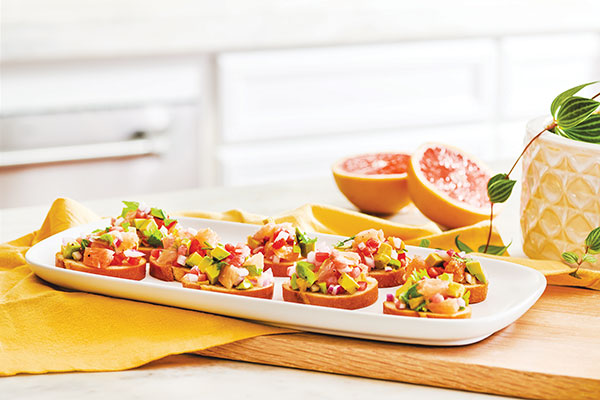 Servings: 3
1 cup Florida Grapefruit sections
1 baguette, sliced on bias
2-3 whole garlic cloves, peeled and halved
3-4 ripe Roma tomatoes, seeded and chopped
1 large avocado, chopped
1/2 small red onion, chopped
1/4 cup chopped cilantro
2 tablespoons olive oil
salt, to taste
pepper, to taste
Florida Grapefruit segments, for garnish (optional)
cilantro sprigs, for garnish (optional)
Preheat oven to 350 F. Chop grapefruit.
Place baguette slices on baking sheet and toast 5-7 minutes, or until golden brown.
Rub toasted sides of bread with cut sides of garlic cloves; reserve.
In medium bowl, combine tomatoes, grapefruit, avocado, red onion, cilantro and olive oil; season with salt and pepper, to taste. Toss gently to combine.
Spoon grapefruit mixture over prepared bruschetta.
Garnish with fresh grapefruit segments and cilantro, if desired.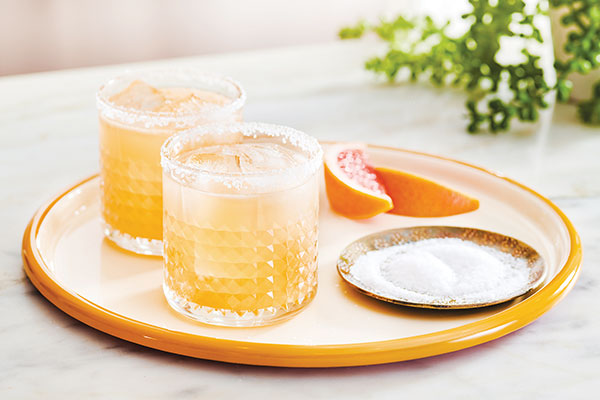 Servings: 4
24 ounces Florida Grapefruit Juice
16 ounces silver tequila
16 ounces seltzer
ice
margarita salt (optional)
4 Florida Grapefruit wedges (optional)
In large pitcher, mix grapefruit juice, tequila and seltzer with ice.
Rim four glasses with margarita salt, if desired.
Divide paloma among glasses; garnish with grapefruit wedges, if desired.



SOURCE:
Florida Department of Citrus
5 cozy ways to add warmth to cold-weather meals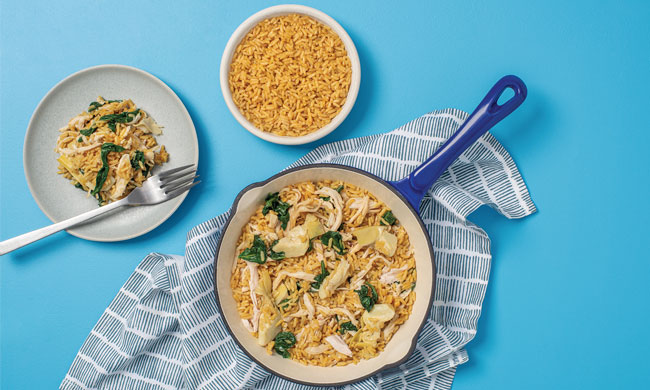 (Family Features) When the winds howl and the chill of changing seasons brings a crispness to the air, one way to warm up from the inside out is with favorite foods. Filling up on comforting recipes like hearty soups and stews can be the solution you need to fight off cold temperatures.
Consider quick and easy ingredients that add a little warmth to your plate as the cravings for comfort kick in.
Cheese
A family favorite in recipes year-round, ooey-gooey cheese is a hallmark of cool-weather recipes. Consider creamy mac and cheese mixed with your preferred protein, homemade Mexican cuisine topped with melted chile con queso or an appetizer plate with options like brie, Manchego, aged cheddar, Parmesan and more.
Rice
If you're craving a meal that's big on flavor but short on prep time, it's hard to top the classic comfort food combo of chicken and rice. This Parmesan Chicken and Rice with Spinach and Artichoke starts with the homestyle taste of fully cooked Minute Chicken & Herb Seasoned Rice Cups with carrots, onion and garlic. The BPA-free cups offer a quick and flavorful option for an on-the-go power-up loaded with chicken, vegetables and herbs paired with hearty rice. Ready in only 1 minute, you can enjoy the flavored rice right out of the cup or prepare it as part of this 5-minute recipe on a busy weeknight.
Pasta
Whether you prefer spaghetti or penne, bowtie or stuffed shells, pasta provides a simple base for delicious meals loaded with comforting ingredients. For an easy weeknight meal, just choose a type of pasta, sauce and protein to put dinner on the table in 30 minutes or less.
Curry Paste
Available in many varieties, curry paste is a common ingredient in South Asian dishes. It typically consists of ingredients like garlic, chiles or peppers, ginger and lemongrass. When you'd like to add some spice to your menu without bothering with takeout, this Thai Chicken and Rice Soup calls for green curry paste, which is generally spicier than red or yellow versions, but any can be substituted based on your heat tolerance. You can take the dish up a level with lightly seasoned Minute Cilantro & Lime Jasmine Rice for zesty flavor in a BPA-free, microwaveable cup for a simple solution when life gets hectic and preparing a time-consuming meal becomes challenging.
Cayenne
Serving up a touch of spice in a wide variety of favorite recipes can be as easy as adding ground cayenne. Made of dried cayenne peppers finely ground to a powder, it's commonly used in dishes ranging from deviled eggs and pastas to shrimp and barbecue as an easy way to add a warming kick to cold-weather meals.
Find more comfort food recipes at MinuteRice.com.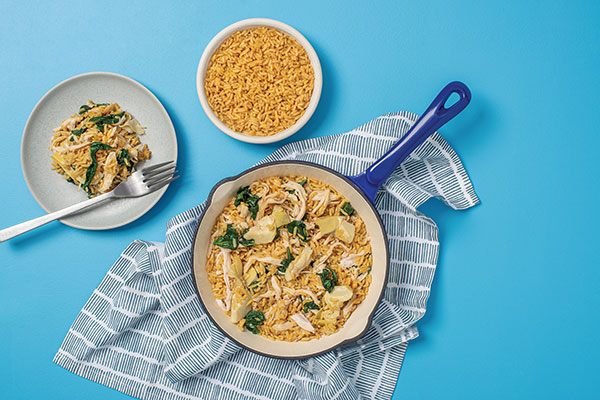 Prep time: 5 minutes
Cook time: 5 minutes
Servings: 1
1 Minute Chicken & Herb Seasoned Rice Cup
1 tablespoon olive oil
1 cup spinach, stems removed
2 ounces chicken, cooked and shredded
1/4 cup canned artichokes, drained and quartered
1/4 cup shredded Parmesan cheese
Heat rice according to package directions.
In medium saute pan over medium heat, heat olive oil. Add spinach and saute 1 minute.
Add chicken and artichokes; saute 2 minutes, or until heated through.
Add cheese and rice; stir to combine until heated through.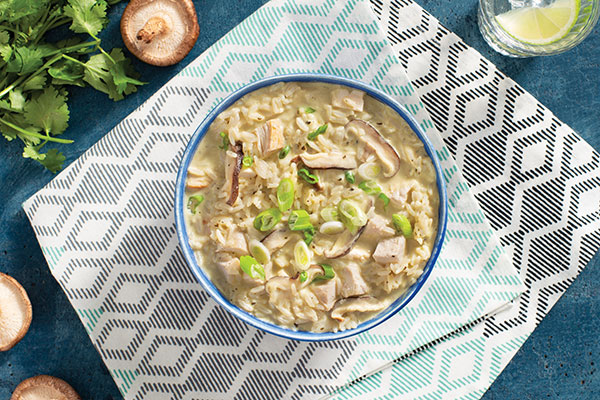 Prep time: 2 minutes
Cook time: 5 minutes
Servings: 1
1 Minute Ready to Serve Cilantro & Lime Jasmine Rice Cup
1/2 cup (3 ounces) cooked rotisserie chicken, chopped
1/2 cup chicken broth
1/2 cup coconut milk
1 tablespoon Thai green curry paste
3 small shiitake mushrooms, thinly sliced
1 green onion, thinly sliced
Heat rice according to package directions.
In medium, microwave-safe bowl, combine chicken, broth, coconut milk, curry paste and mushrooms.
Microwave on high 3 minutes. Stir in rice and garnish with green onion.

SOURCE:
Minute Rice
A full menu of festive holiday flavor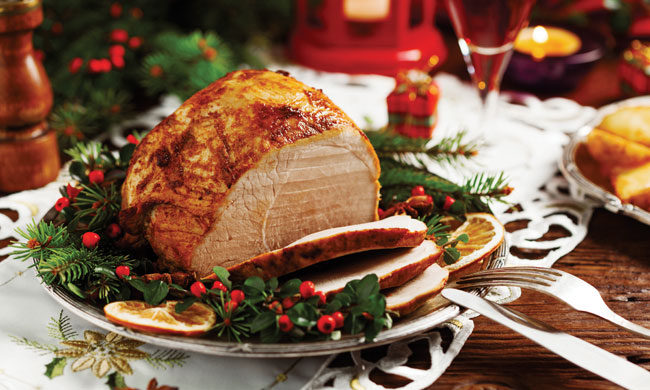 (Family Features) Cooking up a successful holiday gathering calls for everyone's favorite recipes. From the centerpiece main dish to fresh salads and appetizers, roasted sides and baked sweets, you can take seasonal get-togethers up a notch by mixing traditional classics with newfound favorites.
Consider this full-fledged menu of flavor to give guests a memorable holiday experience from beginning to end and find more festive recipe ideas at Culinary.net.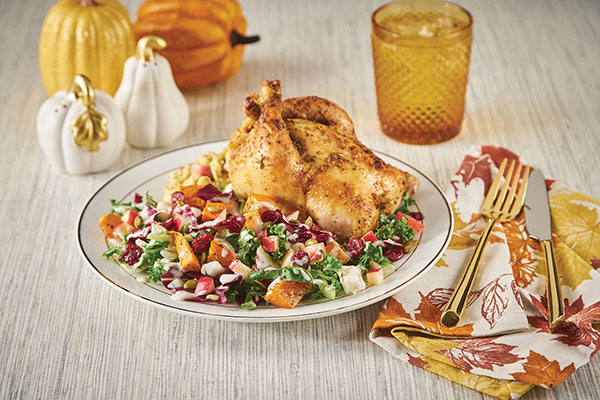 Fresh Flavors for Holiday Festivities
With the festive season arriving, bring together family and friends for a delicious feast you can feel good about serving. One standout recipe is this Cornish Game Hen with Kale Sweet Potato Salad that pairs fresh, leafy kale with roasted sweet potatoes and tender Cornish game hens for a truly elegant meal.
Elevate your cooking during the holidays with inspiration from Fresh Express and its more than 100 varieties of fresh, healthy and convenient ready-to-eat salads like the Sweet Kale Chopped Kit. It's a perfect blend of a nutrient-dense salad mix of leafy kale, green cabbage, shredded broccoli and Brussels sprouts, as well as crunchy pumpkin seeds and dried cranberries, topped with a tasty poppyseed dressing.
Visit FreshExpress.com to discover more fresh, easy and healthy recipes for the holiday season.
Cornish Game Hen with Kale Sweet Potato Salad
Prep time: 20 minutes
Cook time: 1 hour, 10 minutes
Servings: 4
1 package (6 ounces) stovetop stuffing
2 cups chopped apples, divided
4 Cornish game hens (20 ounces each)
1/2 cup butter
2 teaspoons Italian seasoning, divided
1 teaspoon paprika
1 teaspoon salt, plus additional, to taste, divided
1/2 teaspoon garlic powder
1/4 teaspoon black pepper
2 large sweet potatoes, peeled, cut into 1-inch cubes
2 tablespoons olive oil
1 package (10.9 ounces) Fresh Express Sweet Kale Chopped Kit
Heat oven to 350 F.
Prepare stuffing according to package directions. Add 1 cup apples and fluff stuffing with fork; cool 15 minutes.
Remove anything inside hens, rinse cavity with cold water and pat dry.
In small saucepan, melt butter over low heat. Add 1 teaspoon Italian seasoning, paprika, 1 teaspoon salt, garlic powder and pepper; mix well. Remove from heat.
Fill cavity of each hen with apple stuffing.
Place hens in 13-by-9-by-2-inch baking dish. Tie legs together and tuck wings under. Baste with butter mixture.
Bake 50-60 minutes, or until thermometer inserted in thickest part of thigh reads 165 F and stuffing temperature reads 165 F. Baste with butter mixture every 15-20 minutes.
In bowl, toss sweet potatoes with remaining Italian seasoning and olive oil. Arrange in single layer on sheet pan. Sprinkle with salt, to taste.
Bake with hens 25 minutes, or until tender. Remove from oven and cool. Tent hens with foil and let rest 10 minutes.
Place greens from salad kit in large bowl. Add remaining apples and sweet potatoes; mix well. Toss with salad dressing. Add toppings; toss to combine.
Serve Cornish game hens with sweet potato kale salad.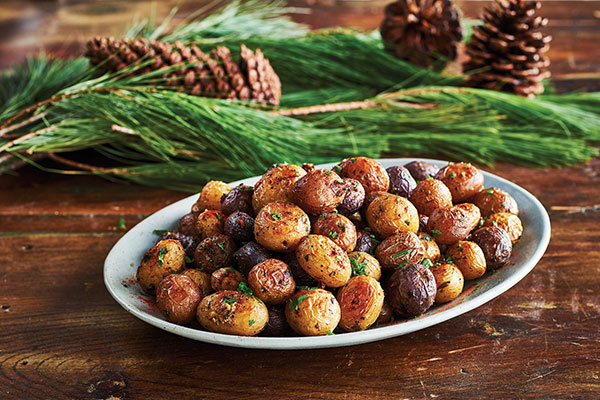 A Festive, Everyday Side Dish
While the busy holiday season can be loads of fun, you still need to get dinner on the table between parties. When you find yourself in a pinch this holiday season, squeezed for time and searching for a quick solution for dinner, turn to an easy side dish that can appease everyone. Potatoes are a nearly unanimous favorite.
Make putting dinner on the table a breeze with a solution like little potatoes from The Little Potato Company, which can help bring holiday happiness to mealtime. Ready in as little as 5 minutes, they come pre-washed and require no peeling or cutting, making them the perfect time-saving solution for the holiday season.
Ideal for this Perfect Roasted Little Potatoes recipe, these little potatoes are a tasty, fresh whole food that you can feel good about serving. Ready in half an hour with minimal prep and a few simple ingredients, it's a perfect side dish for any occasion.
Visit littlepotatoes.com for more information and holiday inspiration.
Perfect Roasted Little Potatoes
Prep time: 5 minutes
Cook time: 30 minutes
Servings: 6
1 1/2 pounds The Little Potato Company Little Potatoes
1 tablespoon vegetable oil
1/2 teaspoon salt
1/4 teaspoon pepper
1-2 tablespoons fresh parsley, chopped
Preheat oven to 400 F.
In large bowl, toss little potatoes with oil, salt and pepper until coated.
Spread potatoes in single layer on rimmed baking sheet lined with parchment paper. Bake 30 minutes, or until tender.
Sprinkle with parsley and serve.
Tip: For extra holiday flavor, add paprika, garlic and fresh herbs.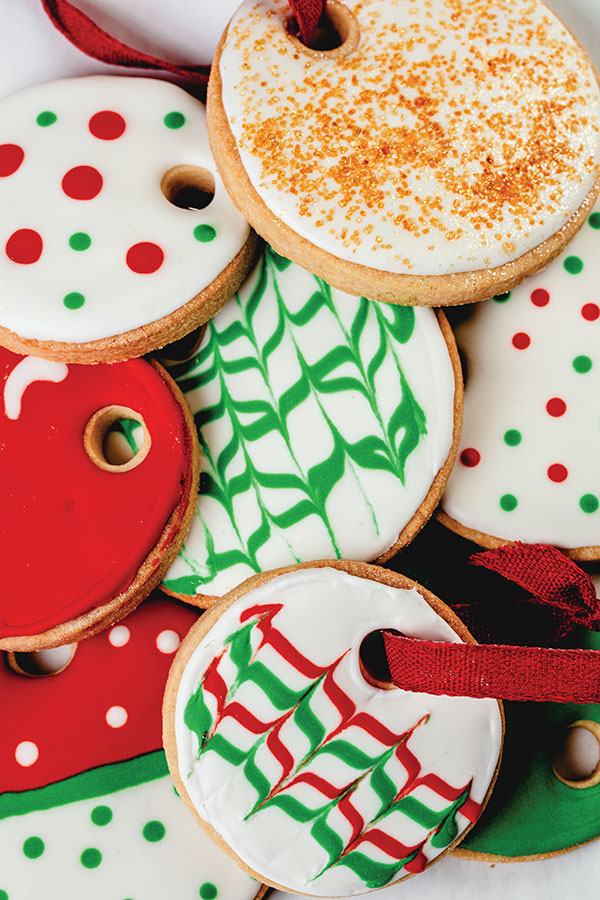 Get Creative with Delicious, Decorative Cookies
A decadent holiday meal isn't complete without a sweet dessert to cap off the evening. When in doubt, go with a traditional treat that's perfect for sharing: cookies.
These Ornament Cookies can be shaped any way you like to celebrate the holidays. The royal icing adorning these festive favorites is made with powdered sugar and meringue powder; just use food coloring to add a personal touch.
For more than 120 years, Domino Sugar has helped millions bake special recipes like these cookies made with non-GMO, vegan, kosher and gluten-free Golden Sugar that's free flowing and easy to scoop, spoon and pour. The sugar retains a hint of molasses flavor, giving it a golden color and providing a perfect way to add less processed sweetness to your loved ones' favorite desserts.
Find holiday recipes, baking tips and more at dominosugar.com.
Ornament Cookies
Prep time: 25 minutes plus 1 hour to decorate
Cook time: 20 minutes
Yield: 2 dozen cookies
Cookies:
1 1/2 cups (3 sticks) unsalted butter, at room temperature
1 cup Domino Golden Sugar
1 teaspoon pure vanilla extract
1 large egg
3 1/2 cups all-purpose flour
1/4 teaspoon salt
Royal Icing:
4 cups Domino Powdered Sugar
3 tablespoons meringue powder
1/3 cup, plus 2-3 tablespoons, warm water, divided
desired food coloring
To prepare cookies: In large bowl, beat butter and sugar until light and fluffy. Add vanilla and egg; beat until well combined. Scrape sides of bowl as needed. Add flour and salt; beat until just combined.
Dump mixture onto lightly floured surface and divide in half. Shape each half into disks and wrap with plastic wrap. Refrigerate 30 minutes.
Preheat oven to 350 F. Line two baking sheets with parchment paper.
Working on lightly floured surface, roll dough to 1/2-inch thick. Cut cookies using ornament-shaped cookie cutter. Place cookies on prepared pans and bake 18-20 minutes, or until golden brown. Remove from oven and cool at room temperature.
To make royal icing: In large mixing bowl, combine powdered sugar, meringue powder and 1/3 cup water. Beat on low speed until combined. Increase speed to medium-high and beat 8-10 minutes, adding 2-3 tablespoons warm water, as necessary. Icing should be stiff enough to hold peak when tested.
Color royal icing with food coloring and decorate cookies.