John Brown's raid on Harpers Ferry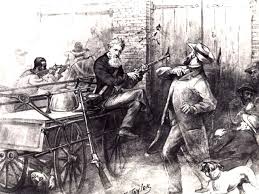 Abolitionist John Brown leads a small group on a raid against a federal armory in Harpers Ferry, Virginia (now West Virginia), in an attempt to start an armed slave revolt and destroy the institution of slavery.
Born in Connecticut in 1800 and raised in Ohio, Brown came from a staunchly Calvinist and antislavery family. He spent much of his life failing at a variety of businesses–he declared bankruptcy at age 42 and had more than 20 lawsuits filed against him. In 1837, his life changed irrevocably when he attended an abolition meeting in Cleveland, during which he was so moved that he publicly announced his dedication to destroying the institution of slavery. As early as 1848 he was formulating a plan to incite an insurrection.
In the 1850s, Brown traveled to Kansas with five of his sons to fight against the proslavery forces in the contest over that territory. On May 21, 1856, proslavery men raided the abolitionist town of Lawrence, and Brown personally sought revenge. On May 25, Brown and his sons attacked three cabins along Pottawatomie Creek. They killed five men with broad swords and triggered a summer of guerilla warfare in the troubled territory. One of Brown's sons was killed in the fighting.
By 1857, Brown returned to the East and began raising money to carry out his vision of a mass uprising of slaves. He secured the backing of six prominent abolitionists, known as the "Secret Six," andassembled an invasion force. His "army" grew to include 22 men, including five black men and three of Brown's sons. The group rented a Maryland farm near Harpers Ferry and prepared for the assault.
On the night of October 16, 1859, Brown and his band overran the arsenal. Some of his men rounded up a handful of hostages, including a few slaves. Word of the raid spread, and by morning Brown and his men were surrounded. A company of U.S. marines arrived on October 17, led by Colonel Robert E. Lee and Lieutenant J. E. B. Stuart. On the morning of October 19, the soldiers overran Brown and his followers. Ten of his men were killed, including two of his sons.
The wounded Brown was tried by the state of Virginia for treason and murder, and he was found guilty on November 2.The 59-year-old abolitionistwent to the gallows on December 2, 1859. Before his execution, he handed his guard a slip of paper that read, "I, John Brown, am now quite certain that the crimes of this guilty land will never be purged away but with blood." It was a prophetic statement. Although the raid failed, it inflamed sectional tensions and raised the stakes for the 1860 presidential election. Brown's raid helped make any further accommodation between North and South nearly impossible and thus became an important impetus of the Civil War.
– History.com Staff
Vera Rae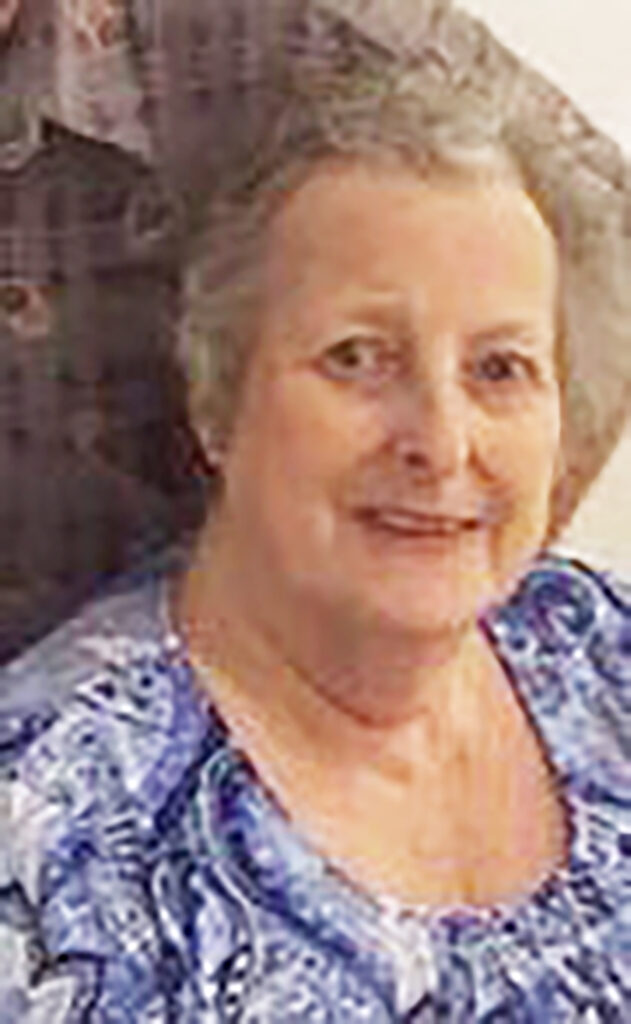 April 19, 1940 to October 29, 2023
AUSTRALIA – Vera Rae, 82, passed away peacefully after a set of health issues following a fall on Oct. 7, 2023.
Vera was born in Stockport, England to John "Jack" and Alice Gooch. They migrated to Australia following the Second World War, settling in Western Australia.
Vera met the love of her life in 1957, Robert John Rae, and they married on May 30, 1959. They were blessed with two daughters, Jenny and Debby.
Vera loved the Lord, had a strong faith, and was a prayer warrior. Throughout her various illnesses in life, she remained cheerful, gracious, and loving.
Vera was preceded in death by her parents, Jack and Alice Gooch; in-laws, Don and Amy Rae, and nephew, Justin Gooch.
Vera is survived by her loving husband, Robert Rae, Port Kennedy, Western Australia; daughter, Jenny Rae Rizzolo and partner Paul, Bowie, TX, and Debby Rae Harvey and husband Ian, Waikiki, Western Australia; grandchildren, Mandy Jones, Jodie Ehle, Jacilyn Kenny and Bronwyn Has; and great grandchildren, Tahlia, Tanaya, Shelby, Khy, Jordyn, Mollie, Bryce, Brett, Kobe, Lilly, Caitlin, Morgan and Olivia.
Funeral arrangements entrusted to Greenfield's Funerals, Port Kennedy Western Australia.
Paid publication
March 17, 1945 – May 15, 2022
RINGGOLD – Alton "Fred" Allen, 77, longtime resident of Ringgold, passed away on May 15, 2022 in Bowie.
The family received friends from 7 – 8 p.m. on May 17 at the White Family Funeral Home in Bowie. A graveside service will take place at 11 a.m. on May 18 at Cowboy's Last Ride Cemetery in Bowie with Richard Allen officiating.
Fred was born March 17, 1945 in Decatur to Alton "Frank" and Zula Prestwood Allen. He was a lifelong worker in the oil field and in his free time enjoyed fishing, hunting and spending time with his grandchildren.
He is preceded in death by his parents and brothers, Dick Allen and Gene Allen.
Fred is survived by his children, Lynn Allen, Ringgold and Zula Carol Dietrich and husband Steve, Petrolia; grandchildren, Blake Allen, Brady Allen, Barrett Allen, Jason Gray, Jennifer Gray, Terry Dietrich and Timothy Dietrich; great-grandchildren Cody and Kendra Harralson and Lincoln Gray; sister Zelta Baker, Bloomfield, NM and numerous nieces and nephews.
Arrangements entrusted to the White Family Funeral Home of Bowie.
Paid publication
Council facing lengthy agenda of new business
Bowie City Councilors face a lengthy agenda of new business on Oct. 25 spanning outside audit proposals, amendments to the personnel policy and six planning and zoning commission requests.
The panel will meet at 6 p.m. in council chambers.
A pair of audit proposals will be reviewed from Edgin, Parkman, Fleming and Fleming, and Mathis, West & Huffines Group.
The personnel policy amendments center on paid quarantine leave and officer mental health leave.
A resolution for repayment of opioid-related expenditures and payment to abate opioid-related harms will be reviewed, along with the 2021 tax roll.
The council also will discuss the Richwood Lake Estates Park at Amon Carter Lake. This topic is a proposition on the Nov. 2 ballot.
An executive session will have the council discuss economic development negotiations on a project. Janis Crawley, executive director of the Bowie Economic Development Corporation, also will give the council an update on the recent Economic Development Administration grant that will provide $1,460,000 to the BEDC for infrastructure work at the Bowie Business Park.
City Manager Bert Cunningham will make his monthly report discussing the asset management program, the audit, search for a new finance director, a program with Honeywell that evaluates facilities on where the city can save money and an update from the Association of Rural Communities.
Public comments and the consent agenda wrap up Monday night's council agenda.