Pitfalls to avoid when making resolutions
Estimates vary depending on the year and scope of the study, but research into New Year's resolutions has generally found that fewer than 10 percent of people who make resolutions each year stay the course until they've accomplished their goal. In fact, a 2020 poll conducted by OnePoll in conjunction with Crispy Green found that the average person has abandoned his or her resolution by February 1.
No two people are the same, but resolutions could fall victim to various pitfalls that can affect anyone. Recognition of these pitfalls when making a resolution may improve your chances of being successful in the year ahead.
· Lack of specificity: When making a resolution, be as specific as possible. If you want to read more, resolve to read two books per month (or however many books you feel you can reasonably read in a month). If you want to lose weight, speak to your physician to help you set a specific weight loss goal you can meet without compromising your overall health.
· No measuring stick to track progress: Specificity is important, but it's not the only tool you can use to stay the course with a resolution. Maintain a resolution journal or blog that allows you to gauge your performance. This can help you engage more fully in your resolution efforts, providing an outlet you can use to explore your successess and failures. The more engaged you are in your resolution efforts, the more likely those efforts will prove successful.
· Going it alone: The buddy system works when pursuing various goals, and New Year's resolutions are no exception. A friend or family member along for the resolution journey can make it easier to maintain your motivation. For example, anyone who wants to read more can join a book club, which can provide the motivation to finish books or excerpts before a weekly discussion.
· Biting off more than you can chew: Small resolutions may not seem like much, but minor efforts can serve as the stepping stones to realizing larger goals. If your goals are too ambitious at the outset, you're more likely to give up at the first setback.
· Not anticipating setbacks: Setbacks will happen, and as noted, it's easy to let them derail your efforts when they first appear. Recognize that there will be bumps in the road but that these bumps should in no way end your journey. Take setbacks as the valuable lessons that they can be, and use them as an opportunity to examine what you did that didn't work and what you can do to avoid future setbacks. TF22C536
Faith Community Health System opens Bowie ER for patients today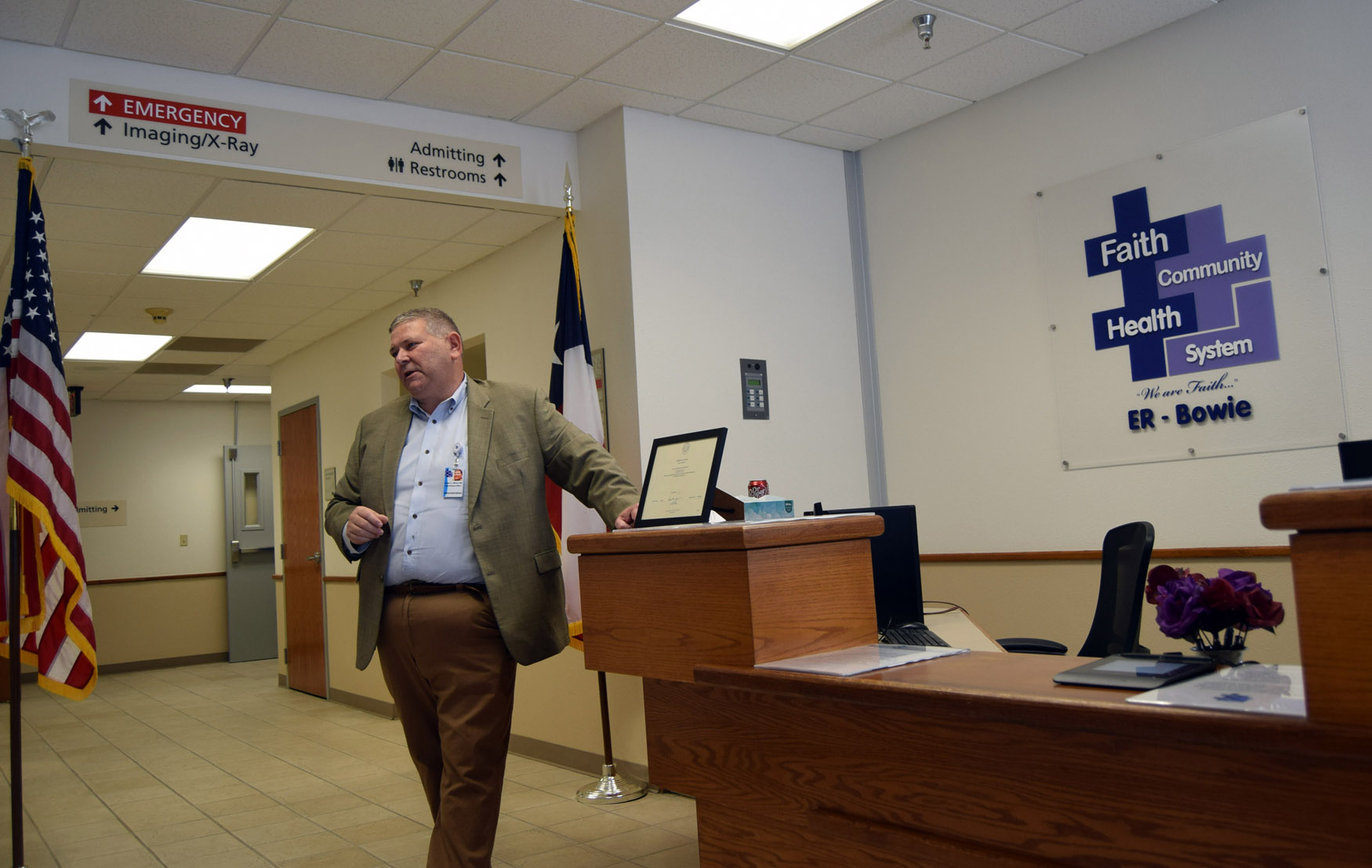 Shortly after 1 p.m. Sunday the new Faith Community Health System Bowie emergency room went "live" and began accepting patients.
That announcement was greeted with loud applause as a reverential dedication ceremony for employees, families and community leaders came to an end. Frank Beaman, chief executive officer for Faith Community, turned to the ER director and said it was a go everything was ready.
The return of emergency medical care in Bowie has been a major concern for businesses and citizens who have been without immediate ER care in the city since Feb. 4, 2020 when Central Hospital closed its doors. The property was in an out of the bank's hands many times and up for sale on the courthouse steps before it landed with investors who worked with Faith Community to establish a new ER in the former hospital. Bowie has been without a fully operational hospital since Nov. 16, 2015 when Bowie Memorial Hospital closed after nearly 50 years of service to the community. BMH was purchased and reopened as Central Hospital in May 2017, but it never really got its footing and closed in early 2020. Bowie emergency care has relied on Nocona General Hospital and Wise Health Care in Decatur.
It was a major undertaking as the building had been left to waste after it closed. Rain, freezing weather, thieves and neglect took a drastic toll by the time Faith launched the renovation and announced its intention to open an ER in August 2021. The last two years have been fraught with delays and unexpected costs many caused by the pandemic and post-pandemic business environment.
Top photo – Faith Community Rural Health System Medical Director Shawn White welcomed guests to Sunday's ceremony.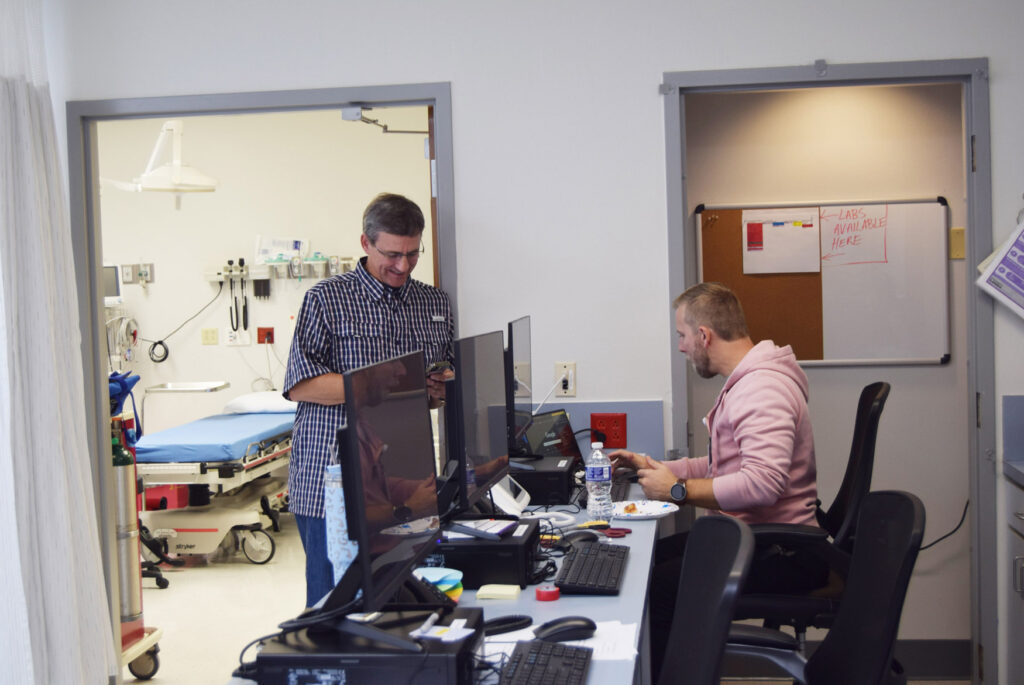 BISD readies bond election public meetings
Bowie Independent School District bond election public meetings have been scheduled for October, prior to the Nov. 7 election.
BISD is offering voters a $90 million bond election for various building projects including a new intermediate school and renovations to the present intermediate school to accommodate junior high students, who would be moved to that building. The present junior high would then be used for administration and other district programs.
Topics of discussion at these meetings will be bond facts, bond scope, impact on safety, tax impact and voting. Visit bowieisdnet and click the bond election tab.
The meetings will be Oct. 2 at the junior high, Oct. 12 at the intermediate and Oct. 23, junior high.
They open at 5:30 p.m. for campus tours, 6 p.m. for information and question and answer with Superintendent Blake Enlow at 6:30 p.m. plus building tours.
Nocona ISD offers $19 million bond proposal on Nov. 7 ballot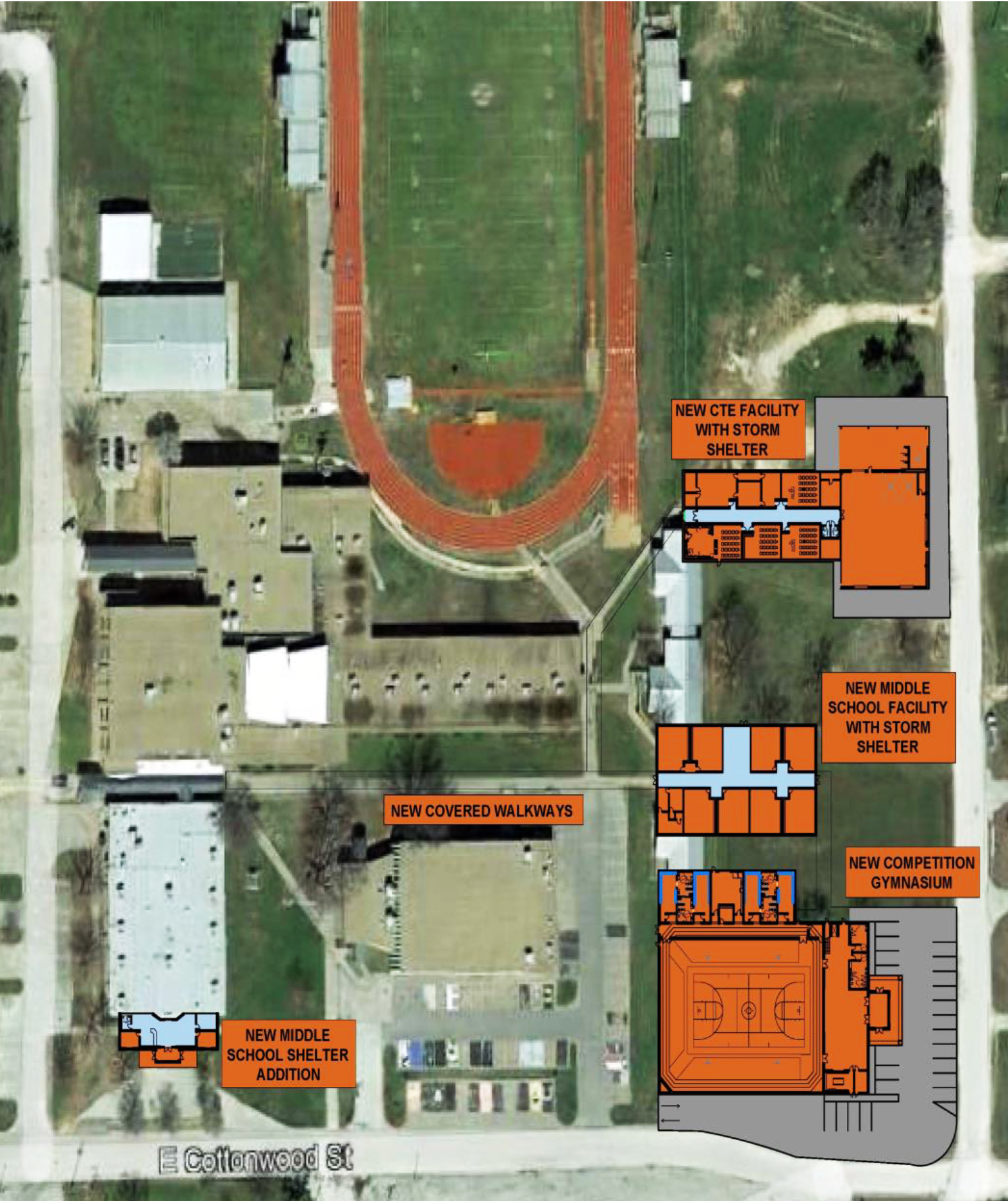 By BARBARA GREEN
[email protected]
It has been more than 20 years since the Nocona Independent School District took on any debt to build new campuses and back in spring 2016 voters said no to a $15.1 million bond issue for a new high school.
Before that 2016 bond election it had been 38 years since citizens were asked to cast a bond ballot. The second in a series of public meetings took place Sept. 25 saw less half a dozen people in attendance to learn about the $19 million bond proposal.
The next meetings are: Oct. 2, 5:30 p.m., elementary cafeteria; Oct. 2, 6:30 p.m. NES cafeteria (Spanish) and Oct. 20, 7 p.m., middle school cafeteria.
A facilities' committee spent months developing a plan and a slate of objectives that includes providing tornado shelters for all students and staff, no students crossing roads to go to classes and eliminating students leaving secure areas during the instructional day, ending the use of portable buildings for instruction and providing adequate space for current programs on all three campuses.
Read the full story in the Saturday Bowie News.